Whether you're visiting with friends or there on business, these best hotels in Seattle have something for all types of travelers.
There's more to Seattle than a bunch of hipsters sipping Starbucks at Pike Place (though that's something that tends to happen often there, too.) Seattle, a West Coast city nestled between Puget Sound and the Cascade Mountain range, is a diverse city with a little something to offer all travelers. Because Seattle ensures its attractions can satisfy all types of travelers, naturally their accommodations will, as well. No matter how you like to travel, one of these many best hotels in Seattle is sure to meet your needs for a home away from home.
If you're the outdoorsy type, there are plenty of parks to stroll through and mountains to hike. If you prefer slow and steady travel, Seattle is home to the nation's best coffee, cute boutiques, and old book shops to ease your way through.
Figure out where to stay as well as a few sights to see by reading through this list of the best hotels in Seattle, Washington.
1. Inn At the Market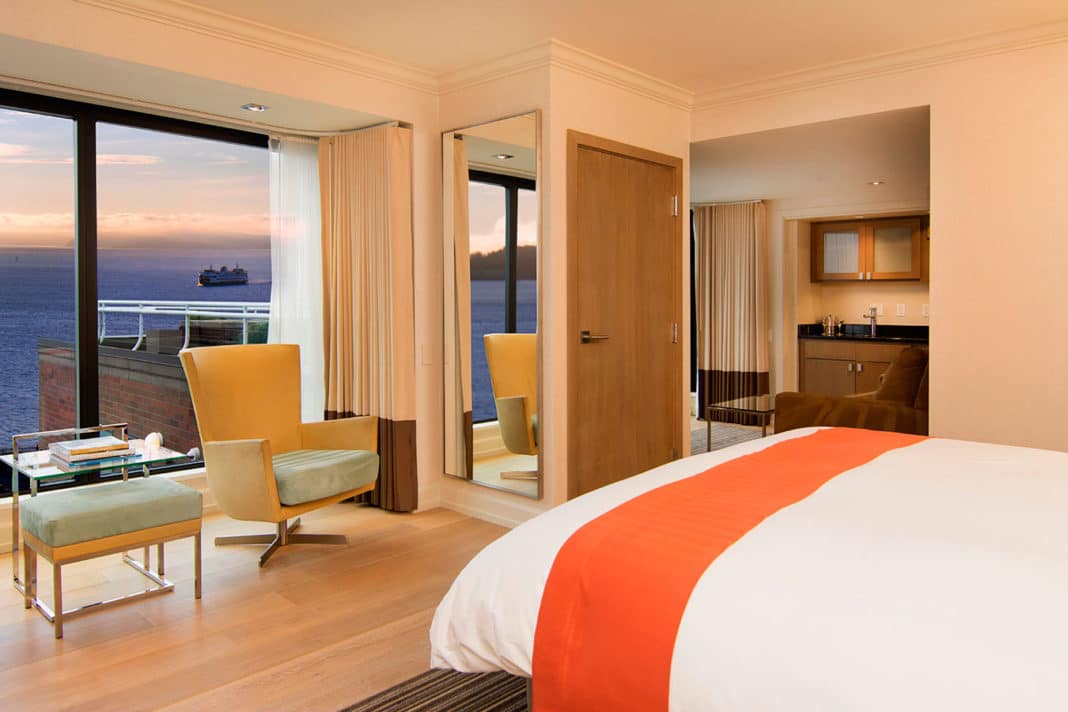 Credit: Inn At the Market
Seattle's most iconic tourist destination is arguably its famous Pike Place Market. Established in 1907, Pike Place Market is one of the oldest continuously operated public farmer's markets in the United States. Located along the Elliot Bay waterfront, visitors can find everything here, from homemade jewelry to fresh fish, as well as the first ever Starbucks Coffee. Needless to say, this is a prime location for tourists – which is one of the reasons the Inn At the Market is one of the best hotels in in Seattle, WA.
The Inn offers "modern Pacific Northwest style and comfort" with the charm of downtown Seattle's best restaurants, landmarks, and attractions. Each of the Inn's 76 guests offers fantastic views, including of course the Pike Place Market, Seattle's waterfront, the Puget Sound, and the Olympic Mountains. The staff goes out of its way to ensure their guests have the most relaxing stay possible. Because of its close proximity, the Inn has teamed up with Pike Place Market to offer its guests special deals and packages.
The location, convenience, and amenities of the Inn At the Market is worth every penny. Visit their website to learn more.
2. Inn at El Gaucho
This boutique hotel will make hipsters and history fans go nuts. The Inn at El Gaucho has a history that dates back to 1953. Not only is that the year that El Gaucho opened its doors, but it's also the year when construction began on the Belltown building, the current location of El Gaucho Seattle, one of the best steak houses in town that continues to fill the bellies of El Gaucho guests and Seattle locals today.
With only 17 guest rooms, El Gaucho is smaller than most chain hotels you may have frequented in the past. Yet its smaller room count only enhances its cozy, intimate, "retro'-swank" vibe that the guests love. The smaller size of the hotel makes it easier for the staff to pay special attention to each and every one of their guests. Visitors will feel like royalty in this eclectic, boutique, 50s themed hotel.
Every day in the lobby El Gaucho hosts a happy hour for its guests with four to five red and white wines to try out. It's the perfect way to start out your night on the town. El Gaucho is located just a stone's throw away from some of the city's top attractions, including the famous Space Needle and the Museum of Pop Culture.
The Inn at El Gaucho is one of the best hotels in Seattle for travelers who want to feel at home in a city that's not their own. Visit their website to learn more.
3. Hotel Ballard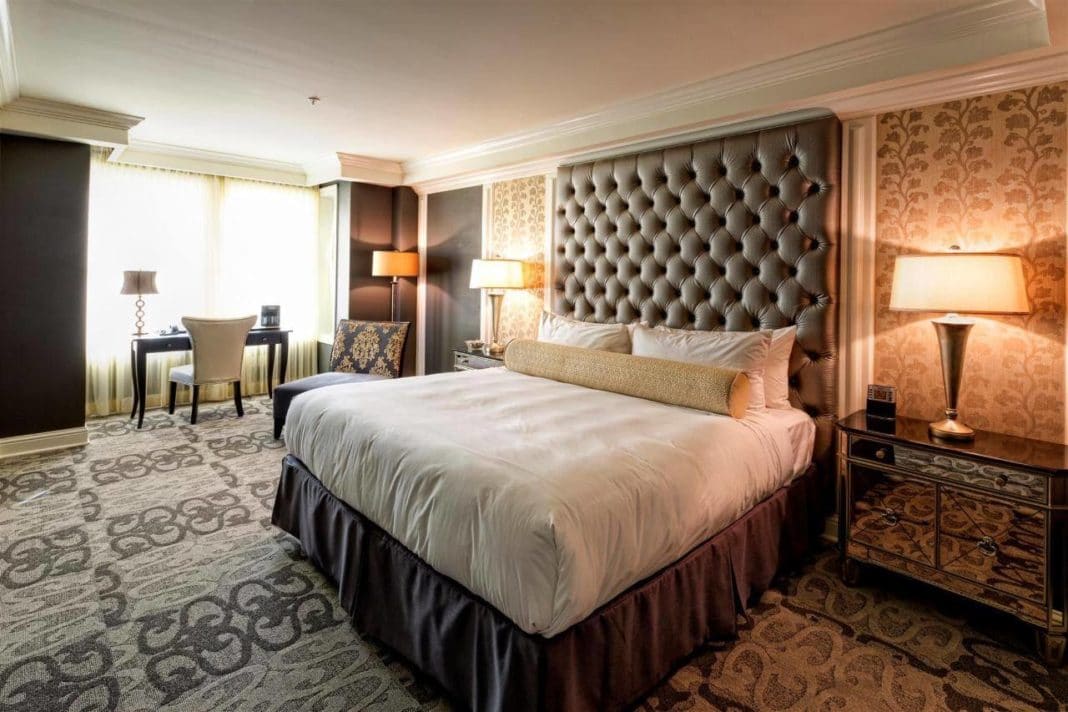 Credit: Hotel Ballard / Facebook
For travelers in search of convenience and charm, the Hotel Ballard is worth checking out. Located in Seattle historic Ballard neighborhood, this hotel will send you off without a single complaint. The moment you walk through the door you will find impeccable service. The staff is happy to bring your items to your room and readily offers dining and entertainment options to explore in the surrounding area. The rooms are comfortable and the turndown service is a nice surprise to come back to every day. Pets are not allowed, however the Hotel Ballard does offer babysitting services for guests traveling with children.
One factor we heavily consider when ranking the best hotels in Seattle – or any city, for that matter – is the location. Ballard is a hip, waterfront neighborhood with trendy restaurants, indie shops, dive bars, craft breweries, niche coffee shops and other fun attractions scattered all throughout. Top sights to see in the historic Ballard neighborhood include Golden Gardens Park, one of the city's best and most beautiful public parks, the Shilshole Bay Marina, and if you're looking for another great farmer's market, the Ballard's Farmer's Market is a like a playground for foodies.
There are also plenty of delicious dining options just steps away from Hotel Ballard, The location and top-notch quality of the staff makes Hotel Ballard one of the best hotels in Seattle, hands down. Visit their website to learn more.
4. Watertown Hotel
Nestled in the city's University District is the next on our list of the best hotels in Seattle: Watertown Hotel. Part of the Staypineapple hotel empire, Watertown Hotel is the perfect spot to stay for family and friends visiting loved ones at the nearby University of Washington. For travelers whose mission is solely sightseeing, the Watertown Hotel is a great pick for you as the hotel offers free shuttle service to and from downtown. Stops along the way can take you to the Space Needle and Pike Place Market. For visitors looking for a more active way of seeing the city, Watertown Hotel also offers free bike rentals to their guests.
However, staying in for a night at Watertown Hotel would make a great option, as well. The hotel has a comfortable, spacious lobby and free Dillanos coffee for guests (as well as signature pineapple cupcakes available in the lobby!) Watertown Hotel is also one of the best hotels in Seattle to stay in for guests traveling with their furry friends. The hotel is pet-friendly and even has perks for your pups, including a pineapple water bowl.
Overall, this is a no frills hotel with all the necessary amenities needed to have a comfortable stay in Seattle. Visit their website to learn more.
5. Palihotel Seattle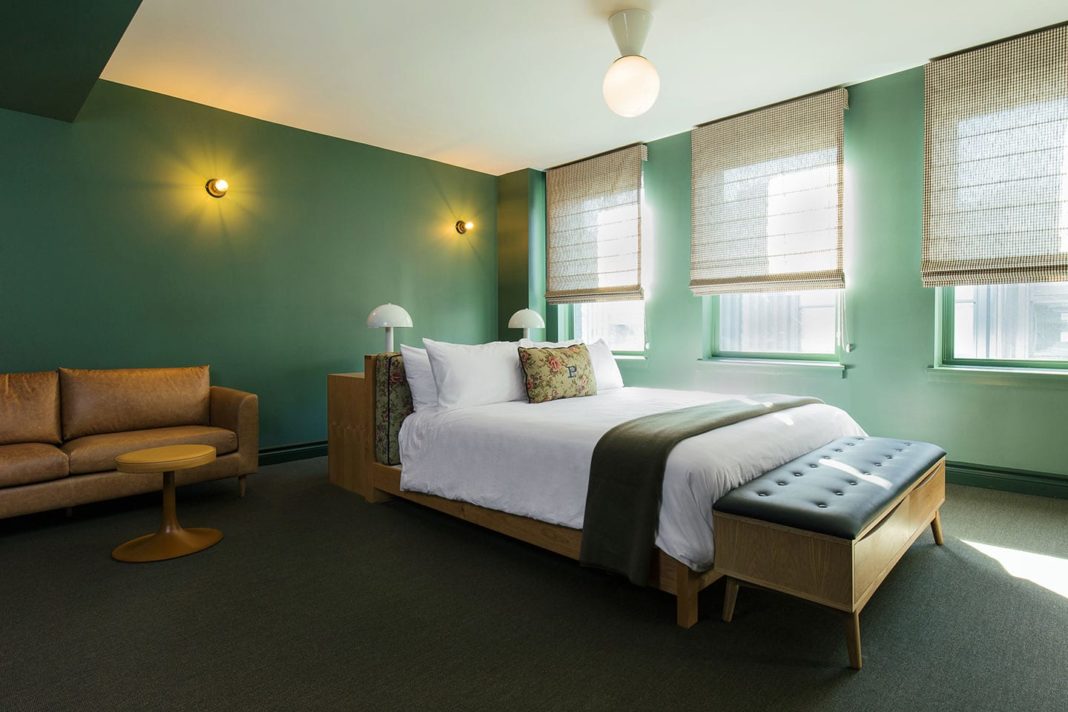 Credit: Pali Society
The modern, wooden and green style of the Palihotel Seattle will make you reconsider the decor of your home entirely. Palihotel Seattle is a hotel with a rich history. The building was originally home to the Colonnade Hotel in 1895 and is now registered on the National Register of Historic Places. This is all in part of the "Palisociety's" commitment to "preserving the property's iconic stature in the city." Needless to say, Palihotel Seattle is proud of its city and wants to help its guests fall in love with it as much as they have. It's dedication to preserving and sharing the magic of this Northwest city is one of the many reasons this is one of the best hotels in Seattle.
The hotel's interior is decorated with an "unapologetically eclectic, yet approachable design" that pays homage to Seattle's Pacific Northwest history. Each of the 96 guest rooms are uniquely designed with a blend of contemporary and historical styles. The hotel itself offers a restaurant, full bar, and coffee shop. Additionally, it is just steps away from amazing restaurants and other local spots.
Also conveniently located just near the Pike Place Market, this is one of the best hotels in Seattle to stay in for travelers interested in experiencing authentic Northwest culture. Just around the corner are many locals' favorites, like Deep Dive Seattle, home to some of the city's best craft cocktails. To experience a truly local dive and Seattle staple, add Hattie's Hat on your list of places to eat. Cap off your evening with a Golden Roast from the original Starbucks and you'll have a genuine Seattle outing worth remembering.
Visit their website to learn more.
6. Kimpton Hotel Vintage Seattle
It's a well known fact that California and the West Coast in general is known for being wine country. But did you realize that Seattle has a booming wine scene of its own? That's right – this hip Pacific Northwest city serves up more than delicious coffee, and Kimpton Hotel Vintage Seattle is sure to celebrate that fact. This luxury hotel has a "rustic meets elegant, relaxed meets chic, authentic meets attentive" vibe that is intoxicating to everyone who walks through its doors. Located within the area of Seattle's very own wine country. Kimpton Hotel Vintage makes sure to help their guests appreciate their love for vino as much as they do. The hotel offers nightly wine tastings with a concierge who tends to double as a certified sommelier. Needless to say, this is one the best hotels in Seattle – if not the best – for winos to stay in.
The take their love for the grape vine even further, every luxury guest room is designed after one of Seattle's many vineyards. The headboards are handmade with cork from bottles of Seattle wine and create a muted but comforting color scheme throughout your space. If you're staying at a hotel that loves its wine, you've got to assume they have great food to go with it. Kimpton Hotel Vintage's onsite restaurant, Tulio, is one of the best Italian dining options downtown Seattle has to offer.
Kimpton Hotel Vintage is truly at the center of it all. Located in Seattle's downtown area, guests are just steps away from the Seattle Waterfront, Pike Place Market, nearby stadiums, and of course, wine country, which is home to more than 700 vineyards. You will be treated with style and grace every moment of your stay a Kimpton Hotel Vintage, which is why we consider it one of the best hotels in Seattle, hands down.
Visit their website to learn more.
7. Pan Pacific Hotel Seattle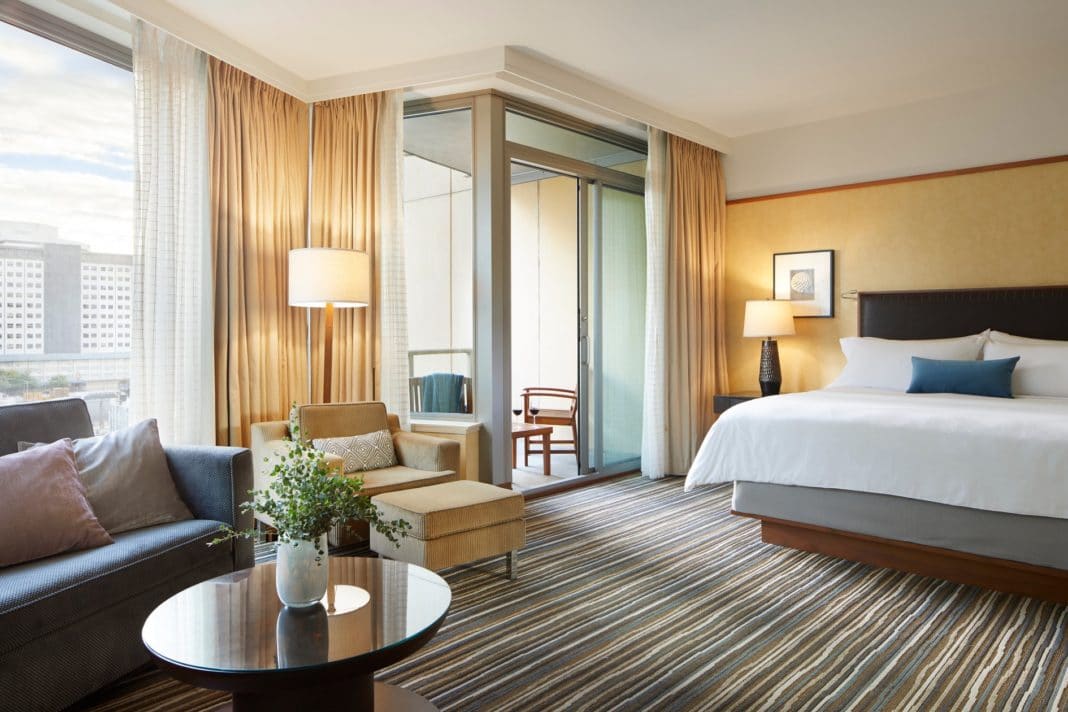 Credit: Pan Pacific Seattle / Facebook
Pan Pacific Seattle serves up truly authentic Northwestern vibes. Located in Seattle's hip neighborhood of Belltown, Pan Pacific is one of the city's coolest and comfiest stays. When staying at a hotel, it's the details that make or break your visit. Pan Pacific will start your vacation off right with a helpful, friendly staff that greets you right at the door. Next you'll receive instant recommendations on the best places to shop, eat, and sightsee in the neighborhood. The staff loves their city and they want you to fawn over it as much as they do, so don't hesitate to ask for suggestions tailored to your travel tastes.
Even if you chose to stay inside your entire stay, Pan Pacific would still be one of the best hotels in Seattle. This luxury, boutique hotel has large spacious rooms, a Whole Foods just downstairs, a gym, and other fun perks that make for a memorable stay.
This is a popular wedding location and one of the best hotels in Seattle for business meetings and conferences. Though Pan Pacific can be a bit pricey, it's worth every penny if you're looking for a stress-free stay, exceptional service, and a convenient commute to all the best sights, shops, and dining options.
Visit their website to learn more.
8. Ace Hotel Seattle
If you're looking to feel like a true, coffee sipping, beanie wearing, Seattle hipster, then Ace Hotel Seattle is the spot for you. The space is clean, minimal, modern, and will make you feel like you've stepped right off a a "Bohemian decor" Pinterest board. This is one of the best hotels in Seattle for travelers on a budget who still want to have a relaxing hotel stay. Ace Hotel has comfortable, clean, no-frill rooms that serve their purpose: they provide a cozy place to rest your head at night.
All guests have access to the shared kitchen – rather, "Breakfast Room" – that gives the Ace Hotel a communal, hostel-like feel. Accordingly, this is one the best hotels in Seattle for younger or more social travelers to stay in. You're likely to get to know the other guests while hanging out in the lobby or enjoying your morning cup of coffee on the patio. Ace Hotel is a great place to be to socialize with other adventurers.
Art adorns the walls of the Ace Hotel, giving it a very Instagram-worthy aesthetic. The staff is friendly and will happily assist less informed travelers on fun activities to explore within the area. If you're a lover of baseball, you'll be happy to know your just steps away from Safeco Field, home to the Seattle Mariners.
Overall, Ace Hotel values aesthetics and functionality for budget travelers, all while celebrating Seattle's vibrant arts and dining scene. Visit their website to learn more.
9. Hotel Sorrento
Credit: Hotel Sorrento
From making your reservation to the process of checking out, staying at Hotel Sorrento in Seattle is an experience of a lifetime. The hotel opened its doors in 1909 and welcomed its first guests – "prospectors, cagey entrepreneurs, and curious tourists" – who were attending the Alaska-Yukon-Pacific Exposition. You could say, therefore, that the Hotel Sorrento has been a beloved and one of the best hotels in Seattle since the city first began.
It continues being a popular place for tourists to settle in today. This boutique-style historic hotel has plenty to offer guests within its doors. Visitors can enjoy breakfast, lunch, and dinner at the on-site restaurant, the Dunbar Room. The menu serves classic European-style bistro in a cozy space "reminiscent of a European train-station bistro." After dinner, guests can venture to the historic Fireside Room. Adorned with mahogany paneling with a baby grand piano nestled in the corner, guests will feel taken back to the Roarings Twenties while sipping on their Old Fashions before spending a night out on the town.
Hotel Sorrento is one of the most popular and best hotels in Seattle for couples looking for a wedding venue. It also serves as a prime location for business meetings and conferences. Visit their website to learn more.
10. Hotel Max
To keep up with our string of funky, upbeat, boutique Seattle hotels, we present to you: Hotel Max. This is hands down one of the best hotels in Seattle for artistic folk and the "creatively inclined." Hotel Max features a world-class art collection and uniquely designed, boutique guest rooms dedicated to the music and art lovers in all of us. Each room has its own turntable with a cozy bed and hip decor. Located in the heart of downtown Seattle, you are surrounded by fun, affordable, touristy activities. As a tourist in Seattle, it's pretty much a rite of passage to ride the Seattle Great Wheel at least once. You're also a stone's throw away from the beautiful Olympic Structure Park, the Chihuly Garden and Glass, and the Museum of Pop Culture. Even the nearby attractions celebrate Seattle's art scene, further proving this is one of the best hotels in Seattle to stay in if your'e interested in exploring Seattle culture.
Hotel Max is also very proud of its city's delicious craft beer scene. Therefore, the hotel offers daily craft beer hour from 5:30 to 6:30 p.m. to give their guests a taste of the brews that Seattle has to offer. Miller's Guild, the hotel's onsite restaurant, is an excellent dining option for travelers who want a taste of Seattle craft cooking. Chef Jason Wilson has carefully curated a wood-fired menu offering "75-day dry-aged beef, locally caught seafood, nose-to-tail butchery and rustic baked goods."
There's countless incredible dining options in the surrounding area as well for guests to explore. Whether you're visiting Seattle in the spring, summer, fall, or winter, Hotel Max is always one of the best hotels in Seattle for travelers who want to fully embrace the Pacific Northwest lifestyle.
Visit their website to learn more.
11. Hotel Andra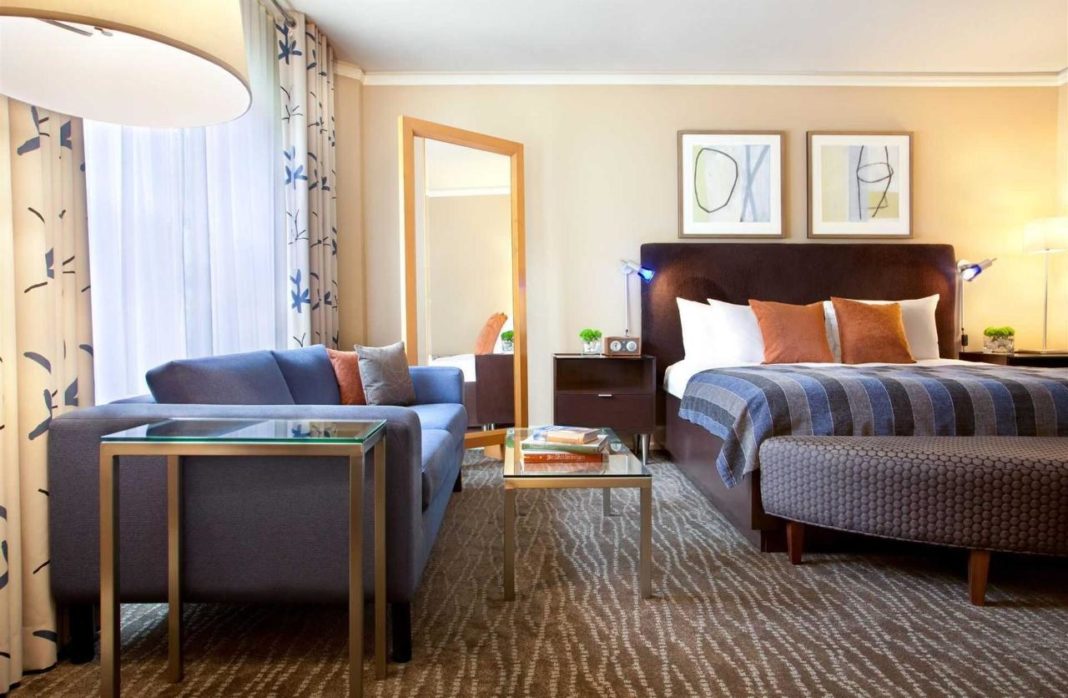 Credit: Hotel Andra
Hotel Andra is a premiere boutique hotel located in the lovely downtown Seattle. Coined as a "sophisticated and stylish" place to stay, Hotel Andra has everything you need for a relaxing, stress-free, home away from home. The moment you walk into the hotel's "Living Room" – what they call their lobby – you will feel welcomed by the incredibly informative and attentive staff. Everyone who stays here leaves with an itch to come again, which is no surprise considering Hotel Andra was voted one of the best hotels to stay for 2017 in downtown Seattle by Fodor's, Smarter Travel and USA Today's 10 Best. That's enough for us to rank this spot as one of the best hotels in Seattle!
One aspect of your stay that Hotel Andra takes very seriously is your dining experience. The hotel has therefore partnered with the city's top chefs to create a uniquely Seattle culinary experience. Lola, chef Tom Douglas' signature Greek-Mediterranean restaurant, serves up some of "the city's best breakfast," according to Seattle Metropolitan Magazine. The neighboring restaurant, Assaggio Ristorante, features Italian cuisine off a menu crafted by Seattle based chef Mauro Golmarvi. If you don't feel like socializing and just want to cuddle up in your room after a long day of sightseeing, you can also have dishes from either restaurant delivered right to your door. Hotel Andra is all about convenience and is here to tailor your stay exactly to your liking.
What's more, Hotel Andra also offers cooking classes to guests and Seattle locals at Hot Stove Society. Located on the second floor of the hotel, year-round cooking classes are available for folks of all culinary levels. Whether you want to learn how to make a top-notch five course meal or simply pick up a few appetizer ideas, there is a class for everyone at Hot Stove Society.
This is one of the best hotels in Seattle for foodies and culinary fanatics alike. Visit their website to learn more.
12. The Maxwell Hotel
We're topping off our list of the best hotels in Seattle with one of the swankiest spots in town. Not to be confused with the previously mentioned Hotel Max, The Maxwell Hotel is a unique and hip boutique hotel that celebrates the arts with a funky flair. Designed to "delight the senses," The Maxwell Hotel is another Staypineapple resort located in Seattle's bustling downtown district in Lower Queen Anne. The staff is known for going above and beyond to ensure your stay is as seamless as possible. You'll know you're in the right place the moment you see the large mosaic pineapple in the lobby, in addition to commissioned murals by local artists and art tiles designed by children adorning the indoor swimming pool. There's something to be said about hotels that strive to shine a light on the local arts community. This is truly one of the best hotels in Seattle for visitors looking to be as immersed into the community as possible.
Another perk is that you're right within walking distance of some of the Emerald City's top tourist attractions. The base of Queen Anne Hill, which is where The Maxwell Hotel is settled, is adjacent to the Seattle Center, home to the iconic Space Needle. You can take a bike ride with one of The Hotel Maxwell's complimentary bicycles right to the Pike Place Market, the Seattle Opera, and the Pacific Northwest Ballet. Even the hotel's location encourages you to step into Seattle's art scene. What more can you ask for?
A stay at The Hotel Maxwell is a unique experience that will make you view Seattle in an entirely new way. We could not recommend this more as one of the best hotels in Seattle! Still not convinced? Book a room and see it for yourself. Visit their website to learn more.
From its coffee to its vibrant arts & music scene to its incredible hotels, we love everything about Seattle.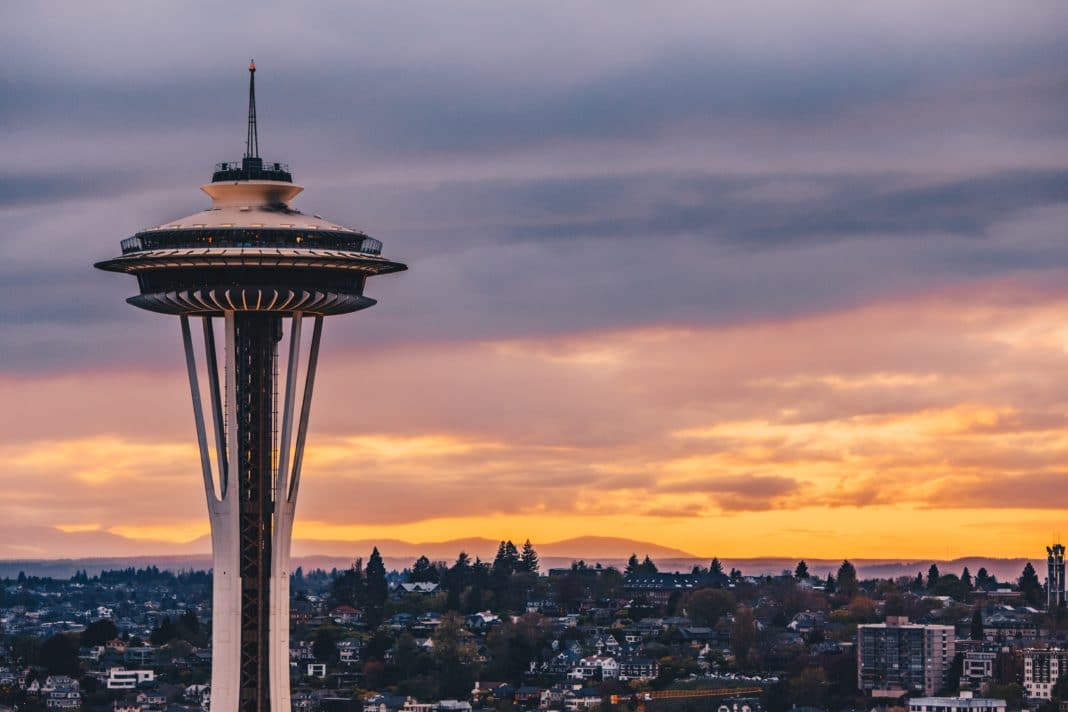 We're pretty sure that after one visit, you'll love Seattle as much as we do. This is truly a one of a kind city that every traveler needs to explore. If you identify as an East Coaster, you'll be especially amazed by the laid back, friendly, artistic lifestyle Seattle locals exhibit so well. By staying in one of the best hotels in Seattle, you'll better your chances of getting an authentic taste of this incredible Pacific Northwest city.
Get ready to fill up on delicious coffee, incredibly fresh seafood, and unique craft beers while you tour the mash-up of both metropolitan and natural sights. A trip to Seattle is one you'll never forget. Make it even better with a comfortable stay. After all, you only see Seattle for the first time once! Why not make it the best trip yet?
Related Article: 8 Best Hotels in Portland For A Luxury Getaway