What's a better vacation than hitting up the best amusement parks in California?
If you're heading to the Golden State, there are plenty of stops worth visiting. It's time to hop in your car with friends and family and travel the coast the best way you know how – road tripping through California. Get ready for some adrenaline-pumping adventure, magic with Mickey and friends, and a whole lot of laughter. When it comes to making memories, visiting these amusement parks in California will certainly be one for the books. From 4D rides to summer cool down water rides and exhilarating roller coasters, there will never be a dull moment.
1. Knott's Berry Farm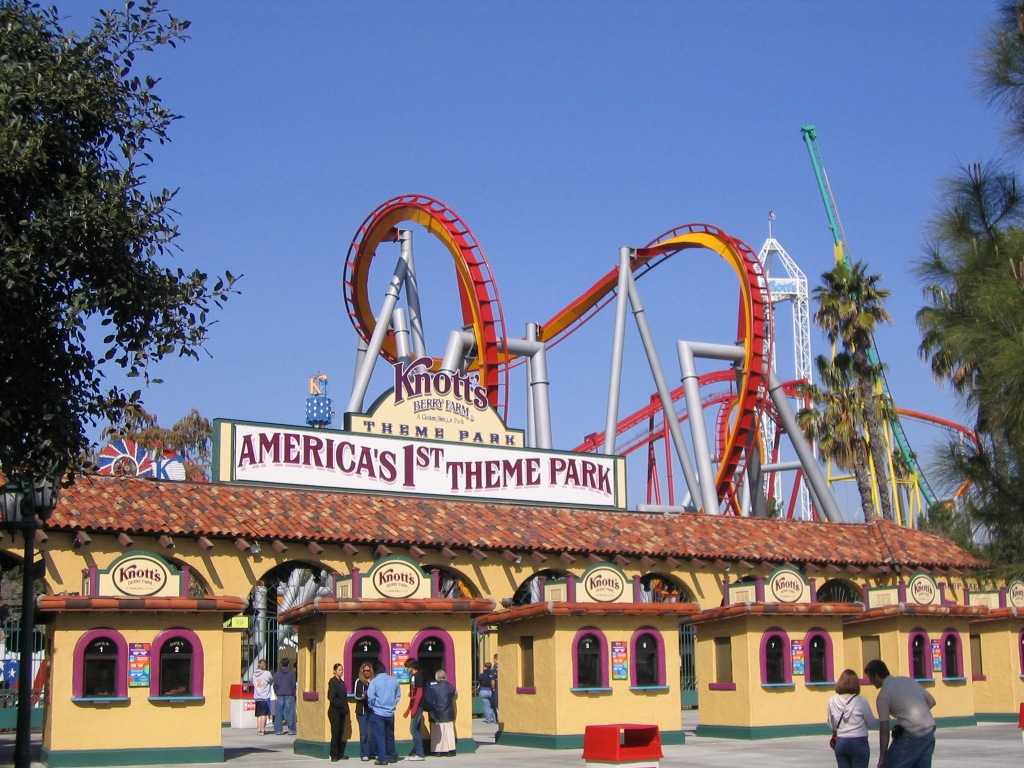 Credit: Wikimedia Commons
Welcome to America's first theme park. This is one that kids and adults alike can enjoy. Rides range from fun carnival style themes to ones of thrilling speed and jaw-dropping turns. Whether you're a seasoned pass holder or a newbie, Knott's Berry Farm will never get old. As the name suggests, the land that Knott's sits on today was once a farm and berry stand. Spanning 160 acres, this park first opened in 1920 to the delight of all of Orange County.
As one of the most visited parks in all of North America, it's conveniently located to Disneyland and some of the other main tourist attractions you need on your SoCal bucket list. One of our favorite features about the park is its seasonal themes. Come Halloween time, the scene transforms into Knott's Scary Farm, a nightmare of haunted houses, mazes, and monsters lurking about in the dark. A few months later in the Christmas season, the park transforms into a holiday extravaganza for all ages, Knott's Merry Farm.
2. Disneyland Park (aka the Happiest Place on Earth)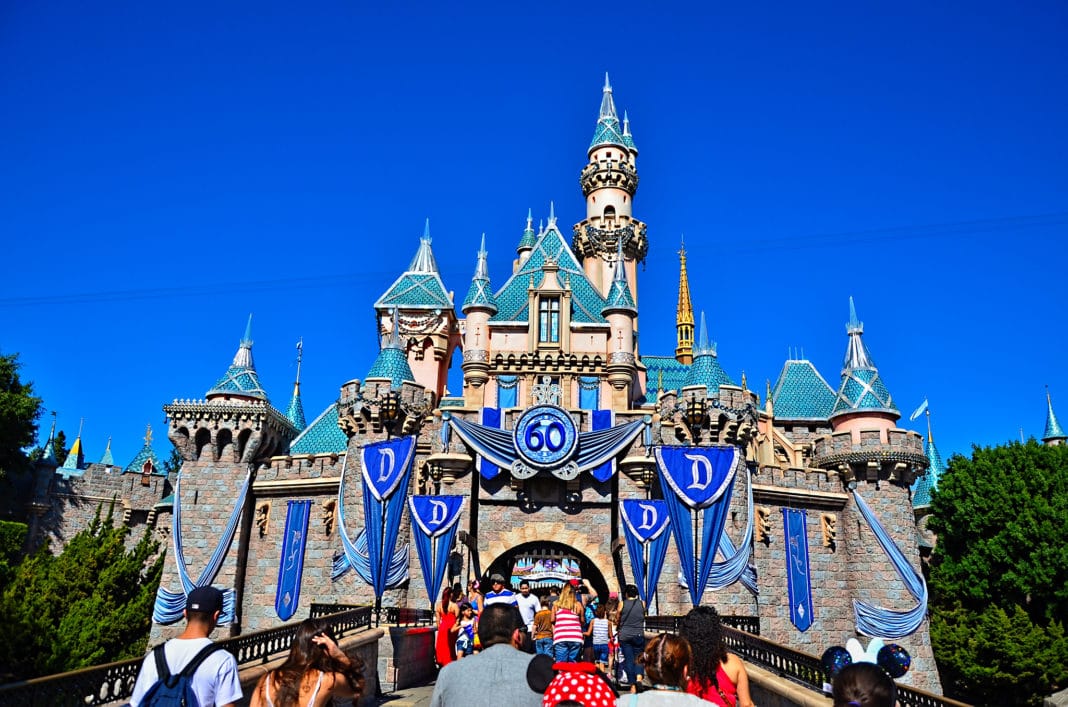 Credit: Wikimedia Commons
Whether you're a kid or a kid at heart, everyone loves Disneyland park. Yes, we realized that rhymed. Located in Anaheim, this is one of the best amusement parks in California, hands down. Travelers from around the world come to meet Mickey and Friends, go on epic rides like Space Mountain and the Matterhorn, and enjoy world-class dining. Whether you're looking to cool off on Splash Mountain in the summer or diving under the sea on the Nemo submarine voyage, there is something for everyone to enjoy at the Happiest Place on Earth.
3. Universal Studios Hollywood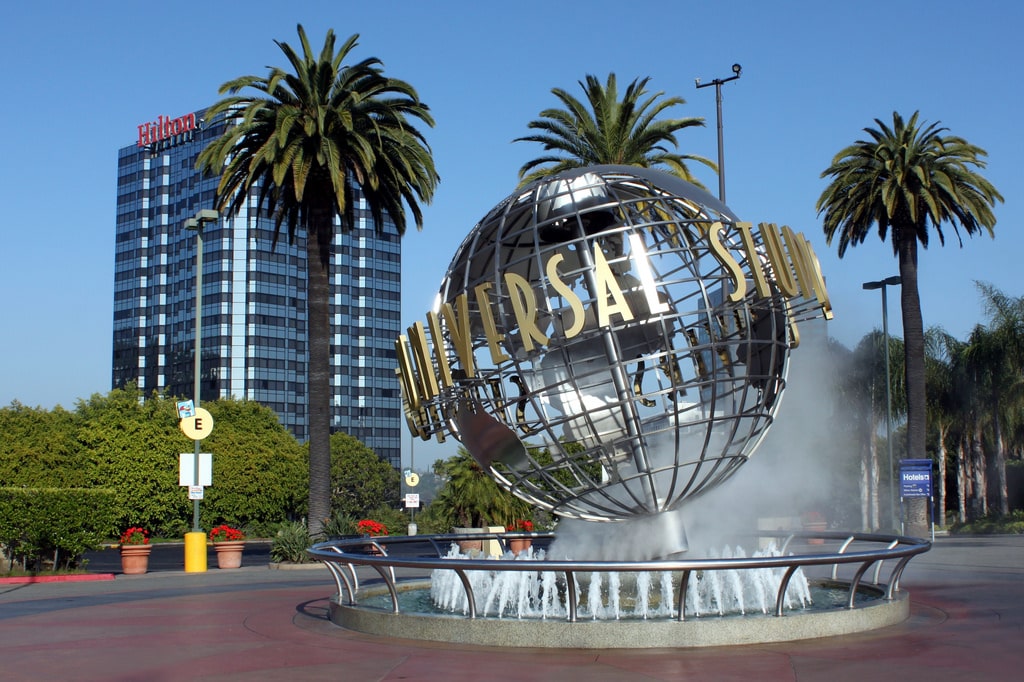 Credit: Flickr
Cinema buffs, this is the place for you. Not too far away from Hollywood, Universal Studios offers a place to get the inside scoop on how movies were made, see behind some epic movie sets, and scream on the ride of your life. From world-class simulator rides to live shows, 3D rides, and jaw-dropping (and height dropping) rides like the animatronic Jurassic Park, there are so many fun experiences awaiting you.
One of the more recent and (our favorite) additions is the Wizarding World of Harry Potter. On a hot summer's day, cool down with a frosty (and super sweet) cup of butterbeer, the most popular winter drink along the snowy Hogsmeade. Once you've hit up all the rides, taken pictures in front of Hogwarts, and walked Diagon Alley, the Studio Tour awaits you. Park visitors board a tram and go view sets from some of the hit movie and TV series.
4. Six Flags Magic Mountain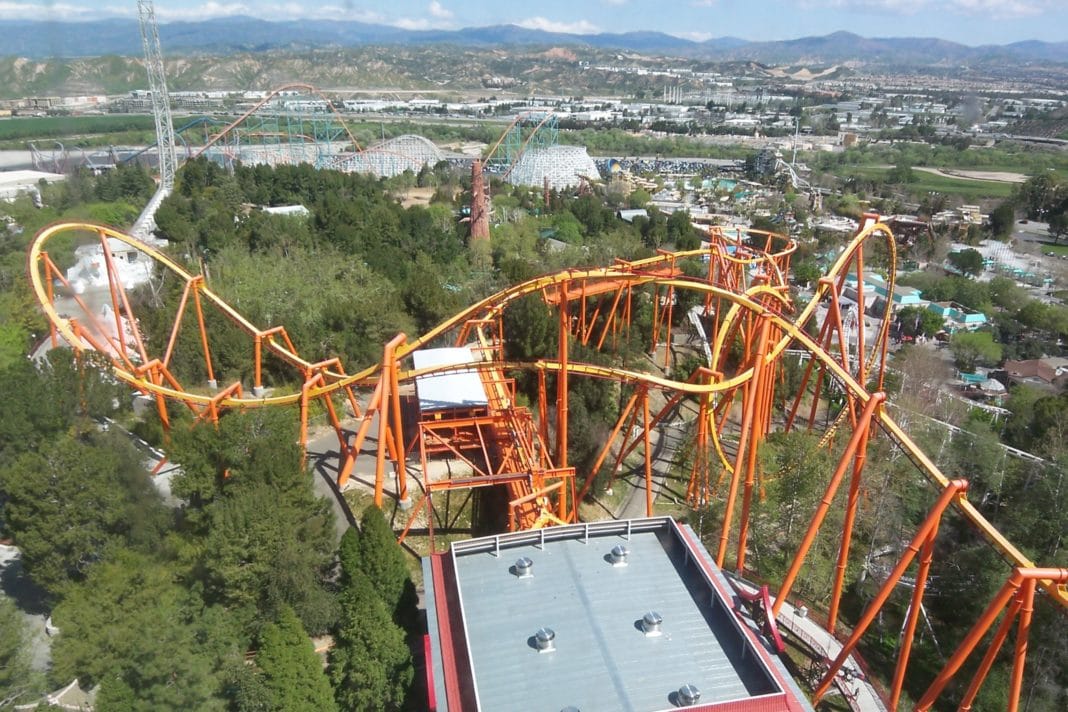 Credit: Wikimedia Commons
An hour away from Los Angeles, you'll find Six Flags Magic Mountain. Two hundred and sixty-two acres of entertainment, it is no doubt one of the best amusement parks in California. If you're a comic book fan, you will love the park's superhero theme. Nineteen thrilling rollercoasters take you on stomach twisting, plummeting turns, drops, flips, and spirals. Push your limits on rides named for fan-favorite characters like Batman, Superman, and Green Lantern.
Before you buy your ticket, we have a question for you. How adventurous are you feeling? Let's just say there's a new ride and it's spectacular. Face your fears in DC Superheroes Drop of Doom VR. You're probably wondering 'how scary can a VR ride really be?' Strap on your headset and prepare to find out. You'll get front row seats to watch Superman and Wonder Woman fight Lex Luther before plummeting 400 feet at 85 mph down the highest drop tower on the West Coast.
5. Disney California Adventure Park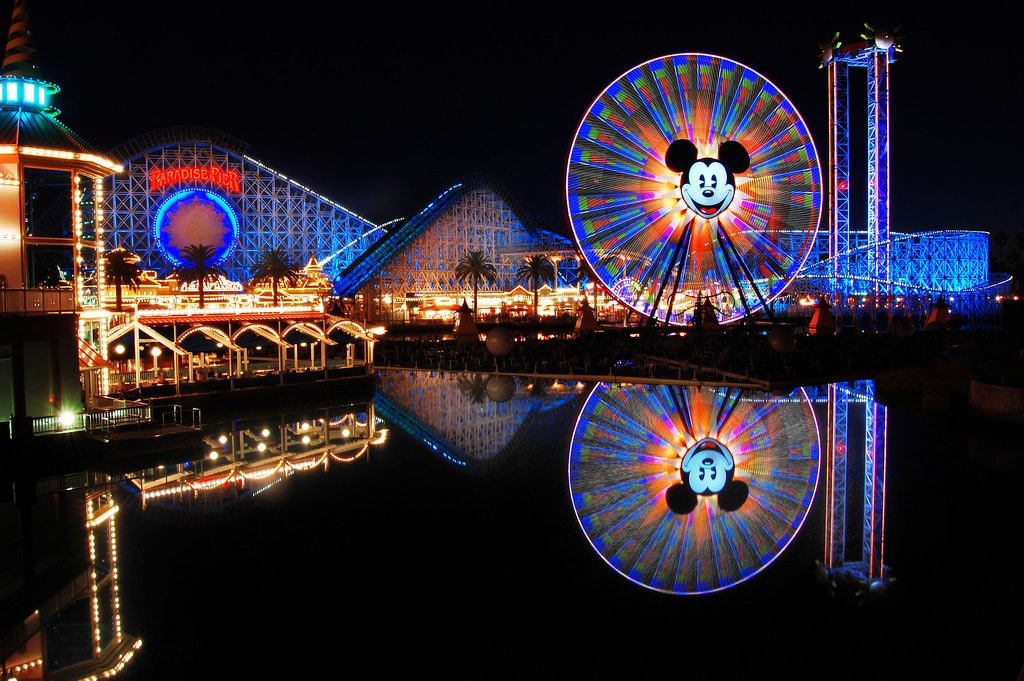 Credit: Flickr
Okay, we know we talked about Disneyland. But for all your rookies who don't live in SoCal, there's another park adjacent to Disney. Literally steps away, you'll find California Adventure Park. Here, eight different rides highlight some of your favorite classic animated films from Disney and Pixar. Think Cars, The Little Mermaid, Toy Story, The Incredibles, and A Bug's Life. If you're feeling up for a little adrenaline rush, wait in line for the popular Guardians of the Galaxy ride (formerly the Tower of Terror – RIP).
Should you plan on spending the entire day at the park, the night brings with it a special treat. Similarly to Disneyland's nightly fireworks show, California Adventure Park has a little magic of its own up its sleeve. The night brings with it the World of Color, a spectacular light show over the lake.
6. California's Great America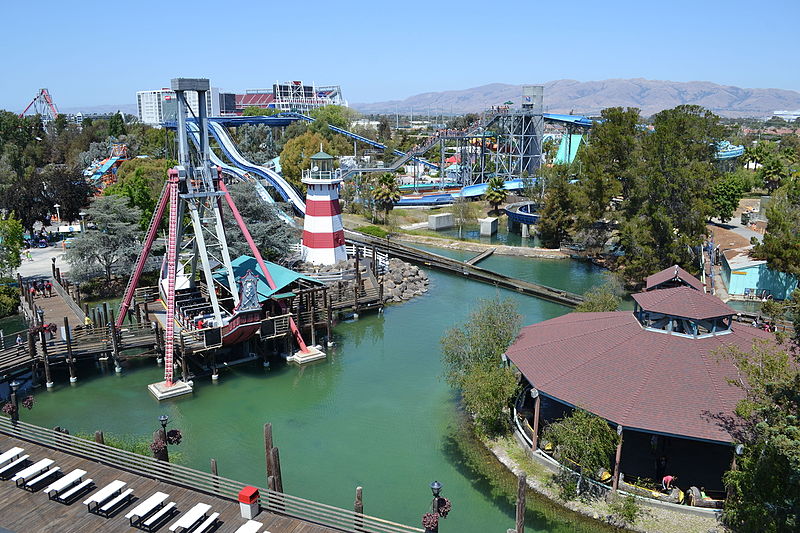 Credit: Wikimedia Commons
Now, this is one of the amusement parks in California that often slips under the radar. It's easy to get overshadowed by big-name theme parks like Disneyland, Universal Studios, and Six Flags Magic Mountain. But Great America is still one of the best theme parks in California. In the summer, guests hop back and forth between here and Boomerang Bay Waterpark to cool down.
Here, you'll find more than 50 attractions. There is everything from old-school type carousels to high-speed thrill rides. So whether you're traveling with friends or the whole family, there's something everyone can enjoy. Yes, even for your cousin Jenny who refuses to go on any ride with speeds over 15 mph. For those of you who are thrill seekers (sorry Jenny), you'll love Gold Striker. While it's not a classic like some of the old wooden coasters, it still made its way onto Amusement Today's list of the top 10 wooden coasters.
7. Legoland
Credit: Flickr
If you're wondering what the best amusement parks in California are, take the kids to Legoland. Located in Carlsbad (aka where you pass through on the way to San Diego), this is a theme park, aquarium, and waterpark all wrapped up in one. Sure, most of the rides in the park are geared towards younger children but we guarantee everyone will have a great time basking in the glory of these fantastic lego creations.
We're 100% serious. There are mini versions of the Las Vegas Strip created entirely out of – you guessed it, Legos. As if that wasn't amazing enough, there are also six scenes from the Star Wars franchise films that took over 1.5 million Lego pieces to complete. Yes, you read that right. Talk about a project! While you're there, make sure you don't miss out on the tour they offer of the Lego Factory. It's an interesting way to get behind the scenes, learn about the history of the Lego bricks, and how they are made.
8. Raging Waters Los Angeles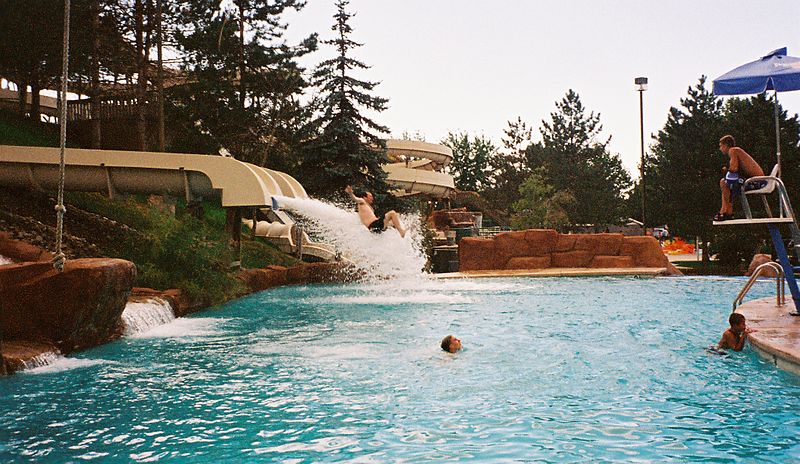 Credit: Wikimedia Commons
What's a list of the best amusement parks in California without the best water parks? Raging Waters in Los Angeles needs to be on your list of must-see places. Located in San Dimas, it stretches out over 50 acres and offers more than a dozen rides, making it the largest water park in all of the state. Come during the summer for a fun place to work on your SoCal tan, cool down, and make a splash. While the park features a ton of crazy rides, it's the musical events that set it apart from the pack. When you get hungry, there's no shortage of dining options either. Pink's Hotdogs, Carls Jr., and Dunkin Donuts are all on-site options.
9. SeaWorld San Diego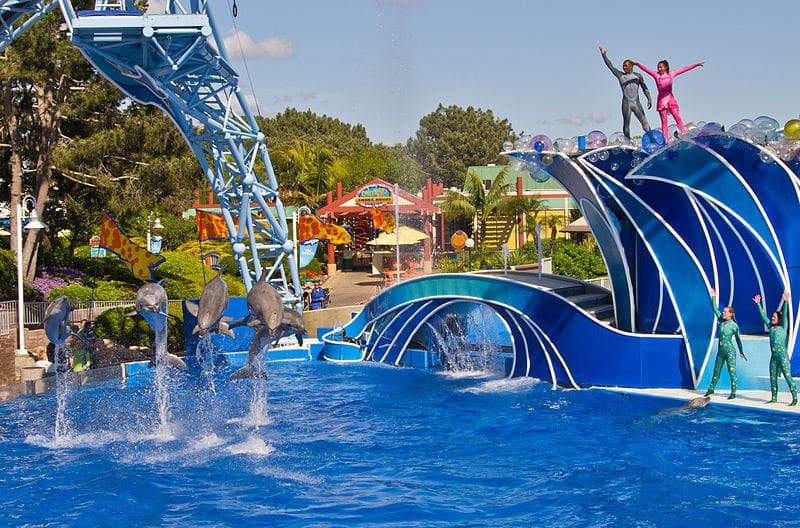 Credit: Wikimedia Commons
Did you really travel to California if you didn't take a trip to SeaWorld in San Diego? You'll find this delightful marine park located on the northern edge of San Diego. It's filled with fun rides, has a large aquarium, and offers animal shows like Shamu the Killer Whale. If you're looking to hit up multiple stops on your trek to see the best amusement parks in California, consider getting the Southern California CityPass. This will help save you some serious cash as you hop skip across the state on your adventures.
10. Pacific Park on the Santa Monica Pier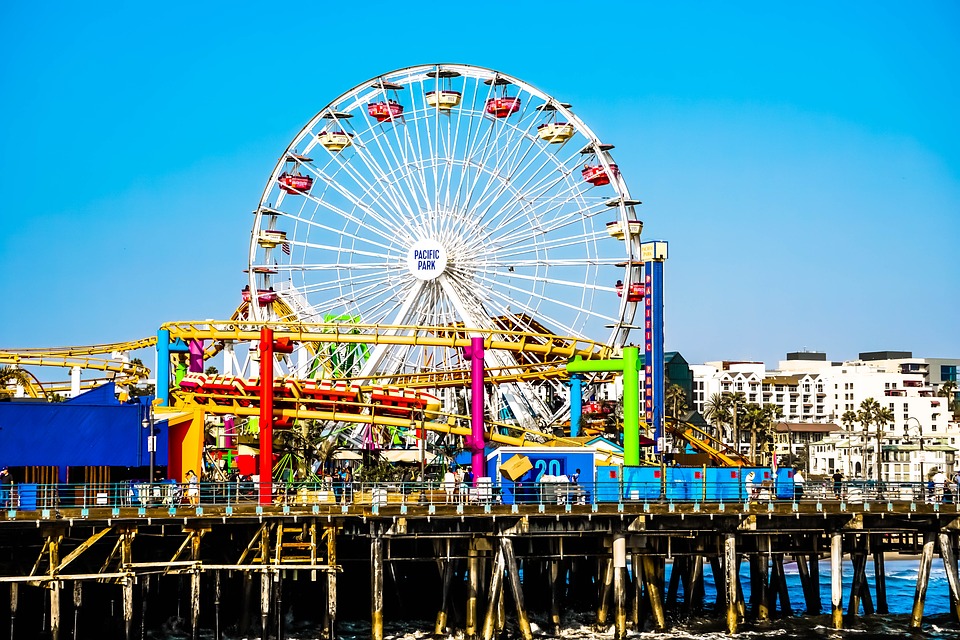 Forget the Hollywood sign. This is what people should think about when they picture the Golden State. The sun never sets on the fun at Santa Monica Pier. Carnival games line the boardwalk giving you the chance to win a giant stuffed bear, make a hoop, and win a prize. There are plenty of sweet treats, places to get a caricature drawn, and a few fun rides too. While the roller coaster looks like kids stuff, it's the perfect combination of small and rickety to even make the parents scream a little. All in all, this is old school good time fun and we can't get enough of it. Make sure to bring a good travel camera and take some pictures for the scrapbook.
11. Knott's Soak City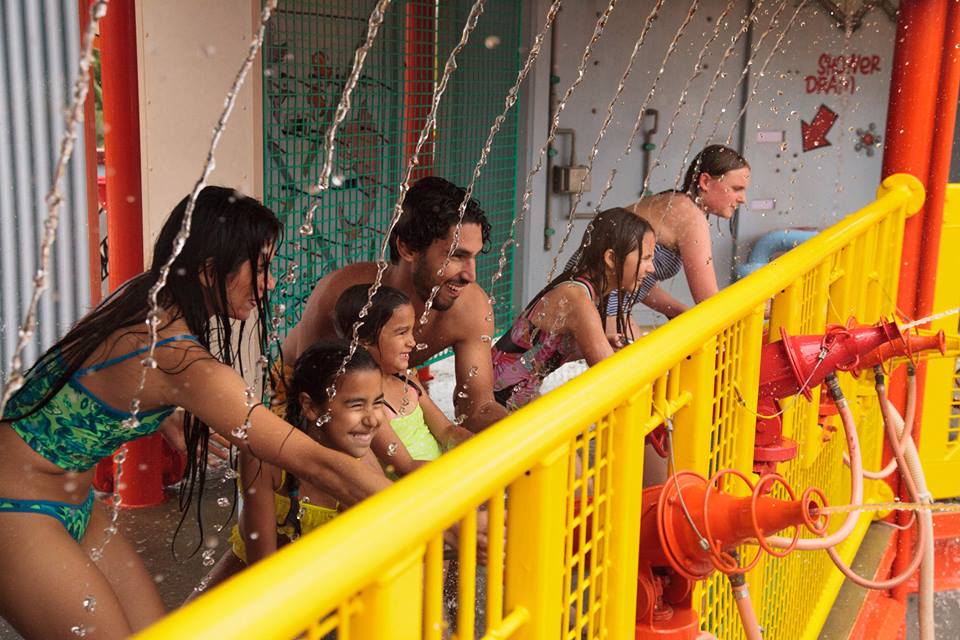 Credit: Knott's Soak City / Facebook
Make a splash at Knott's Soak City. It's time to grab a hot dog and soak up the sun. Whether you're looking to float down the lazy river or get your adrenaline fix, this park has just what you need for a perfect day at one of the best amusement parks in California. Make your summer here a one to remember.
As soon as you enter the park, you're greeted by colorful, extreme water slides. One of our favorites has to be the Aqua-Launch chamber. Yes, it's exactly what it sounds like. You can't help but feel like a superhero called to duty as the floor opens up and you race down the tube through your enclosed capsule and down the slide.
Spanning 15 acres, this water park is known for attracting all sorts of vacationers. Kick your feet up and relax, hit up rides, or do all of the above. Open from May through September, Knott's Soak City is the perfect place to get a taste for the California heat while managing to stay cool. Have a drink in one of the many cabanas, enjoy lunch in the scenic picnic areas, and enjoy the vacation you deserve.
Book Your Trip to Visit the Best Amusement Parks in California
Alright, now that you know the best amusement parks in California, it's time to get packing. These parks offer attractions that everyone can enjoy. Whether you're traveling with the whole family, a group of friends, or your significant other, these fun zones are a great place to stop on your adventure in the Golden State. The parks on our list run the gamut of rides – there's everything from lazy rivers and carousel rides to some of the fastest coasters and biggest drops on the west coast. Let the excitement begin!
Related Article: 15 Best Amusement Parks to Visit This Summer