It is dubbed the Happiest Place on Earth. The place where you are greeted by the familiar, smiling faces of Disney characters as you shuffle from one area to the next (Tip #1: ask for their autographs). It is the place where you feel like a kid again. Where there are rides for all ages and pretzels shaped like Mickey Mouse (Tip #2: try the Mickey Mouse shaped pretzel). It is a magical place with an enchanting castle and fireworks that skyrocket into the night sky. It is the Disneyland Resort. And because of all the adventure to be had at the Disneyland Resort, we want to make your time planning this vacation easier by revealing to you the best Disneyland rides that you must go on during your vacation to Anaheim, California.
We know that depending on who you are traveling with there will be different Disneyland rides that travelers are willing/permitted to go on. That is why we have an all-inclusive list that ensures everyone will be able to find their favorite one. We have Disneyland rides for families with young children. There are Disneyland rides for those wanting a little dose of thrill, but not too much. And of course, on the list are Disneyland rides for the big thrill-seekers who want something fast and daring. Everyone will find their favorites on this list of the best Disneyland rides to get on right now. So, pack your bags and don't forget your sunscreen (Tip #3: Really, don't forget your sunscreen). Next stop: The Happiest Place on Earth – Disneyland Resort.
1. California Screamin'
Thrill-seekers, come close. Those of you who want a fast-speed Disneyland rides that rattle up and down and all around, California Screamin' is for you. The steel and wooden planks take you upwards of 120 feet and drop you down at high speed. Loop and curl throughout the boardwalk area on this twisting and turning roller coaster. Between your screaming, look out for the camera that will shoot your photo at the end of the ride. Or, keep screaming. Those photos always turn out the best, don't they?
California Screamin' is the longest rollercoaster in the Disneyland Resort, as well as the fastest. Because of this, only individuals 48 inches of tall are permitted to buckle into this ride that twirls throughout the Paradise Pier boardwalk area. If you are over the height limit and dare to step onto this ride, then hold onto your hats folks (it may be blown off rather quickly).
2. Space Mountain
3, 2, 1, blast off! Seat yourself onto this rocket and get ready to launch into outer space. People will tell you that the sky is the limit, but those are the same people that have never been beyond. This ride defies the myth that the sky is the limit. To the galaxy and back, we go! Space Mountain is a ride in which you will race through the glowing galaxy at lightning speed. Guest must be 40 inches or taller to hop onto this spaceship. While aboard see if you can spot the shooting stars whizzing by or the satellites hovering out in the darkness.
Space Mountain is a memorable trip into space, one of the most exhilarating Disneyland rides for future astronauts to test out the waters of life in another galaxy. There is often a long line outside the space station, but one that is worth standing in for the journey that you will embark on in outer space.
Alice in Wonderland
Hop abroad a jumbo, colorful caterpillar and follow the White Rabbit down the rabbit hole to discover a new and wondrous world with Alice. Individuals of any height can venture down and explore this Wonderland. On this ride, you will curve your way along the trails beneath the ground and spot all of the major characters from the Alice and Wonderland film, including the Mad Hatter and the Queen of Hearts. The Alice in Wonderland ride is one of the slower Disneyland rides that is ideal for families with young kids. So, families, come abroad, a mystical and colorful land awaits you. But be careful, it can be dark and loud down the rabbit hole.
3. Splash Mountain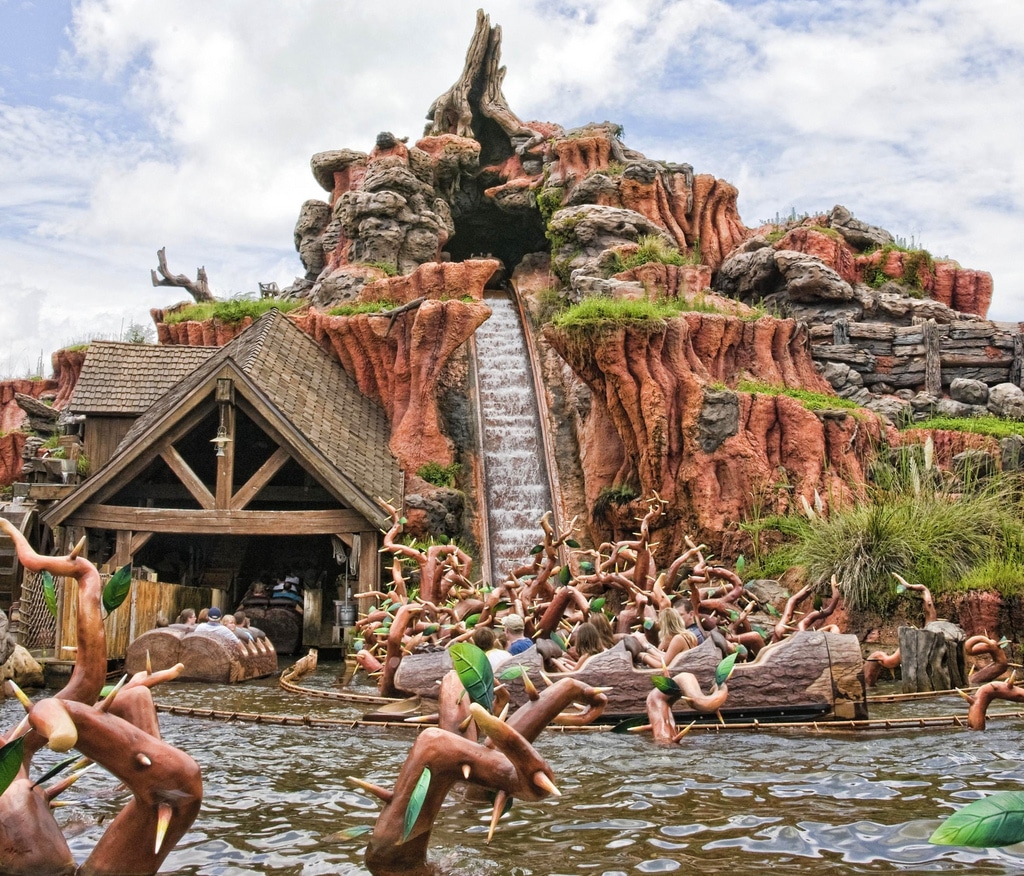 If you are over 40 inches tall you can roll down rapids and waterfalls on this log flume ride. Splash Mountain is a favorite for many. Based on the 1946 Disney film Song of the South, the ride invites guests to sing along to all the greatest Disney songs, including "Zip-a-See-Doo-Da." And of course, as the name eludes to, you can expect to get wet on this ride. Sit in the front of the log and you'll get soaked. Sit in the back and you may get sprayed. But, anywhere you decide to sit, you are sure to have a thrilling time weaving past the caves and streams that lead up to the 5-story splashdown.
4. Indiana Jones Adventure
Indiana Jones Adventure is a classic for anyone over 46 inches tall. This fast, thrilling, and bumpy ride zips near and far to find the missing Indiana Jones. The terrain is rough on this ride as you go through the Temple of the Forbidden Eve, the Gates of Doom, and the Cavern of Bubbling Death. The special effects bring this ride to life and is an incredibly popular attraction at the Disneyland Resort. Through the line is long, the experience is worth it. Indiana Jones Adventure is often one of the favorite Disneyland rides for many guests.
5. Star Tours –The Adventure Continues
Pick up a pair of 3D glasses on your way into the vehicle because you are going to need them. This 3D flight simulation travels the Star Wars universe with the great Star Wars crew. You may see Admiral Ackbar, Yoda, Finn, and none other than Darth Vader himself. The ship will take you through the galaxy on an unforgettable and unpredictable flight. The only requirement for this flight into space is that passengers aboard be 40 inches or taller. Other than that, happy flying.
6. Big Thunder Mountain Railroad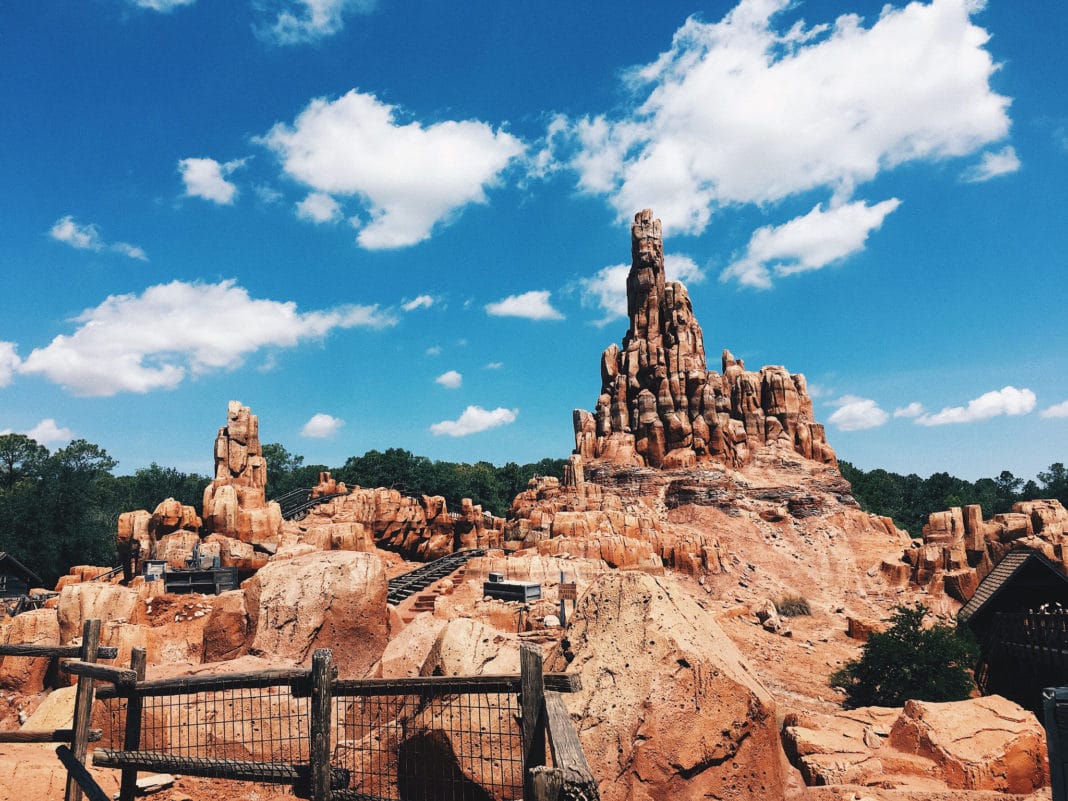 Choo-choo! Guests of 40 inches or taller, step onto this mine train and roll through the canyons and caves of a gold-mining town. On this loud, thrill ride with small drops, passengers take in the views from within and outside the mountain. Depart from the railroad station and quickly you will see bats looming overhead and hear the chugging of the train's wheels carrying you through the town. Just remember to keep all hands and feet inside the moving train so you can keep safe on your journey aboard this abandoned train.
7. Matterhorn Bobsleds
To ride through the snow-capped mountains of Switzerland, guests must be 42 inches or taller. Race down the peak, passing waterfalls and gliding in and out of dim caves. But, be on the lookout for the famous Abominable Snowman who calls Matterhorn Mountain his home. For those who brave the mountain, you'll finish by splashing into the lake at the base. There are small drops on this loud water ride, making it a cool and icy time through the mountains for kids, tweens, and teens who are above the height requirement.
8. Storybook Land Canal Boats
Storybook Land Canal Boats allow for guests of any height to jump onboard. On this slow water ride, take a cruise down the canals in a vibrant boat and take in all this ride has to offer. The boat tour will take you to many memorable Disney fairytale destinations. Be on the lookout for the castle from Frozen when Anna and Else grew up, as well as Cinderella's castle, and the three houses crafted by the Three Little Pigs. Miniature models of all of the classic scenes are spread across this ride. For those who love their fairy tales, you will love this canal cruise.
9. Finding Nemo Submarine Voyage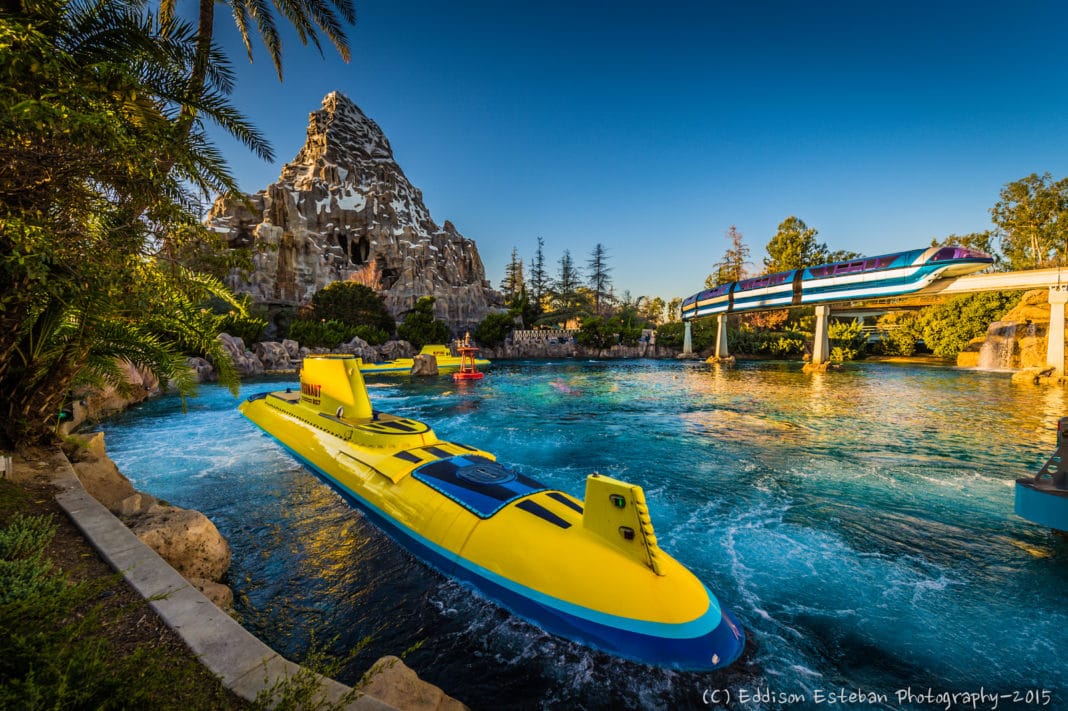 Have you even been in a submarine? If your answer is no, then this ride is your opportunity to journey into the uncharted undersea world. Look through a pothole to find Nemo, his dad, Marlin, and his forgetful friend, Dori. On this ride, you will follow Marlin and Dori on their quest to find Nemo. Families with young children will enjoy this slow ride as you dive under the sea to experience the world of all your favorite Finding Nemo friends.
10. "It's a small world"
"It's a small world" features music from around the world as passengers set sail and travel to all seven continents. Children from each location visited will be singing "it's a small world" in their native tongue. This element of the ride will allow passengers, young and old, to see the richness and beautiful diversity of the world. This slow and steady water ride will cause any preschooler or young kid to light? up and bob along to the beat of the music. In addition to traveling the globe, look out for your favorite Disney Characters. Cinderella, Pinocchio, Peter Pan and Tinker Bell, and Aladdin and Jasmine will be along the journey with you as well. So, come climb abroad and discover on your around the world voyage that it truly is a small world after all.
11. Enchanted Tiki Room
A musical sing along with tropical birds and exotic flowers. Enchanted Tiki Room features a 15-minute musical performance from these colorful birds as they sing island songs. While in line prior to enter the Enchanted Tiki Room, you can also purchase a fruity pineapple refreshment, including juice, pineapple spears, or the well-known (have to try!) DOLE WHIP®. It is a frozen treat this is famous at the Tiki Room. All ages are invited into this tropical paradise and are particularly encouraged to clap along to the island performance.
12. Grizzly River Run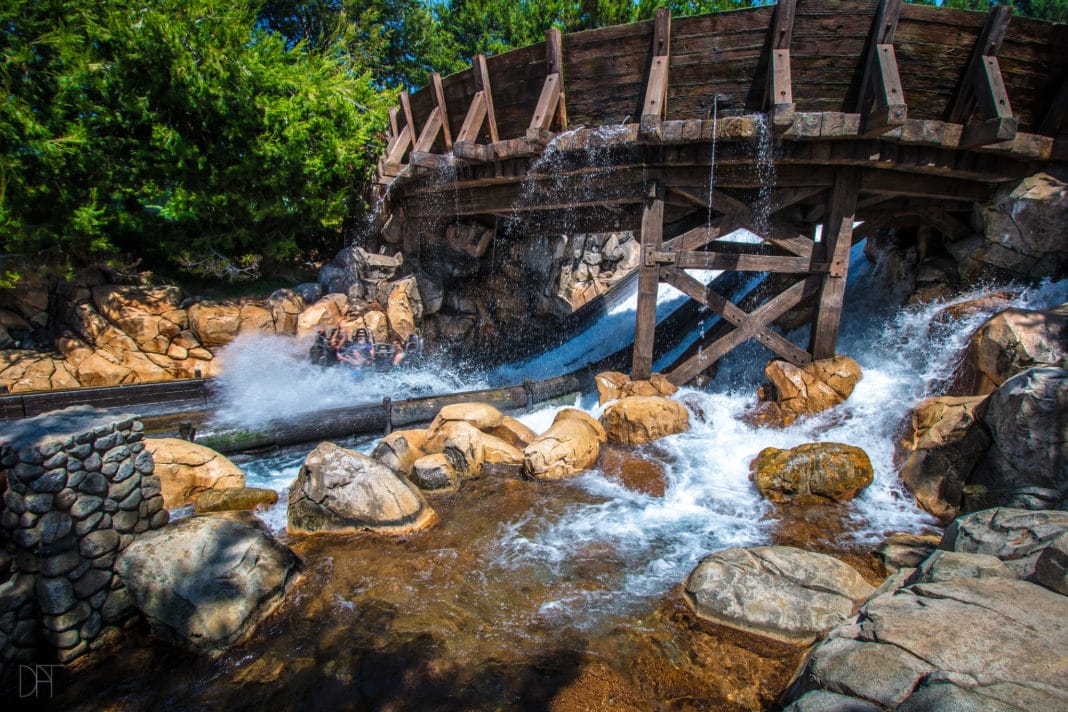 Grizzly River Run is a whitewater rafting expedition that takes you down the California river and along the mountainside. Make sure all seatbelts are fastened because your raft will be spinning down waterfalls in no time. Grizzly River Run is not for the seasick. Nor is it for those under 42 inches tall. On this thrilling water rise, the current will take you twirling down the river and through the scenic surroundings. It is a great time for those who love spinning in circles and aren't afraid of getting wet.
13. Jungle Cruise
World travelers of any age and any height – young, old, short, tall – you are all welcome on this remote river tour around Asia, Africa, and South America. While on the river, you will enter into a tropical jungle where you'll find crocodiles, cobras, hippos, lions, and more! Children will squeal with delight when they spot all of their favorite animals on this slow water ride. Jungle Cruise is a whole lot of fun for the entire family. And while the piranhas and snakes that surround the boat are all sights to see, the best part of the Jungle Cruise has to be the skippers who drive the boat. Depending on the skipper you get, they can be very humorous with corny jokes that are sure to make you smile.
14. Peter Pan's Flight
With Peter Pan driving the pirate ship, off to Never Land we go! This is one of the slower Disneyland rides with small drops, a favorite for preschools to tweens, in particular. You'll love sailing high into the sky and flying over London. With the help of Tinker Bell's pixie dust, you will set sail on a great new adventure with the entire Peter Pan cast. All of your favorite scenes from the Peter Pan film will be displayed as you climb into the night sky.
15. Pirates of the Caribbean
At the sound of this ride, you may think, hey that's the one named about the film Pirates of the Caribbean! Actually, it's the other way around. The film was based on this Walt Disney ride that holds the same name (keep that trivia nugget tucked away for a rainy day, free of charge). Experience the life of a pirate on this scary water ride as you travel through the sea. This 15-minute cruise invites you to sing along as enjoy your journey on the foggy Caribbean Sea. Individuals of all heights and all ages are welcome to voyage on this ship.
16. Goofy's Sky School
In Goofy's Sky School you'll be zig-zagging and zooming up and down in your vehicle. On this ride, you will learn the ropes of how to fly, by none other than Goofy himself. All future pilots are welcomed, and those taller than 42 inches.
17. Great Moments with Mr. Lincoln
The famous United States President, Abraham Lincoln, sits center stage at this theater. Great Moments with Mr. Lincoln is a show that reveals the life of Lincoln, beginning with his life growing up. It is certainly not one of the thrill rides, but guests enjoy the glimpse into U.S. history from Honest Abe as he shares the history of the nation. Both kids and adults will enjoy this film. Walt Disney was always interested in the life of Lincoln, which inspired the making of this attraction at the Disneyland Resort.
18. Radiator Springs Racers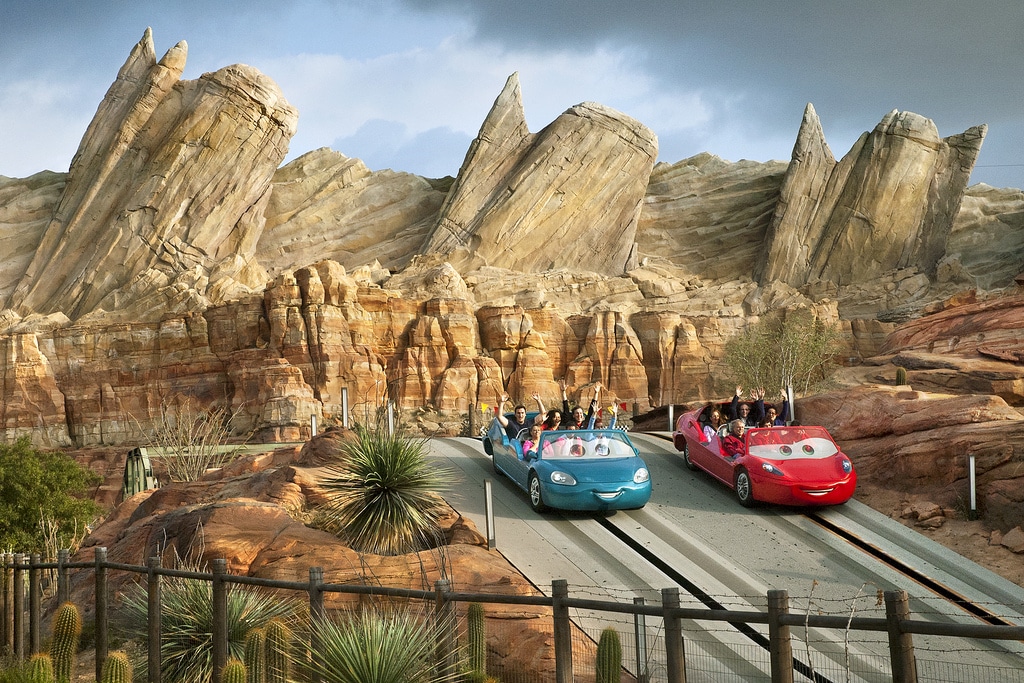 Based on the Disney movie Cars, passengers will be racing down familiar landscape from the film. Take a leisurely journey to the starting line and be welcomed to the race by Mater, as well as other Cars friends. Get yourself situated and check for last-minute vehicle repairs before you are off! This ride has you competing against another race to see who can reach the finish line the fastest. Zoon down straightaways and up and over hilltops. Racers must be 40 inches or taller to take part in this Cars competition. If you don't reach the height limit, come back to Disneyland in the future. The race will be waiting for you.
19. Haunted Mansion
If you don't get spooked too easily, this is one of the Disneyland rides you must go on. Step inside this creepy, haunted mansion. Ghosts and mysterious creatures call this mansion home. It's dark inside and you may hear chilling sounds as you enter the estate. Even the candles quiver inside – their flames flickering back and forth. The Haunted Mansion has over 15 rooms to slowly enter and visit to see what is inside. Some of the rooms within the mansion include the Grand Ballroom and the Graveyard. But, be careful, you never know what will be lurking behind the corner. If you are afraid of the dark or easily startled, you may want to pass on this journey into a haunted property. However, if you aren't afraid and feel brave enough to wander inside, come and visit the Haunted Mansion. At your own risk.
BONUS: Remember… Dreams Come True Fireworks
It's not a ride, but it is one of the best attractions and a can't-miss when delving into the mysterious and magical world of the Disneyland Resort. Fireworks rocket high into the sky. Colors burst over Sleeping Beauty's castle and shower down in a magnificent display. During the evenings, you have to visit the castle and witness this spectacular fireworks show.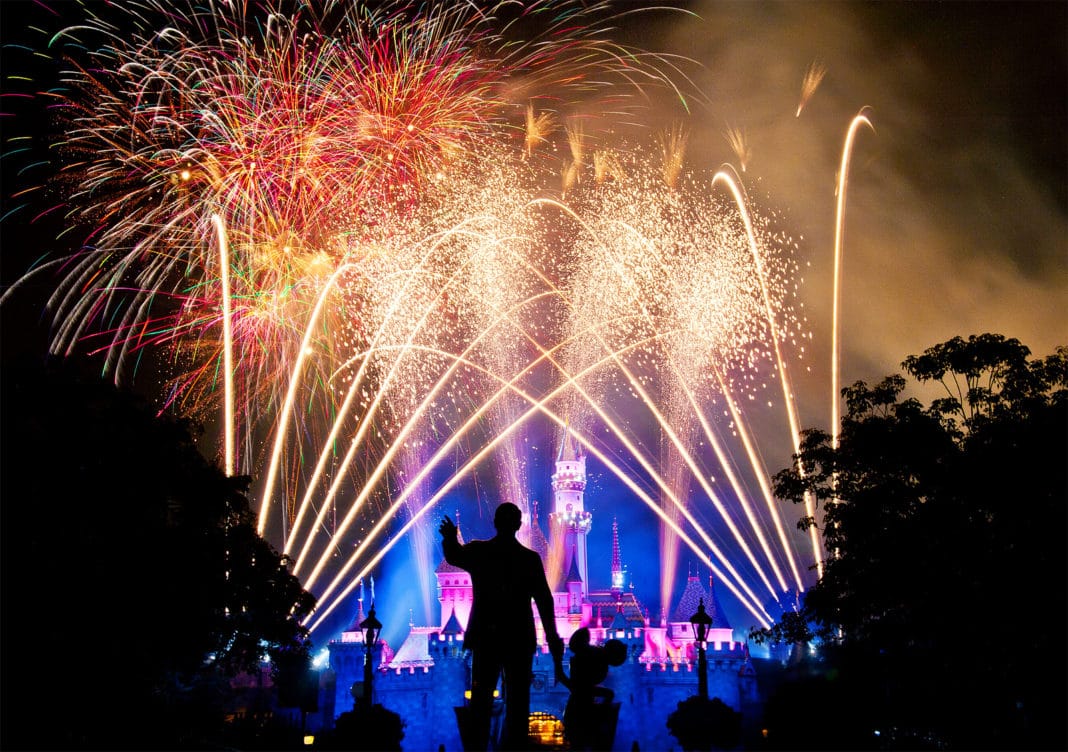 These Disneyland rides are perfect for every kind of traveler.
By the end of your jam-packed day of riding roller coasters, skyrocketing into outer space, and zipping down mountains, you may have burnt shoulders and blistered feet, but it will all be worth it. Disneyland Resort is a family-friendly place for the young and old to embrace their inner child and set off on a great adventure. After a day in the heat and a day of riding your favorite Disneyland rides, eating Mickey Mouse shaped pretzels, and getting autographs from your favorite Disney characters, you are sure to be exhausted. So, kick up your feet, dollop on some aloe vera, and reminisce about the memories made while cruising through the Disneyland Resort.