Come and enjoy colorful creativity in Denmark's capital city. Modern cafes buzz with coffee goers. The streets are lined with more bikes than cars. People are going places; there are so many unique things to do in Copenhagen.
If you haven't visited this mecca of Scandinavian cool, it's about time you did. This city is a breath of fresh air. You'll never tire of things to do in Copenhagen, Denmark. Walk two blocks and you'll pass a gorgeous green park, chic coffee shops and design studios, and even a former prince's palace. While this is one of the most innovative cities we've been to, it knows how to stay true to its heritage.
1. Take A Walk Around Nyhavn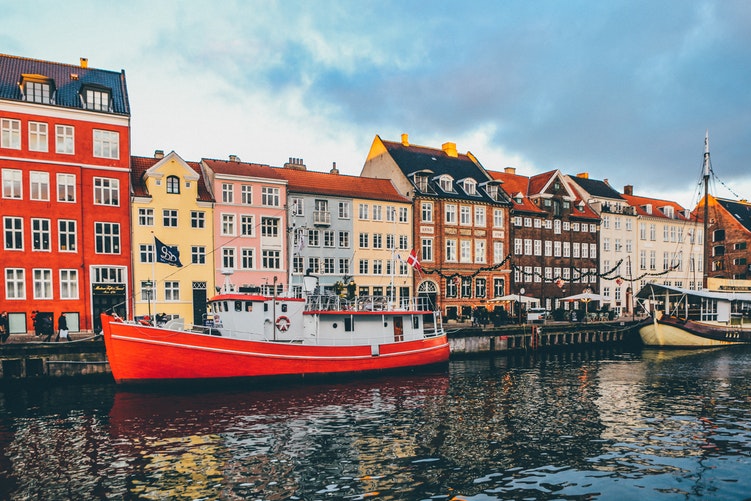 First things first. If it's your first time visiting this beautiful Danish city, Nyhavn needs to be your first stop. These canals are the quintessential Copenhagen. Translating to mean "new harbor" in English, they've been around since the 17th century and played a critical role in historical development.
A Little Bit of History
Old wooden ships are still moored here. Both sides of the canal are lined with tall, multi-colored buildings dating back even further. The ground floor houses boutiques, cafes, bars, and chic apartment complexes. This place carries a lot of history. Houses 18, 20, and 67 were once home to the world-famous author Hans Christian Andersen. Exploring Nyhavn is one of the most fun things to do in Copenhagen.
2. Enjoy An Afternoon at Tivoli Gardens
Save some money for this; visiting is one of the most fun things to in Copenhagen. We're not going to lie; Tivoli Gardens is a massive tourist draw. But there are still ways to visit a popular spot without being too touristy. Research the culture. Know the history. Appreciate this landmark for what it is.
A Little Bit of History
This charming amusement park has been making people happy since 1843. Fun fact: It's the second oldest operating theme park in the world. From mid-April through September, Tivoli Gardens comes to life in the heart of Copenhagen. Live entertainment, more than two dozen rides, and thirty delightful eateries await you. The gardens are open from 11 AM to 11 PM nightly. Entrance will set you back 120 DKK per person (about $20 USD) but it's more than worth it.
3. Take That Photo of the Little Mermaid Statue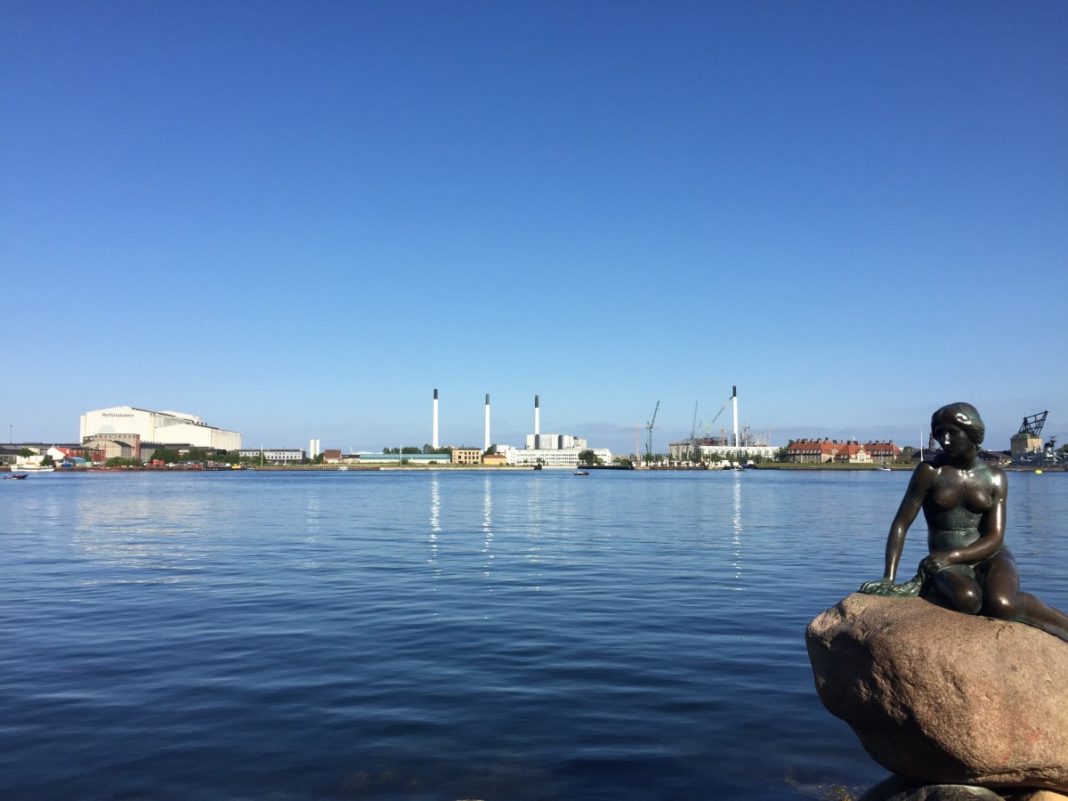 We're sure you've seen pics of it. It's that instantly recognizable off-green statue next to the Langelinie promenade. In 1913, the talented sculptor Edvard Eriksen created the statue as a tribute to the author Hans Christian Andersen. When you arrive, you'll be surprised by how small the statue already is. We warned you. But you still have to take a photo of (or with) it. Why wouldn't you? It's internationally famous.
4. Go Shopping In Stroget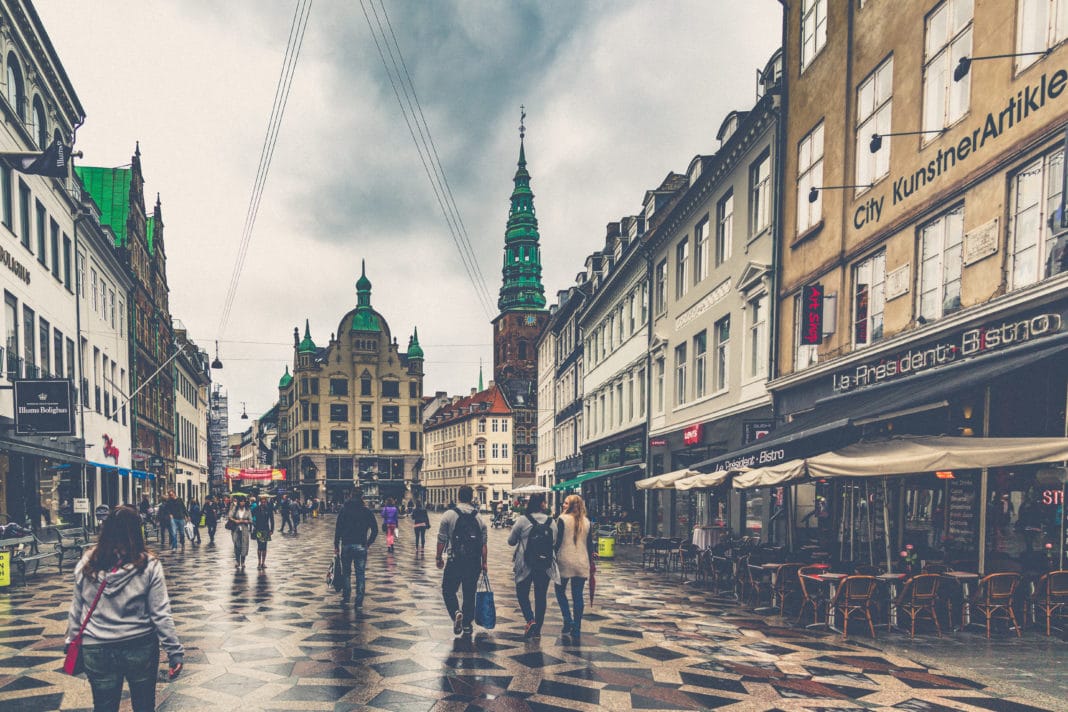 Hide your wallet. Or don't. There are so many fun shops in Stroget. Whether you're in the mood for high-end fashion or just street shopping, you'll find both there. It's among the largest pedestrian malls in the world. While this certainly sounds intimidating, it's actually not. There is a large outdoor walkway, so everything seems open.
Where to Find the Best Shops
To find some independent (and albeit less touristy) shops, follow Stroget down to the Old Street. Some of the narrow side streets are home to an eclectic mix of businesses that go back for generations.
5. Spend the Day at Nationalmuseet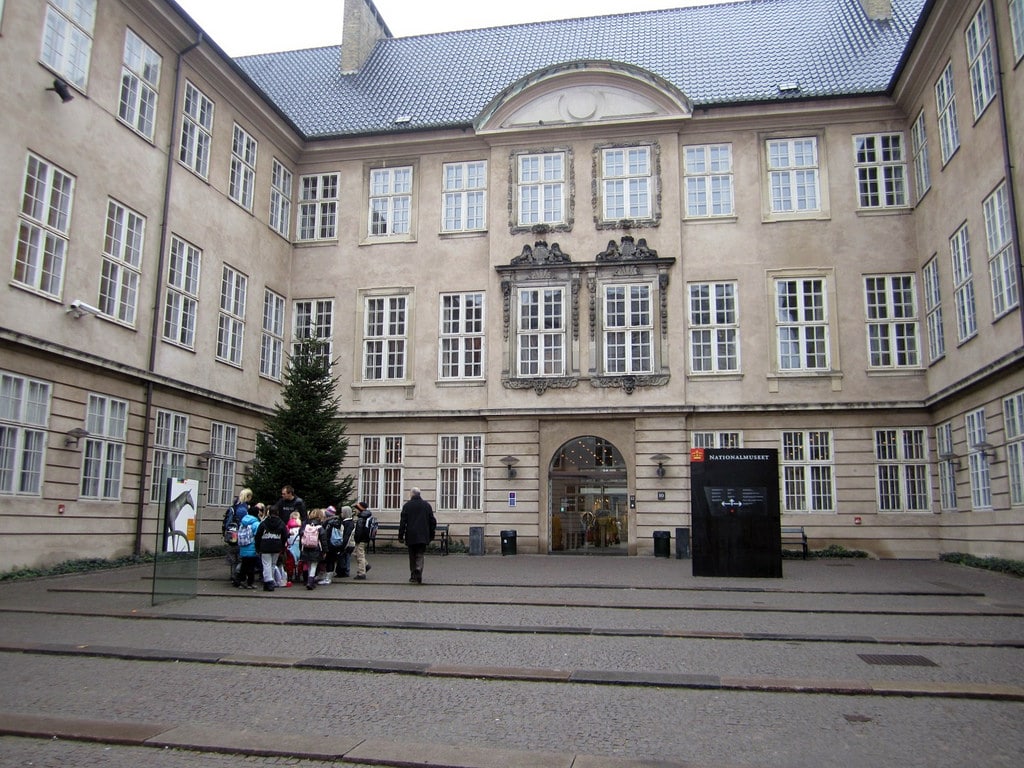 Visiting the city's national museum is truly one of the coolest things to do in Copenhagen. Seriously. You could spend an entire day here without even realizing where the time went. There is a remarkable wealth of exhibits on Denmark's rich cultural history.
Don't Miss This…
If you only have time to see a few things, go see the Trundholm Sun Chariot first. This stunning bronze age item dates all the way back to 1400 BC. The statue of a bronze horse pulls a gold disc, representing the sun. According to Norse mythology, the sun made its way across the heavens, pulled by a divine horse.
6. Christiansborg Palace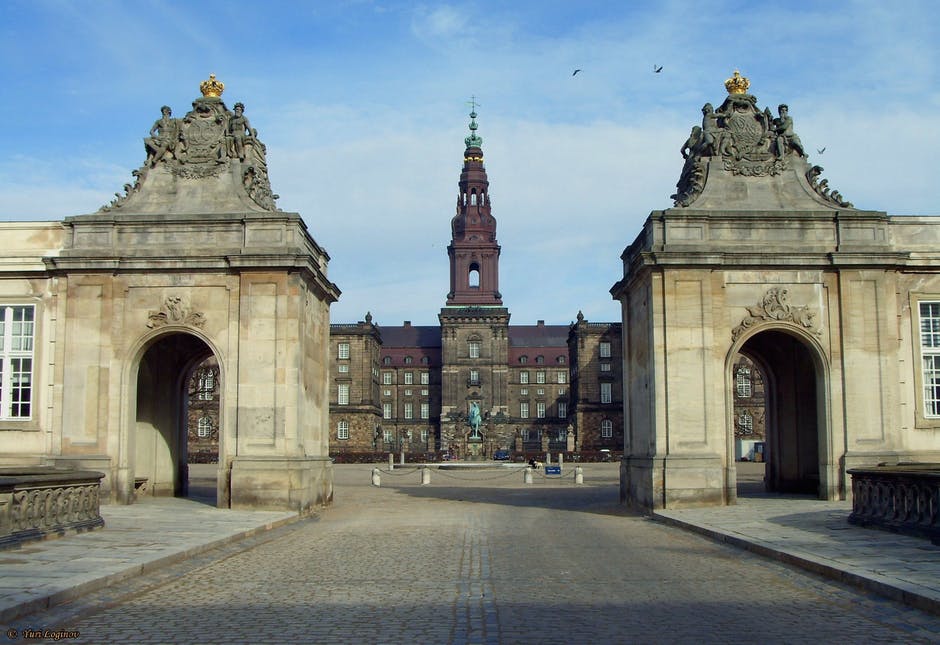 Located on the Islet of Slotsholmen, the Christiansborg Palace houses Denmark's Supreme Court, Prime Minister's Office, and the Danish Parliament. Book a tour and you'll get to see the palace's ornate reception rooms where the Danish royal family, Prime Minister, and other heads of state meet.
Highlights
One of the other great highlights of this tour is the majestic Great Hall, Stretching 40 meters long and accommodating up to 400 guests, it certainly is a sight to see.
Last but certainly not least, you'll also get to see the Riding School overlooked by a lovely gallery and a small court theater from the 18th century. Information on opening hours and ticket pricing can be found on their website.
7. Rent A Bike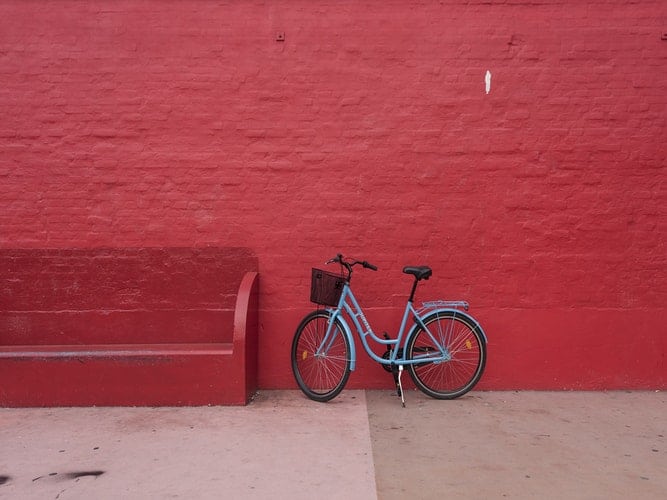 Of all the things to do in Copenhagen, this one's a must. As one of the most bike-friendly cities in the world, renting a bicycle is just part of immersing yourself in the local culture. Anyone who lives here rides regularly. And they look stylish doing it too. You won't see anyone with a helmet or spandex here.
Be Eco-Friendly
Since the city is flat and bike lanes are very broad, people are encouraged whenever they have to make a trip. It's also a great way to keep city pollution down and be eco-friendly. The city is easily navigable and biking is a great way to explore.
Our Pick for Bike Rentals
There are honestly countless companies where you can rent a bike in Copenhagen. We recommend City Bike though. They've been running since 1995 and are actually a part of the public bike share program.
These intelligent electric city bikes are available 24/7, 365 days a year. Each bike has a touchscreen tablet which can be used for navigation, payment, and guidance to points of interest in Copenhagen and Frederiksberg.
8. Wander the Lovely Botanical Garden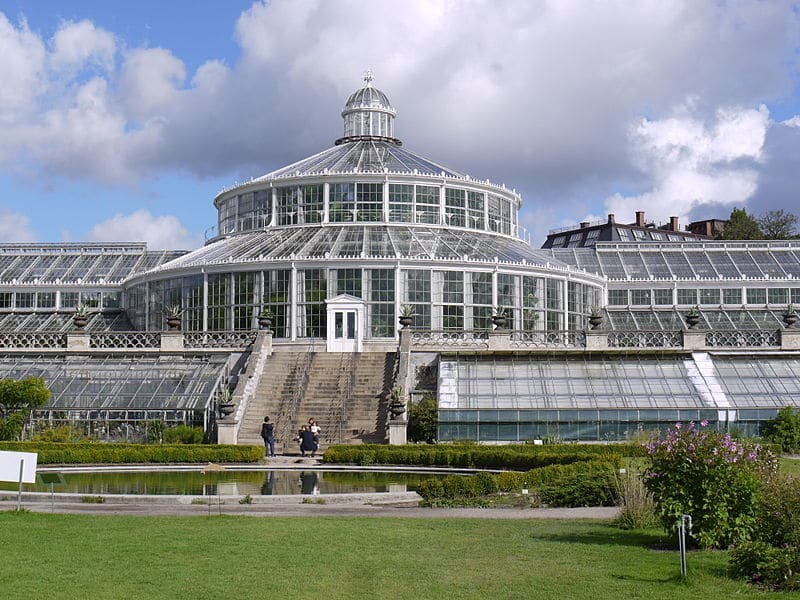 You'll find these lovely sprawling garden grounds right in the middle of Copenhagen. The lovely glasshouses that dot the property date all the way back to the 1870s. In totality, there are some 13,000 species of flora on the grounds.
Some of the plant species are more than two hundred years old. Walk around and see if you can spot the Arctic house. This high-tech air-conditioned building creates a polar environment for unique species.
9. Bakken Amusement Park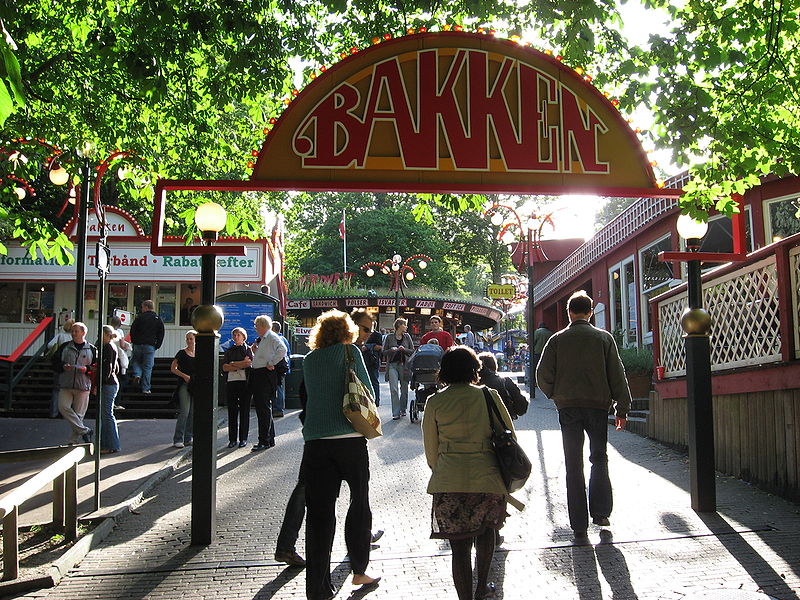 Haven't had your fair share of rides yet? We've got you covered. Bakken Amusement Park is another fun place for some laughs. A more earthy alternative to Tivoli Gardens, it holds the record as the oldest operating amusement park in the world since 1583.
Where to Find It
You'll find Bakken tucked away in beech woodland just a few miles from Copenhagen. The attractions host a charming, old-school quality. Ride the rickety wooden Rutschebanen or visit the Hvile music hall for a cabaret show. Admission to the park is free. You can buy tickets for each ride once you're inside.
10. Pay A Visit to Church of Our Saviour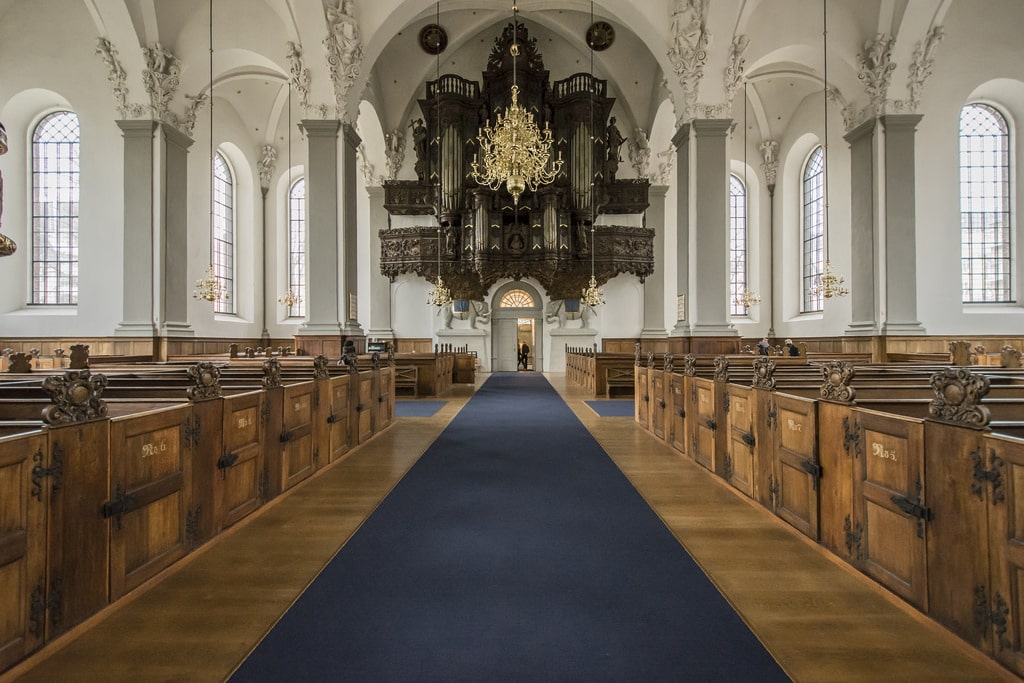 Locals have voted Church of Our Saviour as the best view in the city. Add a quick visit to your list of things to do in Copenhagen. Even from a distance, this baroque building sets itself apart. Its spire peaks above the trees. As you get closer, you'll see a dark tower wrapped by a golden ribbon of stairs, winding its way to the top.
Highlights
Choose to take a view from the top or go inside. The interior is exquisite. A regal blue carpet rolls past gated wooden pews to an ornate altar and grand organ. Chalk white walls lend a cheerful presence and large, open windows let light come pouring through. There's no denying the unique atmosphere of this holy place.
11. Explore Old Thrift and Vintage Stores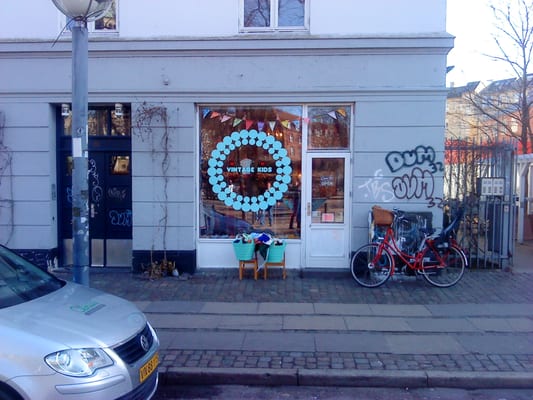 Vintage lovers, listen up. There is a treasure trove of awesome second-hand stores to explore in Copenhagen. If you're looking to pick up some unique wardrobe staples and souvenirs, this is the city to do it. It's always the best feeling owning a one of a kind piece. Furthermore, the piece will hold a special memory of the place you visited.
Where to Shop
Thrift shopping is one of the most fun things to do in Copenhagen. If you're looking for some shops to spend at, we love Prag, Episode, Kobenhavn K, Danish Red Cross, and Decor.
12. Have Some Appetizers and Drinks at the Living Room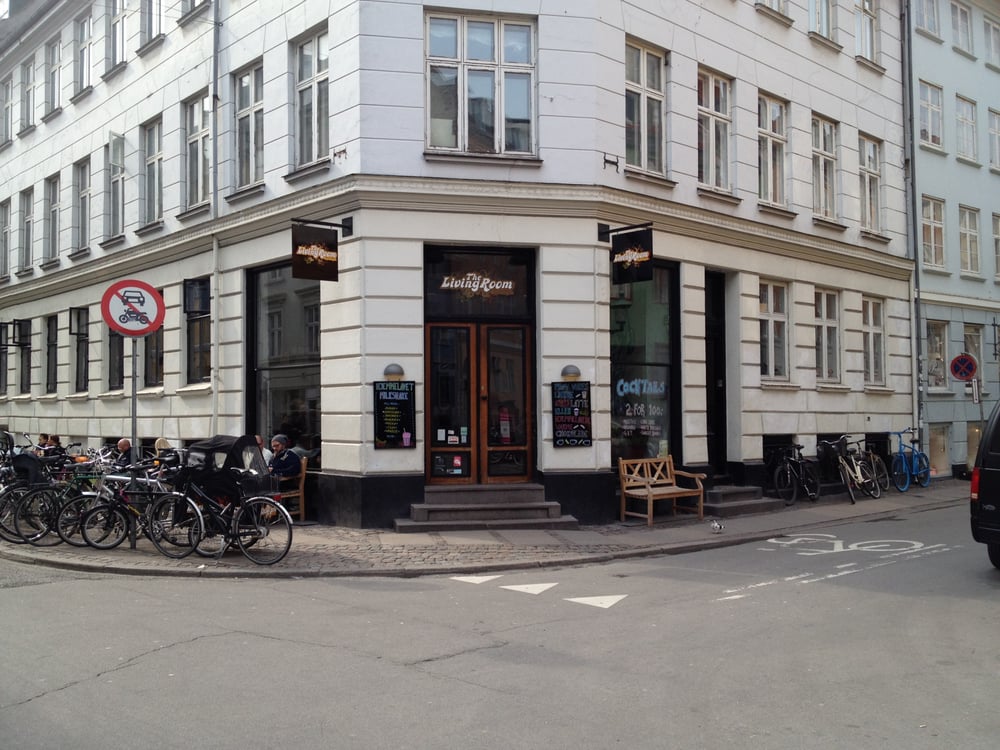 Credit: Yelp
This chilled hipster hangout vintage looks on 2 floors for organic homemade food, smoothies, and DJ sets. However, our favorite time to go is for some late night cocktails. In the heart of the city, you'll find the local's shared living room complete with comfy couches, footrests, blankets, pillows and a homey fireplace. The ambiance calls for lounging. They also have a popular cocktail happy hour (2 for 100 kr until 1:00 PM  – about 2 for $15.58 USD on Friday and Saturdays).
Treat Yourself
Come and enjoy a wide variety of hot drinks like coffee, chai latte and a selection of tea. If you're craving something sweet, treat yourself to cake or cookies. You can also buy beer and other alcoholic beverages here as well.
Three split levels
The Living Room is split into three different levels. Feel free to sit and enjoy your coffee on each of them. Our favorite is certainly the basement, from which the cafe gets its name.  You'll find that the lowest level at The Living Room is like a cozy cave. Soft leather couches and chairs fill the room, while the glowing candles on the small wooden tables create an intimate and cozy atmosphere.
13. Go On An Adventure to Find the Hidden Troll Statues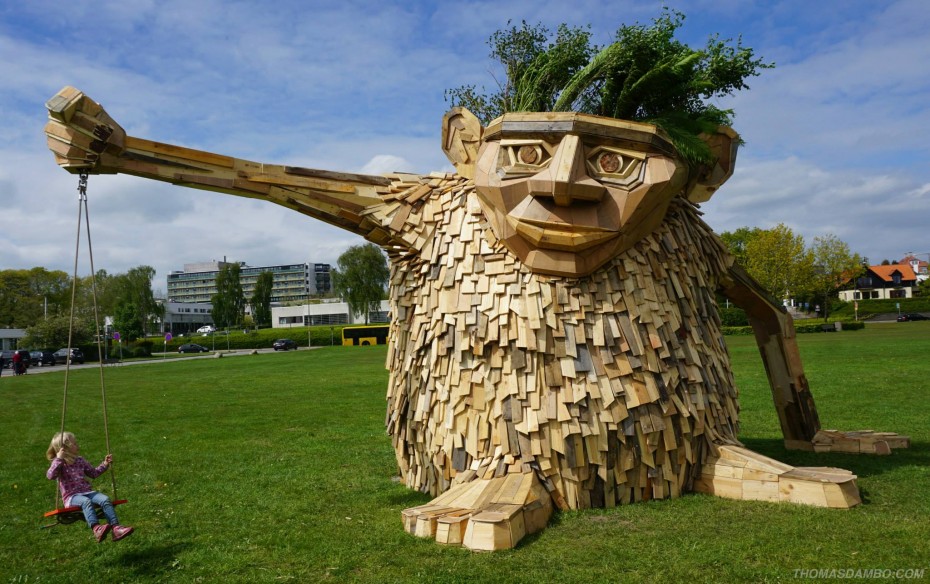 Credit: Thomas Dambo
Sleeping giants lurk in the suburbs and woods of the city. Created by artist Thomas Dambo, six large wooden giants made from recycled materials can be found throughout the city. Affectionately termed the Six Forgotten Giants, these structures can be found in the surrounding areas of Rødovre, Hvidovre, Vallensbæk, Ishøj, Albertslund and Høje Taastrup.
Thomas Dambo's Vision
The project's inspiration came from bringing art out of museums and into city life. Its intent is to showcase the beautiful and often overlooked areas on the outskirts of the city. Needless to say, it's worked. Locals and tourists alike love this scavenger sculpture hunt.
14. Have A Cup of Tea At the World's Smallest Hotel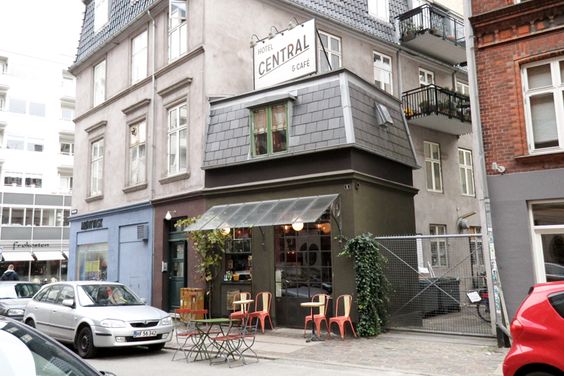 Good luck trying to book your stay here. The Hotel Central and Cafe only has one room and it's often booked out a year in advance. You can have coffee or tea there, however. If you ask us, it's cool enough just to say you've been to the world's smallest hotel.
The delightful cafe in the Vesterbro neighborhood offers a unique interior, charming outdoor seating, and coffee so good you'll feel right at home.
15. Run Around the Superkilen Public Park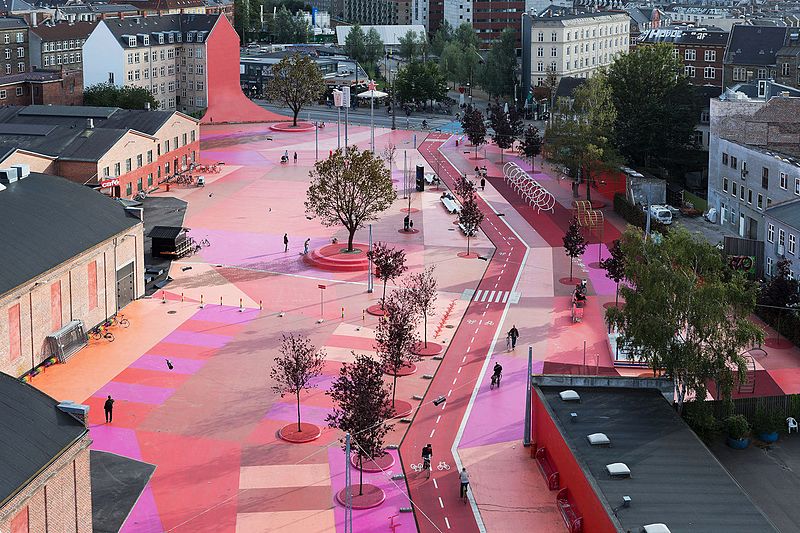 This park oozes modern, urban cool. You'll find it located in the Nørrebro district of Copenhagen, Denmark. The park was opened to the public in 2012, intended to bring more life and vitality to the neighborhood. 
We love that the park is intended to celebrate diversity. Filled with objects from around the globe, it is designed as a kind of world exposition for the local inhabitants, covering over 60 nationalities, who have been able to contribute their own ideas and artifacts to the project.
Book Your Trip and Enjoy the Best Things to Do In Copenhagen
We hope you enjoyed our list of the best things to do in Copenhagen. Now, it's time for you to book the trip of your dreams! If you have any questions or comments for us, feel free to message us in the comment section below. We will be sure to get back with you soon.
Related Article: These Are The Top 5 Things To Do In Amsterdam