There's so much more to Louisville, Kentucky's dining scene than fried chicken.
Are you planning on spending time in the beautiful city of Louisville sometime soon? Lucky for you, you're about to step into a culinary scene unlike any other. Though Kentucky may be best known for its hot chicken, barbecue, and bourbon balls, there are so many more dining options to explore. Once you get to know these best restaurants in Louisville, you'll find it hard to choose which one to visit!
Our solution? Try them all. The best restaurants in Louisville have something for everyone. From pizza to seafood to vegan treats, foodies of all kind can find their place among the best restaurants in Louisville.
Let's get started!
1. Jack Fry's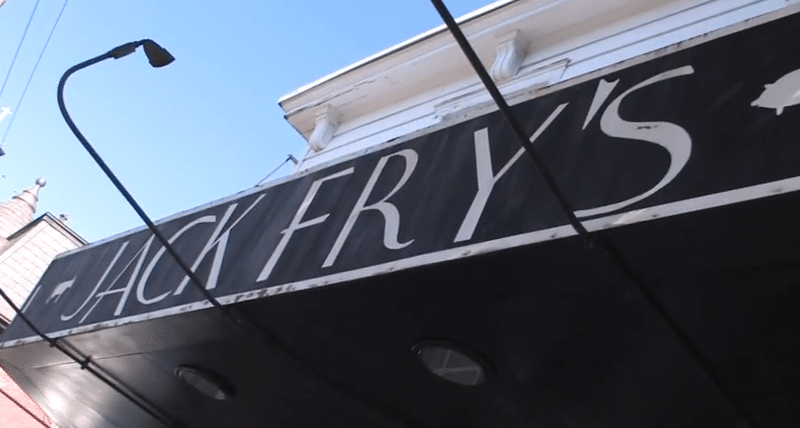 Credit: LouisvilleKY.com
We of course had to start our list with one of Louisville's staples. Jack Fry's, an iconic American cuisine restaurant in the Highlands, has been serving up the River City's culinary scene since 1933. The decor has an old school, rustic charm to it that makes diners feel both comfortable and classy.
Everything on the menu is delicious, from Jack's Burger to the wide range of seafood entrees. If you want to try a bit of everything at one of the best restaurants in Louisville, order yourself the scallops, foie gras, brie salad, and beef filet (told ya they have it all!) The seafood is fresh, unlike frozen finds you get at other restaurants. The foie gras is served on homemade cornbread cakes. The beef filet is juicy and cooked to perfection. Top off your dinner with a chocolate mousse cake or a lemon tart and you'll find yourself smiling throughout the rest of your stay in Louisville.
Being one of the best restaurants in Louisville, Jack Fry's is a hot spot that tends to draw large crowds. If you want the chance to dine at this Louisville restaurant, we recommend making a reservation in advance. Overall, Jack Fry's is where people go for good times, good food, and good drinks. If you want an authentic Louisville night out, Jack Fry's is the place to go.
2. Pho Ba Luu
We bet you never would have guessed you could find some of the best Vietnamese food of you life in good ol' Louisville, Kentucky. Pho Ba Luu is loved for its "Saigon street food" inspired by the recipes that owner Jessica Mach learned while cooking with her mother throughout her childhood in Saigon. The authenticity of the menu is one of the reasons Pho Ba Luu is one of the best restaurants in Louisville.
Pho-fanatics will gush over this spot. The pho is served in a meat-rich broth that is cooked for more than 12 hours. The crisp spring rolls, which are hand-rolled in rice paper, make for a perfect appetizer. There are classic options on the menu, including the banh mi served on homemade bread.
Pho Ba Luu is one of the best restaurants in Louisville looking for a comfortable ambience. The restaurant is located in a renovated Butchertown mechanic shop that still retains its industrial feels. The walls have been stripped down to its cinderblocks with exposed pipes peeking out.
The best part is that Pho Ba Luu is very affordable. Check out their menu and take a look at their reasonable prices before heading over to one of the best restaurants in Louisville, KY!
3. Hammerheads
Credit: Hammerheads
Hammerheads is the place to go for good old fashioned Southern comfort food. Located in Louisville's Germantown neighborhood, Hammerheads identifies as a contemporary gastropub and smokehouse and is one of the best restaurants in Louisville, hands down. It truly is a hidden gem of the River City. When you plug the address into your GPS, you might be confused when you begin entering a residential neighborhood. Don't stress – that means you're close!
Hammerheads is proof that sometimes it's worth going off the beaten path for good grub. From mac n' cheese balls to duck sliders, Hammerheads has an eclectic menu that will never disappoint. Didn't we say that Louisville is known for barbecue? There are plenty of BBQ options to choose from here, like the classic pulled pork sandwich, the PBLT (pork belly, sun-dried tomato aioli, on texas toast,) and beef brisket. We also recommend trying out some of their seafood options, like the crispy catfish and roasted duck.
Hammerheads is a local hole-in-the-wall that all travelers must seek it. Its hidden quality is part of the fun and is what makes it one of the best restaurants in Louisville. Besides, can you really say you took a trip down South without eating chicken and waffles at least once?
4. Proof on Main
You're bound to enjoy this next one on our list of the best restaurants in Louisville. Proof on Main has been a favorite among locals in Louisville's downtown dining scene. The restaurant's commitment to local farming and ingredients it what sets it apart from the rest – not to mention its unique architecture. Located within the 21c Museum Hotel, the museum galleries open up into the dining room where rotating contemporary art exhibits surround diners as they feast on Chef Levon Wallace's carefully crafted menu.
Proof on Main has large and diverse breakfast, lunch, and dinner menus, none of which you can go wrong with. If you're at Proof on Main early in the morning, the egg white frittata or proof Benedict are great ways to start your day. For lunch, we recommend a chicken dish, like the hot fried chicken or Kentucky bento. The dinner options are endless and cater to diners of all kinds, from the vegan squash curry to the proof bison burger.
The biggest stand out feature of this restaurant, however, may be its bar and cocktail menu. The bartenders at Proof on Main celebrate the spirit of Kentucky and serve up the best drinks with more than 120 Kentucky Bourbons to choose from. Diners will drink in style with locally crafted cocktails and art to explore. The ambience, food, drink, and conversation put together is what makes Proof on Main one of the best restaurants in Louisville.
Though it can be on the pricey side, Proof on Main is an experience all Louisville tourists should explore.
5. Lilly's Bistro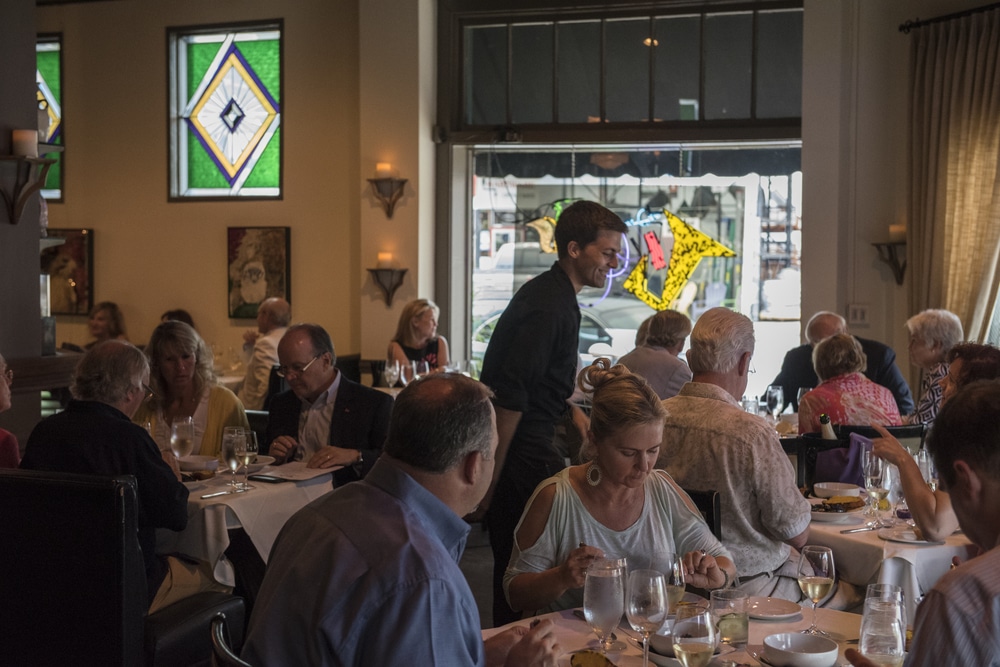 Credit: Lilly's Bistro
We're going to take it down a notch to a more local, casual, authentically Kentucky spot. Lilly's Bistro is one of the best restaurants in Louisville because it celebrates both the food and people of Kentucky every day. Lilly's Bistro supports local farmers and uses ingredients grown just a short distance from their restaurant. They are proud to serve organic vegetables, "Kentucky proud beef," and artisan cheeses. Overall, Lilly's Bistro is committed to serving up a one-of-a-kind dining experience that "reflects the original flavors of the Bluegrass State."
We'd say they're doing a pretty great job at that. Fan-favorites dishes on the Southern-inspired palate include Maple Leaf Farm's Duck Breast, Black Hawk Farm's Sirloin Steak, and Seared Sea Scallops. The desserts are all homemade; one bite of the Apple Cobbler and you'll feel like a kid eating treats straight out of the oven at grandma's house. But it's not just the food that makes Lilly's Bistro one of the best restaurants in Louisville; it's the people.
The serving staff is made up of kind, knowledgable waiters who are excited to share your experience with you. They'll easily point you in the right direction of which Kentucky Bourbon or speciality cocktail to try. If you tend to stray away from liquor, Lilly's Bistro also has a comprehensive wine and craft beer list to enjoy.
Lilly's Bistro is one of the best restaurants in Louisville to visit for a genuine Southern dining experience. It's a great place for families to get together and create memories to last a lifetime. Be sure to make your reservation in advance, as just about everyone in Louisville is dying to eat at Lilly's Bistro!
6. Morels Cafe
Attention vegans: This one's for you. Morels Cafe is one of the best restaurants in Louisville for vegan diners to go if they're looking to to take in that fried-food Southern dining experience. Branded as Kentucky's first vegan restaurant that "doesn't involve eggplant and tofu," Morels will help you indulge on all the foods you gave up long ago. Even the most committed carnivores will go crazy over Morels Cafe's most popular menu item, the Chick-Faux-Le sandwich, their vegan take on a Chick-fil-a sandwich.
The service is kind and will help you walk through the different options to choose from. The photo-worthy, funky atmosphere matches the feel of the menu. The interior is like a classic old diner with neon lights but takes on a more modern feel with the black walls and the circular chandeliers. It's the perfect ambience to absorb while feasting on a Grilled Cheddar Mushroom Bacon Burger, the Steak Tip Hoagie, or Buffalo Chicken Ranch Fries – all vegan and all delicious.
If you're vision of vegan food has been a plate of lettuce topped with a few pieces of tofu, Morels Cafe will quickly change your perspective. This is one of the best restaurants in Louisville for diners – even those who aren't vegan – to try something new that still pays homage to culinary staples of Kentucky.
7. Wagner's Pharmacy
Credit: Louisville.com
We know what you're thinking. Lunch at a pharmacy? That doesn't make sense. But the moment you step through the doors of Wagner's Pharmacy, you'll understand why it's on our list of the best restaurants in Louisville, Kentucky. Wagner's Pharmacy has been a Louisville favorite since it opened its doors in 1922. Located in Churchill Downs, the restaurant started out as a "low-key meeting spot for coffee and conversation" and has since transformed to a culinary staple in Louisville's restaurant scene.
Unlike the fancy, upscale vibe of Proof on Main, Wagner's Pharmacy always stays true to its authentic, homey, diner feel. The simple and affordable menu offers all the classics: pancakes and omelettes for breakfast, tuna melts and burgers for lunch. The food is simple, homemade, hearty, and is a necessary experience for anyone traveling to or passing through Louisville.
Favorite breakfast dishes among locals include the Biscuits & Gravy or the Pam & Jack Omelette, which covers the entire plate, so all of your sides will be carried out separately. Needless to say, you get your money's worth at Wagner's Pharmacy! The decor itself is something to peruse. Hanging all around the counter, tables, and booths are photos of past derby winners. In addition to the restaurant, there is also a pharmacy, turf good store, and museum of Wagner Pharmacy's history.
This is one of the best restaurants in Louisville partly due to the stories you're bound to take home. Dining at Wagner's Pharmacy is an authentic, one-of-a-kind Kentucky adventure you must take part in.
8. Against the Grain Brewery & Smokehouse
Great Beer? Check. Delicious Food? Check. Good Service? Check. One of the best restaurants in Louisville? Check, check, check! Against the Grain Brewery & Smokehouse is not your average brewery. For starters, the brewpub is located inside the Louisville Slugger Baseball field, just east of downtown. Inside, there is a large taproom and dining hall with plenty of seating both inside and out. What's more, all of the craft beers are brewed on site. Against the Grain consistently rotates in and out new brews to keep their guests guessing.
Though they serve a wide variety of beers at Against the Grain, the brewery is best known for its love for hops. A fan-favorite is simply called "Hop," and if you like "citrusy, floral, fruity, herbal, piney, 'resiny', and some bitterness," then Hop is the IPA for you. If you're not an IPA fan, don't fret just yet. Against the Grain has literally hundreds of beers for you to choose from. They also has a list of craft cocktails if beer isn't your thing.
Against the Grain also has a truly Southern, truly Kentucky food menu to order from. If you're drinking Kentucky beer and bourbon, you might as well go all out and get yourself some barbecue, as well. If you're looking to truly indulge, we dare you to order the Pit Experience. For $75, your group can enjoy 1/2 pound chopped pork, 1/2 pound brisket, 1/2 pound turkey, 1 pound spare ribs, 2 sausage links, 5 sides, all of the sauces available, bread, pickles, and pickled onions.
Needless to say, this is one best restaurants in Louisville for beef, bourbon, and beer lovers alike.
9. Holy Grale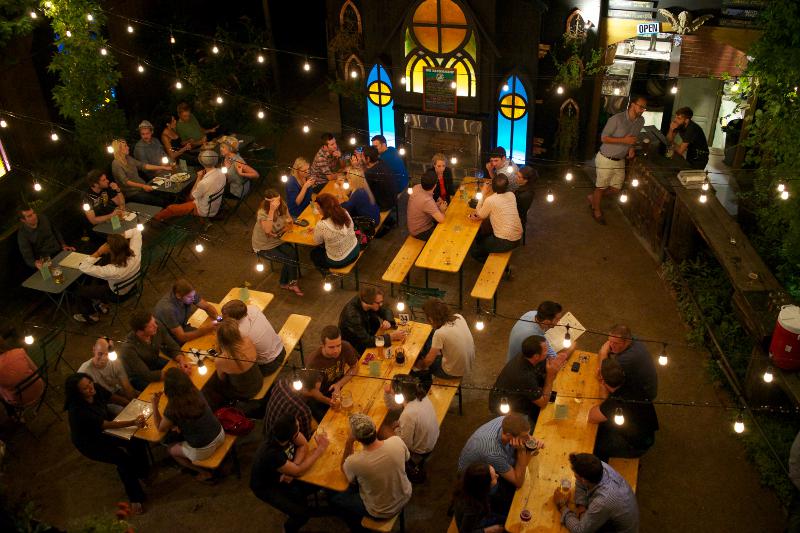 Credit: Louisville.com
One thing we look for when searching for the best restaurants in Louisville – or any city, for that matter – is a dining experience with a story. That's exactly what we found in Holy Grale. Built in 1905, this restaurant is nestled inside what was once a small Unitarian Church in Louisville's Highland's neighborhood. There are a variety of seating areas for diners to choose from, including the main bar area, the choir loft, and a beautiful courtyard out back. The decor and ambience alone ranks Holy Grale as one of the best restaurants in Louisville for travelers looking for a truly unique dining experience.
The menu, carefully curated by Chef Andy Myers, is made up of classic European dishes made up of locally sourced ingredients with a Southern twist. With a heavy Belgian-farm to table feel, popular dishes include the Gralebrat (housemade brat & kraut, caramelizedonion, pepper jelly, fritje sauce,) Käsespätzle (cheese, egg noodles, caramelizedonions, sauerkraut, preserved lemon,) and the Pork Schnitzel Sandwich (Garey Farms pork cutlet, fritje sauce,pickled red cabbage.) For dessert, of course, you must order a homemade Belgian waffle.
What makes this truly one of the best restaurants in Louisville, however, is Holy Grale's beer selection. The restaurant toes the line between traditional brewing styles and experimenting with their own brews. Serving dozens of beers on tap, Holy Grale has stouts, pale ales, dark ales, blondes, Belgians, and more for diners to choose from.
Dining at Holy Grale is a well-rounded, memorable dining experience. Once you go, you'll see why we ranked it one of the best restaurants in Louisville.
10. Portage House
Here's yet another on the list of the best restaurants in Louisville with a rich history to share. Portage House is not like your typical American pub and restaurant. The restaurant resides in a house built in 1907, and its decor and ambience continues to pay homage to the charm of that era. The backdrop of Portage House is a beautiful view of the Ohio River and Louisville skyline. Diners will feel secluded under the restaurants twinkling in a Southern farm atmosphere that only enhances the excellent dining experience they're about to enjoy.
Though Portage House has a slightly more upscale feel than casual spots like Lilly's Bistro, its menu take the fanciness down to a homey level. Begin your meal by sharing Baked Mac n' Cheese or Ginger Beef Meatballs with the table. For vegetarians and vegans, the Bang Bang Cauliflower and Sriracha Fries are great options. The entrees can be on the pricier side but are worth every penny. Soak in that Southern comfort with Hot Sauce Marinated Fried Chicken, Seared Duck Breast, or the classic Shrimp and Grits. If you want the full Portage House experience, you know you have to order the Nutella Mascarpone Mousse.
Portage House has a long list of specialty cocktails for a post-diner nightcap. For something more seasonal, consider "A Pear of Pumpkin," a concoction of pumpkin pie spiced rye, pear simple syrup, lemon juice, and club soda.
You will find yourself slowly savoring each bite and every sip of your meal at one of the best restaurants in Louisville. Portage House is a great place for groups of friends or couples to explore for a date night in Louisville, KY.
11. Butchertown Pizza Hall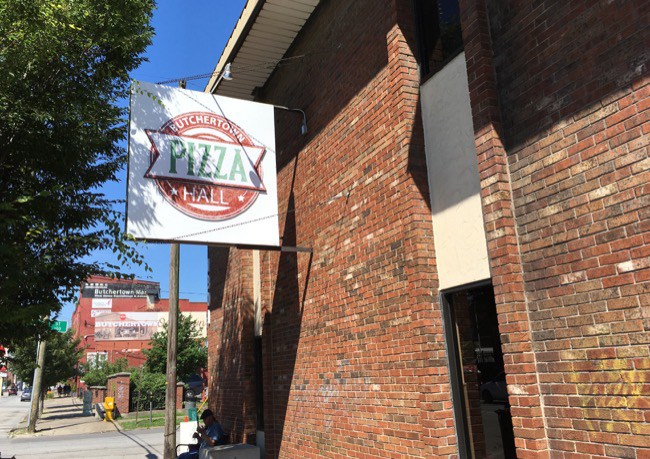 Credit: Insider Louisville
Didn't we tell you Louisville is home to some of the best pizza in the South? And you can find it right here at Butchertown Pizza Hall. This is by far one of the best restaurants in Louisville for travelers looking for a downscale, jeans-preferred, use-a-napkin-as-a-bib vibe. Built inside an old cafeteria space, Butchertown is the second pizza joint opened by owner/founder Allan Rosenberg, who also founded the now closed but once beloved Papalinos Pizza.
Butchertown lives by the motto that "pizza is life," and when it comes to a Butchertown pie, we'd have to agree. The homemade crust is a perfect mix of doughy and crunchy. Their signature pizzas include delicious White Pizzas, Spinach & Artichoke, the "Fun Guy," BBQ Chicken and more. They also have a Sicilian Pizza, which is the closest you'll get to a New York slice without heading to the East Coast.
We consider Butchertown one of the best restaurants in Louisville and the best pizza place in town because they know what customers want: good pizza. It's as simple as that. For $3.95 you can order a "Huge Cheese Slice," which is exactly what it sounds like it would be.
Sometimes you need a break from fancy restaurants and just want to go somewhere where you won't get judged for getting grease on your shirt. If that's the case, Butchertown is your place.
12. Joella's Hot Chicken
Last but not least, the best places to get hot and friend chicken in all of Louisville. Joella's Hot Chicken brings "Nashville's Hot Chicken" to the heart of Louisville. For those who are unfamiliar with this Southern delicacy, hot chicken is fried chicken, but somehow even more crispy and delicious than anything you've had before. Joella's is kind enough to have a spice meter on its menu to help guests navigate just how hot they want their chicken to come out.
You already know what your main entree is going to be. If you need help picking out a side, the Garlic Parmesan Fries, Mac n' Cheese, Broccoli Slaw, and Green Beans with Bacon all go well with hot chicken. Then again, there's also the Mashed Potatoes and Gravy to consider. Or the Collard Greens with Bacon! The Southern staples are so hard to choose from – which is why Joella's is overall just one of the best restaurants in Louisville.
Have you gotten your Chicken and Waffles yet? Then you best do it here. Even if you're a non-meat eater, you can enjoy Joella's Vegan Chicken, which is pretty darn close to the real thing.
Get yourself ready for the most fried, greasy, delicious meal of your lifetime. You're in Louisville, after all. Eating fried Southern food is a must!
It won't be easy to choose between the best restaurants in Louisville, Kentucky.
Forget everything you've been told about big cities like New York, Boston, and Chicago being the best places for foodies to travel. Louisville, Kentucky is home to some of the most authentic, hole-in-the-wall, locally owned Southern spots in the country. You won't be able to find such a unique variety of dining options anywhere else. Besides, when you eat at the best restaurants in Louisville, KY, you're not just going home with full belly and a happy heart: you're taking with you a story to share and memories to cherish for a lifetime.
If Louisville wasn't on your radar before, it better be now! Sit down, book your flight, and plan out your restaurant tour of Louisville today.
It will be a fun, food filled adventure you'll never forget!
Related Article: Best Restaurants in Indianapolis: Take Your Pick