From affordable rates to luxurious suites, these are the best hotels in San Francisco.
Heading out to the City by the Bay? Sure, you could sleep at the Hilton but some of the best hotels in San Francisco are charming, boutique stays. Whether you're coming for an extended trip, visiting family, or just exploring, there is something for every price range. This city is by no means cheap. So, we've gone ahead and scoped out the best budget deals we can find with great accommodations. To be near the best attractions, book your stay in the heart of the city. Are you more interested in checking out Fisherman's Wharf? Then, the North Beach neighborhood is for you. Wherever you decide to stay, try to check some of the best free things to do in San Francisco from a comfy home base.
Here Are Our Picks for the Best Hotels in San Francisco
1. HI Fisherman's Wharf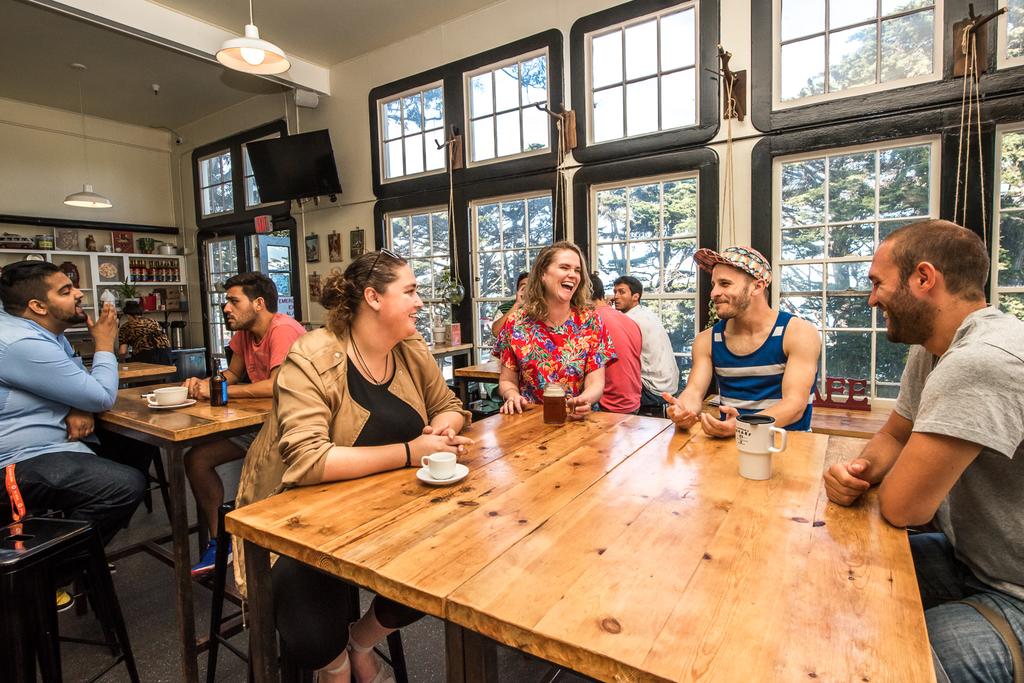 Credit: HI Fisherman's Wharf
When you're in a new city and not sure how to save money, check out the local hostels. Chances are, hostels (and Airbnbs) are cheaper than hotels and a fun way to meet other travelers. Sure, you will sacrifice some basic amenities but if you pack right, this shouldn't be a problem. At the HI Fisherman's Wharf, you'll overlook some of the most beautiful parts of the city and all for a steal. Here's the catch though. You have to be comfortable with sharing a bathroom.
During our travels, we found that we preferred booking a private hostel room as opposed to a dorm one. You can meet people in the common spaces and kitchen. Cooking dinner together is so fun. But when it comes time to wind down after a long day of pounding the pavement, you'll have a quiet, comfortable space to call your own.
There's a cozy, warm fireplace in the common area as well as a 25-seat movie lounge, large kitchen, laundry facilities, and a large patio. Not a bad deal, right? When it comes to sharing the bathroom, just make sure to get up early. The earlier you get up, the better your odds are of beating the morning wakeup line.
This hostel was formerly a part of Presidio's historic army barracks. We love that it feels secluded even though it is within walking distance from some of the city's top attractions. To the east, is Fisherman's Wharf. And just a bit to the west, you will find the iconic Golden Gate Bridge. This is one of the best hotels in San Francisco if you're looking for a steal.
2. San Remo Hotel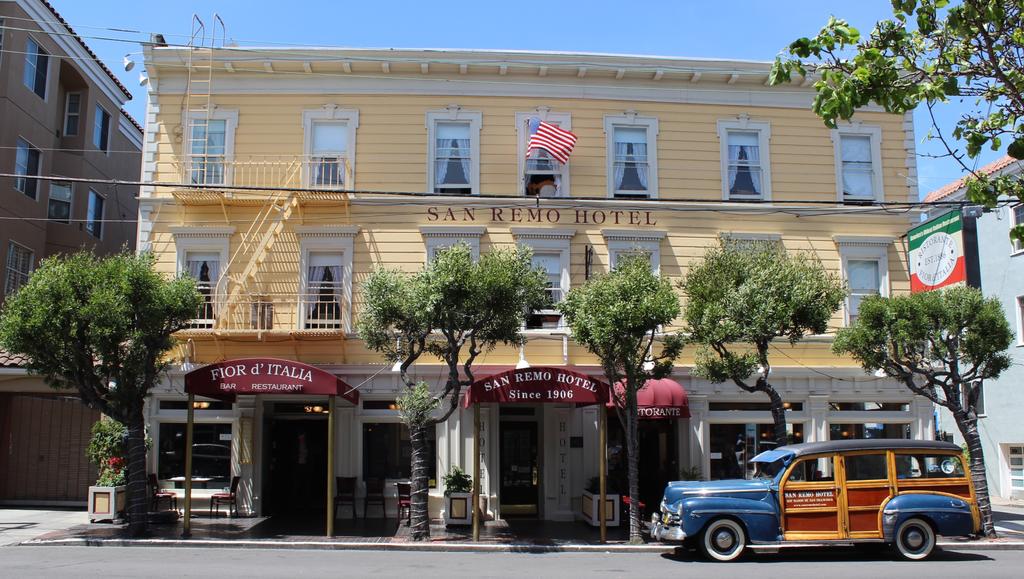 Credit: San Remo
While it used to be a home on the docks, San Remo is now a quaint hotel teeming with historical charm. Sixty-four rooms of varying style offer plenty of options for your travel needs. If you love a quirky, vintage vibe, this is the place for you. Funky throw rugs, floral wallpaper, and colorful bedspreads make the joint look like something plucked from a Wes Anderson film. You'll swear you've never seen so many pastels and splashes of color.
It's important to note that some rooms have sinks but like most hostels, the bathrooms are shared. Well, unless you decide to splurge a little for the penthouse, a self-contained bungalow on the rooftop. Not only is it en-suite but it has fantastic views of the North Beach neighborhood. Just saying. Last but not least, it is also worth noting that there is no elevator and the hotel is by a first come, first served basis only. There are no reservations. You've really got to jump on it. This is one of the best hotels in San Francisco at an affordable rate.
3. Hotel Del Sol
Credit: Hotel Del Sol
A family-friendly hotel in the Marina District, this colorful 1950s stay is fun and funky. From the colorful to the casual, these rooms and suites offer a complimentary breakfast, a heated saltwater pool, and pet-friendly policy. But that's not all. You'll be right in the hub of all the city's fun. There are plenty of fun, unique independent shopping boutiques, fun outdoor eateries, and plenty of waterfront sports to take part in during the summer months. Enjoy a complimentary breakfast, homey touches like cookies and milk, and suites for all types of travelers.
4. The Golden Gate Hotel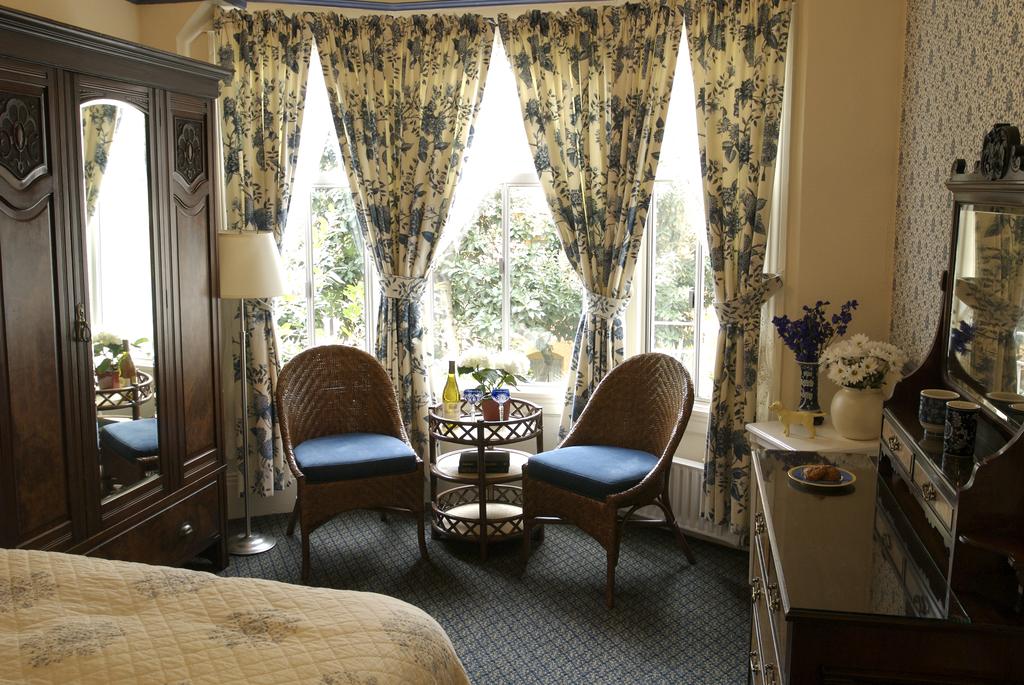 Credit: The Golden Gate Hotel
A vintage San Francisco inn, this charming European-style hotel offers fun features like a bird-cage style elevator, antique furnishings, and cozy accommodations. Guests who stay immediately feel at home around the warm, friendly staff. Each room offers unique pieces of artwork and claw-foot tubs. This hotel is an Instagrammable paradise and the sticker price is not bad. Perfectly located in the heart of the city, the Golden Gate Hotel is a few blocks from Chinatown, close to Union Square, and steps away from Powell and Mason.
5. Inn at the Presidio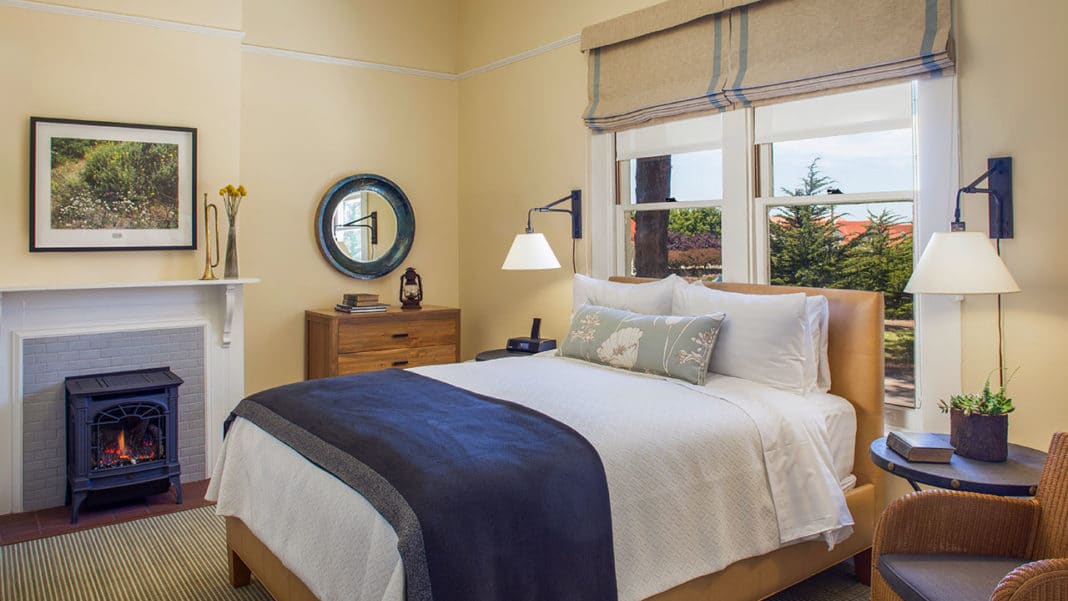 Credit: Inn at the Presidio
We bet you didn't know this inn is a National Historic Landmark. Nestled within its premises is its namesake park. While you are close to all the action, you still get the feel of being far removed from the city. As you walk around the grounds, you won't believe you're in SF. There are plenty of amenities to enjoy.
A stunning golf course spreads across the scene and there are countless walking and hiking trails, not to mention a cozy fire pit with prime views of the Golden Gate Bridge. Offering 22 rooms and a charming atmosphere, this stay has certainly set itself apart from its competitors. Sit outside on the porch swing with the red and white brick as the perfect backdrop. There's no doubt that this is one of the best hotels in San Francisco.
6. Hotel Boheme
Credit: Hotel Boheme
One hundred and twenty years old, Hotel Boheme offers one of the chicest historic stays in the city. During the 1950s, it was renovated when North Beach was the hub of culture. Nowadays, the vibes live on in old photos, lovely poetry, and sheet music spread throughout the halls and rooms. In true fashion to the area, the rooms are small and quaint but beautifully decorated vintage schemes. You can't beat the location. Plentiful cafes line the streets and you'll have all the choices for where to get a cup of joe in the early am. Just make sure to look ahead for parking or take an Uber if possible. The parking in North Beach is notoriously horrendous.
7. Axiom Hotel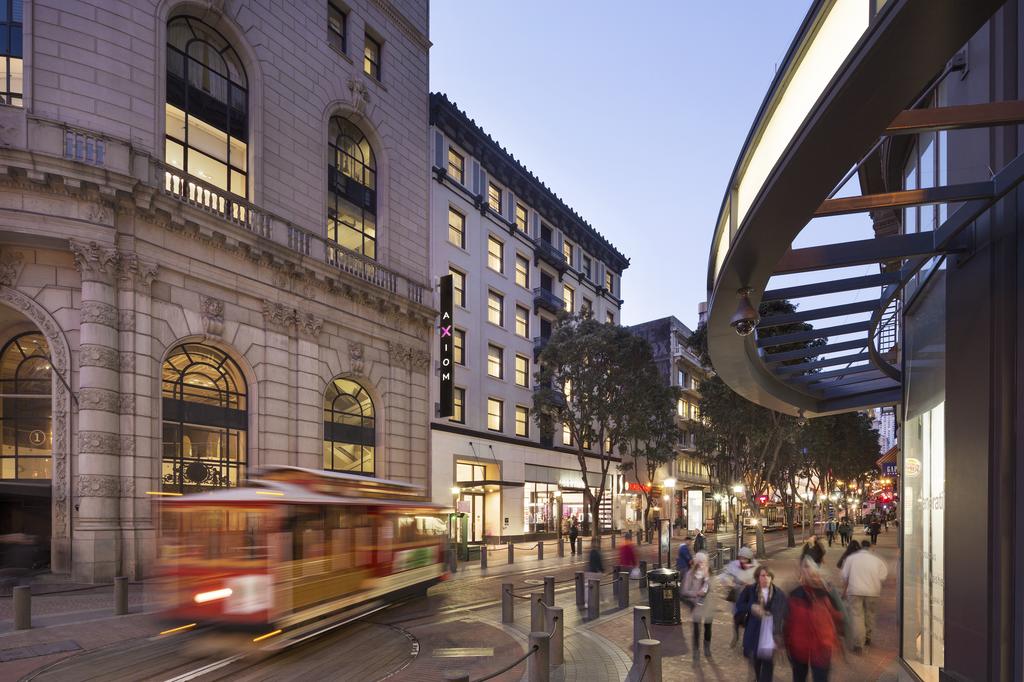 Credit: Axiom Hotel
Enjoy modern style at a great price point. While everyone knows San Francisco is expensive to stay, eat, and breathe at in general, Axiom Hotel breaks the mold and offers rates that the average traveler can actually swing. Steps from Market Street, these minimal rooms are outfitted with all the amenities you need to be comfortable and enjoy your stay. Not only are they equipped with fiber optic wifi but you will also get smart TVs, complimentary iPads, and iPod docking stations.
The bright and airy lobby makes you feel cheerful the moment you step inside. Walk around to the marble-topped bar at the Turn Cafe and enjoy sitting in a quiet library space with a good book. If you're looking to take some photos of your travels, there is plenty of great natural lighting in these nooks.
Plush chairs and comfy leather couches are there for you to sink into after a long day walking the hills of the city. Last but certainly not least, you should also take advantage of the well-stocked gym, and game room with arcade games and a foosball table. There's no doubt about it. Axiom is one of the best hotels in San Francisco.
8. Staypineapple at the Alise San Francisco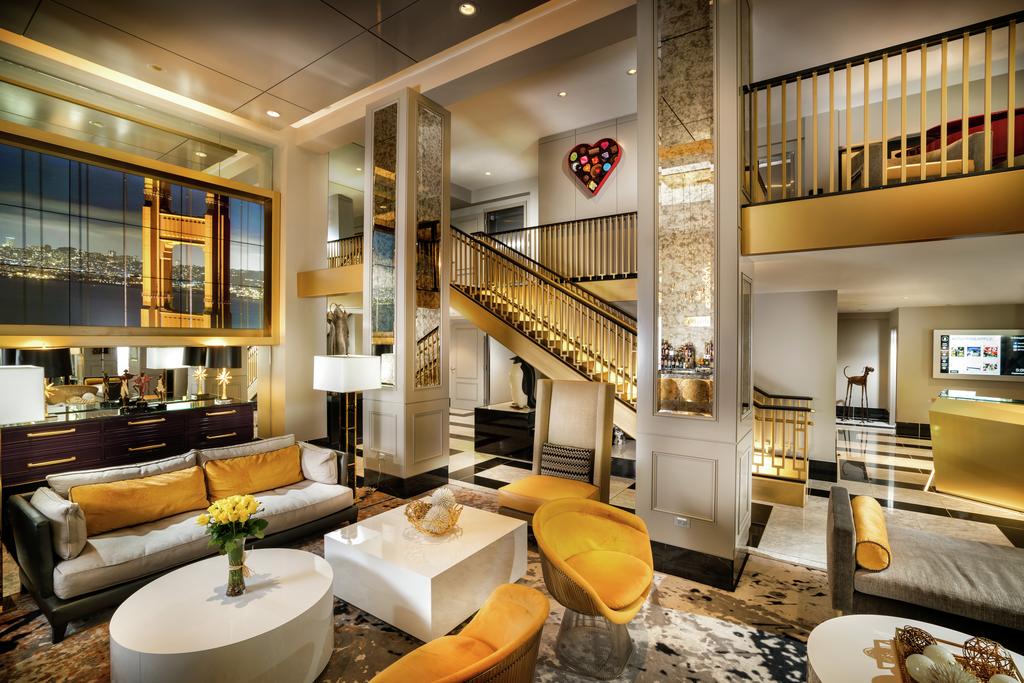 Credit: Staypineapple at the Alise San Francisco
Come stay in an elegant hotel in Union Square. The next time you head out on the road, reward yourself with a little luxury. While most of the other hotels on our list are budget picks, the Staypineapple at the Alise offers a step up. The only difficult part about staying here is choosing which room you want. Thoughtfully-designed guest rooms offer plush amenities, flat-screen TVs, high-speed wifi, and more. Even though you are next to some of the top attractions in the city, you'll have all the space you want to enjoy life's quieter moments.
When it comes to amenities, the hotel is leagues apart from its competitors. The Naked Experience offers the most comfortable way to get a good night's sleep. European style bedding, big comfy robes, and plush towels provide you need to feel at home. Start your morning off in a healthy way at the fitness center and enjoy a good breakfast. After you have taken some time to relax, you can explore all that the hotel has to offer. Take out the hotel's beach cruisers around the city's legendary hills or cruise the Golden Gate Bridge. Consider the city your playground.
9. Hotel Fairmont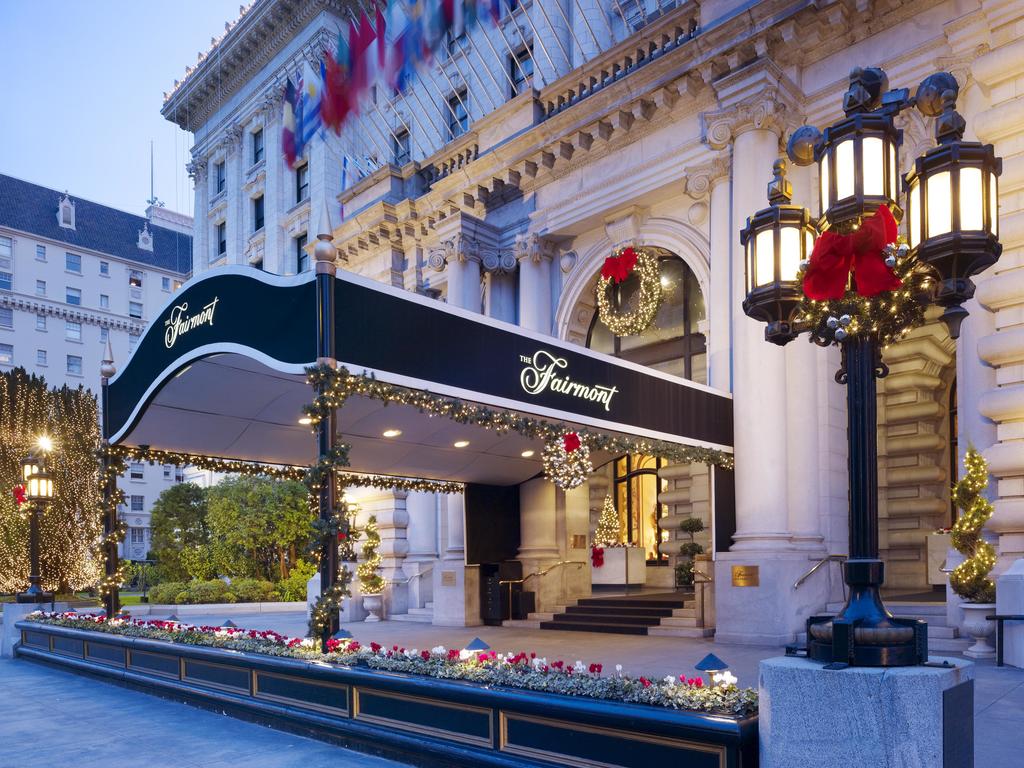 Credit: Hotel Fairmont
The Hotel Fairmont exudes classy San Francisco vibes. From the building to gorgeous bay views and state of the art facilities, this hotel has it all. Enjoy everything from a wellness spa to an iconic tiki bar in the basement. Since the hotel was refurbished in 2014, each of the rooms offers soothing earthy tones, dark wood, and marble.
We have a question for you. How much are you willing to spend? The 1920s Presidential Suite is the creme de la creme of rooms. Are you ready for this? It spans the entire eighth floor of the hotel. Yes, you read that right. And it gets even better. There is a secret exit through a movable bookcase. It will take you directly out onto the rooftop helipad with four honeybee hives and a lush garden.
While this is epic, we understand if it's a little out of your range. If you're looking for a more affordable treat, check out the lovely Tonga Room & Hurricane Bar. There's a tiki bar complete with a floating band in a lagoon. How about surprise thunderstorms and mai tais served up in coconuts? Yes, please. Sign us up.
10. Hotel Vitale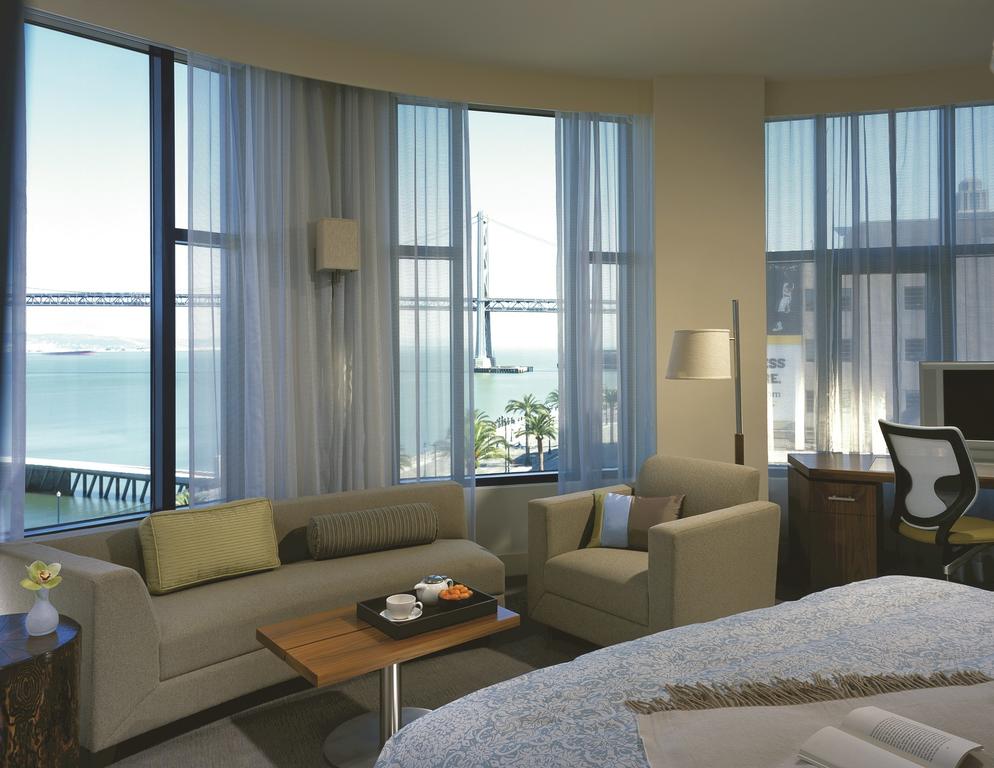 Credit: Hotel Vitale
Kick back and relax at the Hotel Vitale. As the city's only waterfront boutique hotel, you will get stunning views of the Embarcadero, one of the most lively locales in the Bay Area. Seriously, the views are so great you'll have a hard time leaving your bedroom window. Post up with a drink in hand out on the chic wood-paneled rooftop or enjoy a massage in the penthouse-level spa for sunset.
Each room offers soothing, minimal tones. Lavender-scented nature-patterned hallways instantly relax you as you walk for dinner at the Americano Restaurant. Grab a bite at the Ferry Building and enjoy a walk to the dock of the bay. Vitale is one of the best hotels in San Francisco and we know you will enjoy your stay.
Book Your Stay At One of the Best Hotels In San Francisco, California
We hope you enjoyed reading our article on the best hotels in San Francisco, California. As you can see, this city is such a unique place to visit, offering some of the most spectacular historical sites in the country; the scenery will leave you in awe. Whether you're seeking adventure, urban exploration coffee shop hopping, or simply some R&R, this city offers it all and more. San Francisco, California is one of our favorite places to explore both the metropolis feel and get back to good old nature. The best time to visit all depends on what you want to see. Make sure to check out the best restaurants and bars.
The best hotels in San Francisco, California are right in the middle of it all, offering close proximity to either downtown or all the cultural attractions. Each one is truly unique and equipped with luxury amenities, sure to satisfy the needs of any traveler. Do you have any favorite hotels in San Francisco that were not featured on our list? Perhaps, you have some questions or comments for us. Whatever's on your mind, we'd like to hear it. Let us know your thoughts in the comment section below.
Related Article: Top 17 Free Things to Do in San Francisco