Embark on a Grecian adventure with our list of exciting things to do in Santorini.
With its white-washed architecture and ocean views, Santorini remains one of the most beautiful places to visit in the world. Found in the Aegean Sea, Santorini consists of a group of islands that contain thousands of years of history. When you decide to visit Santorini, you might not know how to spend your time. The region contains gorgeous environments for tourists to venture through, as well as unique cultural sites ideal for learning. Whether you enjoy exploring outdoors landscapes or love trying new foods, Santorini has something to offer you. Read our article below to discover the top things to do in Santorini during your Grecian vacation.
1. Sunbathe on Red Beach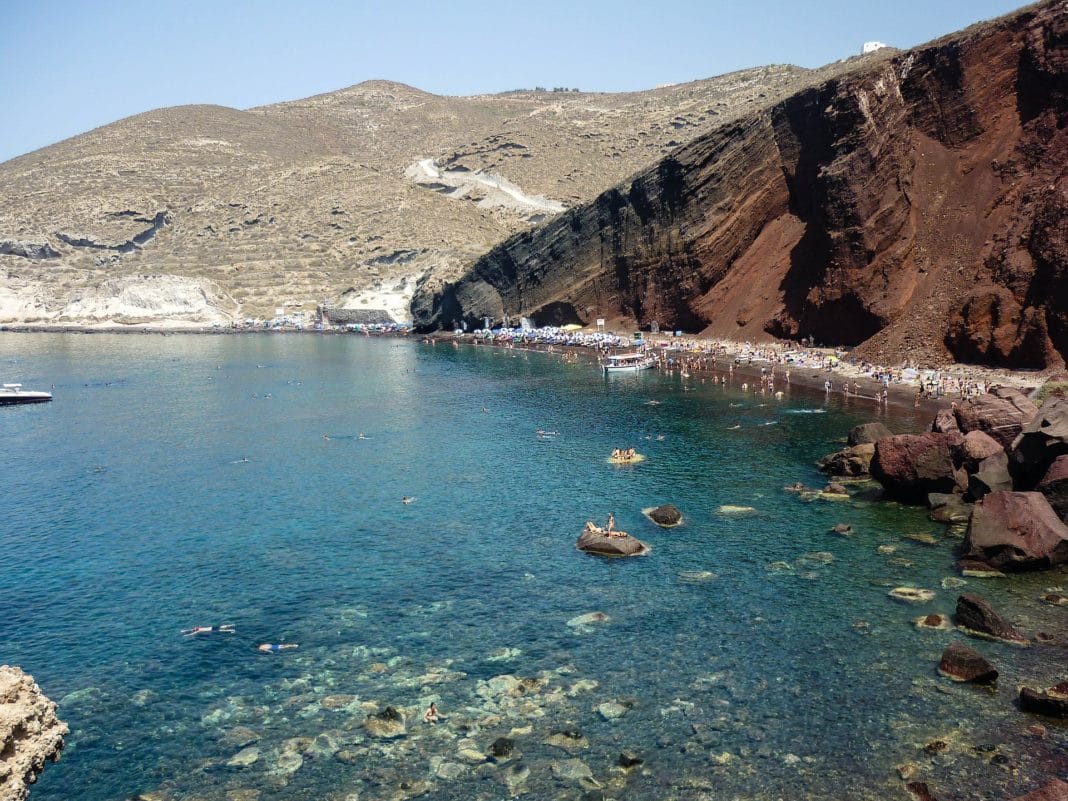 When you decide to vacation somewhere, your preferred activity might involve relaxation. Many tourists like to travel to warmer locations in the hope of enjoying some rejuvenating time in the sun. In Santorini, you'll find various sites that provide visitors with the opportunity to unwind. Red Beach remains an especially popular place to get some sun. This unique location has gorgeous soft sands surrounded by stunning red cliffs. The vibrant volcanic rock formations make this site one of the most beautiful places in Santorini. If you want to get away from the excitement of the city, take some time to visit this beach.
Sunbathing on Red Beach represents one of the best things to do in Santorini. Travelers who prefer intimate environments to crowded tourist attractions will particularly love this location. Red Beach doesn't draw too many crowds, so it won't feel cramped as you tan on the sand. A number of umbrellas and chairs for resting can be found on the beach as well. More adventurous tourists should consider going snorkeling in the waters along the coast. The rocks under the sea make for unique sights as you explore the depths. You'll definitely want to visit Red Beach, as it represents one of the most relaxing things to do in Santorini.
2. Walk from Fira to Oia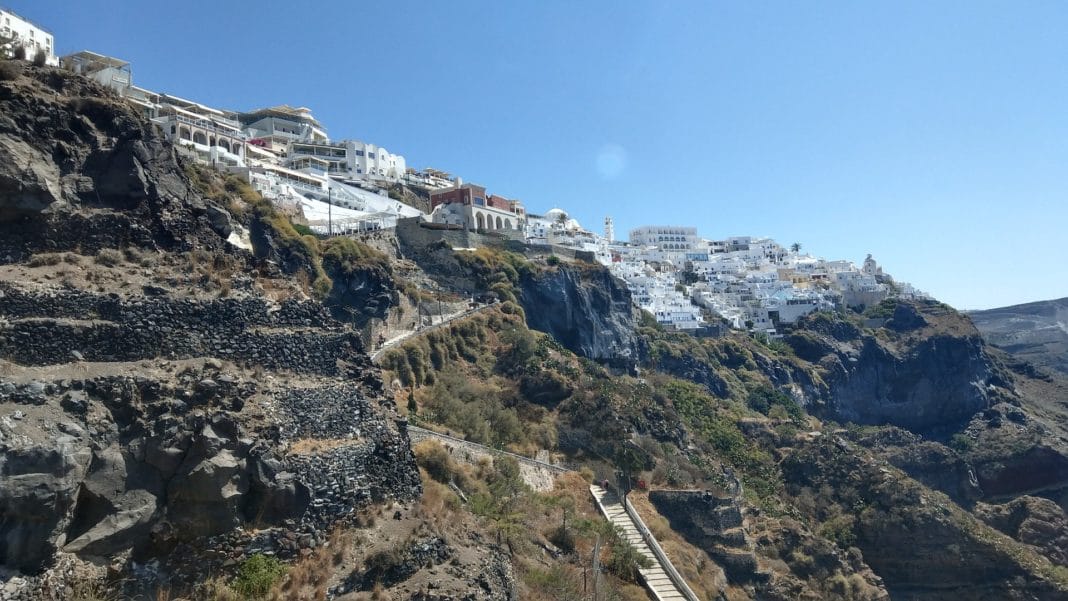 Hoping to get some exercise during your travels to Santorini? The hike from Fira to Oia represents one of the top things to do in Santorini. Thousands of visitors make the hike from Fira to Oia every year, as it remains a must-do activity for tourists. While hiking, you'll be treated to some amazing views of Santorini from your vantage point. Most travelers bring their cameras along, so they can take plenty of beautiful photos along the way. The path can also be somewhat rocky, which means you might want to wear sneakers instead of flip flops. If you're used to walking everywhere in sandals, though, you'll probably be fine.
The hike from Fira to Oia usually takes from two to five hours, depending on how quickly you're walking. Many of tourists start at Fira and then go through the villages of Firostefani and Imerovigli. While stepping through this area, you'll be able to see the quaint village areas nearby the path. From there, travelers can make their way to Oia, where the route remains fairly rural. As you make it into Oia, you'll be standing on some hills, ensuring your view remains spectacular. Tourists will enjoy reaching the tip of the island as they enter the village and look at the landscape below.
3. Visit Ancient Akrotiri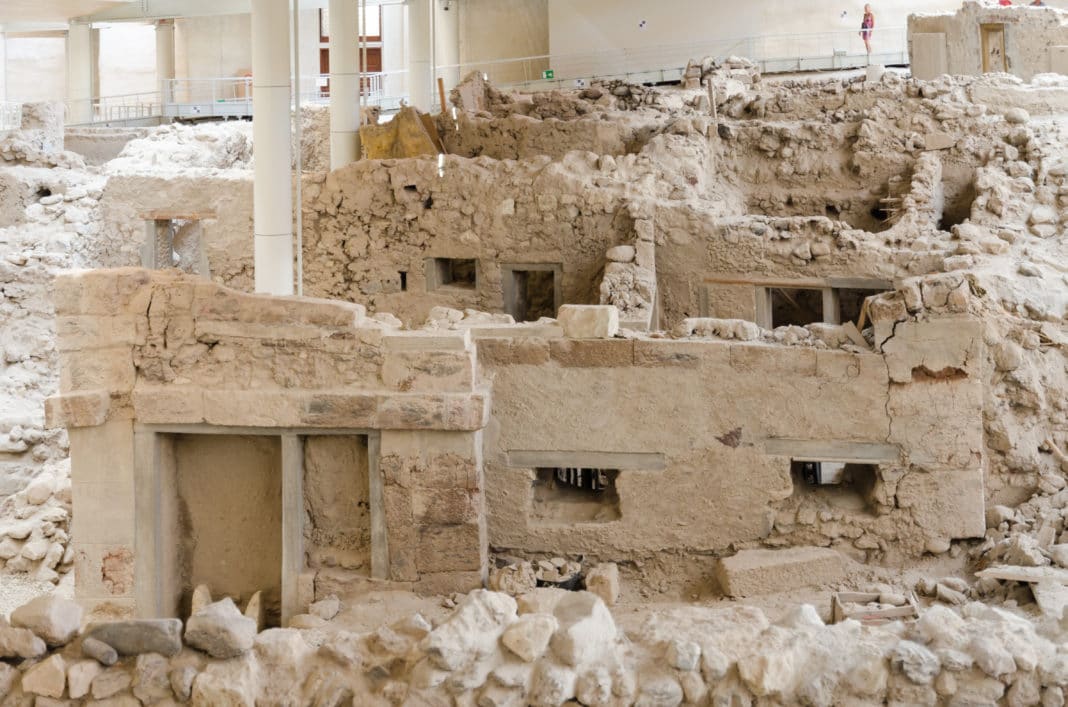 Credit: Norbert Nagel
Travelers who love history will find Akrotiri a very exciting place to visit. When you come to Santorini, you should be aware of how many historic sites exist on the islands. With the ancient origins of the Greek islands, this location contains its fair share of fascinating ruins and artifacts. Akrotiri represents just one of the many unique spots to visit while journeying through Santorini. This site contains remnants of a village that was once destroyed by a volcanic eruption many centuries ago. As you wander through the area, you'll feel as if you've stepped into the past. If you want to experience real history, make visiting Akrotiri one of your top things to do in Santorini.
When you come to Akrotiri, you'll be able to book a tour with a highly knowledgeable tour guide. This ensures that you won't walk around without knowing what you're viewing. The guide will take you around the site and tell you about the village's history and the volcanic eruption. Since Akrotiri tends to draw many tourists, finding a tour guide when you arrive can be a challenge. Accordingly, it's recommended that you try to book a guide far in advance. You could even get a chance to view the site privately if you so choose.
4. Go on a Santorini Winery Tour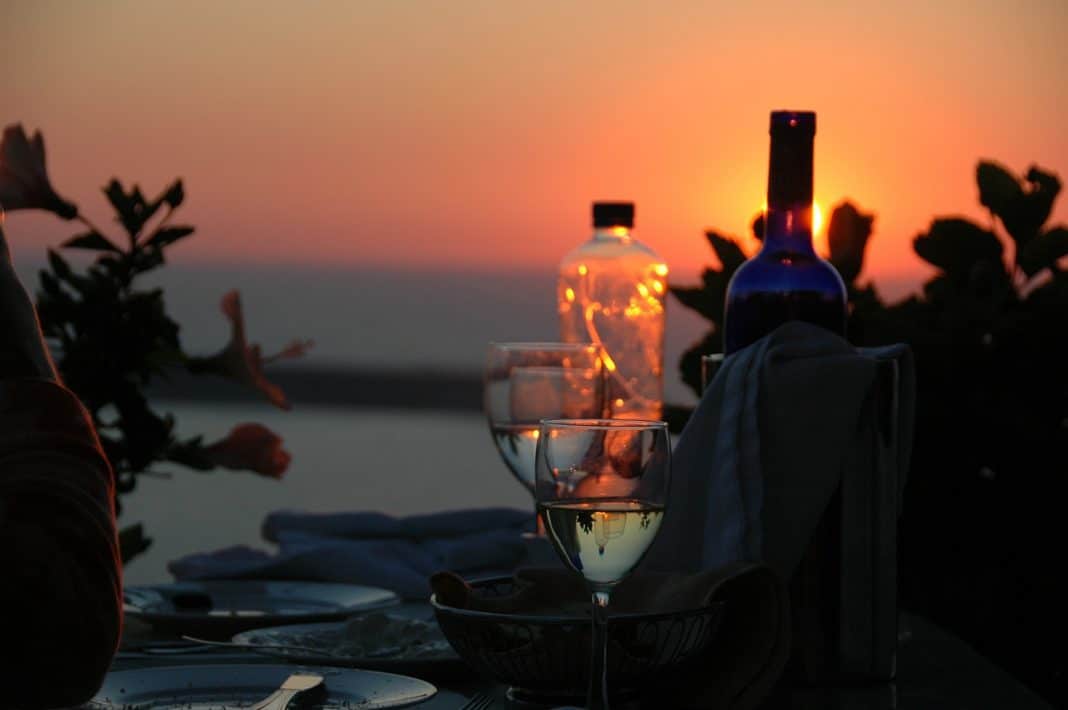 Santorini produces some of the best wines in the entire world. Sightseers with a taste for the grape drink will want to book a tour of Santorini's top wineries. The wineries in Santorini can be found all over the island, which means you'll have many places to choose from. However, it might prove challenging to figure out the best wineries to visit while you're there. That's why you should book a winery tour, so an experienced guide can bring you to the top wineries. As you travel around the islands, you'll get an amazing tour of the region at the same time.
Before embarking on a journey of Santorini, consider booking a winery tour in advance. Since Santorini has a famed winery reputation, the tours can get full quickly. If you're traveling with a small group, you can find tours for a half-day winery tour. These tours often include 12 tastings and last around five hours. Venetsanos and Gavalas wineries remain some of the most popular wineries in Santorini. Venetsanos provides wine tours at their Main Hall Terrace, or wine by the glass or bottle on their Sunset Terrace. The best locations will offer views of the landscape as you sip on delicious wines. Other winery locations around Santorini provide sunset wine tours. Couples looking for a romantic activity should consider these types of wine tours, which provide alluring atmospheres and tasty refreshments. Travelers who love wine will enjoy going on winery tours, one of the best things to do in Santorini.
5. Ride a cable car from Old Port to Fira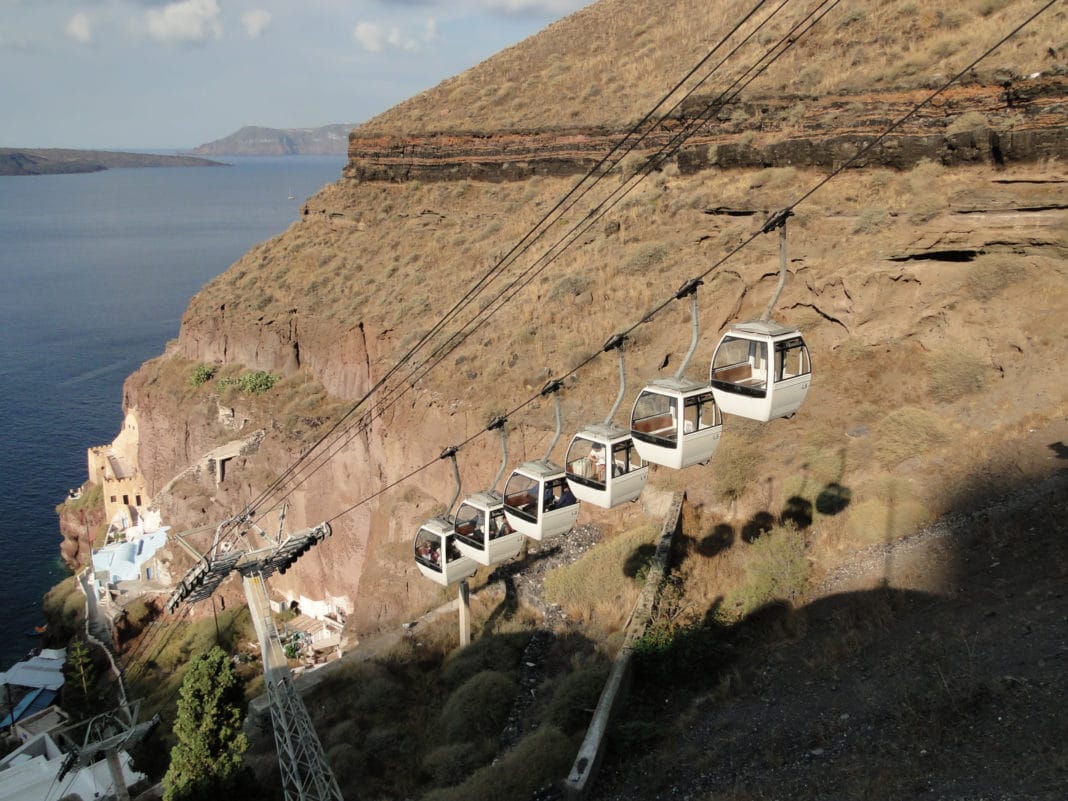 Credit: Bernard Gagnon
Looking to gain a new perspective of your environment? The cable car ride from Old Port to Fira provides an unparalleled view of the Santorini landscape. If you're already in Old Port, this remains a convenient way to spend a few minutes of your time. Most people take the stairs down to Old Port, and then enter one of the cable cars. You'll then be able to take the car back up, letting you rise over the hilly environment. You can also bring food and drinks with you as you step inside a cable car. Friends and family will love enjoying the view while sharing a drink or bite to eat.
During the spring and early autumn months, the cable car remains active every twenty minutes. In the late summer, July and August, the cable car runs later into the night. The car runs less often during the winter, so consider this factor if you're traveling during that time. The cost to ride is only around five dollars for adults, and half the price for children. As you ride over the landscape, you'll see why it's one of the best things to do in Santorini. You won't get another view that's quite the same as when you're inside the cable car.
6. Swim in Ammoudi Bay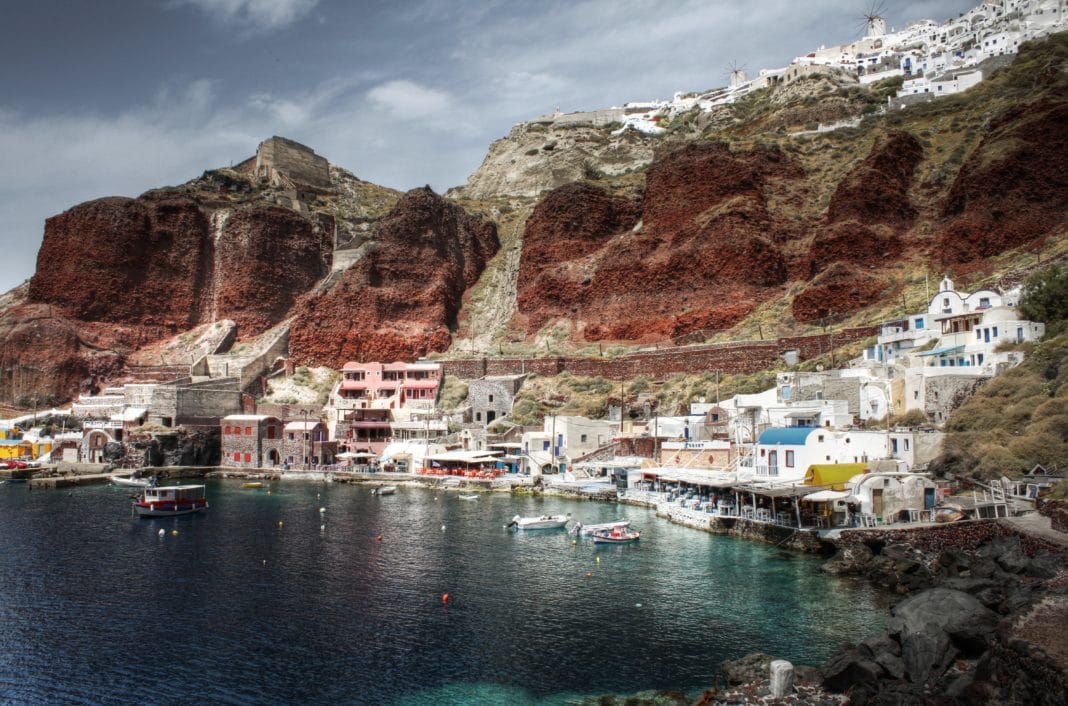 Credit: Klearchos Kapoutsis
The waters surrounding Santorini appear crystal blue and stunning. Tourists from around the world come to Santorini and fall in love with the gorgeous surrounding sea. The Grecian islands have a reputation for beautiful waters, so Santorini remains no exception. However, other gorgeous water sources can be found throughout the islands, including Ammoudi Bay. This location brings many travelers and residents to visit every day, as it's a stunning natural environment. You'll want to make taking a dip in Ammoudi Bay one of your top things to do in Santorini.
This swimming location can be found just below the cliffs in Oia, south of the port of Ammoudi. You can easily find a comfortable spot to dive into the water and cool off from the Santorini heat. If you walk to Ammoudi Bay from your location, you can appreciate the views of the water while traveling. You could simply move south after enjoying a delicious meal at one of the restaurants on the port. Tourists can swim to the tiny island in the middle of the bay and jump off from there.
7. Hike up the Nea Kameni Volcano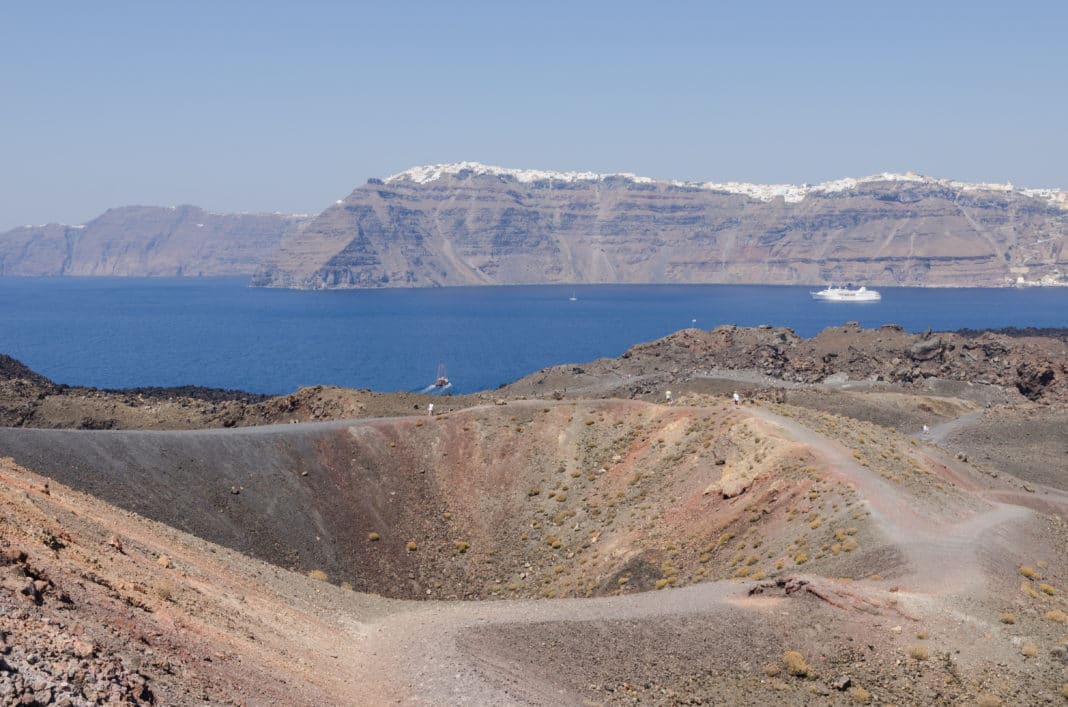 Credit: Norbert Nagel
With the unique Santorini landscape, tourists will get to experience environments they've never visited before. In the middle of the caldera of Santorini, you'll find an island called Nea Kameni. This area remains home to an active volcano, a fascinating natural site. Tourists to Santorini find the volcano one of the top places to see while on the island. While you may have traveled to many places before, you probably have never been to an active volcano. That's why visiting the volcano of Nea Kameni remains of the top things to do in Santorini.
When in Nea Kameni, you'll find the peak of the volcano at around 430 feet above sea level. The walk to the crater takes around twenty minutes, so you'll get some exercise along the way. While walking, you'll get to see countless sulfur vents and unique rock formations. Make sure that you book a volcano boat tour or get a hired chartered boat before embarking here. You can't simply walk to this location on your own, so the tours remain necessary. Once you arrive at the peak, you'll get to see this fascinating piece of the natural environment. Travelers interested in geology will find visiting this site to be one of the best things to do in Santorini.
8. Explore the ruins of Thira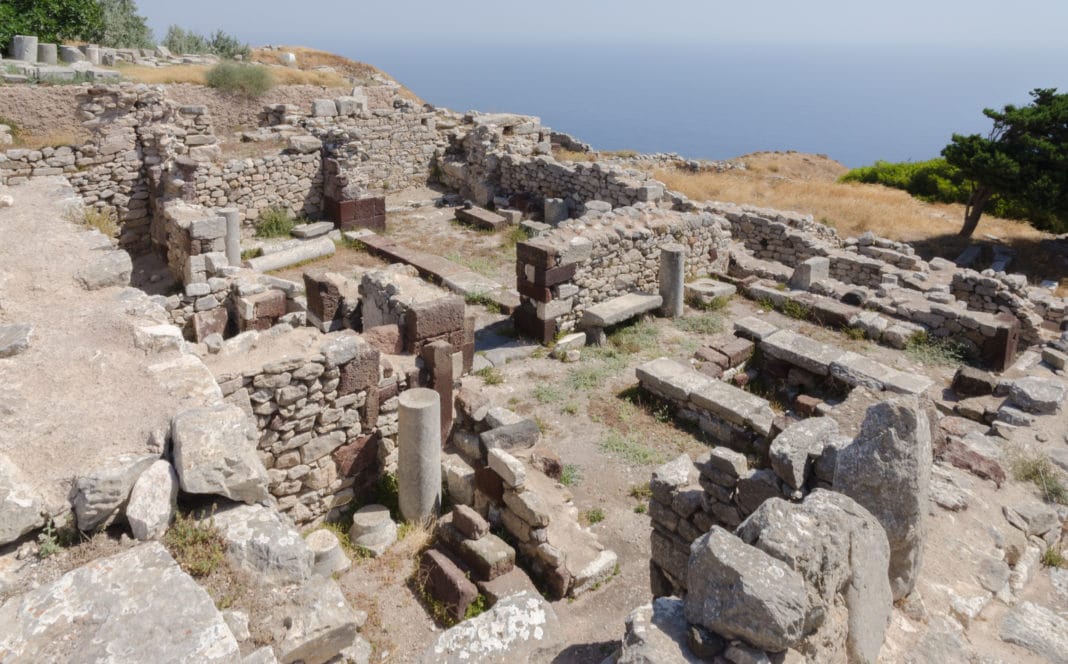 Credit: Norbert Nagel
The islands of Santorini contain thousands of years of history. Travelers with an interest in learning about culture should make a stop at the ancient ruins of Thira. Sometimes spelled Thera, this area represents the main island of Santorini. After making your way to the location, you'll have to walk up a rocky spot known as Mesa Vouna. Once there, you'll get to see the fascinating ruins left by Santorini residents from centuries ago. Most of the architecture here was built in the Hellenistic area, around the 3rd century B.C. You'll also see buildings dating from the Roman and Byzantine periods scattered throughout here.
Venturing through the ruins of Ancient Thira remains one of the coolest things to do in Santorini. As you step along the historic grounds, you'll get to see Hellenistic stores and the Temple of Dionysus. This unique structure was once built of marble and stone. Travelers will also be able to explore Roman baths and the church of Agio Stefanos, also built of stone. Inside the Sanctuary of Artemidoros, tourists can view beautiful inscriptions and engravings of animals representing Greek gods. While standing atop these ruins, make sure to check out the view of the land and sea below.
9. Watch a movie outdoors in Kamari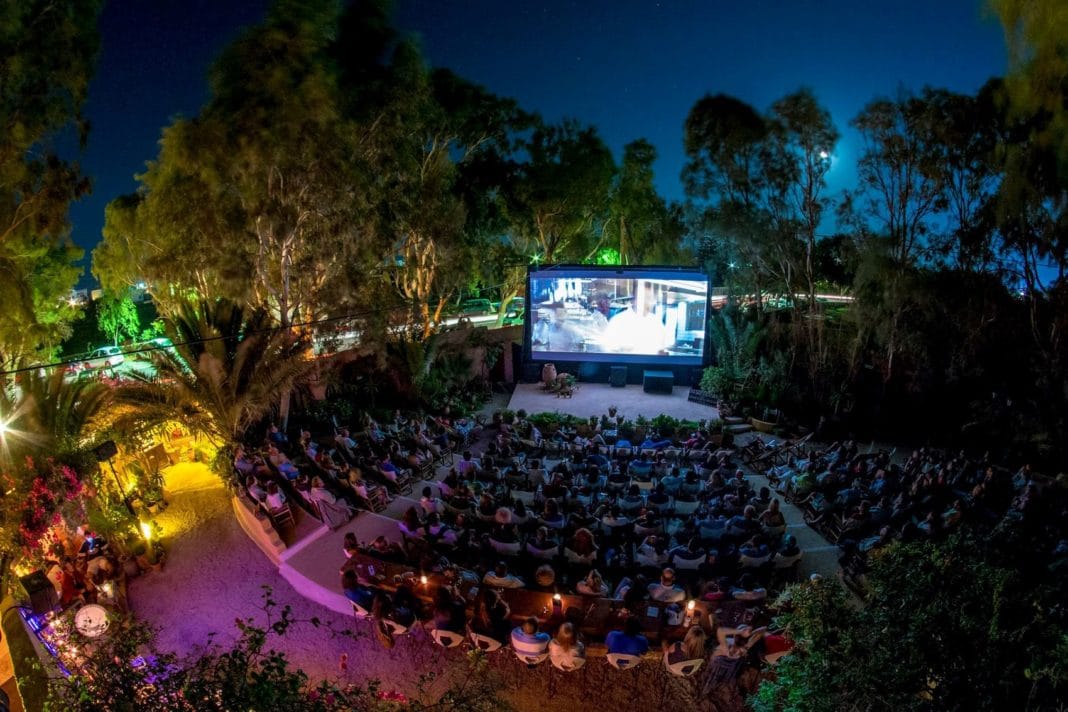 Credit: travelaway.com
Travelers searching for low-key things to do in Santorini might want to visit Kamari village. Here, tourists and residents alike come together to watch films outdoors. Families will love getting to sit down on comfortable chairs and watching fun movies together. Adventure to this venue after dinner and enjoy the sunset as you wait for the films to start. Snacks like popcorn and candy can be purchased and shared amongst you and your loved ones. Older guests may buy a few glasses of wine or beer for more adult-friendly drinks. The movie-playing starts around 9:30, so you can listen to the sounds of night as you view films.
If you're a tourist who also loves movies, visiting Kamari remains one of the best things to do in Santorini. The outdoor cinema provides the perfect venue for a relaxing night of fun after a day of adventuring. This open-air location plays most of the top box office movies for your viewing pleasure. The cinema also sometimes plays more independents films that you wouldn't otherwise see at a normal theater. The movies play in their English versions, with Greek subtitles displayed on the screen. This means you can enjoy films here even if you don't know the Greek language.
10. Enjoy dinner with a view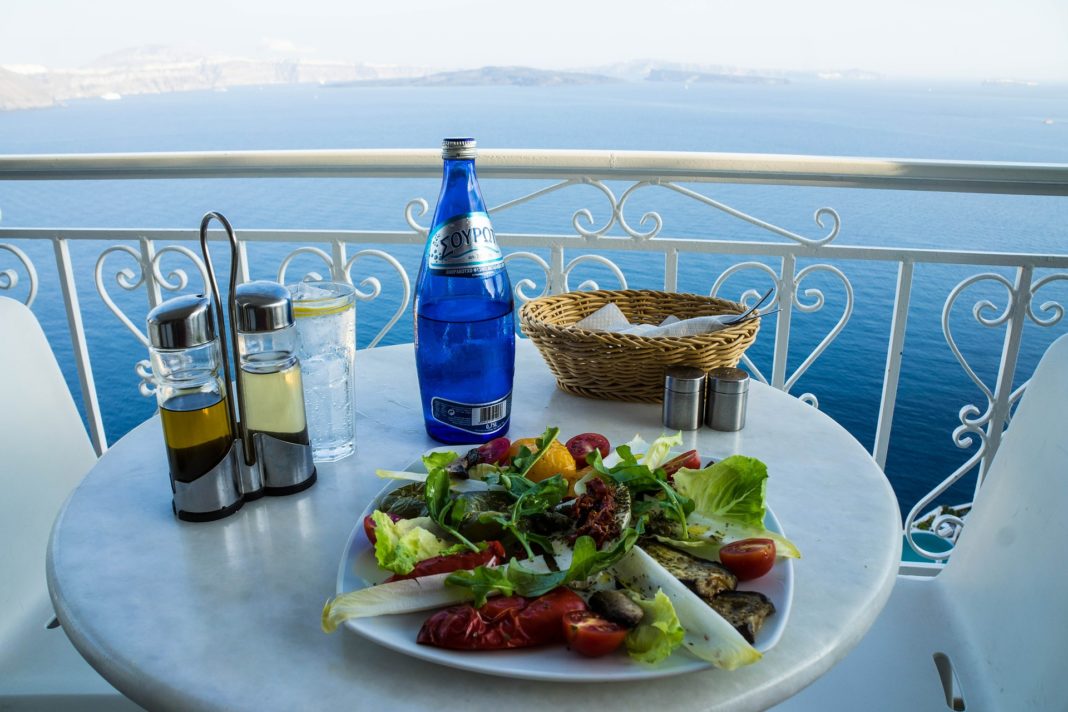 If you're in Santorini with your partner, you'll definitely want to plan on sharing a romantic meal with a view. One of the best things to do in Santorini includes eating a meal at some of the location's top restaurants. These dining venues not only serve delicious food, but also provide guests with spectacular views of the region. As you enjoy bites of fresh seafood, you'll get to see the sun set over the ocean and Santorini. There's nothing like eating a tasty dish while getting to view the landscape from an entirely new perspective.
Santorini plays host to a number of amazing dining venues. If you're a traveler who enjoys trying out traditional foods from places you visit, consider stopping by Mezzo. This restaurant serves traditional dishes that combine refreshing, local flavors. Items on the menu include tropical salads, tuna tartar, seafood linguini, moussaka, braised veal, and more. Finish a delicious dinner with a sweet treat, such as baklava, apple crumble, or cheese cake. Mezzo also serves a number of alcoholic drinks, like wines from the region, beers, and cocktails with refreshing tastes. Of course, the best part about eating here remains the stunning views offered by dining on every level of restaurant. You can sit with views of the volcano, Oia, or the sunset over the sea.
Make the most of your trip by discovering the best things to do in Santorini.
When you visit Santorini, you might not know what to do while vacationing. The Greek islands have countless stunning landscapes to explore, including volcanoes, sandy beaches, and green countryside. With the region's ancient history, you'll also have the opportunity to explore historic sites and learn about the archaic culture. Of course, travelers who love food will also enjoy trying different traditional and contemporary meals served at various restaurants here. We hope that our list of fun things to do in Santorini has inspired you to book your next trip. Once you arrive on the islands, you may want to stay there forever.
Related Article: Hotels in Santorini: 8 Luxury Island Accommodations