Kansas City has a great food scene. You'll want to check out these best restaurants in Kansas City.
Kansas City, the Midwest city that is split between two states (Missouri and Kansas), has a great food scene. Its central location allow for a lot of fresh farm produce, as well as a mix of cultures and flavors. Plus, if you've never been, the city is so much more than a crowd in a cornfield. It's lively and, even better, it exceeds many people's expectations rather than making pretentious promises. Check out some of these best restaurants in Kansas City. You'll find both the authentic, inexpensive favorites and a chance to indulge in some new exciting restaurants.
1. The Rieger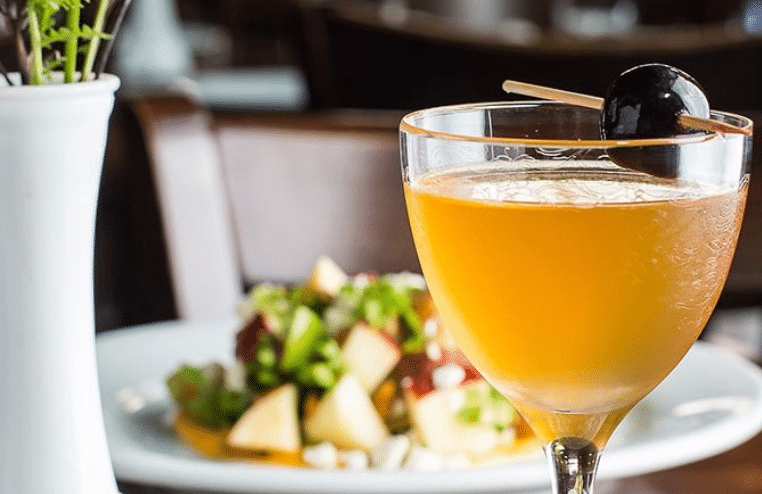 Credit: Rieger
This favorite restaurant in Kansas City is housed on the first floor of the historic Rieger Hotel. The hotel first opened in 1915 and still features much of the original interior. The restaurant features classic dishes and a pretty good bar scene. You will definitely want to try one of the cocktails with fun names, such as the "It's Not Easy Being Green," or the "Curtain Call," with enticing flavors such as hibiscus and coriander, or drinks with J. Rieger & Co. Midwestern Dry Gin as well as Rieger's Whiskey.
For dinner, enjoy selections of homemade pastas, or rabbit, goat, pork or beef entrees. There is always an interesting assortment of daily specials, often with a scrumptious pasta dish, and maybe even some flavors from around the world. For dessert, enjoy some chocolate ganache, strawberry rhubarb pie, or lemon agrumato cake with some dessert wines. Additionally, The Rieger Restaurant's great downtown location makes it a great stop after some city touring.
2. Cafe Sebastienne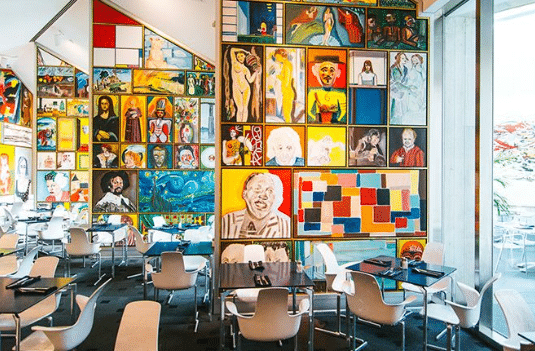 Credit: Cafe Sebastienne
Though Cafe Sebastienne is within the Kemper Museum of Contemporary Art, this is so much better than the overpriced museum cafe that you're picturing. To begin, Cafe Sebastienne wins awards because of its locally sourced foods that help to support farming. They're also recognized for their delectable food, great wine list, and artistic setting. Chef Rick Mullins was raised right in Kansas City and has a passion for local food. He and the staff at Cafe Sebastienne have begun some culinary events that show off their enthusiasm for creative dishes and agricultural and local support.
Inside Cafe Sebastienne, you'll dine among the art. Simple tables and modern, white formed chairs make sure that the focus is on the colorful walls. Every wall space, from floor to ceiling, is covered with vibrant and abstract portraits. If you choose to dine on the outdoor patio, rest assured that the art will follow you there, too. You don't need to visit the museum to dine at Cafe Sebastienne, though it's also a fun experience. Cafe Sebastienne is open for lunch, dinner, and brunch on Saturdays and Sundays.
3. Il Lazzarone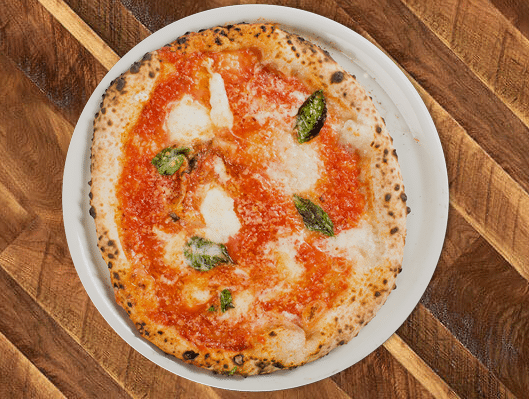 Credit: Il Lazzarone
Il Lazzarone is one of the best restaurants in Kansas City because they take the art of pizza seriously. It helps that they have the knowledge and equipment to do it well! Apparently, the Acunto ovens are handmade with soil from the base of Mount Vesuvius and imported from Naples. The thin-crust pizzas bubble on the edges, and you can taste the simple, fresh ingredients. The pizza is enough to draw many returning customers, but that's not all here at Il Lazzarone! The beer list is quite extensive, and the appetizers are scrumptious. Of course, since Il Lazzarone is authentic Italian, the wine list is splendid. Choose from fairly-priced glasses of wine from the regions of Italy, and take a bottle home since you'll likely love it. Desserts include a Nutella Pizza, and they certainly won't make judgments if you order that as your main entree.
4. Fiorella's Jack Stack Barbecue
Credit: Jack Stack
You simply cannot pass by the barbecue in Kansas City. Here at Fiorella's Jack Stack Barbecue, you'll find some of the best barbecue in Kansas City, once you get past pronouncing that name out loud (go ahead-try it!) It's more than just great barbecue. The atmosphere is unique, and the food is certified quality, with a wide menu of options, too. There are a few locations in Missouri, but we'll discuss the Freight House one here. The original brick walls and super high ceilings make for a cool atmosphere; you're dining in a historic railroad building. Additionally, the environment is enhanced with a see-through fireplace and outdoor patio.But let's talk about the great food they serve in this cool building! Begin with some scrumptious comfort foods: wings, jalapeno cornbread, onion rings or salmon dip. Choose your favorite type of barbecue: pork, beef, chicken, hickory grilled entrees (including filet mignon), and even seafood! Additionally, Fiorella's Jack Stack Barbecue has a featured menu, with exciting variations and specialties that are seasonal. PS: for another town with great barbecue, try out San Antonio's food scene.
5. Grünauer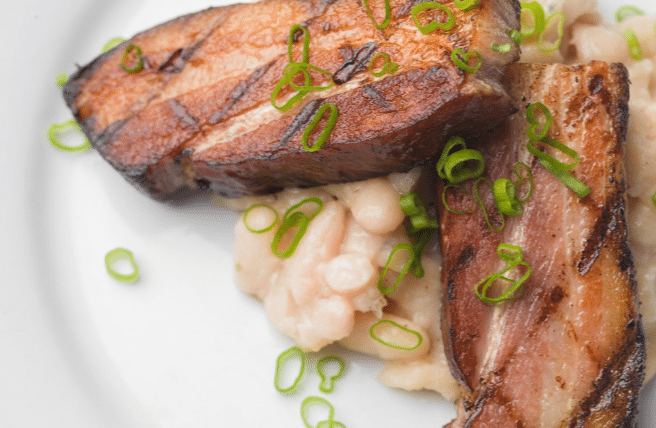 Credit: Grunauer
The Freight House seems to be a jackpot for great Kansas City restaurants. Here's another one of the best restaurants in Kansas City located in the Freight House: Grünauer. The interior is cool; three-tiered bulbed chandeliers hang from the dark wood ceiling. The brick interior and hardwood floors tablecloth linens and sturdy wooden chairs create a rustic, yet warm and elegant atmosphere.
Here at Grünauer, you'll get to enjoy Austrian and central European cuisine. It's a treat to have some truly authentic Viennese cuisine here in Kansas City, and it's authentic for sure. The Grünauer family collaborate with Klaus Piber to open the restaurant, inspired by the family's other restaurant right in Vienna Austria! You'll find yummy dishes such as Wiener Schnitzel, Stelze, Gulasch, and Spatzle. Additionally, there's a good assortment of sausages, soups, and salads. The food is all delightfully arranged on your dish. And lastly, the Wunderbar (translates to wonderful, but also a fun name for a bar!) is open until 1 am. This bar here at Grünauer features a great drink menu and fun atmosphere separate from the main dining room.
6. Rockhill Grille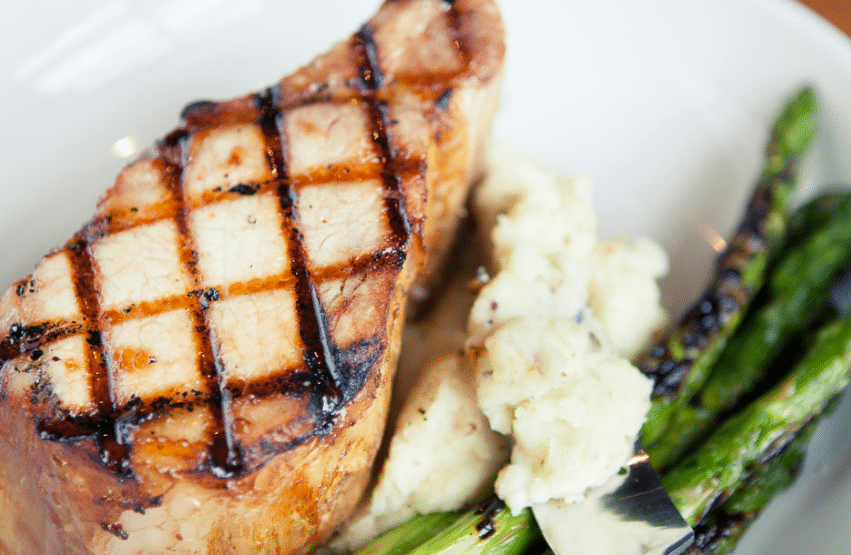 Credit: Rockhill Grille
The Rockhill Grille is one of the best restaurants in Kansas City because it does two things well: this Kansas City restaurant offers some great American-grill food and has a great drink menu for after dinner. Here at the Rockhill Grille, it's not about creating artistic masterpieces. Instead, it is simply about delivering a great lunch or dinner with your favorite dishes. The food is delicious, the service is good and the dining atmosphere is nice. They are open for lunch and dinner, and the kitchen stays open until 11 pm on weeknights, with the bar open until midnight.
To start your meal, you can keep it risk-free with some tater-tots, or branch out with some calamari. Entrees include a wide selection of meats: filet mignon, duck, seafood, and pork. Additionally, you can choose from a great variety of salads. Head to the restaurant or lounge for a social hour early evening. Or, enjoy a great collection of wine, beer, and spirits into the night. Lastly, this Kansas City favorite restaurant is located on Grand Boulevard, so you can walk over to the Berkley Waterfront for an evening stroll.
7. Corvino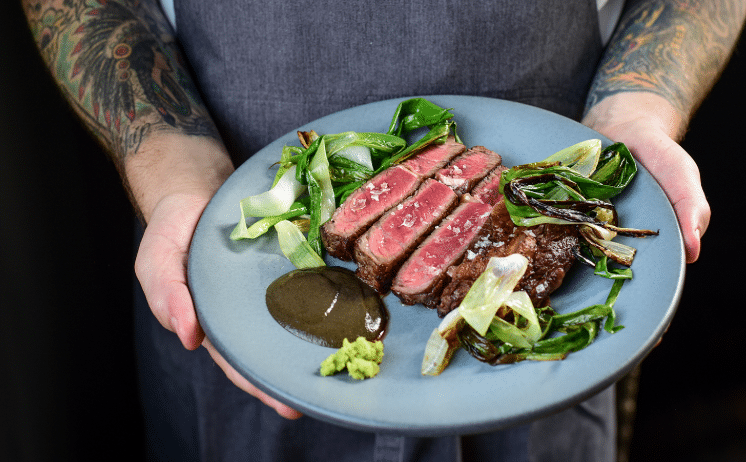 Credit: Corvino
Here is the place you must try if you are a true "foodie," or even if you like to see what the true foodies are into. It is one of the best restaurants in Kansas City because of its creative dishes, globally-inspired cuisine, and talented chefs and the staff's attention to detail. The restaurant has a constantly changing menu, thanks to the chef's new inspirations and the seasonal ingredients that influence it. You will find shareable plates that create a unique social experience with your table. "Ooh" and "Ah" with each other over the small plates of appetizers, main courses, and desserts. Sure, it is an expensive place. The ingredients are the reason for that since they are sourced from the finest farms and origins. The interior is quite modern, and on weekends you'll get to enjoy a live band while your taste buds busy being thrilled.
8. Westside Local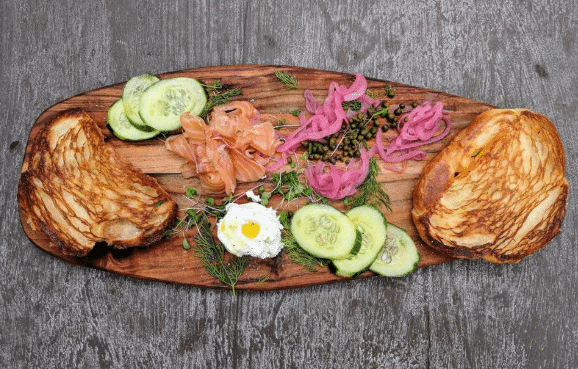 Credit: Westside Local
Despite its somewhat weird location, Westside Local is one of the best restaurants in Kansas City thanks to its truly scrumptious food and super sweet beer garden. This farm-to-table restaurant makes sure that they remain true to their passion for supporting local farms. Therefore, individuals and small businesses supply the super fresh ingredients that you will find on your plate here at Westside Local. The interior is simple and their philosophy is too; deliver delicious food that is locally sourced. You must head over there on a Sunday between the hours of 11 and 3 pm, for what they call "Blunch." Sure, it's just a different name for "brunch," but you'll find all the favorites and interesting renditions. These include delicious stuffed french toast, crab cakes and eggs, a veggie burrito and all the classic, delectable sides. For lunch or dinner, enjoy some starters such as the local cheese board, or the Cheesy Poblano Corn Dip. Enjoy a wide selection of sandwiches, or entrees. We loved the collection of "localities" on the menu. Select from a huge assortment of sides to simply try, or build a plate.
9. La Bodega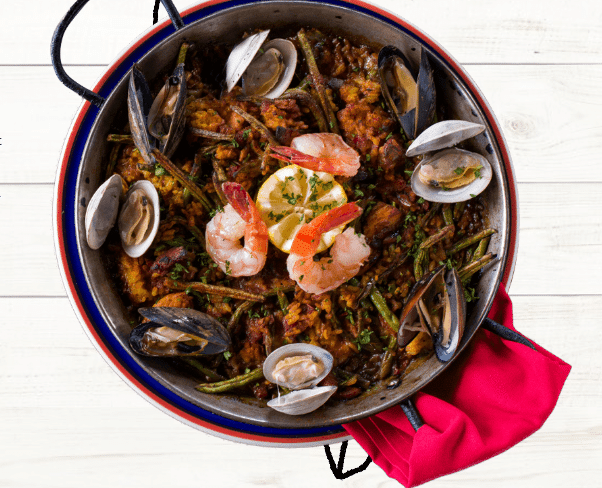 Credit: La Bodega
La Bodega in Kansas City is quite simply fun. It's colorful, the lounge and bar scene is great, and the food is delicious. That's why it's one of the best restaurants in Kansas City! There are two locations, but the one within Kansas City is referred to as the "Originale," though it is located pretty south of downtown (it's close to Penn Valley Park and the National WWII Museum and Memorial).
Advertised as a "Spanish Tasting Kitchen," you can try some really scrumptious tapas here. There are daily lunch specials, and our favorite: Saturday's special is bottomless mimosas. Try a flight of wines with your tapas. For dinner, there are SO MANY tapas options! They are categorized by hot or cold. Additionally, you can order an entree, soups, and salads. It's also a great place for lunch in Kansas City, as well as brunch.
10. Garozzo's Ristorante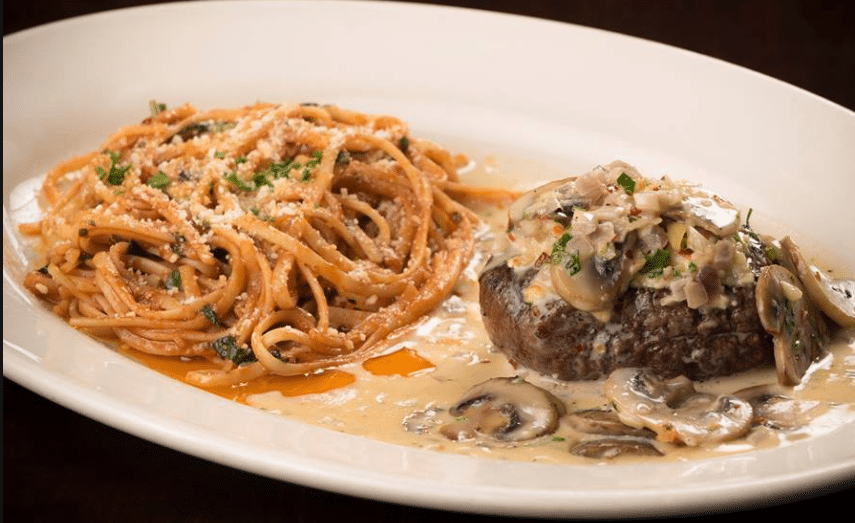 The restaurant's atmosphere is incredibly cozy and homey. But don't erroneously translate that into fuddy-duddy with plastic checkered tablecloths, because that's not the case. The interior of Garozzo's Ristorante features framed wall photos, mirrors, and arched doorways. It's warm, inviting, and refined, and that's why it is one of the best restaurants in Kansas City. Michael Garozzo prides himself in his delicious Italian dishes, and there's even a whole category for "gluten sensitive." On the menu, you will find beef, veal, chicken, seafood and solely pasta dishes. Leave room for the scrumptious tiramisu or cannoli for dessert.
Try out these best restaurants in Kansas City!
Whether you're sightseeing in Kansas City, visiting a relative, or simply new to the city, try out these favorite restaurants. Many have locally-sourced, super fresh ingredients. Many also have proud owners and chefs who create authentic cuisine from other countries. Plus, the nightlife is decent in Kansas City, and some of these restaurants feature cool bars with great drink menus. Enjoy all the scrumptious meals available at these best restaurants in Kansas City!
Related Article: ​Top 13 Best Restaurants in St. Louis in 2018​​​