Dominican Republic beaches are exactly the destination you have been longing to escape to.
If you're anything like me, during this time of year it is my deepest desire to escape the cold and lay out on a beautiful beach with piña coladas brought to me, and not a care in the world. Even if you live in a warmer climate, sometimes the pull of getting away from it all and finding a beach where you are unknown and not responsible for anything is tempting. There is not a more beautiful place to escape the day to day mundane than the exotic Dominican Republic beaches.
1. Punta Cana, Dominican Republic: A Must-Experience Beach
You can't make a list of the best beaches in the Dominican Republic without including this one at the top. One of the most world-famous beach hubs is the strip of Punta Cana. This beautiful area and its beaches have come a long way from where it was just 40 years ago. Punta Cana is the dream destination of any tourist. Though there are many subpar places on the "Top 10" vacation lists, this place truly deserves its place. There are plenty of all-inclusive resorts that are sure to make your getaway a special and memorable one. Punta Cana is full of tours and day trips you can take to explore all this area has to offer. The white sand and deep blue waters are unmatched.
Some fun things to do here: zip lining, safari tours where you can see the animals native to this area, snorkeling into the deep ocean, and many more. It isn't world-famous for nothing!
2. Playa Boca Chica: Fun for the whole family
This beach of Santa Domingo, Dominican Republic, known for it's calm, shallow waters, is also known as the most family-friendly beach you will find in the Dominican Republic. The shallow water makes this beach a great destination for those with small children or anyone who would rather wade in the water than swim in deep oceans. Like many other beaches on this list, you can find affordable restaurants, bars, and street vendors. These things make it the perfect place for a family day or an adult getaway. In the daytime, you will see kids all around, but at night, Playa Boca Chica turns into a place to be for parties and fun for the adults.
Some fun things to do here. Not too far from downtown Boca Chica is 3 Eyes National Park (or, "Los Tres Ojos"), this is for the lovers of nature. Here you will find details about the sea animals and their climates that you have spent your day reveling in. Take a break from all your swimming and sun-bathing and try out the seafood restaurant Neptunos. It is sure not to disappoint your seafood craving. Another fun thing to do in Boca Chica is diving with Tropical Sea Divers. No matter how beginner your diving skills are, these divers have great teaching skills and delightful customer service.
3. Kite Beach, Cabarete: For Lovers of Water Sports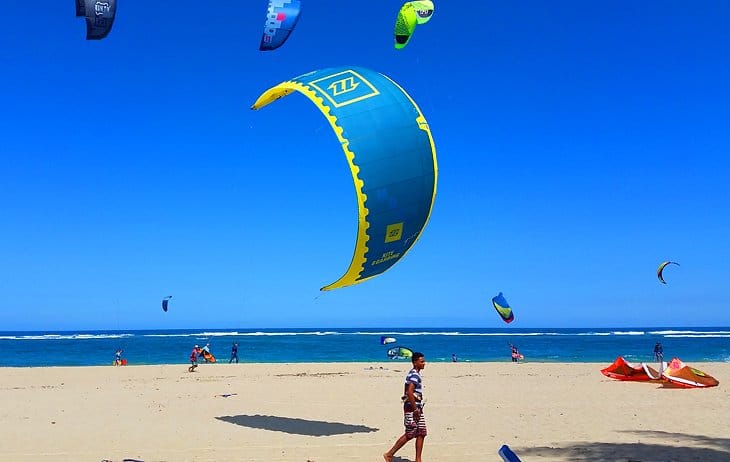 Credits: Lana Law
Kite Surfing is all the rage at this beach. Boatloads of Kite surfers from near and far visit Cabarete all year long. Since this beach is the Kite Surfing destination, it is no surprise that the world championship for watersports is held here. This competition includes windsurfing, surfing, kiteboarding, and stand up paddle surfing. Lessons for these sports take place on this beach as well, so it is a great place for anyone looking to pick up a new skill on their vacation.
As you can imagine, this beach picks up strong winds. This makes for those great waves! It makes Cabarete a perfect place to come as a beginner and leave an expert. Don't let all the sports here make you think this isn't still a great beach for those simply looking for a nice time. There are plenty of places to dine and get drinks, and this area comes alive at night specifically. It can be a great place to get away from the hustle and bustle of the busy, as well as one of the cheapest options you'll find along the in the Dominican Republic Beaches.
Fun things to do here: a wide variety of different kiteboarding schools and kiteboarding lessons, as well as places to learn how to dive, snorkel, and surf, litter this beach.
4. Playa Dorada: Natural Beauty
For day trips and weekends alike, it falls along the Atlantic Ocean. Waves can be a bit high and waters could be a bit rough because of this, but it is nevertheless a loved beach by many. As a resort beach, you will find Playa Dorada has plenty of amenities and things to do. The thing that sets the beautiful Playa Dorada apart is the focus it has on leaving nature alone. Building codes have kept resorts at a maximum of three stories, so you will not find it littered with high rises. It's easy to get so caught up in the touristy nature of a vacation, that many times nature loses it's beauty. You will not find that at Playa Dorada.
Some fun things to do here: From golf courses to horse-drawn carriages, Paya Dorada is not short on things to do. It is a fact that guests are not left without tons of activities to participate in as they overlook the blue oceans.
5. Cayo Levantado: Perfect Honeymoon Destination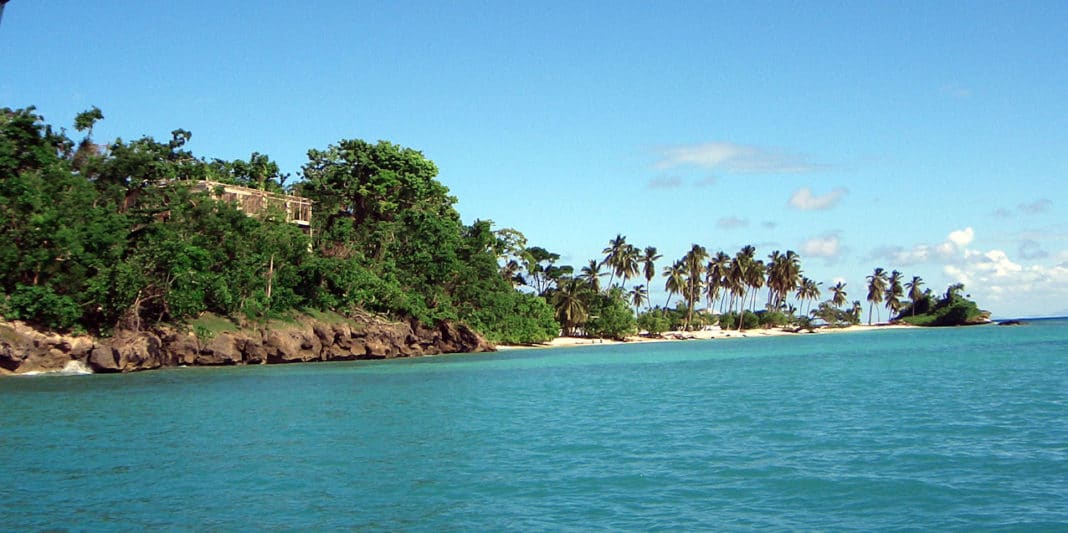 Credit: Jens Jäpel
Along the East coast of the Dominican Republic, you will find this secluded island. Similar to Playa Rincón, it is one that is not the easiest to get to and is, therefore, the perfect destination for solitude seekers and adventurers alike. An easy boat trip away, you will find yourself caught up in a lot of nature and not a massive amount of facilities. Along with swimming and relaxing, you can hike along the trails of greenery. One of the must-see attractions of Cayo Levantado is the whale watching you can do here from January through March. There is one all-inclusive resort on this secluded beauty, but it is for adults only. This beach is a great destination for Honeymooners.
Fun things to do here: From tubing to horseback riding, to exploring deep caves, there is no end to the activities you can find to fill up all your free time.
6 Playa Bahoruco: Perfect for Photographers and Surfers Alike
Because of the small white pebble-like stones that line the sand of this beach, this is a picture perfect place. No, it truly is! Photographers flock here in order to capture the beauty of this beach. Another thing that sets this beach apart is the dedication it has to surfers. The big waves this beach offers keep the surfers running towards it and the swimmers running away. Of all the beaches in the Dominican Republic, this one is dedicated to the surfers.
Fun things to do here: Bring a camera. Whether you're an armature photographer searching for inspiration, or a professional, this beach is for you. If photographing is not your thing, bring your surfboard instead. You will be sure to meet plenty of surfers trying to catch a wave too.
7. Juan Dolio: The Beach for Seeking Travelers and Locals Alike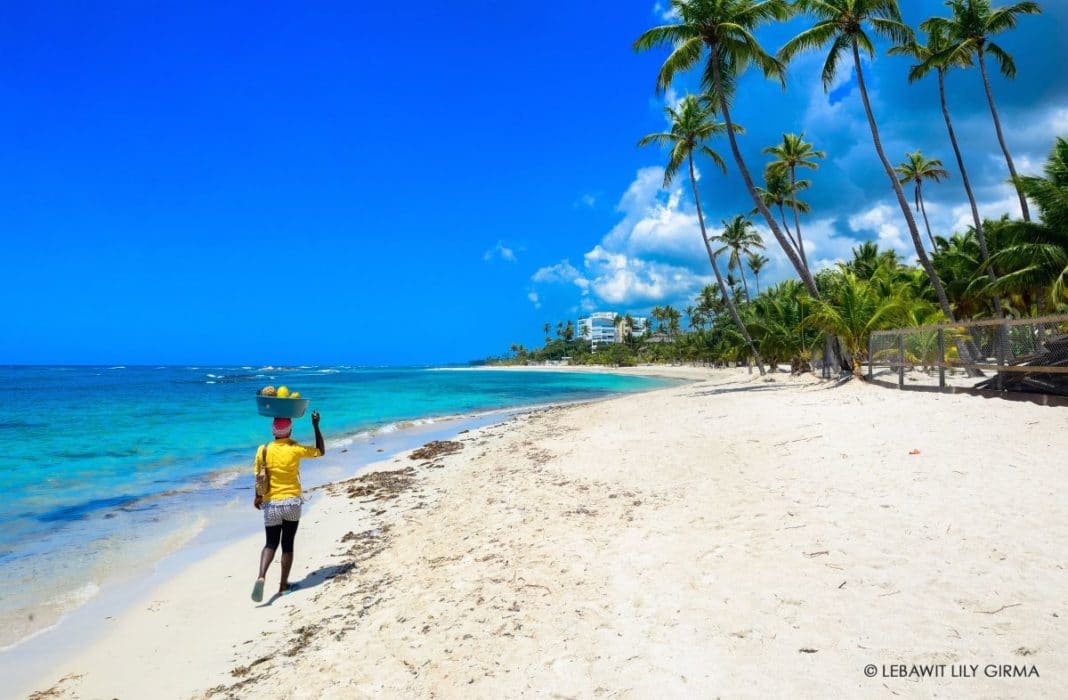 Credit: Lily Lebawit Grima
This beach is well suited for vacationers who are looking to spend their cash. If you are desiring a little less hustle and bustle and a little more fine dining and shopping opportunities, Juan Dolio is the place to be. You will find locals all around this small beach town which is a good sign. You will find Juan Dolio to be a destination of great hospitality as well as high-end entertainment. Along with your all-inclusive resorts, you will also find vacation rentals here, for a nice twist.
Fun things to do here: From a water park to a chocolate bar, Juan Dolio has much to do. But I would have to argue that the best part of this beach town experience is the beach itself. Known for having locals enjoy it just as much as tourists, your best bet is soaking in the sun.
8. Las Galeras: Entertaining Activity Hub
What sets this beach apart is are all the activities offered here. This small fishing town offers hiking along trails where you can look out onto the deep blue ocean, diving into that deep blue ocean, snorkeling down into the depths of all the bottom of the waters have to explore, horseback riding for those interested in staying above land, boating if you'd enjoy staying on the surface, and deep-sea fishing. As a fishing area, it has a special fishing niche.
Though there are plenty of places to stay, dine, shop, and browse, Las Galeras is more of an untouched tourist area. There is a lot more natural beauty shown here than some of the other locations, and it even invites those who have an interest in long-term stays to invest in vacation rentals. Las Galeras has a special zest to it and would be the perfect family stay with its many recreational activities as well as it's a slower pace.
Fun things to do here: Las Galeras has plenty to do to get you from the shores of the beach out into the ocean. Those who know these waters well will take you out to sightsee.
9. Playa Rincón: The Quintessential Place of Solitude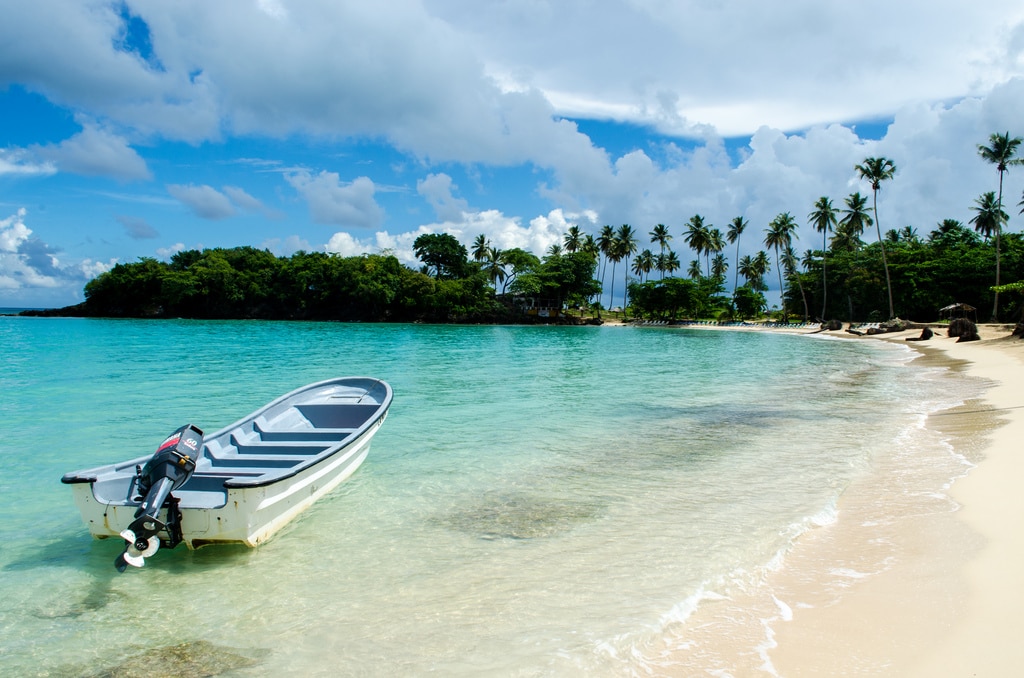 Credit: Brad Tombers
This beach is a secluded place of solitude for the weary and worn traveler. It is a bit of a trek to get there, but once you do, you will see it was worth all the effort. This one is perfect for the adventurous spirit. If you have about had enough of all the picture-perfect tourist beaches and amenities and want to explore something a bit more raw and unedited, look no further than Playa Rincón. The beautiful greenery of the surrounding jungle along with its cliffs and covered mountains give you the best of both worlds: beaches and mountains. To get here you will have to plan to travel by boat or car, taking about a half hour trip either mode of transportation. You will find an uncrowded beach and a change of pace, welcoming solitude if you seek it.
Fun things to do in here: Playa Rincón has so much to offer by way of added activities: your usual diving, surfing, snorkeling, etc. But the most interesting activity I found in Playa Rincón was Rudy's Rach. Can you imagine riding a horse along the shore of the beautiful ocean? Looking out over miles upon miles of crystal blue water as you ride a beautiful animal in the sun. This adventure is sure to be one that the kids remember for years to come.
10.
Playa Bahia de Las
Aguilas
:
For Beauty Seekers
Our last beach is one that every single reviewer on earth would agree surpasses your wildest dreams. It is a bucket-list requirement, a must see, an earthly marvel. The reason this beach stands out is because it is, more than all the other secluded beaches we covered, relatively barren. This peaceful haven doesn't even have public restrooms (definitely something to take into consideration as you choose where you will spend your vacation days). You won't find restaurants or hotels littered nearby, but many people prefer this. The natural beauty of this beach speak for itself. Some call this beach a type of heaven on earth.
Fun things to do here: The truth is, if you have decided to make the trip out here, you are not looking for activities on the water. This is the perfect place to regain some perspective and experience refreshment in a way no other beach on this list offers. Take a moment, breathe deep, and consider how small all the weight of your world truly is as you look out into those crystal blue waters.
These Dominican Republic Beaches Offer Something for Everyone.
My experience on the beaches of the Dominican Republic left me with the refreshment of both fun and relaxation. Life moves at a different pace here, and you'll catch up in moving right along with it. For a change of pace, a desire to relax and gain peace and calm, an adventure of exploration and innovation, or a family fun trip that you want your kids to remember for years to come, Dominican Republic Beaches are the way to go. This island has so much to offer and for you to uncover. It is one of the most visited tourist attractions in the world, and for good reason.
​The Dominican Republic Beaches have something for everyone. Whether you are a fan of the perfectly laid out tourist attractions and enjoy fine dining, endless shopping, and entertainment, this trip if for you. If you take a different approach and like to escape as you vacation in to beautiful sites and endless amounts of nature and greenery, this trip is also for you. With so many different activities, those with children will be able to keep thing fully entertained. And the lovers alike will find endless enjoyment on the shores of these beaches. The Dominican Republic Beaches are an enjoyable trip for everyone.
Related Article: ​Best All-Inclusive Dominican Republic Resorts​​​
Insert Image