So Many Things to Do in Vienna Austria
Vienna, Austria is a holding place of some of the most documented and well-loved history. The museums here are known all throughout the world, and the rich history holds great beauty and pain that will resonate with your soul. From Jewish concentration camp memorials to tales of the beginning of coffee, you will have so many things to do in Vienna, Austria.
Museumsquarier
This is our leading place because it is the hub or some places we will be exploring. The Leopoldo Museum and Museum of Art are planted here. MuseumsQuartier is known for its contemporary art and culture. Everything from architecture, fine art, fashion, literature, and so much more life in this district. When it comes to art things to do in Vienna, Austria, this is the leading place to find it. No matter what type of art you enjoy, there is something to explore here.
•Photoautomat, come here to get your black and white photo taken
•Literaturpassage, come experience this urban micro museum to engage with up and coming literature or linger in the wall newspaper.
Viennese Coffeehouses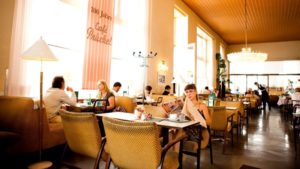 Café Prückel
You cannot visit Vienna without gaining the experience of visiting a coffeehouse. Viennese legend has it that coffee was discovered on the soil of Vienna by a soldier who was fighting for Vienna named Jerzy Franciszek Kulczycki. He was also the first to start a coffee house. Many coffeehouses have a picture of him hanging up, and would even have a serial organized by the owners of these coffeehouses to commemorate him up until recently. Though the truth of this tale has been up for question and was determined false recently, it was a fun tale that excited those owning and visiting coffeehouses. He was said to use a bean that most would have simply thrown away and made gold.
Vienna coffee houses are an important cultural staple. These coffee houses are known as Vienna's "public living rooms".This is where the magic happens when it comes to relationship and community building, creating great works of art and writing, people come together to debate and ponder life's biggest questions, and creators come to create. All types of people from different professions and walks of life have come here for as long as they have existed to do good work and grow closer together.
Some of the best coffeehouses to visit in Vienna are:
Cafe Central
Cafe Am Hof
Cafe Hofburg
Cafe Imperial
Cade Mozart
Tiergarten Schönbrunn
The Tiergarten Schönbrunn is a Vienna zoo. It is named the oldest operating zoo in existence, around since 1752. It has a special focus on species and nature conservation as well as educating the public. This zoo is a mix of the old during the Baroque era, as well as modernized in its new additions. This zoo has over zoo species of animals for all continents for you to observe and admire. panda, polar bears, jaguars, koalas, elephants, this zoo has it all. There is also a petting zoo and animal feeding area as well as a train available to add to your experience. This is the perfect place for a nice family day and it will be sure to blow you away no matter what zoos you have been to in the past with its longstanding reputations. Make sure to schedule out at least 3-4 hours in your day to enjoy all this zoo has to offer. This zoo is on the top of the list of things to do in Vienna, Austria for Kids.
Prater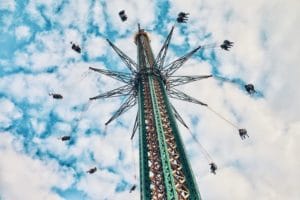 Prater
Prater is a theme park and a nice breath of fresh air for all your museums, history, and refined art exploring. It is one of the most fun and exciting things to do in Vienna, Austria. Here you will find roller coasters and attractions that excite. This is a great day activity to do with family or a partner. Prater began in 1766 when it became a public leisure center for the average man. The emperor Joseph II donated this center and made sure to establish a restaurant and snacks. It has been delighting people for literally hundreds of years. There is an exhibit in the parameter museum telling stories of the history when the events that took place here over the past few hundred years. This history takes you on a journey through history.
Some fun attractions here:
A 5D cinema taking guests to the Chinese wall.

Admiral Arena Prater, a sports bar where sporting events are shown from 9am through midnight every day. They worked hard to be named the largest sports bar in Europe.

Wiener Ghost Train, fairy tale story attractions for children live here.

Apollo 12, a flying circus type ride!

Bistro box, a do it yourself restaurant.

Fair attractions such as rides, slides, mirror rooms, go-carting, water rides, and so many more.

Many different places to eat, including authentic food.
Mozarthaus Vienna
Mozarthaus Vienna is a tribute to Wolfgang Amadé Mozart. It focuses in on Domfasse 5 which is the last of Mozart's apartments in existence in Vienna. He lived here from 1784-1787 and composed all his music here. This is still an active living space, but it has the rich history of this musical spear header deeply embedded in it. His apartment has turned into a museum and ode to him. He wrote some of his most famous songs here, and when you visit it is clear that his work setting made his creativity spike. A special feature in his apartment is a musical clock dated around 1790 that plays a song that was suspected to have been composted with this clock in mind. This exhibition exists to show just how Mozart became Mozart as we know him. Where his creativity came from (out of pain) and the path he created for those who have come after him. There are so many things to do in Vienna, Austria that are related to amazing historical figures, and this is one of the best ones.
Schönbrunn Palace Maze
Credit: Alina Memet
Created in 1720, the purpose of this museum was not to confuse their guests, but instead to create the perfect setting for a pleasant walk. The maze is a mathematical puzzle. If you are up for that type of challenge, you'll enjoy figuring this one out! Once for the imperial family alone, this maze is now public fun. The most interesting feature about this maze is the 12 zodiac signs in the corners. You have to look hard, but once you find them you will be delighted at the hidden Easter egg. This is an amazing adventure for the lovers to have a romantic stroll, or a group of friends to have a fun and bring stimulating time. Before there was virtual entertainment like what we have available today, mazes where some of the best things to do in Vienna, Austria to have a fun time.
Leopold Museum
This museum holds around 6,000 works of art. This museum is one of the most important places to hold Austrian art in the world. This museum focuses on 1900 era artwork. There is a fun event called Sunny Side Art, where you get a package rate for museum admission, an audio guide, and a breakfast of your choosing all in one. Just as artists work, you are invited to choose based on your individual taste and customize your visit. Don't forget to visit the shop here and get a book that holds much of the art you experience here in photo form.
The Leopold holds various tours such as a public guided tour led by art educators for a limited amount of guest per tour. They also offer private tours for groups of travelers where the art educators tour a wide variety of sights such as collections and special exhibits, both permanent ones, and ones that are ever changing. Thematic tours are offered for those looking for specific topics to browse.
Treasures of Empress Sisi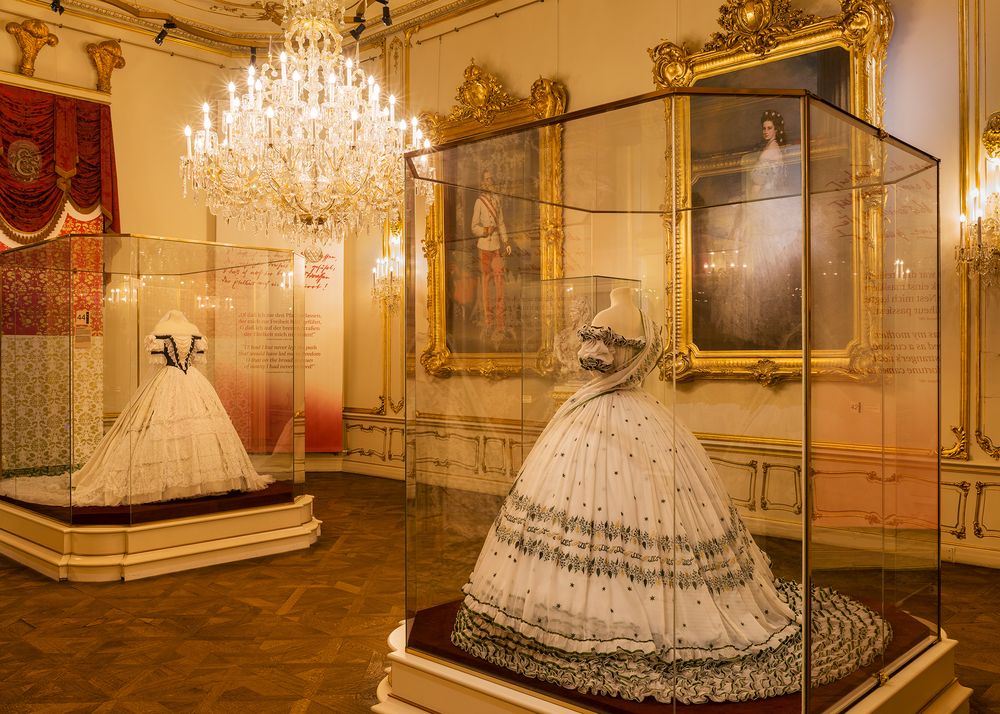 Exploring the treasures of Sisi is a much more involved process than simply going to a museum for a few hours. When it comes to adventure and intrigue in history, exploring the life and treasures of Sisi is one of the best things to do in Vienna, Austria. This is a mysterious journey, an Easter egg chase in a way. The Empress of Sisi is a beloved historical figure. If you have been interested in her life and dug deep into the claims and myths of it, you will have a treat exploring her treasures. There is not just one place where you can learn the facts about the life of the Empress. There are three great ones.
There are many myths as well as many facts, and her museum is the perfect place to start. The Sissi Museum in the imperial apartments brings the facts to life. There are many of her personal items here as well as visions of her in portraits around the Imperial Palace. Here you will find her clothes such as her coronation dress and pre wedding night dress. There are also paintings, childhood items, and a harp. Her mourning pieces are also here as well as the black coat placed over her after she was assassinated. Sissi was famous for her beauty and this showed in all aspects of her life. It still shows today as well look back on her life in the museum. She was a fashion icon of that day as you will notice with her dresses and belongings. There are over 300 various options at the museum on displays for the public.
​Schönbrunn Palace and Hofmobiliendepot
The next best place to uncover the treasures of Sisi is the Schönbrunn Palace, you will be able to marvel in the beauty of the imperial summer residence. This is where her honeymoon happened and she grew to love this place. It is no wonder considering the beauty of the gardens and the architecture which her apartments overlooked. It is said she took horse rides around here to this Palace in order to escape from everyday life as an Empress and be alone.
Another place to go on your hunt for Sisi's treasures is the Hofmobiliendepot which has the Imperial Furniture Collection on display. There are movie sets here as well from the movies made about her life. When you come to these places, you will be able to see that she did not live in a typical pretty fairytale world. There was a real desire for freedom and individuality, pain, longing, suffering, and sadness that marked so much of her days on earth. This is part of what makes her such a fascinating figure, so resonates with us as a real human being. These items are on display to paint a more detailed picture in order to understand the depths of Sisi. The things she loves such as fashion, beauty, appearance, sports, and poetry. And the pains she experienced in her life such as the suicide of her only son which threw her into mourning, or the death of her first daughter a the age of two.
Judenplatz Museum & Holocaust Memorial
The Judenplatz museum was opened in 2000 to showcase the Jewish lifestyle and community in the middle ages. As the center of Jewish life during this time, the square of the town, this is located in the perfect spot for this exhibit. The Jews suffered persecution so many times throughout their history, and this museum showcases the parts that took place in Vienna.
Once a thriving community, they were violated and attacked in 1420. The remains of this time are still being found and added to the museum, and we are gaining more knowledge along the way. This is museum shows us the places the Jews prayed and worshipped, shopped, carried out their customs and celebrations, and many of the other things that went into the typical day in the life of a Jew in Vienna in the 14th century.
There are many different tours to take, such as the "Museum in brief", which highlights the most beloved exhibits in the museum. There is also "Our Sun, Moon, and Stars, where you can book a spit on the tour and watch the stars while being given an in-depth explanation of the Jewish calendar and what the moon, stars, and sun have to do with it. Another great tour is one of the synagogue tours which is a guided tour in the Vienna Jewish Community Building.
A fun event hosted here is "Chrismukkah" where they show you all the background in a creative way of the celebrations of Christmas and Chanukah. Check out their website for dates and times so you can plan to see this exhibit on your trip. The museum has a café called Cafe Eskeles where they serve Jewish, Israeli, and Mediterranean dishes which are vegan and vegetarian. This isn't your typical museum café. They are focused on serving authentic and delicious food true to the culture they are telling the story of. They also make homemade desserts which are well known.
Judenplatz Holocaust Museum
The Judenplatz Holocaust Museum is also located here paying tribute to the 65,000 who lost their lives to this horror. On this memorial are the 41 places where the Jews of Austria died by the hands of the Nazi's. The structure of this memorial is being made to look like library walls with the books turned inward. This is only a symbol and not a real library, as you cannot enter the memorial.
Vienna has a rich history of Jewish life and death in the mid-ages and well as during the Holocaust. Of all the things to do in Vienna, Austria, exploring Jewish history may be the heaviest. Paying tribute to the horrors they faced as a community as well as learning about what went into the many attempts of destruction towards the Jews is a solemn experience and one that cannot be missed on a trip to Vienna, Austria.
Naschmarkt
Right in the city's heart is the Naschmarkt which has over 100 permanent stalls. They have been in operation for hundreds of years, so there is history on these grounds you will walk as well. Naschmarket is a hub of great food. If you are looking for a good restaurant, there are plenty of places to sit down and dine, or you can buy food from the stalls that catch your eye and create your own picnic type meal!
Some Fun Things to Do in and around Naschmarkt Are:
The Majolikahus which you can see from the market. This is architecture that is beautifully designed by an Austrian architect.
Museumsquartier, which we have explored in this article, is just three blocks away from the market.
The Children's Museum is nearby, which is a very hands-on, fun, and educational museum for children.
Be sure to schedule in a trip to the Naschmarkt Flea Market on Saturday. They operate from 6:30am through 6:30 pm, only on Saturdays. There is everything imaginable at this flea market such as books, clothes, antiques, and so much more. Everything you could hope to take home from Vienna can be found at this flea market.
Natural History Museum
Natural History Museum Vienna
The Museum is home to collections of great finds by scientists and discoverers. Their focus is on educating both children and adults through their exhibits, workshops, and programs. They have a full dome planetarium that showcases a variety of different shows, though they are only available in German. No worries here, there are headphones that offer other languages for their guest as well. Their exhibitions range from mammals, sea animals, dinosaurs exhibits and fossils, evolution, minerals, and stones. This museum desires to teach guests about the history of the natural world and reveal mysteries that have long been left undiscovered. They do active research to find out more about the science behind the beginnings of the universe such as plants, animals, biology, and genetics.
Some of the Fun Events This Museum Offers for the Adults:
Dinner and an exhibition. In the dome hall, they have a nice dinner for the adults. Then afterward they take their guests on a guided tour through the museum and onto the rooftop for a great view of the city of Vienna.
A Night at the Museum. This is a nighttime program from 7pm until 8:30am, so bring a sleeping bag! Dinner and breakfast are included.
This is a treat out of all the things you will find to do in Vienna, Austria. The reason for this is because there are Natural History Museums all over the world, but this one is at the top of list when it comes to the most important and well respected.
Endless Possibilities in Vienna
Vienna is a place of rich history and much beauty. From medieval times to those of the Nazi regime, there is so much to see of the past here. Hopefully you will see there are so many things to do in Vienna Austria, and you will be able to find plenty to fill your itinerary up with.
Related Article: Bratislava, Slovakia is One of the Best Places to Travel in 2018