You'll want to take this automatic espresso machine wherever you go… and you can!
The evolution of coffee makers has delivered us to a 21st-century coffee mini-masterpiece. The world of espresso machines, refined throughout the years, now offers a totally portable, automatic espresso machine. This brilliant little machine is packed with clever innovations: all you need is a USB to power it. Kohi+ Pressopump wasn't kidding when they meant complete mobility. Plus, it's perhaps one of the best fully automatic espresso machines. An automatic espresso machine means that you can multi-task. It's like having your own personal barista! Simply turn on an automatic espresso machine, and it'll do its job. Once done, it'll automatically stop. Semi-automatic espresso machines once were more common in households because they were cheaper. The difference is really only that semi-automatic machines require you to grind and tamp the coffee before putting it in place and then sending the proper amount of water through. However, the Pressopump Automatic Espresso Maker isn't just fully automatic… it's totally portable too. And that's not even all… it's even affordable!
A Little About Kohi+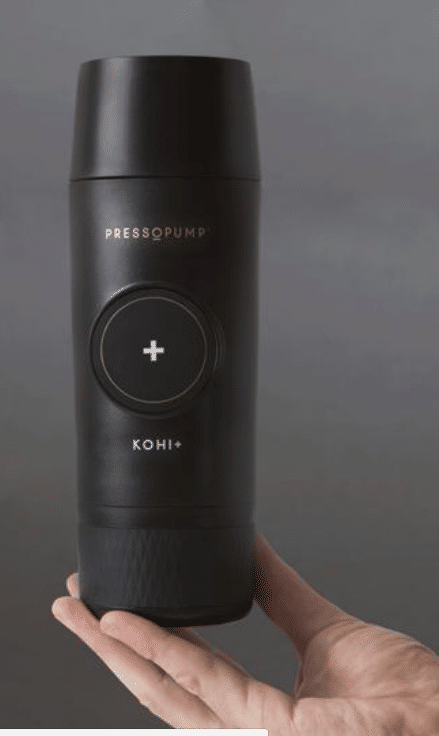 Credit: Kohiplus
Kohi+ is a company that knows coffee and therefore treats coffee lovers well. They've decided that coffee lovers shouldn't have to settle for poor quality coffee from a gas station. Now, you can bring your coffee maker with you, to the office, to the game, or to the campground! Kohi+ specializes in these portable, automatic espresso machines and the Pressopump is their creation. The Pressopump by Kohi+ is their signature product, and they have every right to be proud of it.
Pressopump Features and Benefits
16 Bars Pressure Pump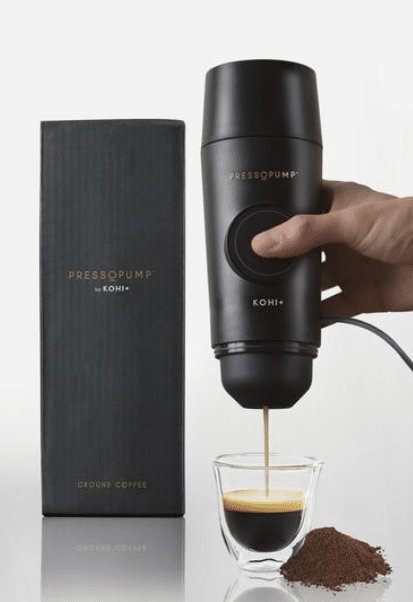 Credit: Kohiplus
The standard bar pressure is 9 bar, so the Pressopump automatic espresso machine goes above and beyond. The fact that the Pressopump is equipped with double the industry standard doesn't mean that that extra 7 bar pressure is unnecessary. Therefore, that extra high pressure gives the grounds a headstart, to ensure that then brewing coffee meets just the right amount of pressure. Plus, the Pressopump makes sure that you will have constant, controlled extraction. This high pressure also means that coffee grounds will taste super fresh, even if the grind wasn't roasted within the past week or two. That's part of the great quality of the Pressopump automatic espresso machine; the compact, portable size doesn't mean that the machine has to compromise on the taste of your espresso.
Incredibly Travel-Friendly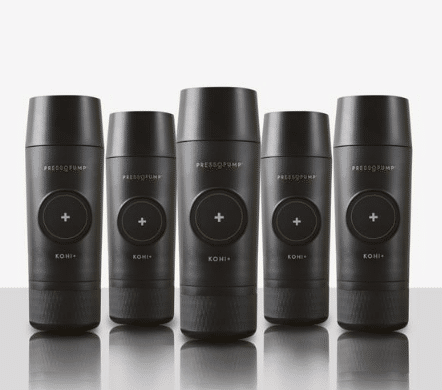 Credit: Kohiplus
The Pressopump weighs a total of one and a half pounds, yet it's durable and strong. The compact size and lightweight quality mean that it is great to bring along with you for the day. Because you can travel with it, the Pressopump will save you money from more expensive coffee stop, and it will also save you from the desperate vending machine desperation coffee. Pressopump advertises that you can bring this along for an extra "pick-me-up" before your evening workout, your late-night study session, ski trips or cycle rides. With the product's dimensions of 8.5 x 2.8 x 2.9, it's smaller than many water bottles and you can easily slip it into a backpack. Plus, for travelers, you can easily bring this to your hotel room to make before your day of sightseeing!
Easy to Clean
Credit: Kohiplus
Kohi+ recognizes that delivering the best cup of coffee is only halfway there. The rest of a quality, handheld espresso machine lies in the cleanup afterward. To be truly convenient, an automatic espresso machine shouldn't be a pain to clean out. Therefore, the Pressopump makes sure there are no areas where residual coffee residue can build up. Since the machine can be quickly disassembled, you can easily clean all parts. There aren't any unreachable crevices, and that makes the cleaning easy!
How to Use the Pressopump
1. Unpack the Pressopump and set up the parts
Credit: Kohiplus
The Pressopump automatic espresso machine is compact. Therefore, you'll pull apart the machine to reveal the various equipment. You'll find the main body, the water tank, the outlet head, two cups, the filter basket, and a scoop.
2. Fill with coffee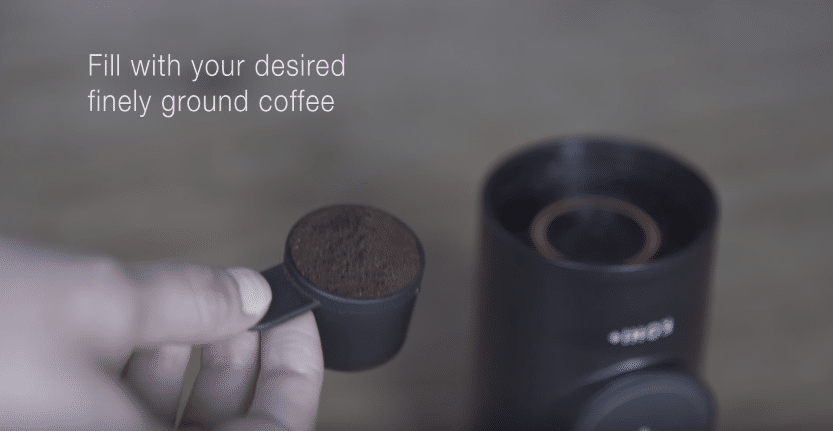 Credit: Kohiplus
Secondly use the scoop to fill the filter basket with coffee. Then use the base of the scoop to shake and then tamp the fine grounds. Place this inside the main body, and screw the top piece on.
3. Fill with hot water
Credit: Kohiplus
Next, fill the water tank with 90ml of hot water and attach this to the bottom of the main body.
4. Connect the Pressopump to a USB port
Credit: Kohiplus
Or, if a USB port isn't useful for you, you can use the plug adapter. The nifty cap on the plug-in on the main body of the espresso machines helps to prevent dirt or water from entering.
5. Press the pump to build up the pressure to 16 bars.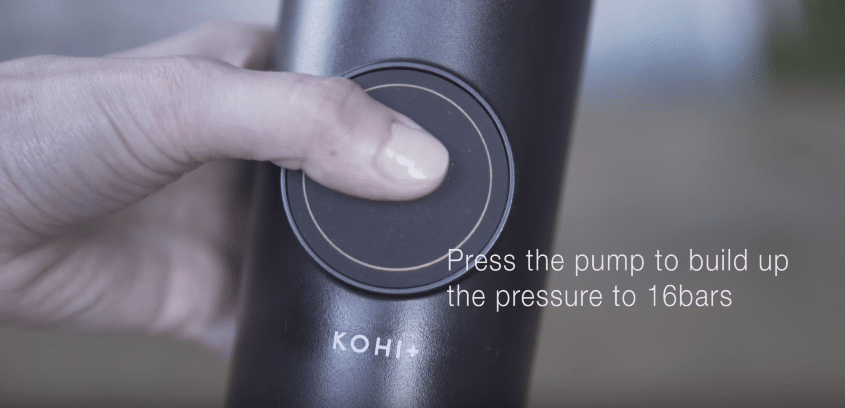 Credit: Kohiplus
Finally, hold the entire machine in your hand while using your finger to hold down the pump button. Continue holding, and the coffee will begin to flow. 20 seconds later, you'll have the perfect shot complete with the heart, body, and crema.
What Travelers are Saying about The Pressopump
The Pressopump automatic espresso machine delivers some fantastic coffee, and the compact size and USB connection make this little machine extra amazing. Customers rave about the quality of the coffee the Pressopump reduces. Some compare it to the likeness of Italian coffee; this espresso is strong. Others love the crema produced as part of the espresso. The taste is enhanced by the pressure and the consistent extraction, and travelers are impressed by this. Travelers especially love how portable this coffee maker is.
Not only does it taste great, but it ensures that you'll have great-tasting coffee with you wherever you go. Customers love that it saves them money, sparing them from expensive single-pod coffees, and gourmet coffee shop prices. It's easy to pack in a suitcase, and you can enjoy your espresso in your hotel room in the morning. That way, you don't have to waste time wandering around for some good coffee. Those travelers who admit their "coffee snobbery" appreciate that they'll have reliably good coffee wherever they go. And those who are a little less uptight about their coffee options can still appreciate the ability to have good espresso wherever they go.
Some report struggling a bit when figuring out how to make the espresso for the first time. Others report that there is a bit of a learning curve, and perfecting the espresso will come with time. Some customers have some difficulties with coffee grounds getting clogged, but that just requires some extra clean out. Overall, campers, travelers, office workers and other coffee lovers rave about this automatic espresso machine. Users report such satisfaction with the Pressopump automatic espresso machine that they buy others for their coffee-loving friends. It's so easy to carry with you and helps to brighten your life with a delicious shot of espresso.
Kohi+'s Portable Coffee Press Maker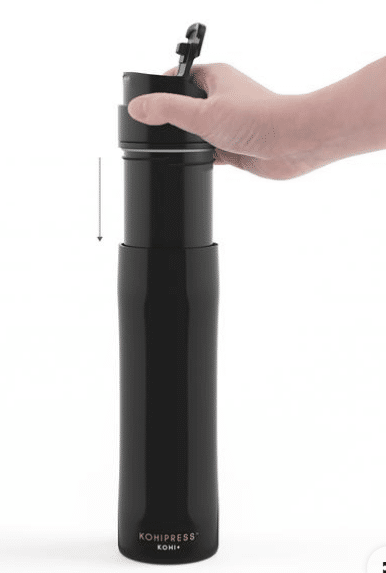 Credit: Kohiplus
The Kohi+ Portable Coffee Press Maker is a full steep immersion pressurized press. Like the name signifies, this coffee maker is compact and therefore totally portable. However, another unique feature is the material. This portable coffee press maker is made of high-quality stainless steel. The Premium Stainless Steel Chamber is capable of keeping water hot or cold thanks to the double-walled vacuum. Plus, the stainless steel makes it great for travel since it's so durable. The press-style coffee maker method helps avoid bitterness that often results from longer drip-style brewing. Kohi+'s Portable Coffee Press Maker uses the air pressure plunge method which cuts down on filtering time and extracts the bold taste with minimal bitterness. Because of this, many people love the results they get for their coffee with the Portable Coffee Press Maker.
Not only does this coffee maker produce good-tasting coffee, but it also will travel easily with you wherever you go, thanks to the size. The coffee maker is lightweight (365gm). It includes a reusable filter made of Micron Stainless Steel Mesh so you won't even have to worry about packing these.
The materials are FDA approved and include BPA free plastic and stainless steel. The coffee will brew for about three minutes, and then you're sipping on a smooth coffee with an acid level much lower than the drip method.
Alternative Travel Coffee Makers
Coffee Gator Pour Over Coffee Maker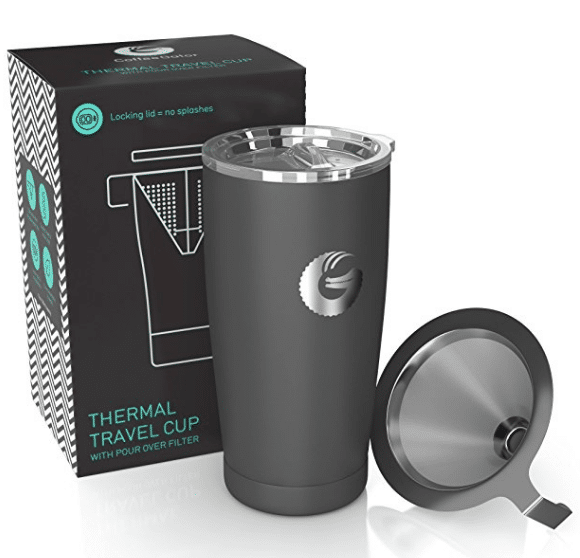 This pour over coffee brewing method can happen on the go! The high-quality stainless steel cup fits in most car cup holders, Simply pour the water over the coffee grounds that rest in the metal filter and you can drink right from the cup. You will need to provide the hot water, but the rest of the brewing process happens right in this convenient cup. The lid locks on and the cup is made from surgical-grade stainless steel.
The cone-shaped dripper fits right on top of the mug, and everything fits together for compact storage. This cone filter is reusable, laser-cut and features a dual-layered filter. Then, when you're done brewing, the snug lid locks to make sure that you don't get any spills when drinking or traveling with your recently brewed coffee!
Mounchain K-Cup Coffee Maker Portable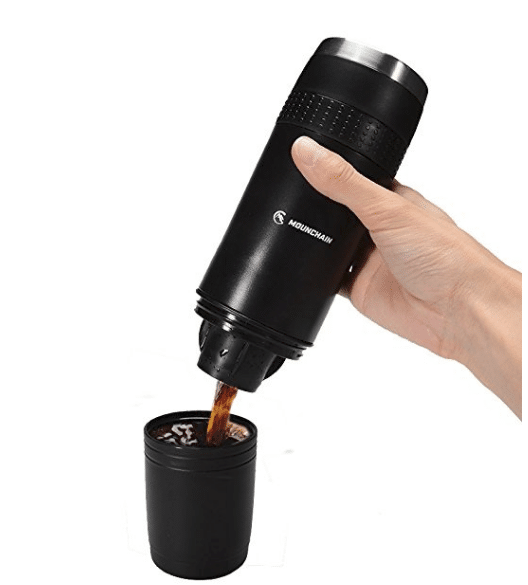 This portable coffee maker is incredibly easy to use! Simply add hot water and a K-cup capsule. The whole machine is small. You can grab it and push the start button with one hand. Plus, it's easy to travel with, since you'll just need to pack a K-cup pod along with this coffee maker. This portable americano machine will brew any standard-size K-cup. It's all packed together in one neat machine. You'll find the water reservoir and the coffee cup included. Since it's so easy to use and easy to pack, it makes a great gift for any traveler, camper, or student, among others. This portable coffee maker is battery-operated, and you will need to provide the batteries.
Ingenuity All in One Coffee Maker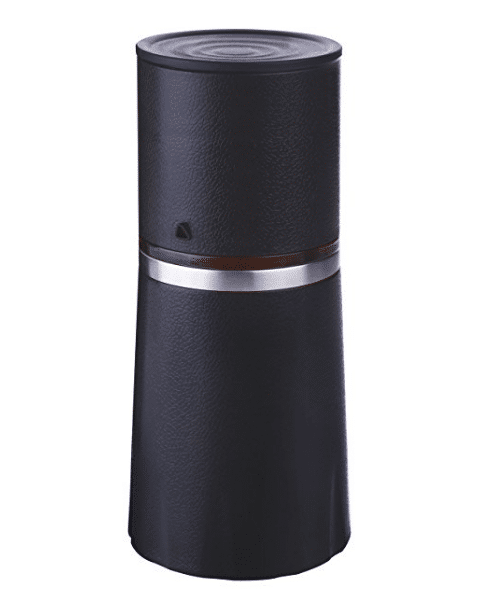 This portable coffee maker is unique because it both grinds your coffee and brews it. Plus, it includes a thermal mug so you can sip your freshly ground and brewed coffee wherever you travel! You can adjust the ceramic burr, which allows you to control how coarse your grinds are. The design of the maker means that the stainless steel filter sends the coffee right to the included cup below. Plus, the grinding section is transparent to allow you to observe the grinding process. You can store the beans in the cap. The stainless steel filter separates which makes for easy cleaning. The vacuum walled cup helps to keep the heat in.
The Kohi+ Pressopump keeps you enjoying quality espresso wherever you go!
Overall, this automatic espresso machine makes sure that you're never without the opportunity to enjoy some (truly good) espresso. Because of its compact size, it's incredibly easy to bring this little machine with you. The sleek design makes it easy to grab with your hand, and hold down the button to build that pressure. Plus, the taste of that espresso is impressive considering the convenience of it all.
If you're traveling, this will be great to bring along. Or, if you want to make some espresso as soon as you arrive at the office, this machine will help you out. It just might be the best fully automatic coffee machine. It's a great gift for your coffee loving and traveling friends!
Related Article: ​​Travel Coffee Makers for the Traveling Coffee Lovers​​​