Mad Rock Drifter Climbing Shoes are perfect for beginners.
Guys, are you a novice in the world of climbing? We're here to help. First you need some good gear. Enter the Mad Rock Drifter Climbing Shoes. Lightweight and durable, they provide a great base for new climbers to find their ground. After all, when you're first starting out, it's all about grip, comfort, and mobility.
In this short review, we will go over a little bit of the company history, as well as the features and benefits of the Mad Rock Drifter Climbing Shoes for men. Our goal is to help you find your perfect fit. For this, you'll need a shoe that supports your feet in the right way. Read on to find out if these are the right climbing shoes for you.
A Little About Mad Rock Climbing
In 2002, Mad Rock started out as a small owned and operated company that made highly technical and affordable rock climbing shoes. After sixteen years of operation and millions of sales, they still choose to reflect on quality over quantity. To the folks over at Mad Rock, 'innovation' is more than just a catchy word, it's a lifestyle to embody.
By embracing the latest materials and technology, they do just that. Now, you'll find their products on the map and on the feet of adventurers around the world. For the most part, they have their design down to science. Recognizing that refining is labor intensive, they build upon their knowledge and improve upon their designs as opposed to constructing entirely new ones for each product. The result is definite improvements and more variety in features, colors, and overall options.
From the start of their mission, Mad Rock's primary goal has been to offer dynamic products at a fair price. That is something they chiefly value. And their message rings true. Mad Rock Climbing is committed to offering you a great deal on their equipment and backing it up with some of the finest customer service in the industry. Now this is a business model we can get behind.
The Mad Rock Drifter Climbing Shoes Features & Benefits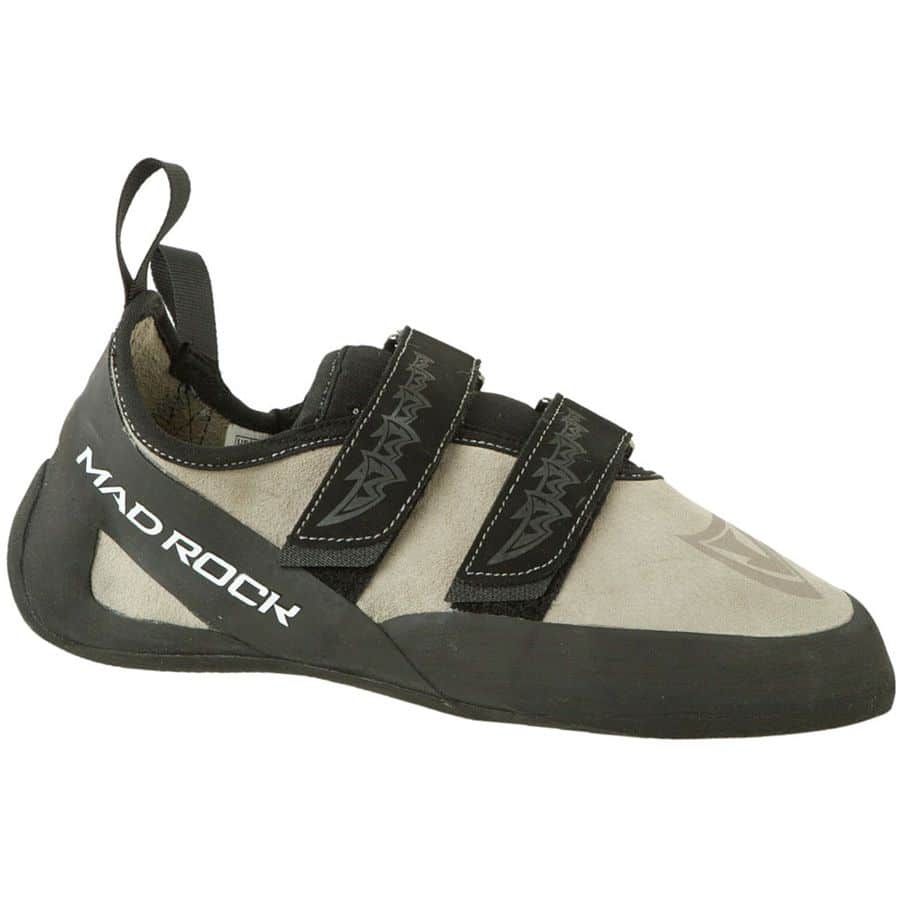 Credit: Amazon
With the Mad Rock Drifter Climbing Shoes, you can rest easy in its durability. With a strongly built body and a sturdy sole, you will have all the security you need for climbing. Thanks to the velcro strap, your feet won't slide around when you're figuring out your grips and holds. It is important to note that some reviewers noted that they went down a half size to ensure the tightest possible fit for their feet.
Design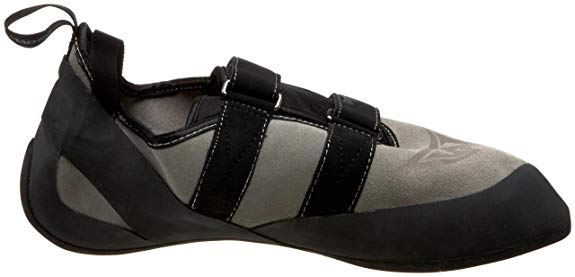 Credit: Amazon
Two velcro straps run across the sturdy body, offering more grip and a tighter fit. Upon taking a closer look, you will also find that the entire body (excluding the sole) is taped with seam. This means that your shoes will be suitable for all kinds of weather. So, you can take them to your favorite indoor climbing gym or try some bouldering routes in the great outdoors. Either way, they will get the job done and they'll do it well.
One of the reasons these shoes hold up so well is that they are made from premium grade leather. This construction not only withstands wear and tear but can stretch a little to mold to the wearer's foot shape over time. The rubber sole is perfect for hiking on varying surfaces. It allows you to have a stronger grip and comes with a polyester lining. So, the sole never feels loose. Last but not least, it also offers padded piping. While this is more for aesthetic than anything else, it still serves some functional purpose by adding strength to the shoes.
How to Get the Best Use from the Mad Rock Drifter Climbing Shoes

Credit: Amazon
If you're on a budget and need reliable climbing shoes, these are a great choice. While they can work for both indoor and outdoor beginner climbs, they are definitely geared more towards indoors. The shoes are flexible enough to grip and bend on steep surfaces. One of the main reasons why customers love this shoe is that it increases their foot strength on vertical climbing platforms.
When you first take them out of the package, the Mad Rock Drifter Climbing Shoes have a mid-stiff feel. Thick rubber soles are there to cushion your feet when climbing. Before you buy your first pair, make sure to try them on. Climbing shoes are supposed to fit more snugly than your average pair, especially when you first wear them. If you want a product that's easy to break in and use, you will love these shoes.
In terms of durability, the Mad Rock Drifter Climbing Shoes typically last for about six months of wear and tear. For a beginning climber wondering how to rock climb, these shoes are great. You will need to get a replacement pair when the rubber starts to lose its quality. For beginning climbers, these shoes work wonders when it comes to improving your climbing performance. Having good chalk for your hands is important too (check out our chalk bag recommendations).
Footwear Closure
Let's start out with the strap. This hook and loop offers a great convenience for sliding the shoes on and off. They are perfect for rock climbing and bouldering when you want to remove your shoes between climbs. The velcro offers some of the most versatile types of foot closures.
For example, when your feet become too hot or swell, you can reduce the tightness of the shoe with ease. When it comes to a difficult climb, you can also increase the tightness around the instep and toe for better performance. Finally, the Mad Rock Drifter Climbing Shoes offer an elastic slip-on feature.
Did we mention they also provide the lowest profile and best sensitivity for men's beginner climbing shoes? Your feet will easily become fast and stronger. Since these slip on shoes don't have laces or straps, they are perfect for climbing along thin cracks. Before you know it, you'll be working your way up towards climbing at the top places in the U.S.
Tech Specs:
Leather construction

Rubber sole

Great for beginning climbers

check

Mid-stiff body (stiffness 3)

check

Shape is asymmetrical

check

Velcro straps for perfect adjustability

check

Low profile

check

Great sensitivity

check

Lightweight
What Travelers Are Saying About these Mad Rock Climbing Shoes
With a four out of five star rating and one hundred fifty-nine reviews, the Mad Rock Climbing Shoes speak for themselves. Overall, travelers found them to be a great entry level climbing shoe for men. If you're looking to start climbing more and don't want to break the bank, these are a great option. They work well with a tight fit and the toes come to a point. Users appreciated that they did not take too long to break in and grip well. In addition, the easy pull-on and pull-off feature is advantageous for changing routes or simply giving your feet a break.
Alternative Climbing Shoes You May Like
Men's SCARPA Instinct VS Climbing Shoe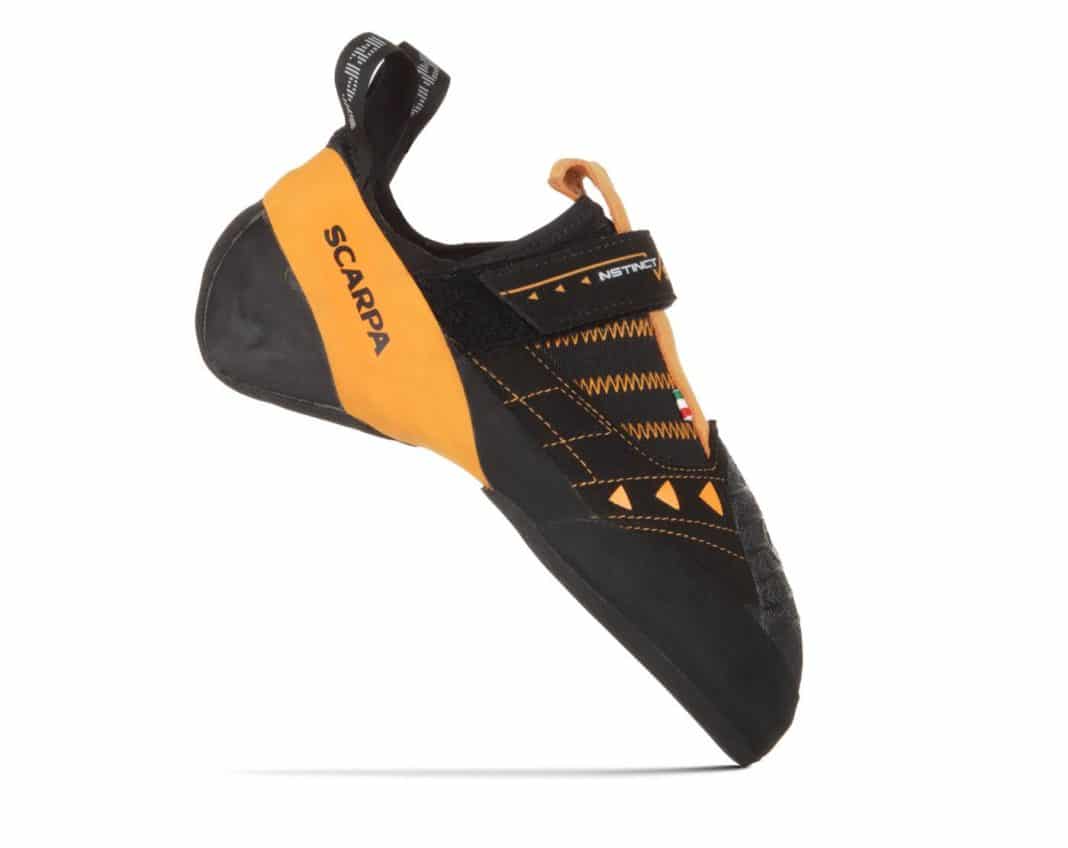 Credit: SCARPA
If you haven't heard about the brand Scarpa, it's about time you did. This multi-generational business has its headquarters in northern Italy and was founded in 1938. Their company is built on performance footwear for all sorts of outdoor activities. Whether you're going climbing, skiing, hiking, mountaineering, trail running, and more. For those seeking aggressive, powerful climbing shoes, these are your best bet. So what do we love so much about the SCARPA Instinct VS Climbing Shoes?
The Men's Instinct VS Climbing shoe is softer than its predecessor. The design has also been altered, featuring a single ankle strap and Vibram rubber edge. You can use it from anything from boulder problems to overhanging gym routes. It offers sensitivity yet just enough power you need. These are some of the best climbing shoes on the market.
Tech Specs:
Textile

Synthetic soles

Vibram edge in forefoot

check

Mid length sole construction

check

Floating power strap enhances fit and provides power
Climb X Rave Strap Climbing Shoes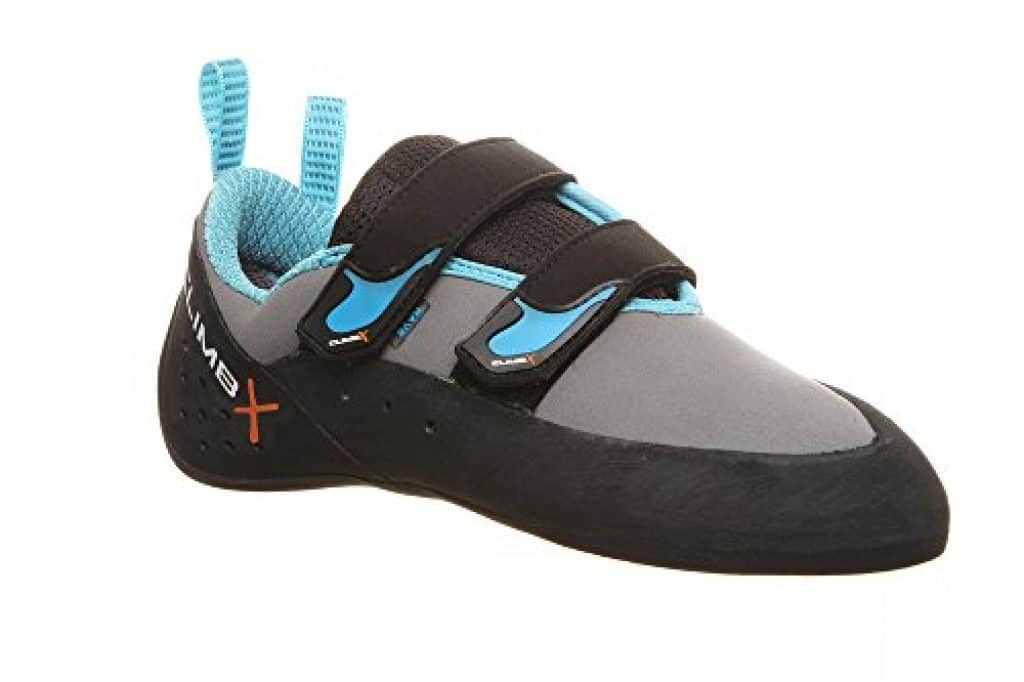 The Climb X Rave Strap Climbing Shoes are some of the all around best climbing shoes. The construction is double stitched, there is a padded collar and heel, a durable polypropylene midsole and one-piece binding. The sizing you should get depends on whether you are looking for comfort or a more aggressive type of performance. Just make sure you keep in mind that the best climbing shoes are supposed to be tight and your toes need to touch the end of the shoe. It's also important to note that these shoes already come downsized.
Tech Specs:
Double stitch construction

Padded collar and heel

Polypropylene midsole

check

One-piece binding

check

Antimicrobial footbed
Start Out Your New Hobby with the Mad Rock Drifter Climbing Shoes
When you're ready to start your adventures in different types of climbing, finding the right shoes to wear can be challenging. Different level climbers will have different needs. Consider whether you would like to move lightly or in comfort. These rock climbing and bouldering shoes will allow you to explore even the most difficult terrain without resistance beginner climbing routes with both comfort and a great grip . All in all, we love the Mad Rock Drifter Climbing Shoes.
Related Article: 6 Best Climbing Shoes For Men And Women