Travel buffs, get ready to explore the best free things to do in Colorado Springs.
There is only one thing better than going on adventures in this stunning state. And that's when the sticker price is free. Thankfully, Mother Nature has blessed the Centennial State with plenty of gems. Snow-capped mountain peaks, thick woods, and crystalline lakes all look like a scene plucked from a postcard. In this article, we are going to take you on a journey to explore the best free things to do in Colorado Springs. With the Southern Rockies as its backdrop, it's a pretty scenic place to be. Most of the activities on our list are free but we've thrown in a few inexpensive ones we think you will love too.
The charm of this city really does live up to its reputation. On what seems to be every corner, you will find beautiful libraries, culturally-rich museums, and historic monuments. Art lovers are allured by the vast quality of works held at city museums. Whether you're traveling solo, with that special someone, or bringing the whole family, we have good news for you. If you're on a budget, it's not hard to find fun, free things to do in Colorado Springs. And who doesn't want to save a little money every now and then? You don't have to choose between having fun and saving big. We're here to take you on a tour. So buckle up, sit back, and kick up your feet.
Here Are Our Picks for the Best Free Things to Do in Colorado Springs
1. Explore the Great Outdoors in Garden of the Gods Park & Visitor Center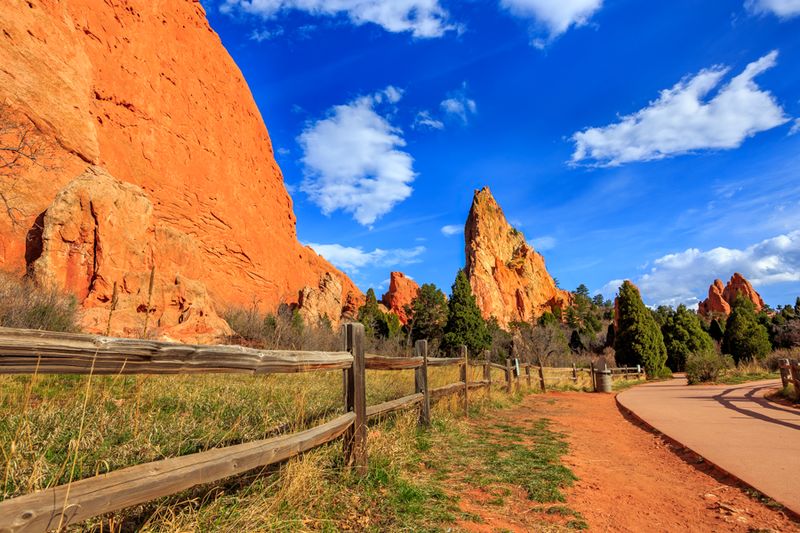 Credit: Wikimedia Commons
It's all in the name. Take one look at these photos and you can clearly see the visit is one of the best free things to do in Colorado Springs. Dreamy rocky outposts and vivid colors provide a stark contrast to the clear blue skies overhead at Garden of the Gods. A myriad of hiking trails offers the adventurous traveler plenty of options for getting wonderfully lost on the trail. These are some of those hikes that are so beautiful, you'll have to see them to believe it.
Wondering where to start? You can't go wrong with any of the choices. Siamese Twins Trail, Perkins Central Garden Trail, and Buckskin Charlie Trail offer spectacular views of Pikes Peak. Before you set off on the trail, make sure to swing by the Visitor Center and pick up a free map or two. Both the Visitor Center and Nature Center are absolutely free. In the summer, these centers are open from 8:00 am to 7:00 pm. In the winter, they are open from 8:00 am to 5:00 pm. Admission into both the park and visitor center is free.
2. Hike Around Helen Hunt Falls (and Silver Cascade Falls)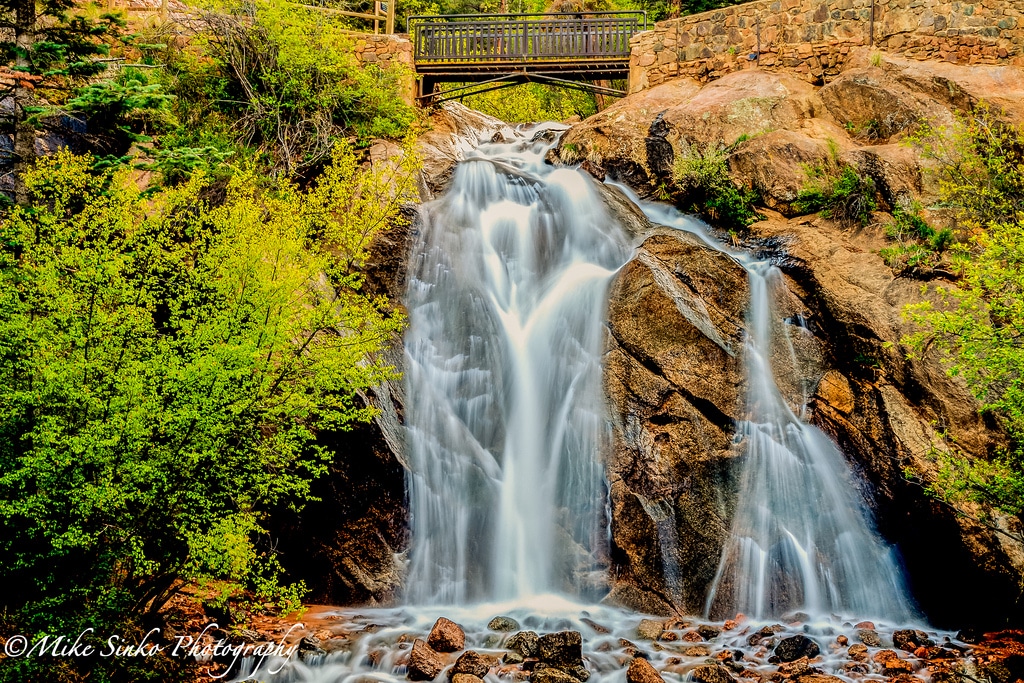 Credit: Mike Sinko
Looking to take a weekend getaway? Consider the stunning Helen Hunt Falls. We swear you won't find a more beautiful spot to pitch a tent and post up. Plus, think of all the ridiculously beautiful photos you will get out here. Now that's something worth putting in your travel journal. Named for the American poet, Helena Maria Hunt Jackson, these falls are certainly something special. Listen quietly. You can almost hear nature writing its own rhythm and meter with each ripple of the cascading water.
You'll find Helen Hunt Falls located in North Cheyenne Canyon Park. This location offers prime hiking trails that lead to another beautiful waterfall, Silver Cascade Falls. Grab your friends or that special someone and make this trip one to remember. Exploring this area is one of the best free things to do in Colorado Springs in our book.
3. Get in on Some History at the Colorado Springs Pioneers Museum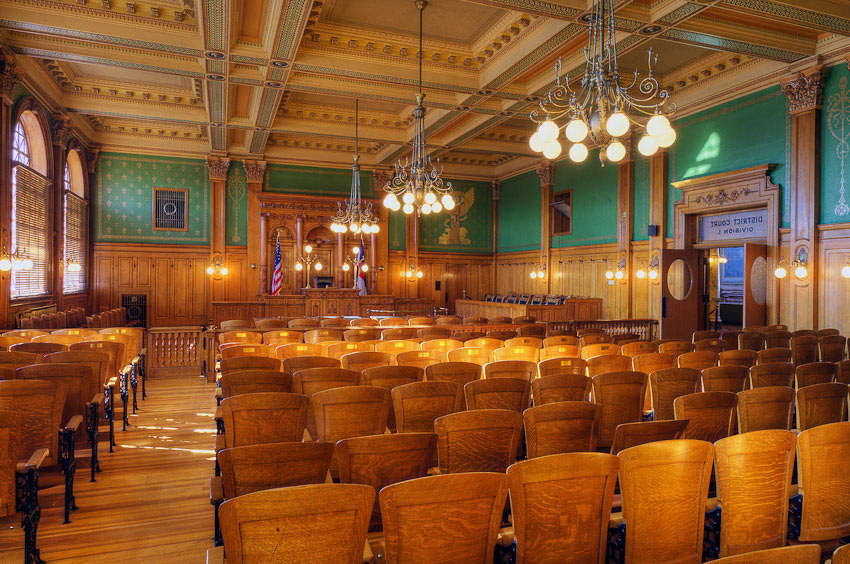 Credit: Colorado Springs Pioneers Museum
Now here's an attraction for history lovers. While this certainly isn't everyone's cup of tea, history lovers will be drooling over these educational exhibits. After all, what could be more riveting than visiting the storehouse of historical documents surrounding the city's founding? Don't think we're being sarcastic. We say this with the utmost seriousness. This is one of the best free things to do in Colorado Springs, hands down.
Throughout the year, you will find there are free guided tours, each emphasizing a different topic. After the tour, you can go on to explore exhibits of the Pueblo Indian culture, photography, and different types of art and pottery. If you are interested, visiting hours are open from Tuesday through Saturday between the hours of 10:00 am to 5:00 pm. The tours are free.
4. Visit the Peterson Air and Space Museum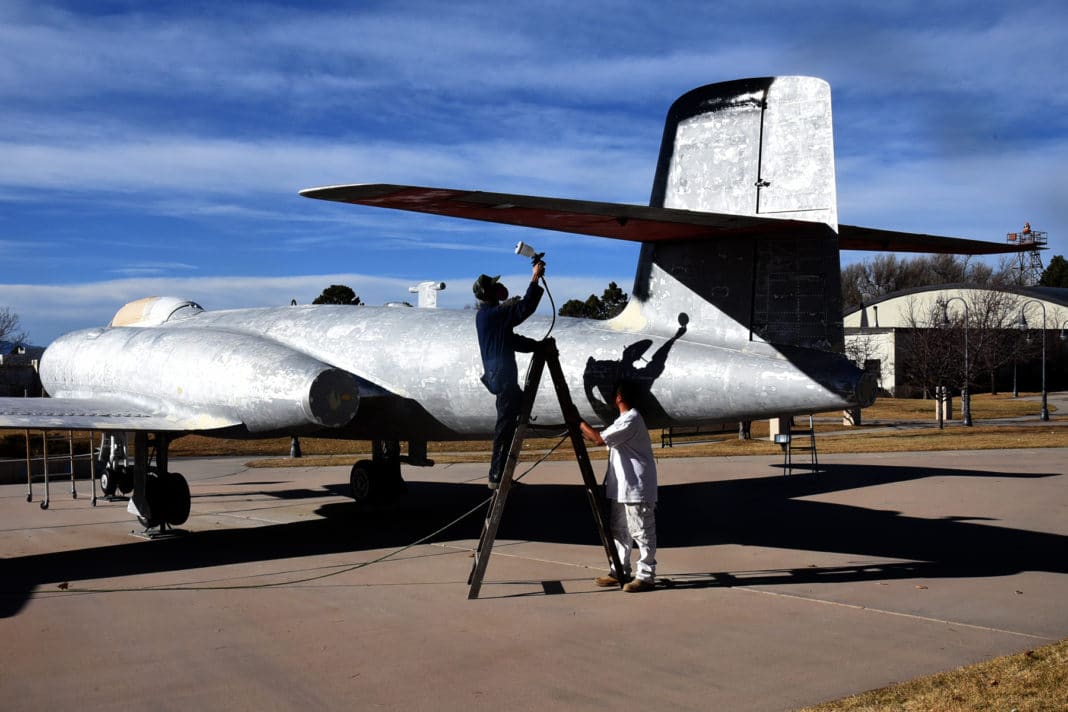 Credit: Peterson Air and Space Museum
Looking for the best free things to do in Colorado Springs? Embark on a space odyssey and retreat back into history. As the name implies, this pit stop upholds large collections from the aviation industry. Take a look around and enjoy learning about various types of aircraft formerly used by the air force. This museum is named after the famous Mr. Edward J. Peterson. Did you know that he was the first Lieutenant of the U.S. Army to take part in World War II? Those who are interested in visiting should come any day Tuesday through Saturday during the hours of 9:00 am to 4:00 pm. Admission to the Peterson Air and Space Museum won't cost you a penny.
5. Hang Out in Fox Run Regional Park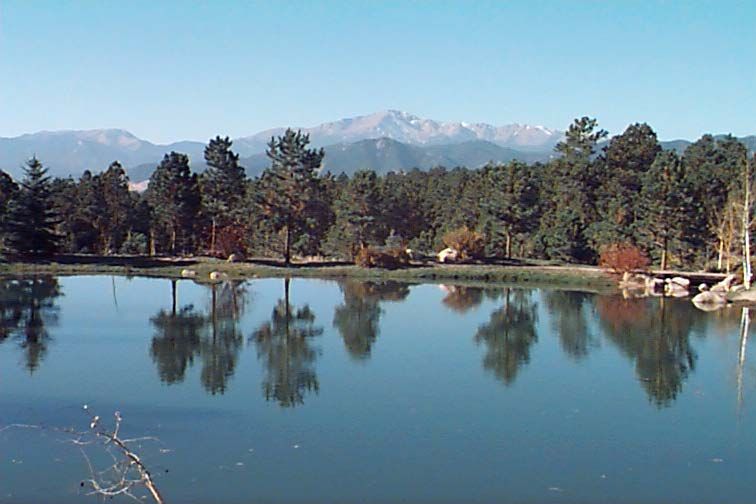 Credit: Fox Run Regional Park
If this isn't the perfect place to post up for a picnic, we don't know what is. Actually, it's just the perfect place to post up in general. Pitch a tent, tie up a hammock, spread a blanket and do what you like to do. Fox Run Regional Park is absolutely gorgeous. Why not enjoy it? The lush greenery of this beautiful park offers just the place to unwind and escape city life. Stroll around the ponds and playgrounds and take it all in. However you decide to travel, visiting this location should be a must on your list of the best free things to do in Colorado Springs.
6. Taste Test Around Town with Rocky Mountain Food Tours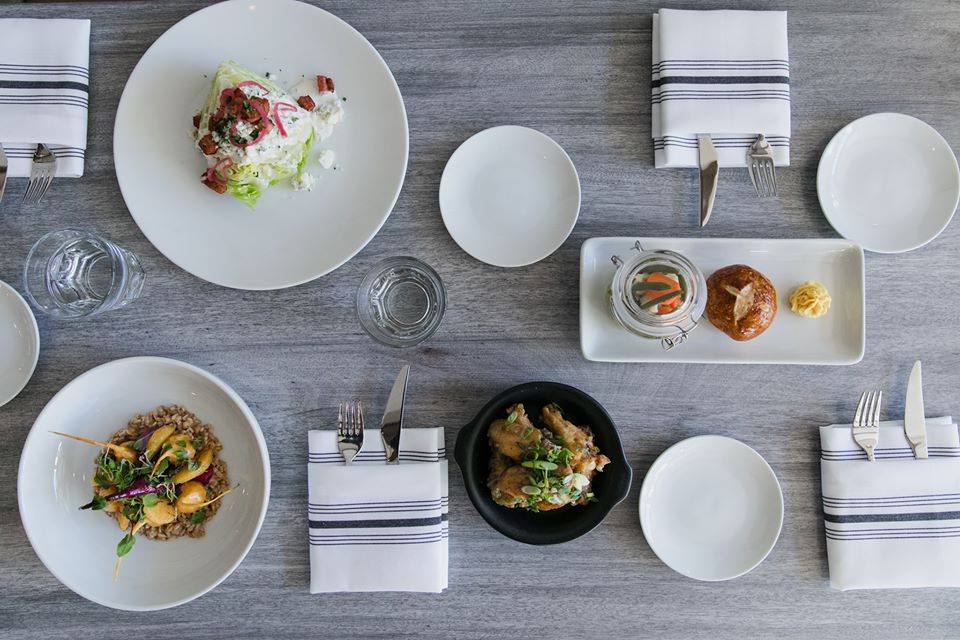 Credit: Rocky Mountain Food Tours / Facebook
Foodies, this one is for you. Disclaimer: While this isn't one of the free things to do in Colorado Springs, it's still a great, affordable deal. If you've ever wanted to find out where all of the best places to eat are, then this is your chance. Hop on board with Rocky Mountain Food Tours and let's get started. Besides getting acquainted with the local eateries, you will also get to learn all about the local history. We like that they keep the tours small and personal. They are limited to fourteen guests and require about a half mile of walking. During this tour, you will learn about the area's early Native American settlers, gold miners, and more. The Delicious Downtown Food Tour starts at $59 and lasts for three hours. A dinner tour and brew tour is in the works and will be arriving soon.
7. Roam Around North Cheyenne Canon Park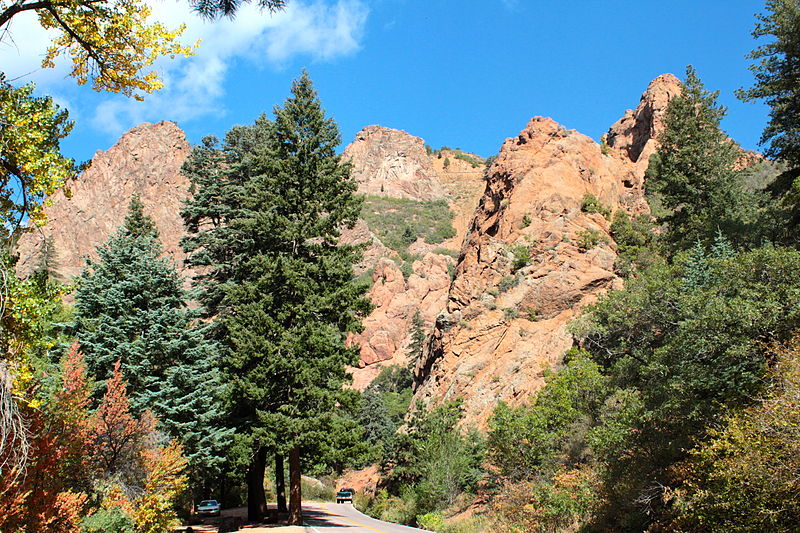 Credit: Wikimedia Commons
Do you plan on staying during the summer? Make sure you have visiting North Cheyenne Canon Park on your list of fun and free things to do in Colorado Springs. Located just six miles southwest of town, this sprawling park spans more than 1,600 acres at the bottom of a vast 1,000-foot-deep canyon. Due to its differing altitudes, it is home to a vast array of wildlife, including mountain lions, deer, and black bears. You will also find part of the North Cheyenne Creek, a great place to cool down and go for a swim during the heat of the summer months.
For those interested in visiting, the park is open daily from sunrise to sunset. The Starsmore Nature Center is open every day from 9:00 am to 5:00 pm during the summer and from 9:00 am to 3:00 pm every spring and fall. It is important to note that the Helen Hunt Visitor Center is only open during summer. Admission to North Cheyenne Canon Park is completely free.
8. Walk Around Historic Old Colorado City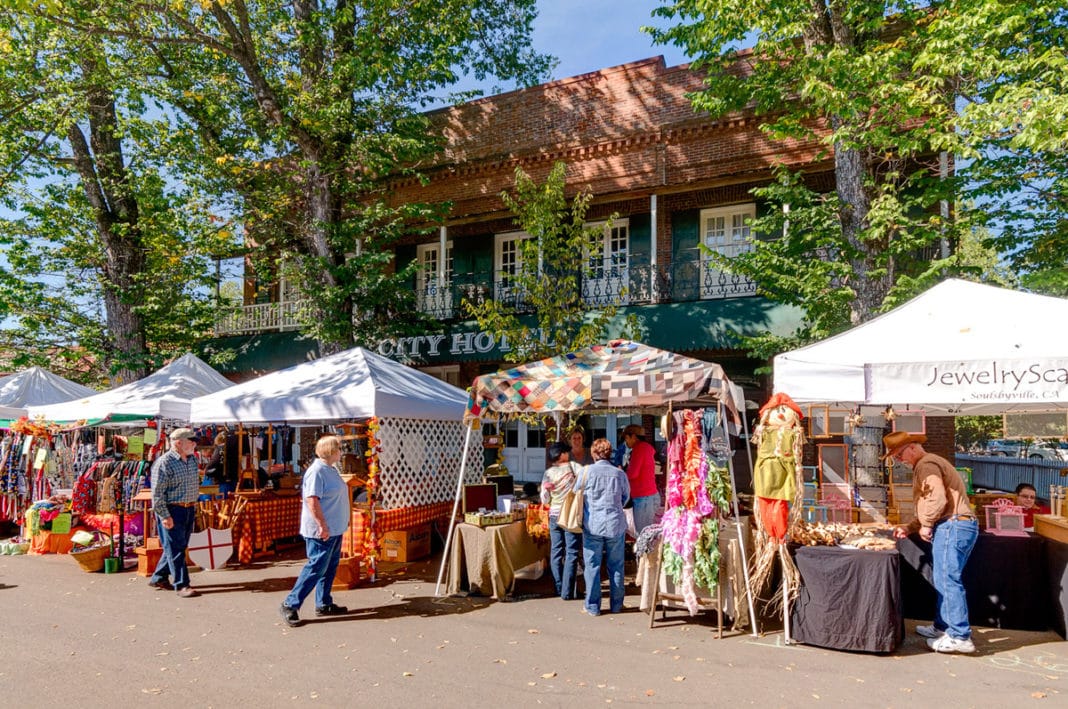 Credit: Old Colorado City
Explore a little west of downtown and you'll find the historic Old Colorado City, the original capital of the territory. Founded in 1859, this was once the hub of life for ranchers, farmers, and dreamers seeking out their own piece of Manifest Destiny. In 1917, Old Colorado City was annexed by a new settlement, the neighboring Colorado Springs. While it is no longer a town by itself, there's no doubt that this Historic section still has a very distinctive feel. Even with some modern renovations, it still manages to maintain a well-preserved sense of life during the 19th century. So come stop on by and get a feel for the "Wild West" as it once was. This is one of the best, free things to do in Colorado Springs. Sometimes it's the little things that really make all the difference in your travels.
Go and Enjoy all the Fun, Free Things to Do in Colorado Springs
We hoped that we helped to make your trip planning a little bit easier. There are so many fun, cheap and free things to do in Colorado Springs for people of all ages and those with varying interests too. From museum visits to boat races, historic church tours, zoo days, and walkable art exhibits, there is no shortage of entertainment to be had.Have you been to any of these places before? Or maybe you've been to Colorado Springs before and have some favorite free activities that didn't make it onto our list. There are so many things to do in Colorado. If you have any questions or comments for us, we'd love to hear from you. Feel free to drop us a message in the comment section below.
Related Article: 13 Best Restaurants in Colorado Springs