Fall is upon us and what better way to enjoy it than with the best hikes in Colorado?
This beautiful state is home to what are arguably the best trails in the country. Even if you weren't able to make it in the summer, there are plenty of places to explore in the fall. So what do the best hikes in Colorado have to offer? Think alpine lakes, lush green hills, cascading waterfalls, and a kaleidoscope of color. With so much opportunity in front of you, it can be difficult to know just where to start. Luckily for you, that's what we're here for you. We've compiled a list of easy to difficult hikes and everything in between. Here are our picks in no particular order.
Here Are Our Picks for the Best Hikes in Colorado
1. Hanging Lake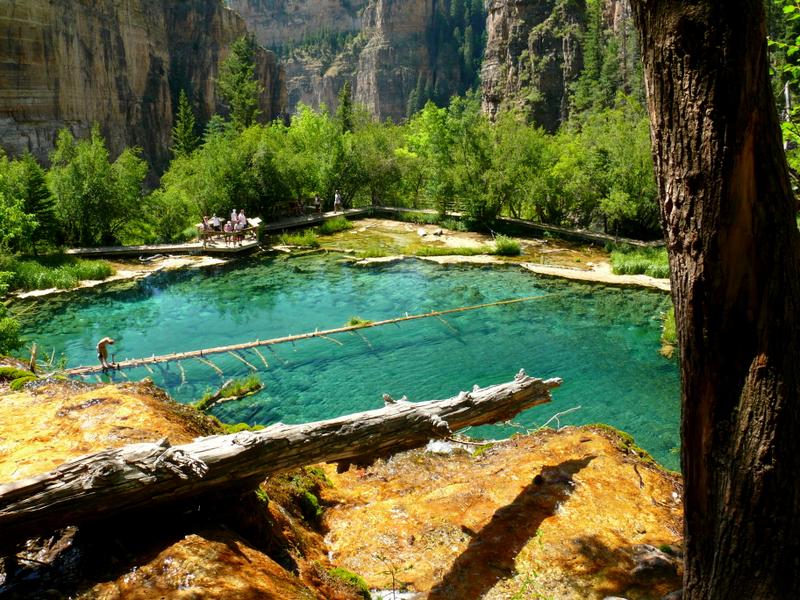 An otherworldly gem, Hanging Lake looks more like Croatia's Plitvice National Park than a scene in Colorado. Here, thin waterfalls cascade down a sheer rock face into vibrant green waters. It's all surrounded by tall pines of a serene forest frame. Just take a look around. It's no wonder that it was named a National Natural Landmark back in 2011.
So how do you get there? Start off on the I-70 a little east of Glenwood Springs. While you might think it would be a difficult hike to take it's actually moderate. The trail itself is only about one mile long each way – but it is a bit rocky and steep. When the pathway gets tricky, follow the handrails and you'll stay in the right direction. A walkway wraps around the lake, allowing you to get an up close view at its hypnotizingly crystal waters.
According to the National Natural Landmark's Program, "Hanging Lake is a unique example within the Southern Rocky Mountains … of a lake formed by travertine deposition, which we know better as a form of limestone deposited by mineral springs. Here, "natural geologic and hydrologic processes continue to operate as they have done throughout the history of the lake. The site also supports one of the best and largest examples of Resort, the world's largest hot springs pool. There's no doubt about it. Hanging Lakes is home to some of the best hikes in Colorado.
2. Mount Bierstadt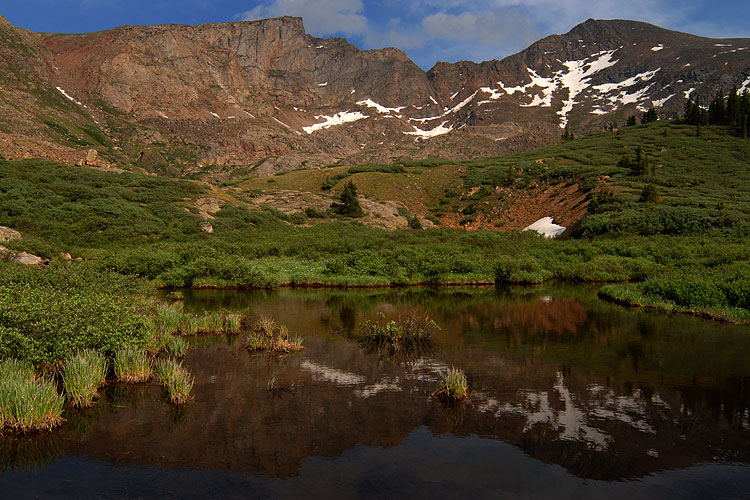 Don't make the rookie mistake of trying to tackle Longs Peak your first time in Colorado. If you're looking for a challenge, Mount Bierstadt is a good moderate hike you can take. This popular peak stands 14,060 feet. Guanella Pass near Georgetown offers a 6-mile round trip trek along a clean, well-marked trail. For those hoping to eventually tackle all of the state's major summits, this is a great place to start. The good news is that there are plenty of routes you can take.
More avid hikers can test out their skills on Sawtooth Ridge. This class-3 rock connects the summit of the mountain with the shoulder region of Mount Spalding and eventually Evans as well. But we've got to give you a little heads up. The descent is almost as difficult as the climb. You'll be passing through swampland where 7-foot-tall willows create a natural labyrinth.
3. Lizard Head Pass
Don't get us wrong. Lizard Head Peak is one of the most difficult mountains to summit in the state. But we have a life hack for you. Take Lizard Head Pass instead. This trail follows a 3.5-mile trek one way to the base of the 400' vertical tower. What makes it one of the best hikes in Colorado? There's no climbing or scrambling required. Start out your adventure at the paved pass. You'll find it's just about fifteen minutes away from Telluride.
While it is seven miles round trip, the trail is pretty flat to start out. Walk through alpine meadows and pockets of pine forest. As the views open up to the grandeur of the San Juan Mountains, you'll also get to see the fantastic profile of the Wilson Massif. Did you know that the base of the tower is an extinct volcano pipe?
4. Black Canyon of the Gunnison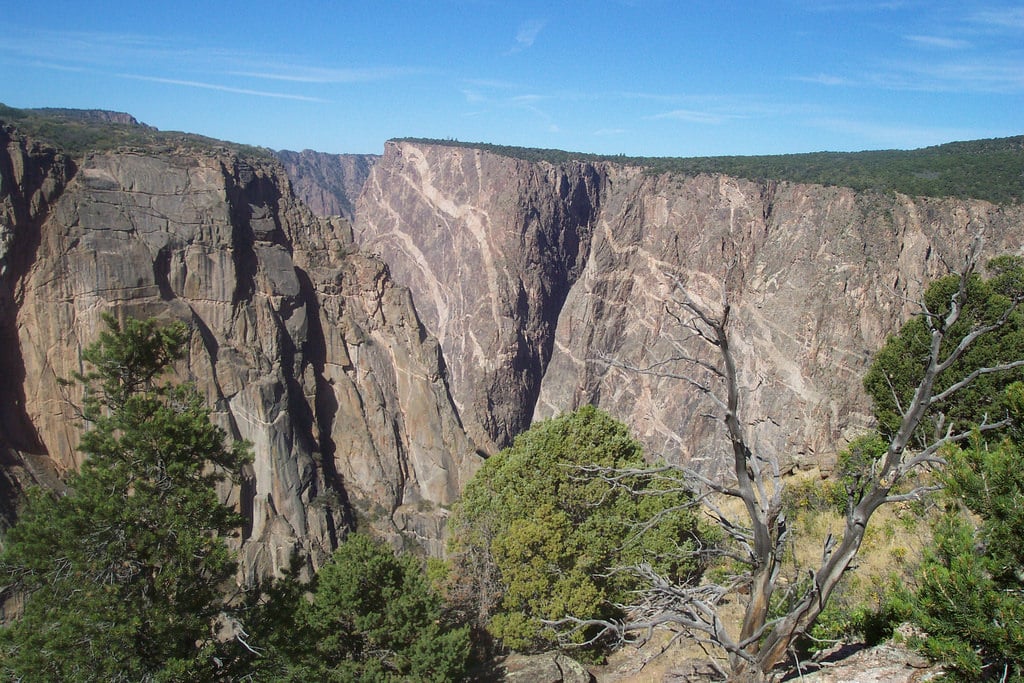 Standing at the rim of the Black Canyon, you'll swear you've never seen anything more beautiful. Let's just say we've found our favorite way to watch the sunrise. Black Canyon is easily one of the most overlooked national parks in the country and no doubt one of the best hikes in Colorado. Perhaps the most fascinating part about these paths is that they will bring you down rather than up. It's also important to know that these trails are more for scrambling than hiking. So come prepared to get a little down and dirty.
Overall, the trails range from moderate to hard. One of the easiest ones is the Class 3 Gunnison Route. But even this trail drops down some 1,800 feet in elevation over the course of one mile. Along the canyon floor, rivers flow deep and light peaks between the tall trees into a shadowy place tucked away from the world.
5. Star Dune at Great Sand Dunes National Park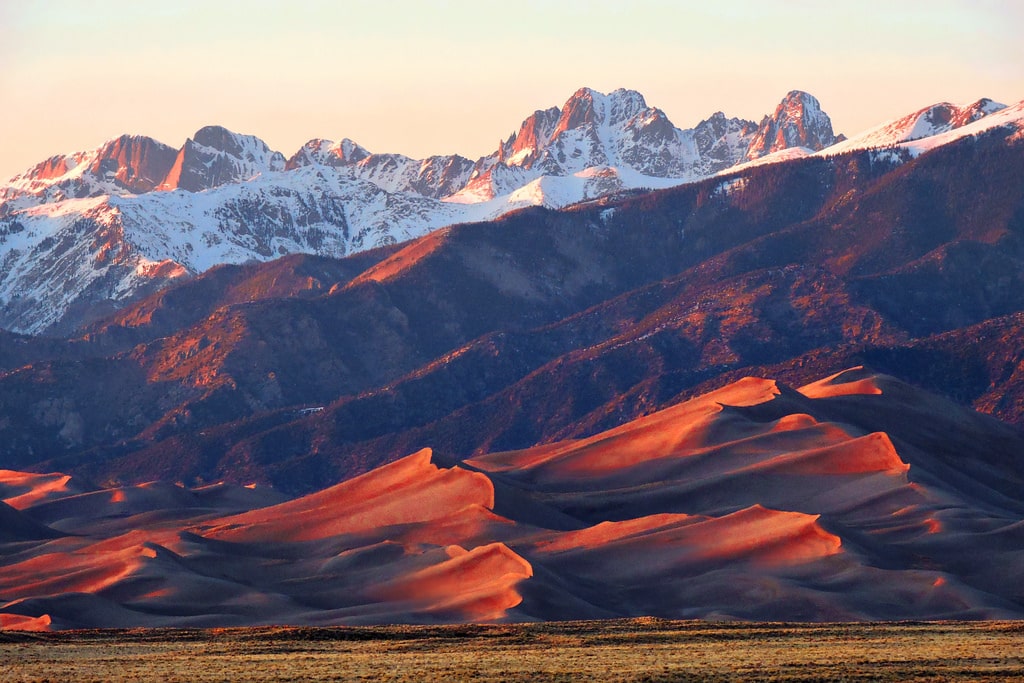 Here's a beautiful but easy hike. While most of the hikes on our list cross mountainous terrain, Great Sand Dunes National Park is just too fun to pass up. The fall and spring are the perfect times to visit (October – May) when it has cooled down from the hot summer sun. The largest of all is Star Dune, standing at about 700 feet.
Visit in the early spring and you'll find small rivers winding through the basin. Taking a hike through the dunes can be as long or as short as you'd like it to be. And while you're there, we have another suggestion for you. Why not try out sandboarding?
While the National Parks Service does not rent them out, there are a few places where you can get a board nearby. At Kristi Mountain Sports, sandboards and sleds are available to rent year-round. You'll find the rental location 40 miles from the visitors center. Sand Dunes Swimming Pool and Recreation offers year-round rentals as well.
6. Lion Lakes at Rocky Mountain National Park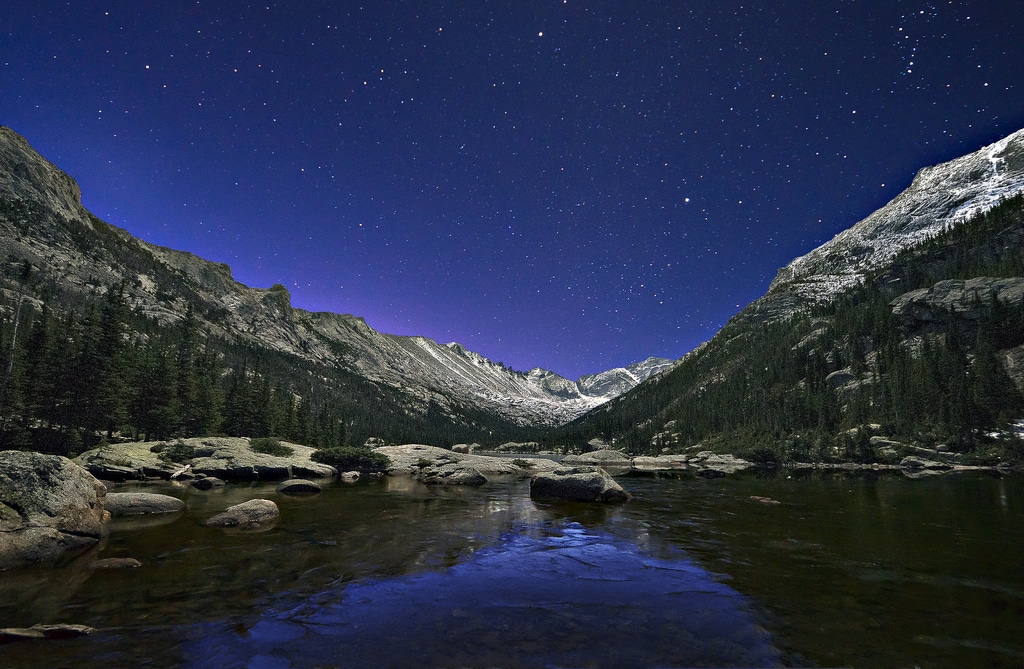 Photographers, Lion Lakes is the place to be. This chain of alpine pools is found deep within the heart of Rocky Mountain National Park. Framed by the 13,310 foot tall Mount Alice and the 13,579 foot tall Chiefs Head Peak, you'll find some of the best hikes in Colorado right here. Take the Wild Basin Trailhead (12 miles round trip) until it splits into the backcountry basins. The trail does fade out but navigation remains relatively simple. Simply follow the streams and waterfalls up the trail.
There's a simply serenity about it all that's breathtaking. Pristine meadows are sprinkled with wildflowers, deer graze in the distance, and the only sounds you hear are birds singing and your breath meeting the sweet breeze.
7. Boulder's Guardians of the Flatirons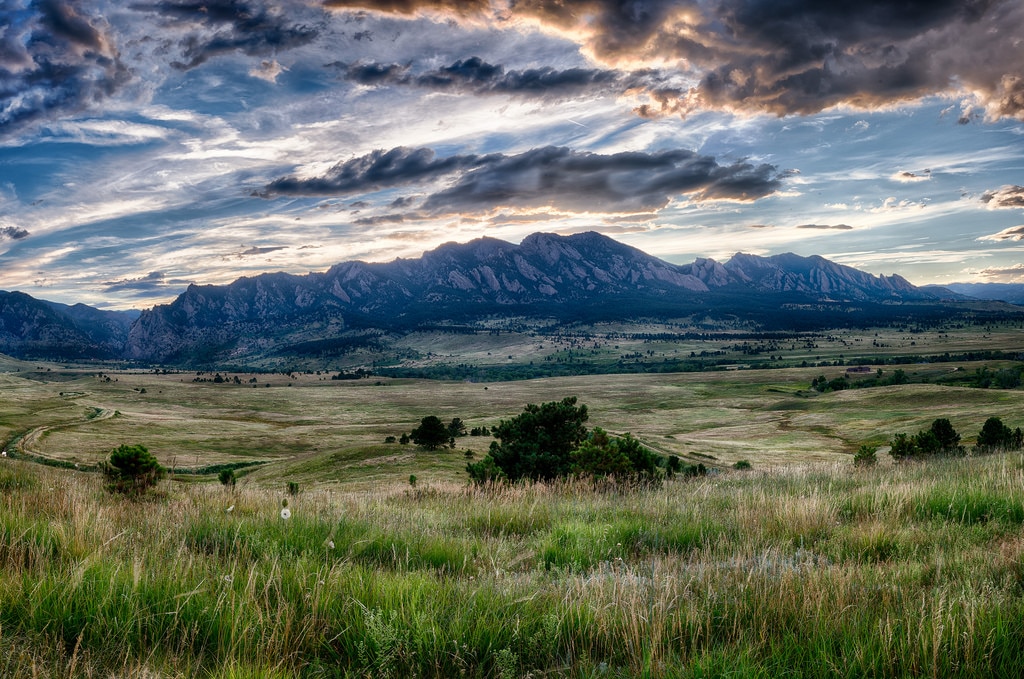 Are you visiting Boulder any time soon? Make sure to check out the Flatirons during your stay. As one of the best hikes in Colorado, they offer an easy way to have a mountain adventure without straying too far from the city. Take a day trip around the loop (12 miles round trip) or trek from point to point (10 miles round trip). Here's the best part. You can choose from several trailheads, all of which start within the city of Boulder.
One of the most popular routes is Gregory Canyon Trailhead by Chautauqua. Here, you'll ascend some 3.2 miles to Green Mountain. If you have some extra time, you can take the Green-Bear Trail to West Ridge and up the 8,460' summit. On a clear day, you'll be able to see all the way from Denver to Longs Peak and Pikes Peak.
Last but certainly not least, is South Boulder Peak. This summit offers great views of the western landscape. When you're ready to head back, you can take either the Mesa Trail at the foot of the mountains or point by point via the South Mesa Trailhead.
8. Lost Man Lake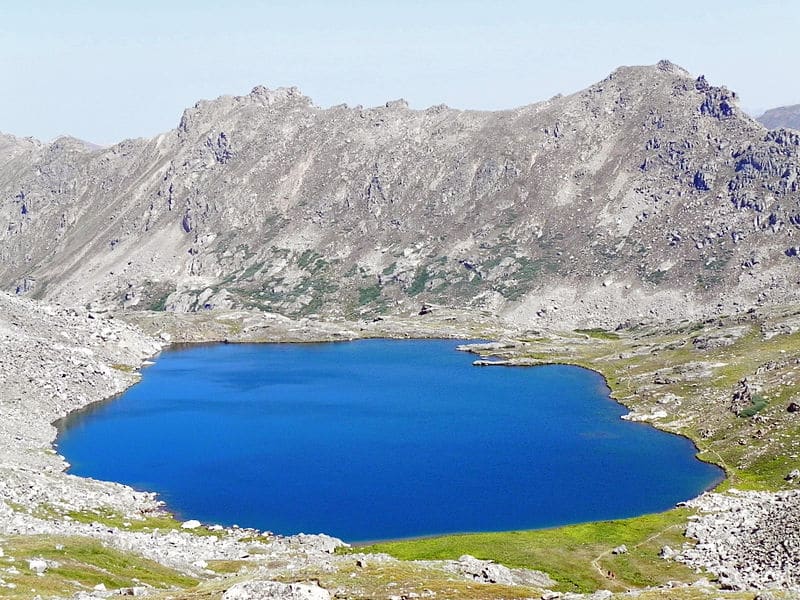 Nestled behind towers of glacial rock debris, you'll find the beautiful Lost Man Lake. Winding seven miles, this trail follows a loop through the rugged mountain basin. Keep up the pass until you reach the darker waters on the north side. One of our favorite things to do is pack a picnic and take a seat by the water. What's a hike without taking your time to enjoy the view? Or if you're brave enough, take a chilly dip.
For anyone traversing the high alpine terrain, Lost Man Trail provides instantly gratifying views. Start off Highway 82 near Independence Lake. From there, you'll find that the path provides some of the easiest access to the area's lush meadows and crystalline waters. You can do the hike as a stop in and out, via a car shuttle, or on a semi-loop.
Fall in Love with the Great Outdoors on the Best Hikes in Colorado
The Colorado landscape can take years to explore and it can be difficult to check off everything on your list in one visit. However, its natural beauty and diverse landscape make it a destination worth coming back to again and again. Which one of the hikes on our list would you like to do the most? Let us know in the comment section below.
Related Article: The Best Hiking Trails in Every State: Unveiling All of America