Climbers seeking a dynamic, sturdy shoe for climbing, we've found just what you need. Enter the Evolve Spark Climbing Shoe.
If you're new to the world of rock climbing and bouldering, these are just the shoes you need. Lightweight and well-constructed, they provide a great introductory style. These shoes are all about comfort, grip, and mobility.
In this review, we will go over a little bit about the company as well as the features and benefits of the Evolv Spark Climbing Shoe for men. Our goal is to help you find your perfect fit. For this, you'll need a shoe that supports your feet in the right way. Read on to find out if these are the right climbing shoes for you.
A Little Bit About Evolv Sports
A U.S. based-climbing footwear company, Evolve Sports & Designs Co. is dedicated to creating cutting edge performance gear. Their high traction footwear offers nothing short of the highest quality. All of their shoes are assembled domestically, as they commit to providing unique and innovative products and services to the rock climbing community.
One of the coolest things about this company is that they sponsor a roster of world-class athletes. Among them are Chris Sharma, Steph Davis, Kai Lightner, Alex Johnson, Paul Robinson, Ashima Shiraishi and many more. The folks at Evolv take great pride in their world-class research and development team. It's clear to see that each design offers an innovative style as they consistently work to improve their existing models. Last but certainly not least, they also offer the most vegan friendly synthetic leather climbing shoes on the market.
The Evolv Spark Climbing Shoe Features & Benefits
Now that you know about Evolv Sports & Designs Co. you can rest easy knowing the Evolv Spark Climbing Shoe offers nothing short of excellence. Thanks to a strongly built body and a sturdy sole, you will have all the security you need for climbing. It is important to note that some reviewers noted that they went up a half size to ensure the best possible fit for their feet.
Design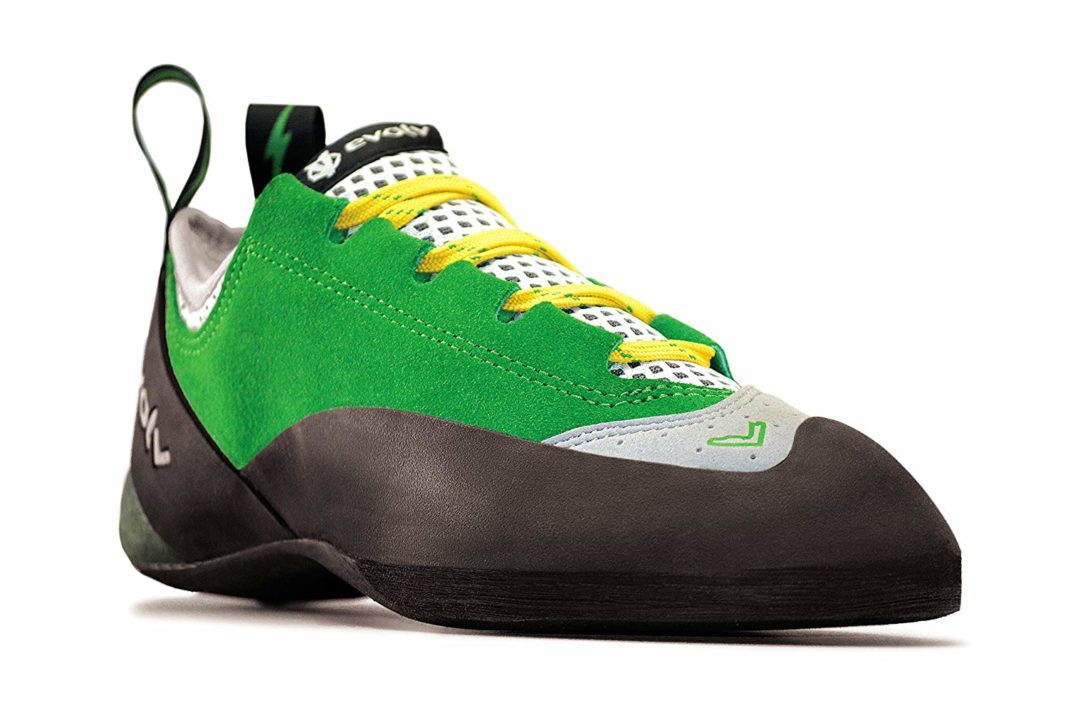 With a secure lacing system, climbers can enjoy a snugger fit. Lined with 3D air mesh in both the heel and the tongue, the Evolv Spark Climbing Shoe offers a supportive and comfortable fit. If you're a beginner, we highly recommend taking your shoes to the indoor climbing gym to practice before outside. Either way though, they will get the job done and do it well.
So what makes these shoes so durable? Well, for starters, the synthetic leather is well made. Second, the nylon footbed is composed of strong fabric fibers. This construction is made to withstand the wear and tear of trying out new grips and holds as a climber. These soles are made for traversing various types of surfaces.
How to Get the Best Use from the Evolv Spark Climbing Shoe
While these shoes aren't budget style by any means, they are still a good price. As we previously mentioned, they work well for both indoor and outdoor surfaces. The Evolv Spark Climbing Shoe is good for beginning climbers as they help you gain traction and strength on more vertical climbing platforms.
When you first purchase them, know that you will have to break them in. But this can be said for just about any pair of climbing shoes. The rubber soles offer a great cushion for your feet. Even after you've been climbing for hours, your feet will still feel comfortable and supported. But since climbing shoes are meant to feel snug, your toes will be curled while you're on the routes. All in all though, they are pretty easy to break in and we love these shoes.
Taking a look at durability, the Evolv Spark Climbing Shoe typically lasts for about six months of wear and tear. For a beginning climber wondering how to rock climb, these shoes are great. So when will you need to replace them? You will know when the rubber starts to lose its quality. These shoes work wonders when it comes to improving your climbing performance. Here's a tip for the newbies. Having good chalk for your hands is important too (check out our chalk bag recommendations).
What Travelers Are Saying About the Evolv Spark Climbing Shoe
With a 4.8 of 5-star rating, the Evolv Spark Climbing Shoe speaks for itself. Overall travelers have found them to be a great shoe. The comfortable style is perfect for difficult surfaces and bouldering. Given their stiffer form and toe grab, this makes sense. While the shoes do tend to run a little shorter, you still want a snug fit. Many users noted that they went up a half a size when they ordered these shoes. Remember, there should not be any loose air pockets or room for your foot to slide around in them.
Travelers highly recommend wearing them for gym sessions before taking them somewhere more challenging. This will help you to break them in before taking on more challenging routes outside. When we are looking at quality, they are awesome and the shoes grip well. They slide on and off nicely.
While any climber can use these shoes, they are primarily designed for new rock climbers looking at easy to intermediate routes. Thanks to the stiffer body of the shoe and the strong toe grips, you'll have plenty of help along the way. Make sure to try out the shoes and break them in before tackling more difficult outside routes. We highly recommend the Evolv Spark Climbing Shoe.
Tech Specs:
Leather

Semi-asymmetrical profile

4.2mm sole

check

High friction rubber

check

VTR rand

check

Unlined leather forefoot

check

Nylon footbed

check

3D mesh (partially lined)
Men's La Sportiva TarantuLace Performance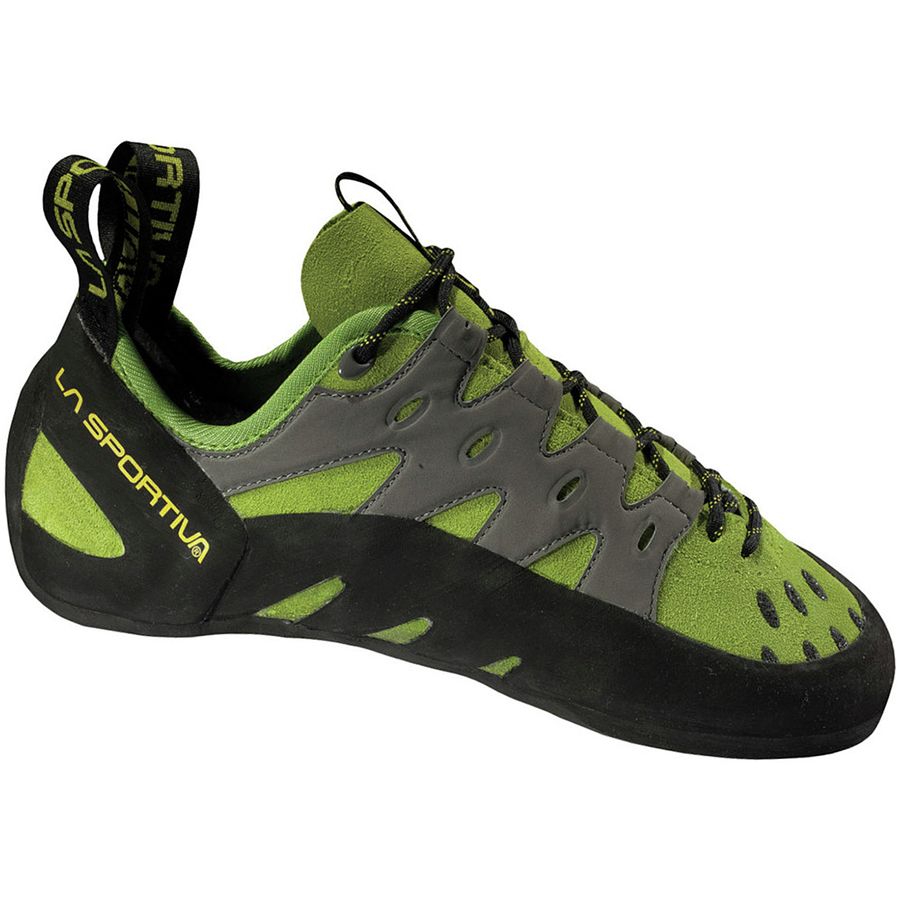 Are you an intermediate climber seeking a good pair of rugged shoes? You've found everything you need in the Men's La Sportiva TarantuLace Performance style. With a rugged heel rind and rubber sole, these shoes are constructed to handle friction from challenging routes. With low symmetry, great shape, and sensitivity, they truly are a great product. We love that La Sportiva refuses to sacrifice performance for anything else.
In addition, synthetic overlay harnesses provide great support for beginning to mid-level climbers. Unlined leather uppers and the breathable tongue are comfortable and soft to the touch. Whether you decide to hit up your local gym or climb an expert pitch, these are some of the best climbing shoes for men. They'll keep you moving up.
Tech Specs:
Leather

Quick-lacing system

All-around performance

check

Rubber heel rand

check

Rubber soles

check

Classic unlined leather upper

check

Moisture control

check

Great breathability

check

Durable

check

Flexes at midsole

check

Tight fit
Black Diamond Momentum Climbing Shoe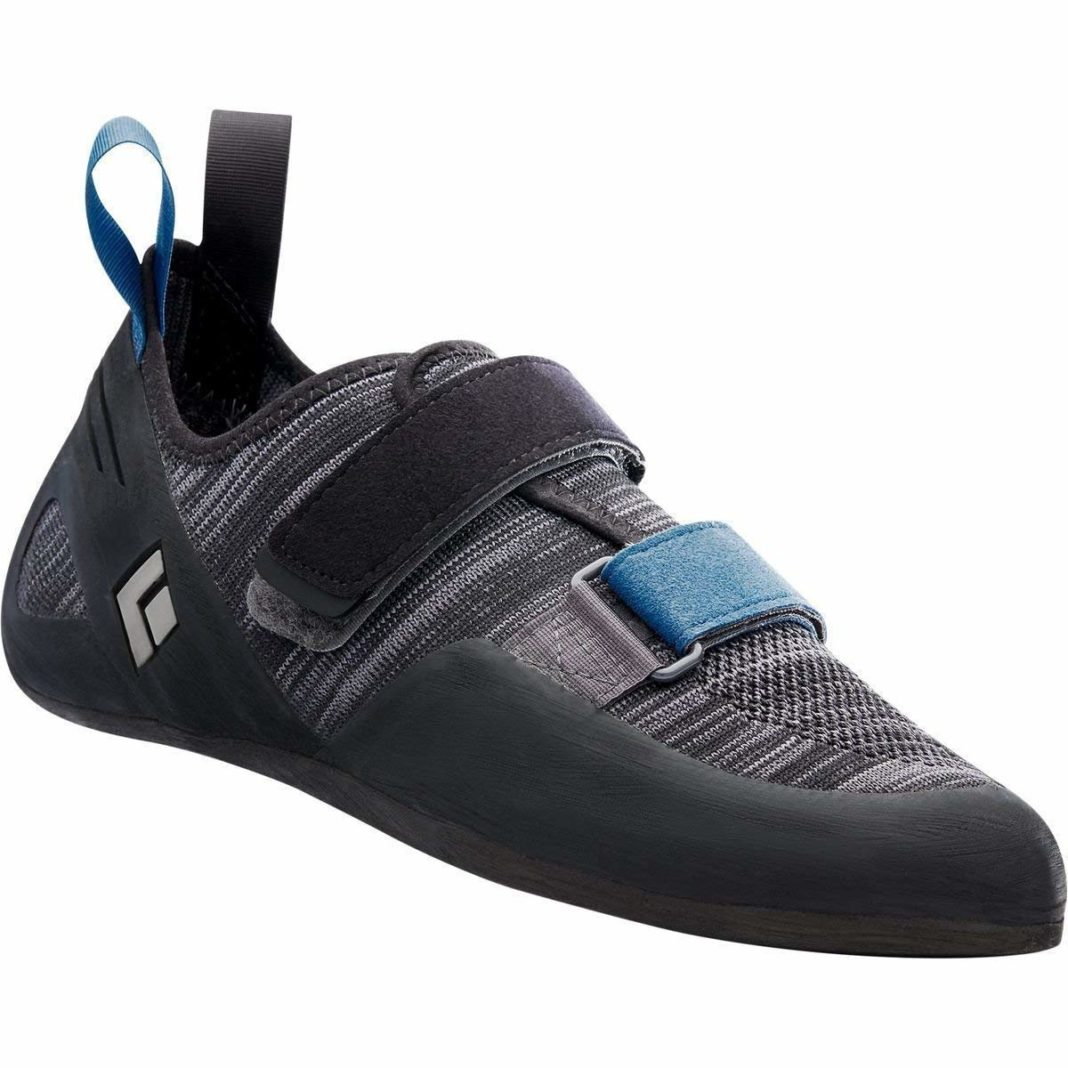 Here's another great shoe for intermediate to advanced climbers. When it comes to unparalleled style and comfort, Black Diamond is one of our go-to brands. This two-strap velcro design provides you with innovative technology in a style that will exceed all of your expectations. By taking a look at the upper fabric, the microfiber adds in a natural stretch for your comfort.
All of the shoes from Black Diamond's product line have been well designed for comfort, weight, and consistency. The last thing you want is to feel weighed down. Thankfully, these shoes give you all the support and comfort you need to move liberally. Enjoy moderate to advanced routes whether you're in the climbing gym or scaling outside.
Tech Specs:
Designed for vertical climbing and all day comfort

Flat last

Rubber for durability

check

Soft flex midsole

check

Two velcro straps for adjustability
Invest in the Evolv Spark Climbing Shoe for Your Next Adventure
We hope you enjoyed reading our product review on the Evolv Spark Climbing Shoe. As you can see, the type of climbing shoes you choose is so important. Whether you are a beginner or an expert, there are styles out there that will work for you. Just make sure the style of shoe you are getting is in line with your level of expertise. We appreciate the level of quality, design, and durability the Evolv Spark Climbing Shoe offers.
Furthermore, the type of climbing shoes you get should also line up with what type of climbing you want to do. Remember, there is the gym, bouldering, steep face, and uneven surface climbing. Our alternate picks offer good climbing shoes for intermediate and advanced rock climbing routes. Check out these top climbing spots in the U.S. Do you have a favorite pair from our list of the best hiking shoes for men? Let us know in the comment section below.
Related Article: 6 Best Climbing Shoes For Men And Women