You can find more than Butterbeer at this rooftop bar.
Universal Studios is full of magical activities for the entire family. Of course, a top attraction for Muggles is the renowned Harry Potter World. The whimsical attraction encompasses over an acre of the park. Visitors can take a ride on the Hogwarts Express, or visit Hogsmeade Village and the iconic Hogwarts Castle. If these aren't reason enough to pay a visit to the park, Universal recently announced the construction of a new hotel. Prepare yourself, as the building is going to have top-notch views of all three of the parks, including Harry Potter World.
Stay at Universal's newest accommodation option.
The park's Aventura Hotel is set to host a lively rooftop bar. You won't want to miss a visit to Bar 17 Bistro when you vacation in Orlando. Here is where guests can catch a glimpse of the aerial view of the parks. From the balcony, you can catch a glimpse of Hogwarts Castle, the Islands of Adventure, and even Krakatau, Universal's 200-foot water park volcano. The views don't stop here, however. The 600 room hotel ensures that each room has massive glass windows. This way, you can still peer out at the parks from the comfort of your room.
Aventura Hotel is opening in August 2018. By the end of summer, you can book your stay here at the latest high-class accommodation offering.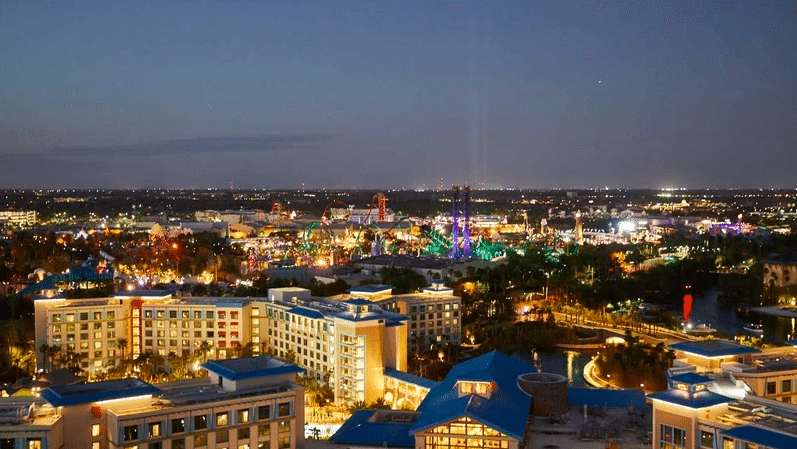 Though Bar 17 Bistro is situated on top of Aventura Hotel, fortunately, it is open to the public. Even if you are staying elsewhere, you can still enjoy a delicious drink and the spectacular views of the surrounding parks.
Be sure to book your stay at Aventura Hotel the next time you pay a visit to Harry Potter World. This luxurious accommodation offering has just what you need to top off the best vacation possible.
Related Article: The Brand New "Diagon House" Awaits Harry Potter Fans