Re-Imagine How You Travel with the Bluesmart One Carry-On
Have you ever heard of smart luggage? It is basically your standard luggage piece on steroids. With smart luggage, your suitcase is now your iPhone/Android charger and your safe. With USB charging ports and TSA-approved locks, high tech luggage is revolutionizing the luggage industry. The Bluesmart One Carry-On is one of these high-tech products that has innovating and exciting features. From a GPS tracking system to a remote-controlled lock system (via your cell phone), the Bluesmart One Carry-On is a smart suitcase that will have you ditching your "dumb" bag in a heartbeat. If you have heard of the Bluesmart Black Edition, you will find many of the same features built into the Blusmart One. The Bluesmart One is the first product released by Bluesmart and the Black Edition is the second product.
A Little About Bluesmart Luggage
Credit: Facebook
Bluesmart luggage is all about making traveling as smart and efficient as possible. When on the go, convenience is key. That is why Bluesmart luggage has convenient and useful features built into their smart travel bags. In fact, Bluesmart is the first luggage brand to design connected, hi tech luggage. The Bluesmart One Carry-On is the first suitcase to connect wirelessly to a traveler's smartphone. As a pioneering force in the industry, it is important to pay attention to smart bags created by Bluesmart.
The Bluesmart One Carry-On is a suitcase that has a front laptop compartment, USB charging ports, a remote digital lock, a built-in scale to weight your bag, and a location tracking system. In this review, we will look further into each of these key features. Also, we will share what other travelers are saying about this cabin travel bag. Let's get starting with the main features and benefits of this suitcase. Like we said, most of these features will mirror that of the Bluesmart Black Edition because the Bluesmart One Carry-On was released prior to the Black Edition.
Bluesmart One Carry-On Features & Benefits
Bluesmart One Carry-On Specifications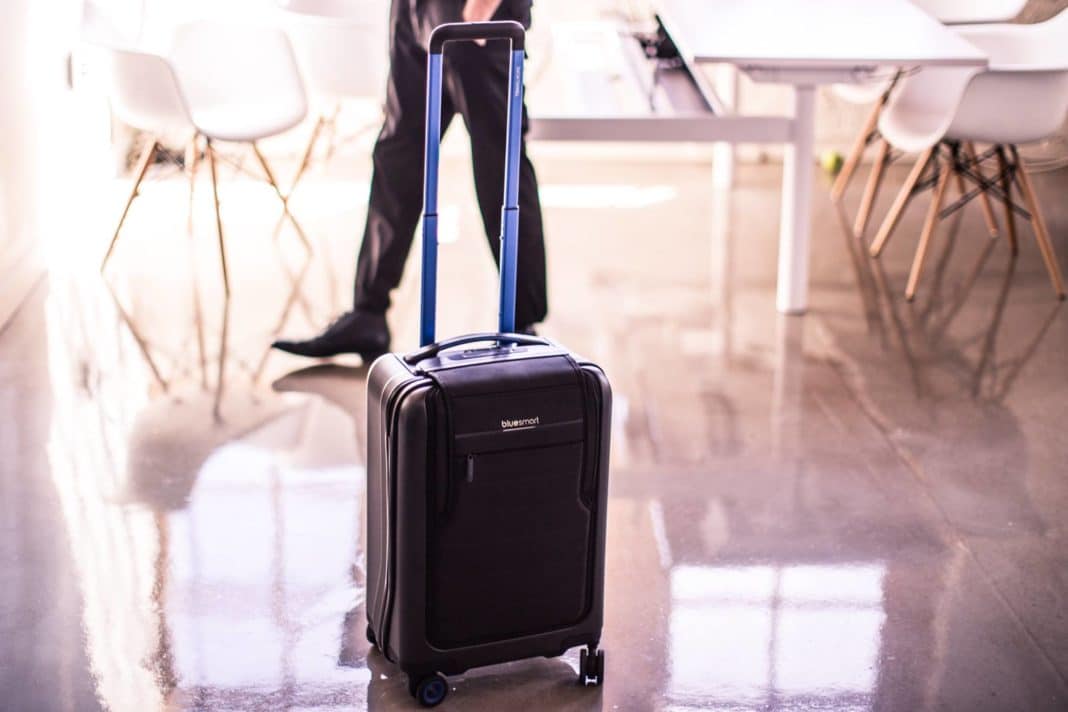 Credit: Facebook
At 8.8 pounds, the Bluesmart One Carry-On is a lightweight, high tech suitcase. The product dimensions are 9 x 14 x 22 inches, meaning this smart travel bag fits within most international carry-on size restrictions. However, it is always best to consult your airline's size regulations prior to domestic or international travel. As for the bag's color options, the suitcase only has one (though Bluesmart's new line Series 2 offers charcaol gray, silver, and blue suitcase options). The suitcase is completely black, apart from the blue wheels, blue handlebar, and blue interior.
This bag has a storage capacity of 34L and is made for 2-3 day trips. For long weekend trips and short business travel, travelers can easily pack their belongings into this carry-on. When going on lengthier trips, the Bluesmart One Carry-On is a great place to store valuables. Rather than packing your laptop, camera, and other gadgets into your checked bag, you can keep them by your side within this carry-on suitcase.
Battery Charger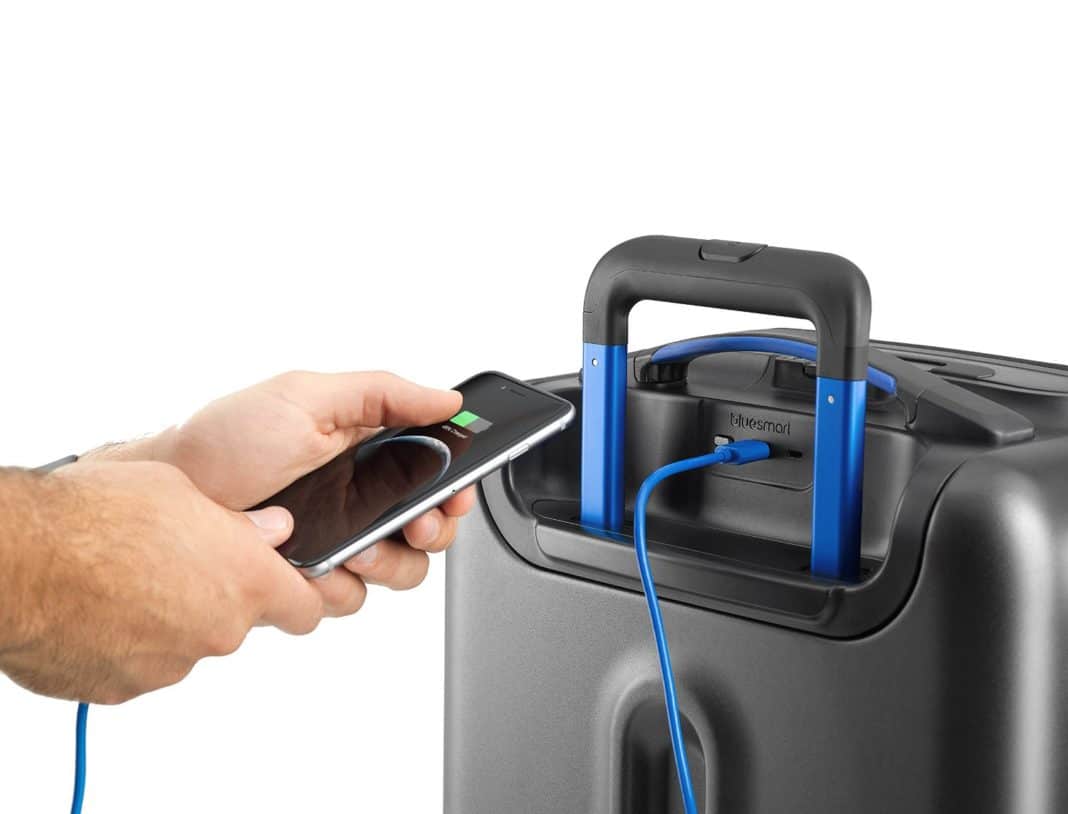 Credit: Amazon
With the Bluesmart One, you will never have to worry about your phone, tablet, or ebook running out of battery during your travels. With the battery charger in this suitcase, travelers also won't have to worry about conserving battery power on their phone, tablet, and ebook. The battery charger is TSA-compliant and can charge your electronic devices up to six times. Whether you wish to listen to music, use apps, read your Kindle, call an Uber, or watch a movie, this built-in battery charger ensures that you can do so anywhere you go. The exterior USB charging port is located near the top handle of the suitcase. Also, there is a top-secret USB charging port within the front compartment. Speaking of the front compartment…
Front Compartment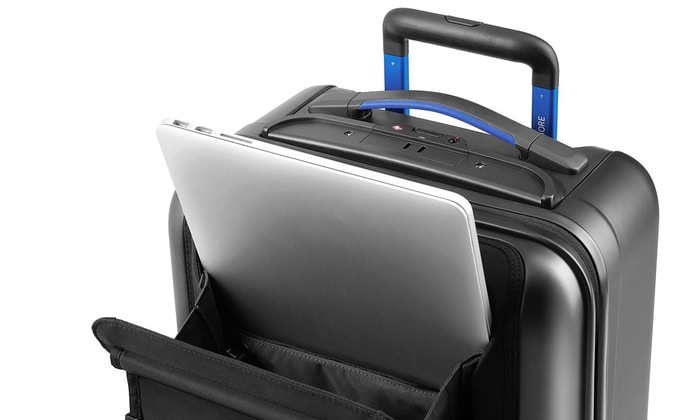 Credit: Amazon
The front compartment is designed to store electronic devices. From laptops to tablets, electronics will be safe within this protective and padded space. Also, when going through airport security, electronics will be easy to retrieve and lay upon the conveyer belt. What's more is the front compartment has a USB charging port inside! That means that your tablet, ebook, or cell phone can be charging when you are on the move.
Remote Lock System
Credit: Amazon
The digital lock on this suitcase is TSA-approved. Using the app on your phone, travelers will be able to lock and unlock their carry-on. Not only can you lock your bag with the touch of a button on your phone, but when your bag goes beyond Bluetooth range, it will auto-lock. You will also receive a notification on your phone alerting you that your bag has rolled out of your proximity. If you are worried about someone stealing your bag and the belongings inside of it, you don't have to worry any longer with this lockable suitcase. There will be no way for thieves to access the inside of your bag when it auto-locks. Also, with the suitcase GPS location tracker, you will be able to quickly locate your stolen carry-on suitcase.
GPS Location Tracker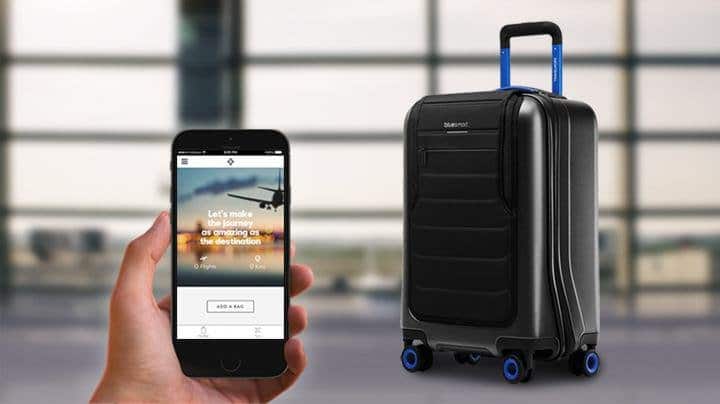 Credit: Amazon
Via the Bluesmart App, travelers can monitor their bag's whereabouts free of charge, et voila: you have a GPS suitcase. The suitcase has 3G + GPS capabilities that connect to your iPhone or Android app. Whether your airplane is re-routed causing your luggage to get away from you or you accidentally leave your suitcase in a taxi, the luggage GPS location tracker allows your bag to be easily found. Also, under the worst-case scenario of your bag being stolen, you will be able to track your bag's location. Since Bluesmart has a partnership with Telefonica, your carry on suitcase will have global coverage. Anywhere Telefonica has coverage, you will have access to the GPS location tracker. Plus, no additional fee is required to enjoy the benefits of the tracker. This is different from other smart luggage brands that make travelers pay a subscription to use the location tracker. You get a stylish new suitcase, and a smart travel luggage app to make sure you don't lose it for good.
Built-In Scale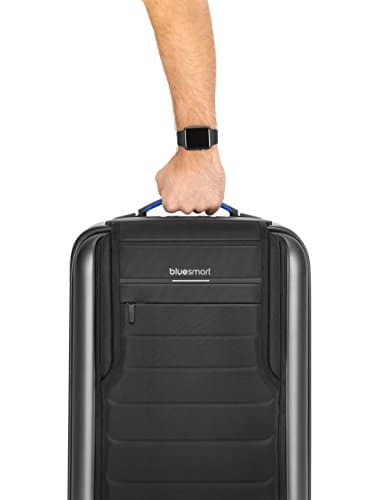 Credit: Amazon
This carry-on suitcase has a built-in digit scale that lets travelers know the weight of their bag before they travel. This is a useful feature when wondering if you bag will meet the airline's weight restrictions. The built-in scale works with the Bluesmart app. It is a hassle-free process to find out the weight of the suitcase. All travelers have to do is pick up their bag by the handle (activating the scale), wait 10-15 seconds, then read the weight displayed on the app.
What Travelers Are Saying About the Bluesmart One Carry-On
Travelers who have purchased and used the Bluesmart One Carry-On love how it is carry-on compatible. The two USB chargers were also stand-out features that travelers loved. The way that this suitcase doubles as a mobile office is appreciated by customers. As for the location tracking function, travelers found the app to be very easy to use. When customers lost their luggage, they were able to quickly retrieve it thanks to the tracking function.
When it comes to downfalls, some travelers complained that the remote digital lock is unnecessary and provided too many issues. Other travelers assumed they could take down their bag from the overhead bin and charge their electronics mid-flight. This was proven to be a bad idea because there is no space to store the bag beside you on a flight while it charges. However, the ability to charge in flight is not to the purpose of this bag. Our recommendation for travelers wanting to charge their devices mid-flight is to plug their electronics into the front compartment's interior USB port. Once their device reaches a full charge they can retrieve it from the overhead bin.
Alternative Smart Luggage Brands
G-RO 22″ Carry-On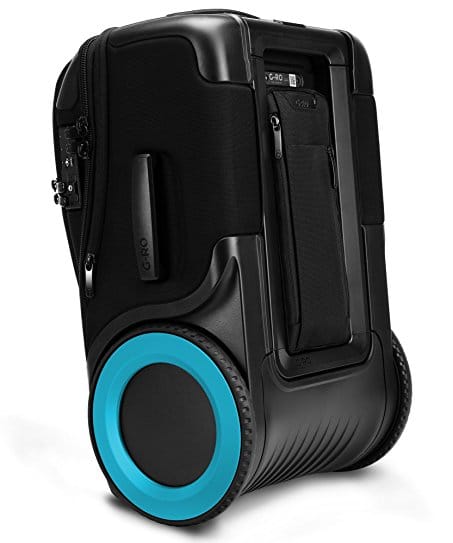 The G-RO 22″ Carry-On is the same size as the Bluesmart One Carry-On. Both can be easily stored in the overhead compartment to make airplane travel a breeze. Like the Bluesmart One Carry-On, the G-RO Carry-On has built-in TSA approved locks and USB charging ports. However, the TSA locks must be manually locked and unlocked (no remote digital locking system). Another difference between these 2 suitcases are the wheels. Just look at the size of the wheels on the G-RO. These massive and durable wheels can handle any terrain, making it easy for the bag to travel through snow, sand, ice, puddles, cobblestone streets, and even up the stairs. All that said, the G-RO 22″ Carry-On may be worth considering if you are looking for an alternative smart luggage bag. Just keep in mind that this suitcase price is a little heftier than the Bluesmart One.
Is the Bluesmart Carry-On the Bag for You?
Bluesmart is luggage is luggage, but it is also so much more than that. It is a mobile phone charger, a location tracking system, and a safe place to keep belongings locked away and secure. To carry a Bluesmart One suitcase with you while traveling is to re-imagine how you travel. Smart luggage certainly changes the travel experience. Rolling along the Bluesmart One will be like rolling along a personal, mobile office and a closet. There are many possibilities with this smart carry on luggage piece. But best of all? You can avoid the hassle of baggage claim when you travel with this Bluesmart case. So, want to carry smart on your next trip? We'd start with a Bluesmart bag.
What do you think about the Bluesmart One Carry-On? Would you purchase this bag? If you already own this smart carry on suitcase, then we want to hear from you too! Tell us about your experience in the comments section below.
Related Article: ​Bluesmart Black Edition Review: A Bluesmart Luggage Favorite of 2017​​​