Looking for the best Napa Valley restaurants? Here are our favorite places to eat in Wine Country.
What comes to mind when you think of Napa Valley? For most, it is lush vineyards, rolling hills, and spectacular sunsets. This sunny California locale is most famous for its wineries. In fact, travelers come from all over the world to experience this getaway. An agricultural region, it's culinary scene is often widely overlooked. So in this article, we are taking you on a tour of the best Napa Valley restaurants. P.S. If you're looking for a place to stay too, we have just the thing.
Here Are Our Picks for the Best Napa Valley Restaurants
The picks on our list run the gamut of the Napa experience. From fine dining to budget eats, there is something on this list sure to suit the tastes of every type of traveler. Each and every one of them offers plenty of delicious menu options. Without further adieu, here are our picks for the best Napa Valley restaurants.
1. Boon Fly Cafe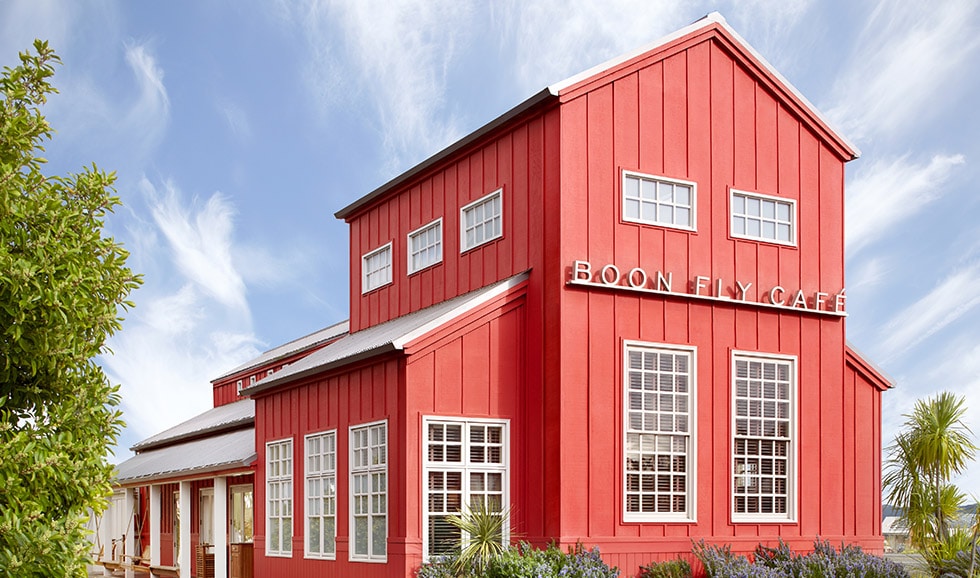 Credit: Boon Fly Cafe
Come and experience casual California dining inside of a cheerful, barnlike inn. Offering a contemporary roadhouse atmosphere, the Boon Fly Cafe stands apart from the classic fancy dining typically associated with the best Napa Valley restaurants. But don't let the charming and simple exterior fool you. The menu offers up some mouth-watering eats. Swing by in the early am for some delicious cinnamon donuts or sit down for a proper brunch. Items like a Bloody Mary, eggs Benedict, and breakfast flatbread are always welcome options.
Just be forewarned. This isn't the type of place that you can only visit once and call it quits. Quite to the contrary, you will find yourself coming back for lunch, dinner, and just because. What's better than starting your day out with some cinnamon donuts and ending it with the best hamburger in the Napa Valley area?
The history behind Boon Fly Cafe is just as captivating as its menu. Okay, not quite but it's still interesting. The story dates back to a Carneros pioneer named Boon Fly. During the mid-1800s, he planted vineyards and orchards in the area. The cafe is a homage to both his endeavors spirit and the region's agricultural heritage. As a descendant of the New England colony settlers, Boon Fly was a part of the tradition that brought many families out west.
2. Oenotri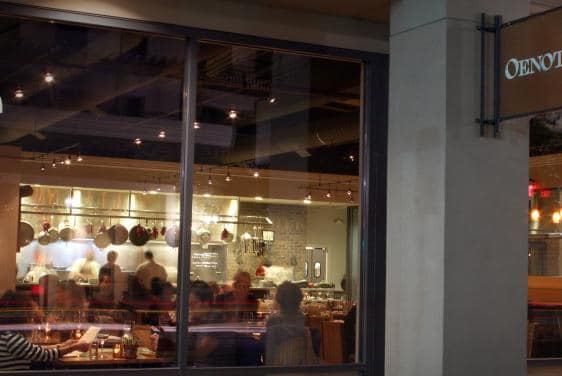 Credit: Oenotri
Welcome to one of the best Napa Valley restaurants, Oenotri. Think artisanal pizza, house-made salumi, and southern Italian fare. Now picture it served up in a fun ambiance with an industrial-chic setting. Wondering where to start on the menu? We get it. There are so many scrumptious options.
We suggest starting out your culinary adventure with some of chef Tyler Rodde's varieties of salumi before moving on to order a thin-crust pizza and some fresh pasta. Because the restaurant has its own culinary garden, you will find there is often a wide variety of refreshing seasonal entrees. But wait. That is not all. This is one of the best Napa Valley restaurants after all.
The menu would not be complete without some delicious wine pairings. And luckily for you, there are plenty of options in that department, too. Order by the glass, by the bottle, or whatever you would like. If you are traveling with friends, family, or a large group, we highly recommend ordering several different types of appetizers, pasta, and drinks and then sharing them all. It is so fun to try a little bit of everything.
3. Cadet Wine & Beer Bar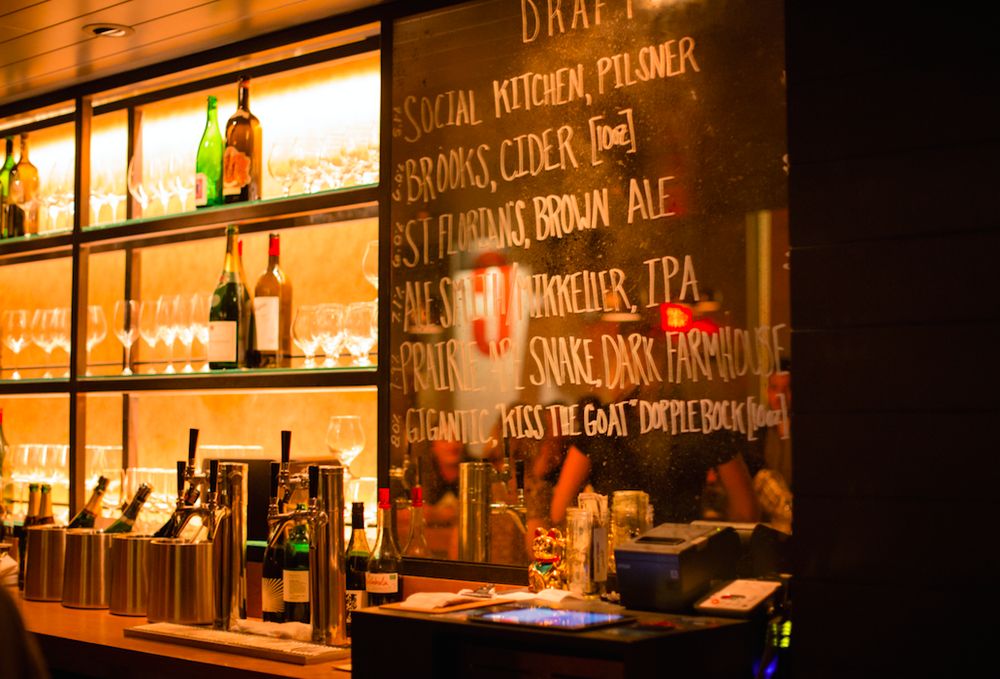 Credit: Cadet Wine & Beer Bar
Check out this cozy, modern spot. And you will be glad that you did. The ambiance itself is enough to visit. During the warmer months, grab a seat out on the outdoor patio and take it all in. Cadet Wine & Beer Bar is one of our favorite places to grab some beer, local, and international wines. Add in a delicious cheese plate and we are sold.
One of the things we love most about Cadet Wine & Beer Bar is that it is tucked away. While it certainly gets crowded on a weekend, it is not overrun with tourists. Well, at least not yet. It's the place where local winemakers, growers, and other types of culinary enthusiasts come to mull over the lengthy wine and beer menu. Their select spans everything from traditional to adventurous picks. So, there is something for everyone. Cadet Wine & Beer bar has so much to offer. That is what puts it right up there with the best Napa Valley restaurants.
4. La Taberna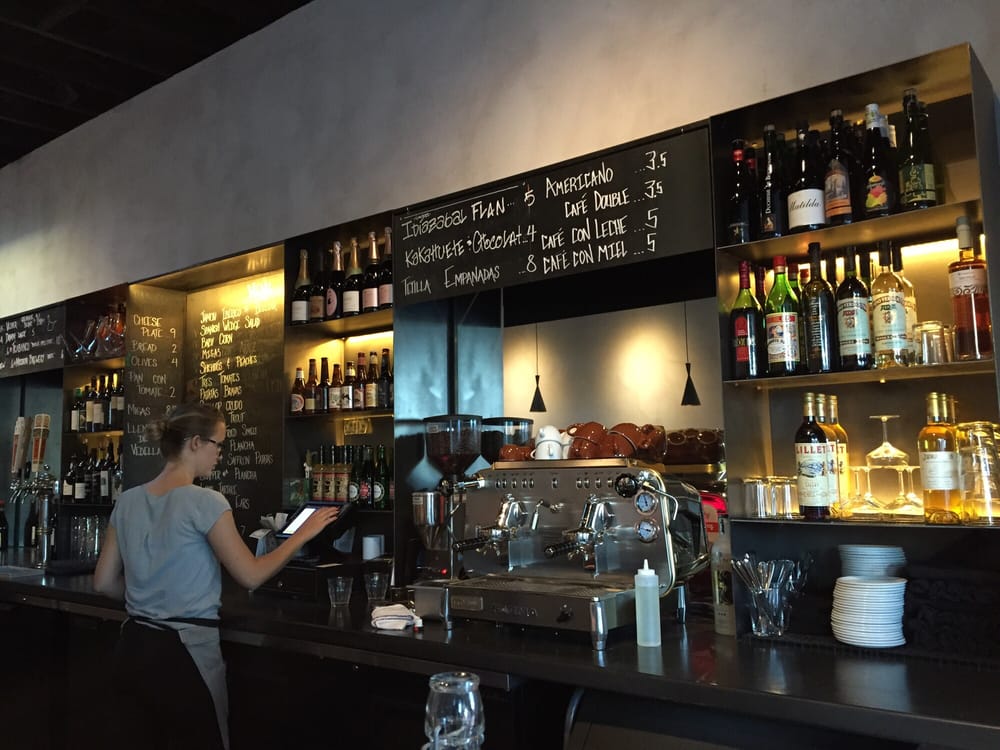 Credit: La Taberna
You can't go wrong with this popular Spanish food eatery on Main Street. In our book, La Taberna is one of the best Napa Valley restaurants. Step right in and take a look around. We have to say we were immediately impressed with the decor. Every corner is aesthetically pleasing. Brushed gray walls compliment the fun, geometric tiles. Dark wood panels contrast the print and provide a space for the chalkboard menu.
Here, you will find everything from the classic options to meals you will have to be open-minded to try. On the menu, pig ears, lamb tartare, clams with romesco sauce, and chicken empanadas are some of the most popular options. Make sure to order a glass of wine on the side too. When in Napa Valley, right? The meal wouldn't be complete without it. We recommend getting one of their local wines or some sherry by the glass. These bold and flavorful options are a welcome treat after a day of tasting classic blends around the local wineries.
5. Angèle Restaurant & Bar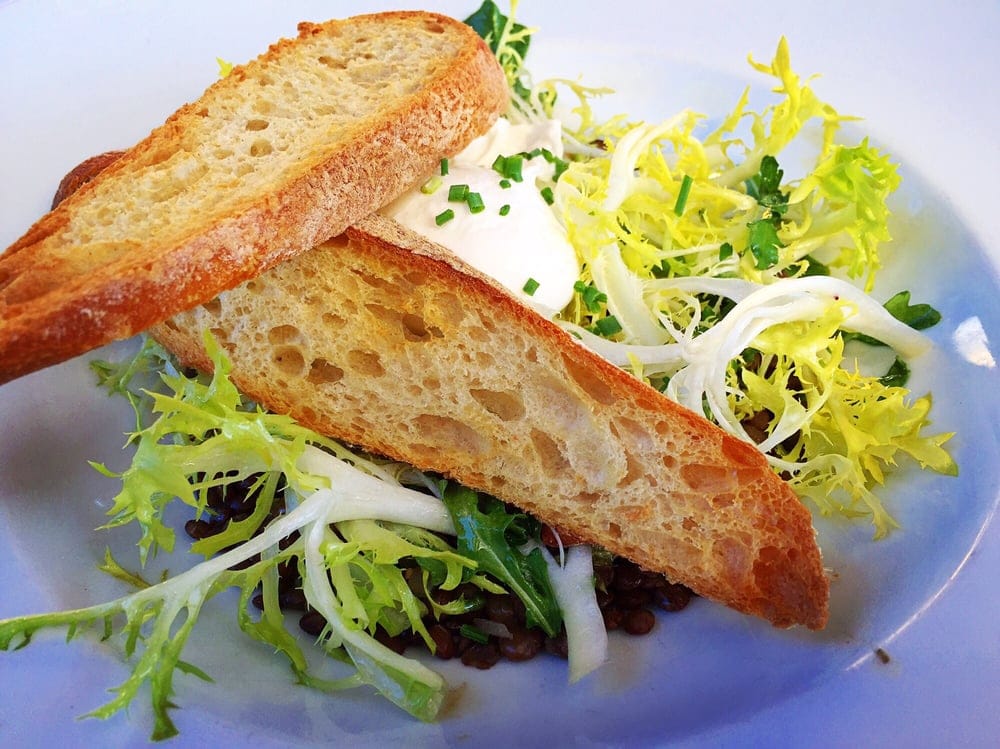 Credit: Angèle Restaurant & Bar
We would like to say that this joint is hidden at the end of Main Street but the color pops give it away. How could you miss a cheeky, bright yellow building? A classic French eatery, Angèle Restaurant & Bar is a true gem. Come for the delicious food and stay for the unrivaled river views at one of the best patios in town.
This riverfront bistro serves up the best French food for miles around and a creative cocktail selection. Here's the fun part. Did you know that it is located inside of an old boathouse? Somehow, that just makes everything about this place ten times better. We love sitting in the cozy dining room. It's an ideal place for sipping a romantic drink paired with some good old ricotta custard as you watch the sun tuck down behind the horizon and talk until the stars light up the sky. If you're looking for the best Napa Valley restaurants, Angele Restaurant & Bar is a top contender.
6. Morimoto Napa
Morimoto Napa
Welcome to one of the best Napa Valley restaurants. This innovative Japanese restaurant serves light and refreshing fare in a serene Zen surrounding. When it comes to sushi and sake, the Morimoto Napa is the place to be for a night out. This trendy cement and wooden dining room is filled with fun designs, artifacts, twisted grape vines, and yellow leather couches. Whether you are in the mood for a light meal or a massive omakase or raw bar tower, there is something here sure to suit every taste. But that is not all. Sticky tamarind ribs, hamachi tacos, and yellowtail pastrami are all welcome treats. If you can, we highly recommend snagging a room outside at the riverside terrace.
7. Bounty Hunter Wine Bar & Smokin' BBQ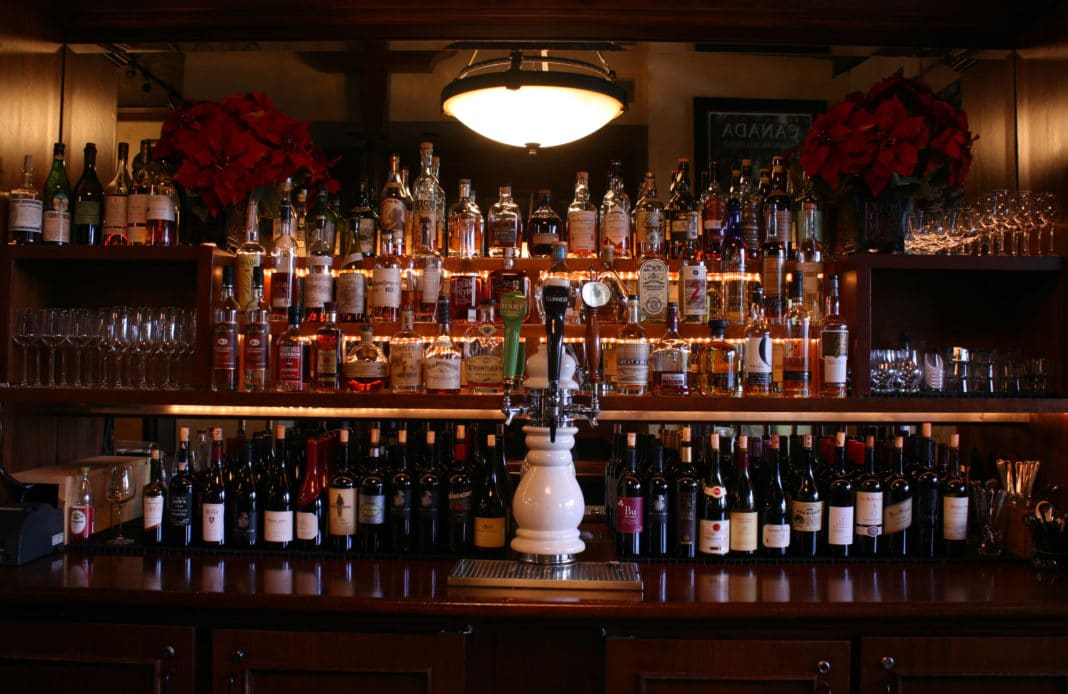 Credit: ​Bounty Hunter Wine Bar & Smokin' BBQ
Are you in the mood for some BBQ classics and craft beer? The Bounty Hunter Wine Bar & Smokin' BBQ offers delicious comfort food picks in a trendy brick wall establishment. There is also a sizable wine selection. What started in the 1990s as a mail-order wine catalog quickly became one of the best Napa Valley restaurants. Locals and travelers alike flock here to taste the savory St. Louis ribs, beer can chicken, and hearty mac and cheese. There's no doubt that this is one of the best Napa Valley restaurants.
When you are ready to sip and savor, there are over 400 wines you can order by the glass or bottle. Several of them are under Bounty Hunter's personal label. We highly recommend trying out at least one of them. How else are you going to get a taste for the local flavors? Just try to focus on the food and not get spooked out by all of the taxidermy hanging on the walls. On the lot across Main Street, the company has plans for their new four-story headquarters, expanded restaurant, and a tasting room.
8. Oxbow Public Market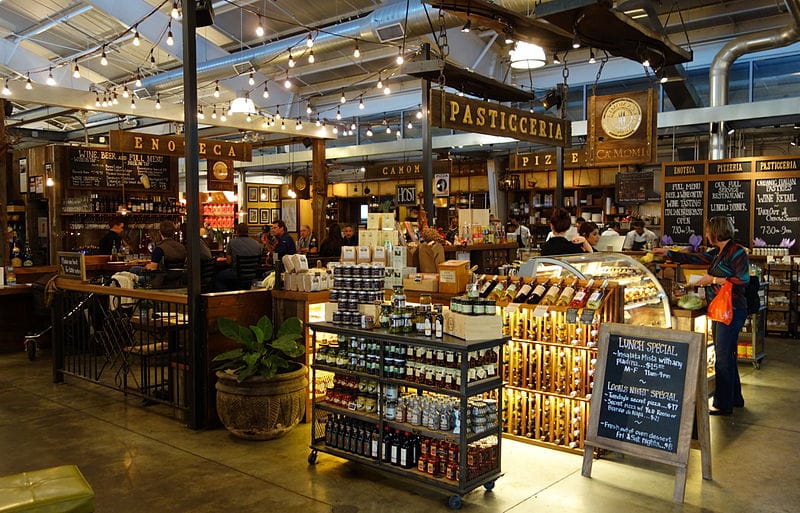 Credit: Oxbow Public Market
Come enjoy yourself at this sprawling marketplace featuring a riverside deck. Food vendors and sellers with booths of local produce line the water, selling goods and drawing travelers in from miles around. If you're looking for a wide selection of Bay Area restaurants, you will find them here. Todd Humphries' Kitchen Door, Live Fire Pizza, Fatted Calf Charcuterie, Model Bakery, and Gott's Roadside are all worthwhile stops.
Besides the fun food vendors and restaurants, there is also a whole slew of shops selling edible goods. How about some spirits, chocolate, cheese, or Napa olive oil? Purchases from Ritual Coffee, Three Twins Ice Cream, and Kara's Cupcakes are always welcome treats. Oxbow Market is home to some of the best Napa Valley restaurants. We're sold.
9. La Toque Restaurant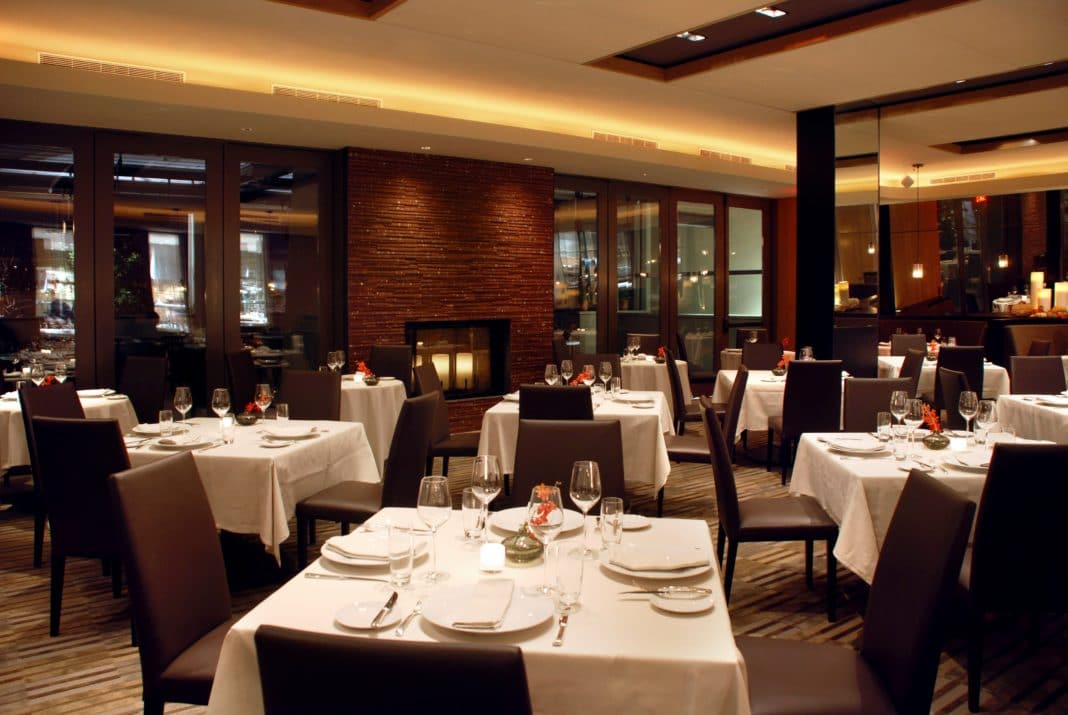 Credit: Visit Napa Valley
This destination restaurant serves up some of the best French fares in Napa Valley. For those seeking an elegant eatery, La Toque is just the place. After it began picking up more steam, in 2008, the Executive chef and owner Ken Frank moved it to a larger space in Napa. Here, he earned a well-deserved Michelin star for his thoughtful, seasonal menu or Northern California cuisine.
The menu offers several core items. Choose from a three ($80) or four ($98) menu. You'll find everything from sweet and savory tapioca to his specialty foie gras. It is important to note that the wine pairing here is exceptional. Don't leave without ordering a glass or a bottle to share. This is one of our favorites among the best Napa Valley restaurants on our list.
Book Your Trip to Visit the Best Napa Valley Restaurants
We hope you enjoyed reading about our picks for the best Napa Valley restaurants. This diverse culinary scene has so much to offer the curious traveler. Try out some new flavors, take the wine train, live a little.
Take time to enjoy the best Napa Valley restaurants. Beyond the wine tasting and main tourist attractions lies a diverse vibrant, and culturally rich city to be explored. See it all – hip bars, buzzing markets, and a flourishing art scene. While it may be tempting to hit up all of the hot spots at the top of Google search results, go a little off the grid.
While we recommend visiting at least one mom and pop shop restaurant for the experience, our favorite locations are the understated locals' favorites. If you really want to get a good feel for the culture, check out charming small cafes and quirky artist's bars. Diving into the heart of the Napa Valley will make your trip memorable.
You'll find the best places and make the best memories when you don't have a plan. Try not to travel with too much of a sense of anticipation. Let the city guide you. Be excited by the unexpected. Try something new. Push your limits. More often than not, you'll be pleasantly surprised at what you find.
Regardless of what kind of vacation you are seeking, there is truly something here for every type of traveler. Are you ready to visit the best Napa Valley restaurants? From exploring the top things to do to scoping out the foodie scene, or catching up on some much-needed R&R at a great all inclusive California hotel, you'll find it all here.
If you've been to Napa Valley before and have some recommendations for us on where to eat, let us know. We always enjoy learning about new places and your favorite spots – even if they didn't make the list. Which one of the restaurants on our list would you like to visit the most? Feel free to let us know some of your favorite stops and hidden gems you found along the way. We'd love to hear them. Let us know in the comment section below.
Related Article: 12 Best Wineries in Napa to Visit This Summer