If you're lucky enough to spend your summer in the Mediterranean, check out the trip from Athens to Santorini.
So, we're pretty sure you don't know how to navigate the trek from Athens to Santorini on your own. When you're traveling in a new country, figuring out the best (and cheapest) way to get around can be quite a challenge. Luckily for you, we're here to help. Let's check out your options.
Option 1: Book A Flight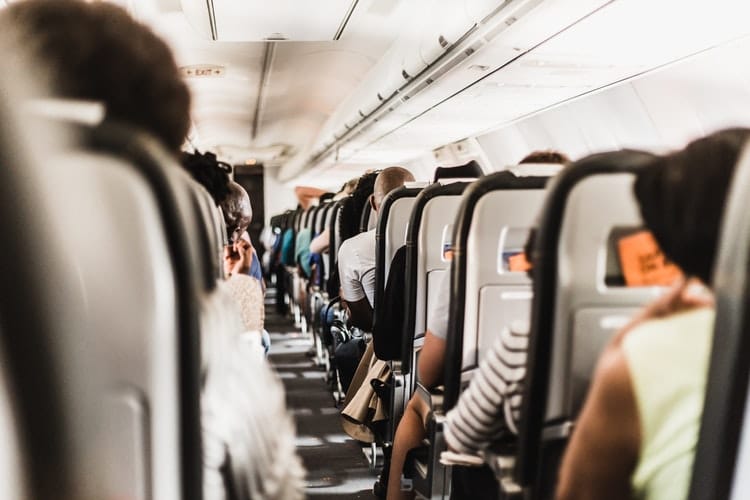 Obviously this is the fastest way to get from Athens to Santorini. But it's also one of the most expensive. From Athens, it takes about 40-45 minutes by plane to reach Santorini's small airport. If you ask us, it's definitely worth it. The best and most affordable website to book through is Skyscanner.com. If you look during the high season (April – October), there are plenty of daily flights departing from Athens.
Another great tip is to book your tickets in advance; we're talking anywhere from three to six months out. This is a great way to catch some deals before the peak prices kick in for the tourist season. You can score a round trip deal for about 50 Euros if you look hard enough. So what are the pros and cons of flying from Athens to Santorini?
Pros
plus It's a lot faster than the ferry. You'll save so much time and be able to spend an extra day of travel in Santorini instead of on the sea.
plus

If you've just landed in Athens, you can wait in the airport until your connecting flight to Santorini.

 
Cons
close If you don't book ahead of time or in the off season, flights from Athens to Santorini can be expensive.

The flights from Athens to Santorini might not be very convenient; you could spend long and boring hours in the airport.

close

You miss out on seeing the other Greek islands from the boat.
Just a heads up… There are no direct flights from the US or Asia to Santorini in 2018. However, if you're already traveling in Europe, you can catch a connecting flight – and skip the Athens to Santorini trek altogether. Here's the bottom line. If you plan your trip out properly and book in advance, catching a flight is the best way to get from Athens to Santorini.
Option 2: Catch A Ferry
Traveling from Athens to Santorini by ferry is a fun way to soak up the local sights. However, we do have an important tip for you. Book a ticket on the slowest and largest ferry. If you're prone to seasickness, well – the smaller and faster ferries are not for you. Save yourself from a bumpy ride (P.S. August is the windiest month of the year). Before you take the ferry, you will need to catch a bus ride from the Athens airport to the ferry port, Piraeus.
How to Get From the Athens Airport to the Piraeus Port
The easiest and most efficient way to get from the Athens airport to Piraeus is by bus. Take the X96 just outside the airport. Depending on traffic, it will take you about 50 minutes to a little over an hour to reach the port. Santorini's ferries depart from E7 Port Gate, so you will need to stop at the metro Station ISAP. GPS screens mounted in the bus show where you are along the route.
The good news is that this bus runs 24/7, so you'll never have to worry about missing it for the day. An X96 bus stops by the airport every 20-30 minutes. Just so you know, they typically tend to run a bit late. Before you board, buy your tickets from a kiosk outside the bus stop outside the airport and follow the "bus" signs in the depot. For adults, the tickets cost about 6 Euros and for children (under 6 years of age), they cost 3 Euros. Once inside the bus, validate your tickets at the machine.
If you're coming from central Athens instead of the airport, the easiest way to get to Piraeus is by taking the metro green line (or line 1). It should take you about 30 minutes from Monastiraki Square or Omonia Square at central Athens to get to the port. Piraeus ferry port is located just outside of Port Gate E7. The best ferries to take are with Blue Star. Let's take a look at the ferry options one by one and compare them.
Blue Star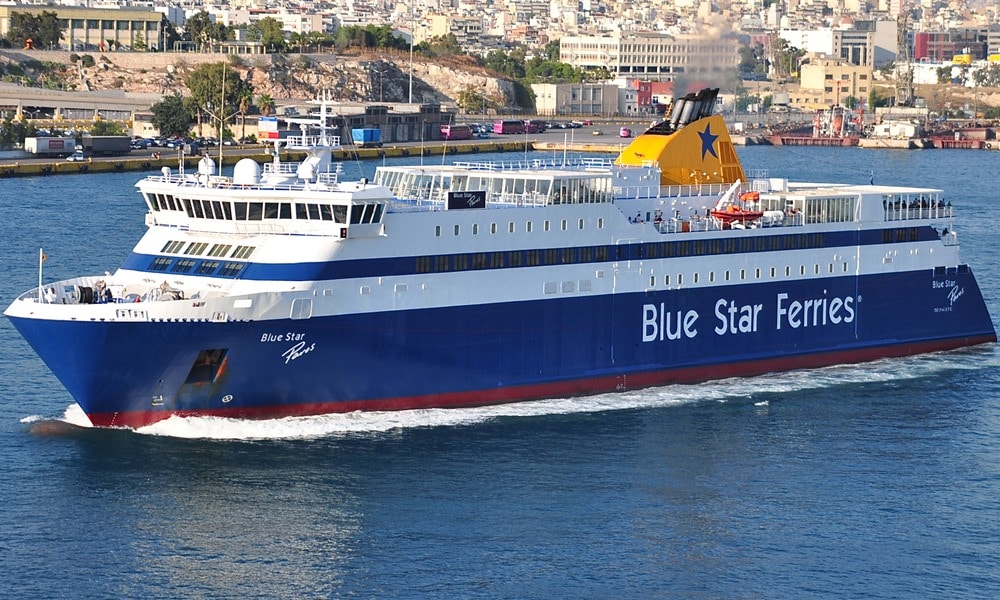 Credit: Blue Star Ferries
These are the slowest and most stable ferries you can take from Athens to Santorini. You can expect an eight hour ride. But the good news is no matter how choppy or bumpy the waves get, you won't feel much of it. You'll also be able to catch a glimpse of some of the other islands while you're on the way. To check the ferry dates and times, click here.
Here's the 411. The economy class runs about 40 Euros and there is no guarantee you will have a seat. You might just have to spend all eight hours on the deck. While the views are great, this can be a bit tiring. Another option is to pay and upgrade to a cabin inside the ferry. There is also a snack bar inside of every Blue Star ferry where you can buy sandwiches and even lunch if you'd like.
You don't have to worry about booking these tickets in advance. Since the trip runs 365 days a year, the rides never sell out. However if you'd like to book ahead, you can do so on the Let's Ferry website. Just be careful. According to the law, tickets have to be printed out only by certified travel agencies. So, even if you book it online you will have to have it printed out via a travel agent or a kiosk at the ferry's port.
Seajet Catamaran
This is the fastest ferry you can take from Athens to Santorini. All in all, the journey is about five hours long on this closed catamaran (with no deck). If you're looking for a faster way to reach your destination and don't care a ton about the views, this could be a good option for you. However, as the smallest of the ferries from Athens to Santorini, they are also the most likely to be cancelled due to weather conditions. The journey can be quite bumpy. For destinations and timetables, you can check out the info on the Lets Ferry website as well.
HighSpeed Ferries
The third option by ferry from Athens to Santorini also takes five hours. If you want to go through HighSpeed, booking your trip out in advance is always a good idea. In high season (especially from July to August), ferry spots often sell out quickly. It's not so much that you won't find a ticket as it is of securing a seat, good cabin, or vehicle spot. You can check the timetables on Lets Ferry.
Here's the Bottom Line
If you would rather take the ferry than fly from Athens to Santorini, we highly recommend taking Blue Star. While it does take three hours longer than the other two, it's the more stable (and all around reliable) line. Not only will you avoid seasickness but you can skip out on the stress of a trip cancellation too.
Since it is a long trip, make sure you pack some extra snacks and drinks so you don't have to buy all of your meals on the boat. Another good tip is to bring along a book or two, load some movies on your tablet, and bring along a game. Last but not least, make sure you bring along a good travel camera. You're going to want to snap some good pics of the Greek isles!
Now that you know how to get to Santorini, there's just a few more tips you should know and we'll send you on your way. We're also going to share a few of our favorite places to stay in Santorini. Are you ready?
Where to Stay in Santorini
First things first. When you get to a new city, you need to know where to stay. Much like your transportation, accommodations should be booked far in advance. All the great places go early and in peak season, prices soar. Avoid the fuss and look ahead. Here are a few of our picks for the best places to stay in Santorini.
Charisma Suites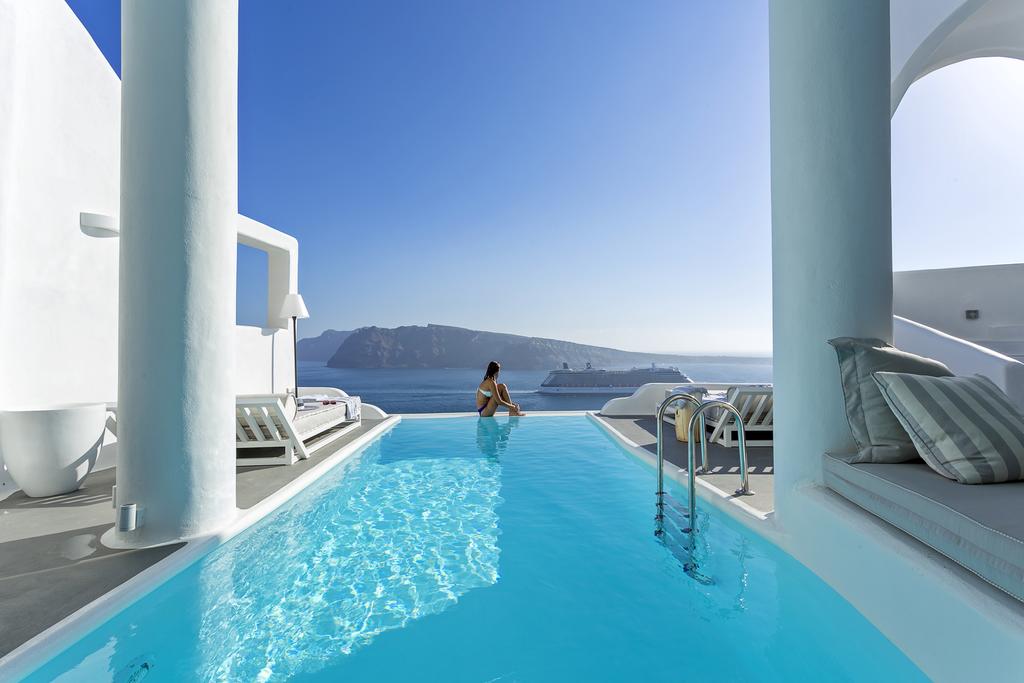 Credit: Booking.com
Welcome to Charisma Suites. You'll find this all-suites hotel nestled away in Oia amongst the natural beauty of the country. Perched atop a cliff, guests enjoy amazing panoramic views of the vibrant Aegean Sea and chalk-white buildings for miles around. Take a refreshing dip in the pool; as the evening rolls in, the sky turns to fire. Each suite comes with a private balcony to enjoy the views, while others feature an outdoor jacuzzi or private pool.
Choose from four different types of accommodations: The Senior Suite Caldera View, Honeymoon Suites with Jacuzzi and Caldera View, Charisma Pool Suite with Caldera View, and the Charisma Suites Infinity Pool Suite with Caldera View. All rooms offer a private balcony overlooking the gorgeous natural beauty of Santorini. In addition, all rooms are sound-proofed, offer free WiFi, iPod loading docks, 24-hour room service, and flat-screen TVs. Also, important to note – the Charisma Suites is pet-friendly.
The Grace Santorini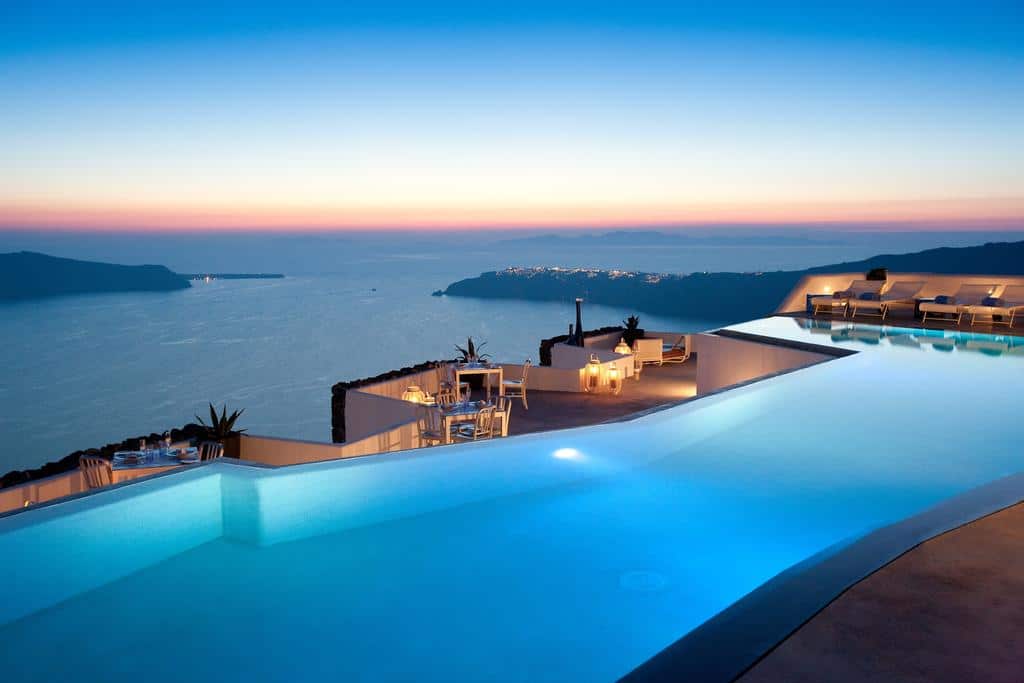 Credit: Booking.com
Escape to one of the most beautiful stays in Greece at The Grace Santorini. This luxury stay offers a number of different suites, each varying according to your needs. We have to admit though, our favorites are the Deluxe Rooms. They have much of the same amenities as the other suites. While they run smaller than the other suites, they offer just as much luxury – if not more. These rooms offer a beautiful all-white interior along with access to a private pool and terrace. Umm yes please.
The Tsitouras Collection Hotel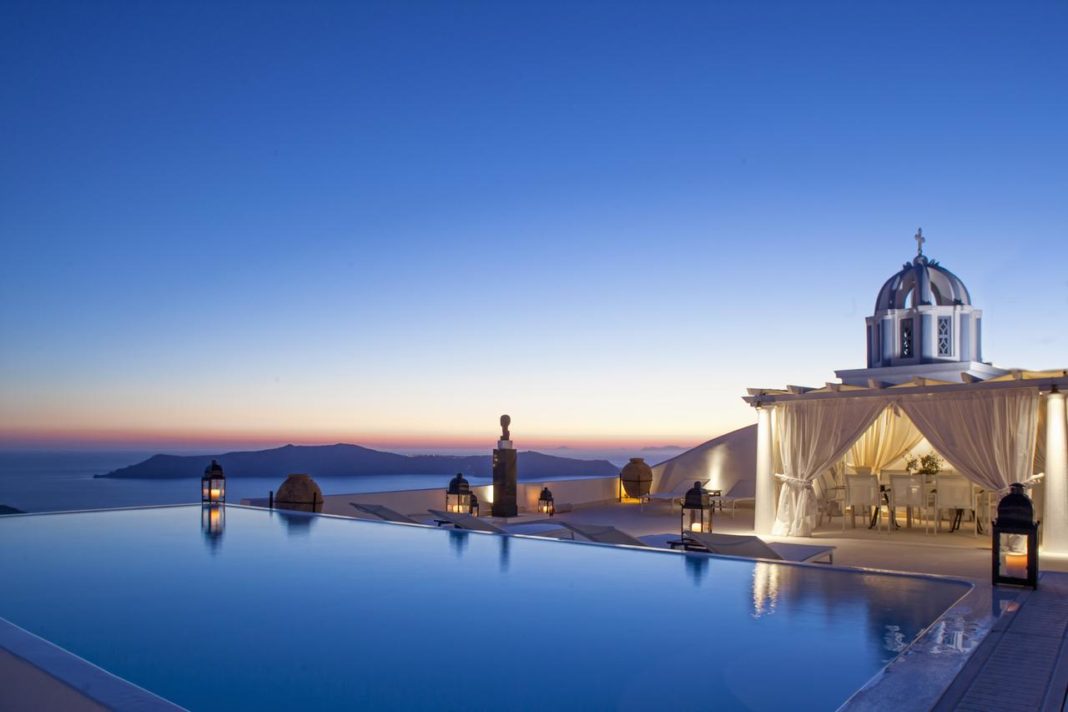 Credit: Booking.com
Searching for a relaxing Santorini stay with glorious views? Look no further than the Tsitouras Collection Hotel. Choose from a one-bedroom suite or a five-bedroom one. Here, you'll find beautiful views of the coast, pool, and sea. While each room is certainly lovely, we have our favorite – the private villas. For those seeking an extra level of luxury, you'll find it here.
Perched on a cliff, these villas offer seclusion in a deluxe atmosphere. Chalk white interiors open up to a spacious living room and fully-equipped kitchen for all your dining needs. Wake up in the morning and cook breakfast with a view. The Tsitouras Collection private pool and terrace facing the sea are the perfect places to enjoy a hot cup of coffee in the AM.
Book Your Trip from Athens to Santorini
We hope you enjoyed reading our article on how to get from Athens to Santorini. As you can see, Greece offers so much natural beauty to be explored. The journey is a quick one to take and so worthwhile. If you're looking for the fastest (and most cost effective) choice, a flight is the best way to go. However, if you're into soaking up the sights, taking the Blue Star Ferry is a fun option. The choice is entirely up to you.
Questions and Comments
Do you have any questions or comments for us? If so, we would love to hear them. Feel free to leave us a message below. We will be sure to get back with you soon.
Related Article: Amalfi Coast Hotels Guide: Top 5 Places To Stay