If there was just one quintessential Italian town, it would be Parma, Italy.
The gastronomic capital of Italy is just one of the nicknames of Parma. Not only is it home to parmesan cheese but also some of the most spectacular prosciutto you could ever imagine. You can enjoy your Lambrusco, the local dry and sparkling wine, on a veranda overlooking the vineyard where it was made. Of course, you might just hear the opera music coming from one of the many theaters around. Parma, Italy is truly a town the has savored all the best parts of Italian culture. From the love for fresh, handmade, and quality food to the bustling arts around every corner, you will want to move here when you visit. So, let's walk through the best places to visit in Parma, Italy to make you fall in love with this town.
1. Tour the Parma Cathedral
Standing since 1074, the Parma Cathedral is a stunning symbol of the art, history, and sacredness of this place. It was commissioned by Bishop-Count Guibodo after a fire had burned its predecessor. It is filled with Romanesque sculptures and Renaissance paintings by Benedetto Antelami and Antonio Allegri, also known as Correggio. The cupola inside portrays the assumption of Mary, while the frescoes by Lattanzio Gambara depict the life of Christ and many stories from the Old Testament. The dominating painting in the Cathedral, however, is the Glory of Christ in the apse. These are just a few of the examples of the brilliant art you can see inside the Parma Cathedral.
As you tour, make sure to see the Valeri Chapel off to the side, as well as the Crypt which has two more chapels off to the sides. As far as touring goes, it is a self-guided tour and is open every day of the week. From 10:00 am to 7:00 pm, you can explore this marvelous place. The Parma Cathedral will give you more than a taste of all that Parma, Italy has to offer when it comes to art, culture, and a sense of faith.
2. Explore Inside the Baptistery of Parma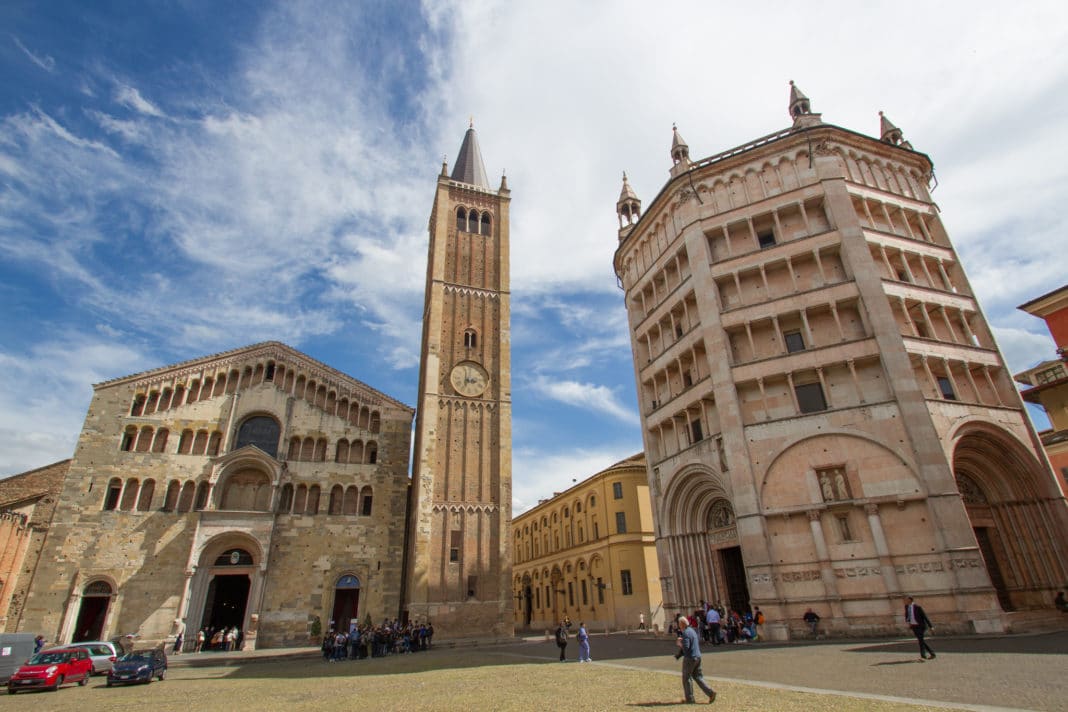 Credit: Flickr
Built in segments from 1196 to 1216, the Baptistery of Parma is a prime example of the switch from Romanesque to early Gothic architecture in this region. It was designed by Benedetto Antelami with its unique octagonal structure made from pink Verona marble. The portal which overlooks the Piazza del Duomo is named the Portal of the Virgin. This is where the Bishop used to enter the town square. To no surprise, it depicts the Virgin Mary holding Christ. The two jambs show the genealogical trees of Jesse, Moses, Mary, and Jesus Christ. Inside, there are two baptismal pools that are surrounded by countless other priceless works of art depicting biblical stories and themes. The Baptistery of Parma, Italy is truly a stunning specimen of art and culture from the past thousand years.
3. Eat the Best Street Food at Pepèn
Credit: Pepèn / Facebook
If you ask any savvy traveler or Parma local, they will tell you that grabbing a sandwich at Pepèn is essential to your stay in Parma, Italy. This little unassuming spot serves up handmade sandwiches all day long. For just a few euros, you can grab one to go or have a seat at the bar and enjoy a glass of wine. For you adventurous travelers hoping to get the true local tastes, you have to try the Panino con cavallo crudo. It is a very tasty sandwich with raw horse meat. If that's a little too out there for you, there are plenty of other meat and vegetarian options. Whatever you do choose to get, there might be a little wait as this has been a local favorite for over fifty years. But, of all the places to eat while you're in Parma, Italy, this is a must.
4. See Multiple Cultural Spots at the Palazzo della Pilotta
The Palazzo della Pilotta and the surrounding buildings were built around 1583. While they have been used for different things over the years, the main attractions here are the National Gallery, the Biblioteca Palatina, and the splendid Teatro Farnese. The National Gallery of Parma has a great selection of local artists such as Correggio and Parmigianino. However, it also has larger names like Fra Angelico, Canaletto, El Greco, and the La Scapigliata by Leonardo da Vinci. The few euro admission will get you into both this as well as the library and Teatro Farnese.
Built in 1618, the Teatro Farnese is a Baroque theatre and the first surviving theatre with a permanent proscenium arch. It is a stunning wooden theatre that allows natural light to stream in the sides. While it was mostly destroyed during World War II, it has now been renovated and reconstructed to its former glory. After seeing this marvel, make sure to stop by the Biblioteca Palatina. While it is not as majestic to look at as the theatre or National Gallery, the unassuming manuscripts inside are truly what count. There are illuminated Hebrew manuscripts and a Koran from the 15th century, as well as original Durer prints. The multiple rooms ooze history and stunning ceiling-high bookshelves with the picturesque rolling ladders. Even if you're not a book person, you can gain an appreciation for preservation by stepping inside here.
5. Wind Down at the Piazza Giuseppe Garibaldi
This is a great place to unwind in an afternoon or early evening. The Piazza Giuseppe Garibaldi is a simple square in the middle of Parma, Italy. However, it is surrounded by a multitude of bakeries, cafes, and other eating establishments. In the center is the famous Parma, Italy statue of Garibaldi, a national hero. While this square doesn't offer anything infamously enticing, it is a great place to walk around and relax after a busy day of sightseeing and eating.
6. Stroll Around in Parco Ducale
Just a few minutes walk from the main streets, Parco Ducale is another oasis hidden in Parma, Italy. Having been curated since 1560, this park is a picturesque, natural diversion from the bustle of the city. From the multitude of walking paths to small turtle and fish ponds, you can easily pair this with grabbing a sandwich from Pepèn for a magical picnic afternoon. This is a great spot to walk your dog if you brought them along or go for a run so you feel less guilty when you indulge in our next spot to go to Parma, Italy.
7. Eat at Ristorante Cocchi
Credit: Ristorante Cocchi / Facebook
Established in 1925 by Paride Cocchi, Ristorante Cocchi is hands down the best Parma, Italy restaurant you can find. Their dedication to authentic recipes and attention to detail when it comes to their ingredients and cooking methods is unmatched in this city. They are known for their spectacular savarin made with rice and anolini in broth. Make sure to try the Strolghino as well. Carved right next to your table and wrapped in a linen napkin, it is a skinny and tender salami made from lean leg meat. The bomba di riso is constructed from marinated and braised pigeon tucked within a rice-lined dome, then baked to perfection. Each of these dishes will be made with essential Parma, Italy ingredients of only the utmost quality. So, make sure to enjoy your parmesan in Parm at the Ristorante Cocchi before you leave for an authentically magical experience.
8. Enjoy the Ornate Gardens at the Orto Botanico di Parma
Run by the University of Parma, the Orto Botanical Gardens is another spectacular spot in Parma, Italy. Founded in 1770 by Gianbattista Guatteri, the Botanical Gardens have become a spot of beauty and research over the years. While the gardens are on the smaller size, the wide variety of plant species you can spot is quite marvelous. Many are unlabeled, but many say that simply adds to the mystery and magic of this garden. You will stroll through the ancient herbarium of medicinal plants that has been cultivated for hundreds of years. On top of that, there is a multitude of carnivorous plants and succulents for your enjoyment as well. Each of these collections is slowly being expanded, so this is easily well worth a visit if you have time while you're in Parma, Italy.
Parma, Italy is the perfect quiet getaway to experience the delightful food and culture that the Italians offer.
You can enjoy scrumptious meals while sipping local, sparkling wine before an evening trip to the theatre. You'll gain an appreciation of old things here, regardless of whether you are intrigued by art. This city has hidden gems of culture tucked in every corner. So, make sure to brush up on your Italian before you go. On top of that, it is small enough you can get around by walking or riding a bike just about anywhere. So, if you're looking for a laid-back getaway that doesn't compromise on food and fun, Parma, Italy is it. It is simply one of the most stunning spots in Northern Italy. Note before you go, there is a multitude of festivals that happen here. So, you might just find it worth planning your Parma, Italy getaway during the prosciutto or parmesan festival if you want to truly fall in love.
Related Article: Bucket List Places to Visit in Southern Italy