Travel to the top locations for viewing gorgeous fall scenery this year.
Now that fall has arrived, traveling to new locations brings excitement as the weather cools and the environment transforms. Various places around the United States grow more beautiful with the autumn season, as leaves change and provide breathtaking scenes. Every traveler can appreciate the beauty of nature during this time of year. For these reasons, fall remains one of the best times to travel around the U.S. If you're interested in creating an autumn travel itinerary, check out our article below. We've curated a list of the top sites around the U.S. for seeing beautiful fall scenery.
1. Catskill Mountains, New York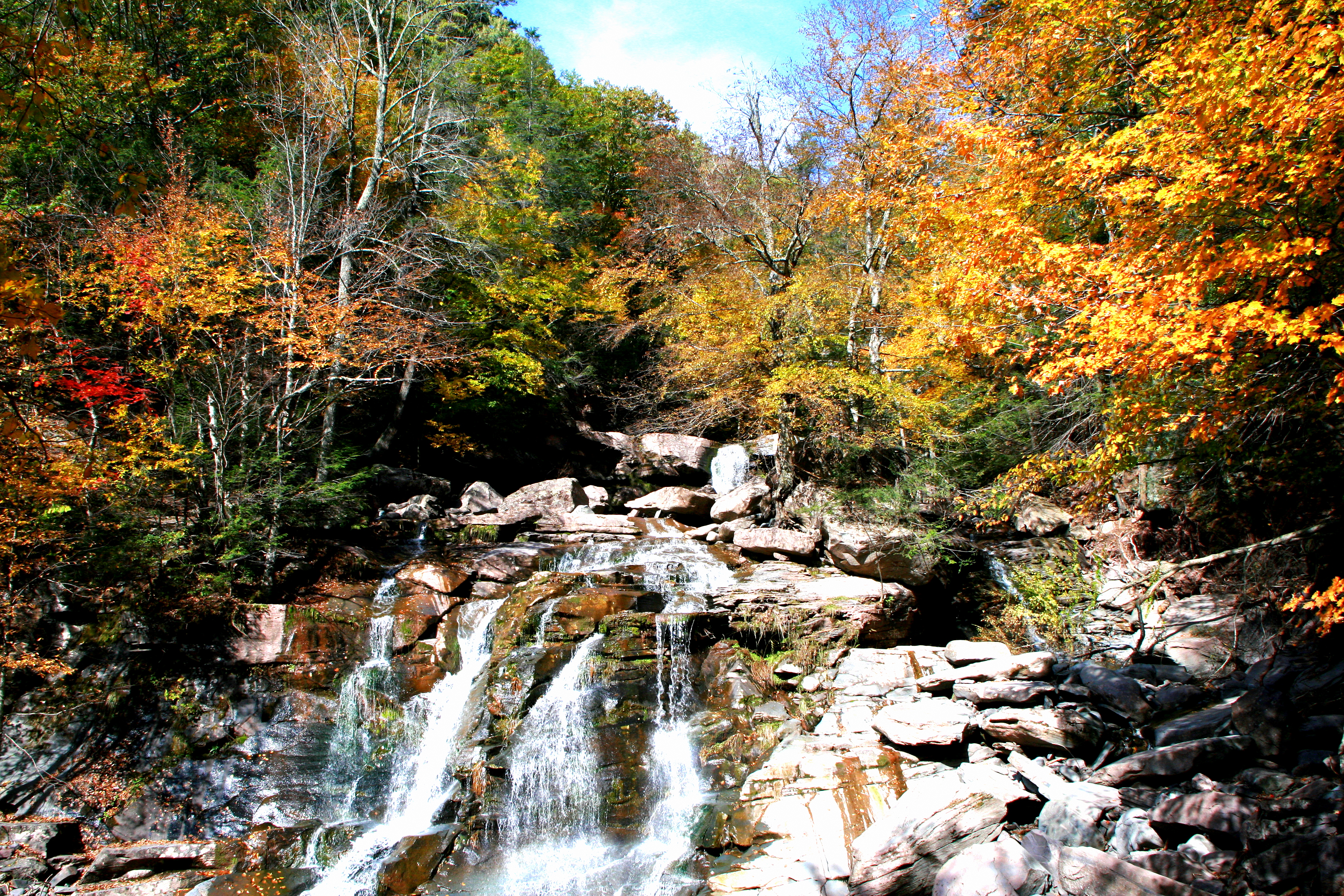 Credit: Bill Morrow
The state of New York contains various places to view stunning fall scenery. However, if you're looking for the ideal place to reconnect with nature, head to the Catskill Mountains. This area in the northern U.S. heralds gorgeous trees that cover the mountains in stunning colors during fall. While here, travelers may hike mountaintops and take in the breathtaking views. You might also embark on a drive through the hills and see waterfalls and other natural formations.
Once finished taking photos of the amazing fall scenery, travelers can partake in local events and festivals. This region of New York hosts countless attractions during autumn, such as the Hunter Mountain Oktoberfest. The festival occurs from the end of September through October, letting you enjoy multiple weekends of fun. You can enjoy food, drinks, and live entertainment while also appreciating the views of the landscape.
2. Stowe, Vermont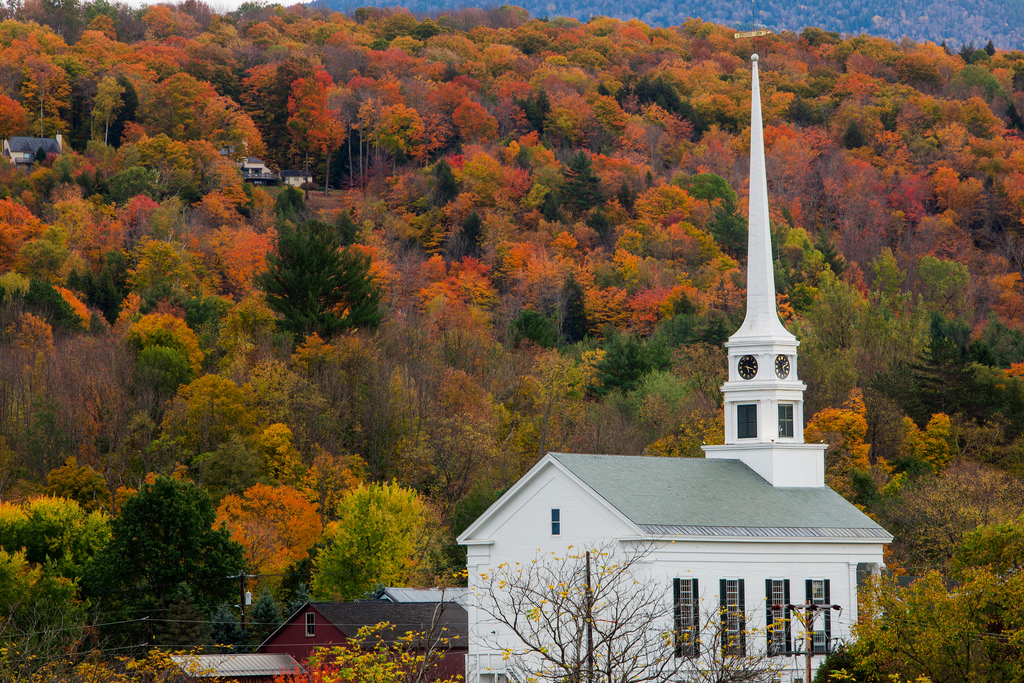 Credit: My Discovery
Travelers who love venturing through the outdoors will definitely enjoy taking an autumn trip to Stowe, Vermont. As one of the top places for viewing fall scenery, tourists will get to see some truly beautiful landscapes here. Active travelers may take part in countless sports, such as paddling down a river or fishing by the water. While you enjoy your favorite outdoor activity, you'll have the opportunity to view the colorful foliage that surrounds you.
In Stowe, travelers can hike the area's innumerable trails that veer through the nearby peaks and hilltops. Different trails maintain varying levels of difficulty, so young children to more experienced adults may enjoy hiking. If you'd like to see more of the town, consider going on a biking tour of Stowe. The location contains many cycling routes for you to choose from. You'll love feeling the cool breezes as you bike and consider the fall scenery in town.
3. The Poconos, Pennsylvania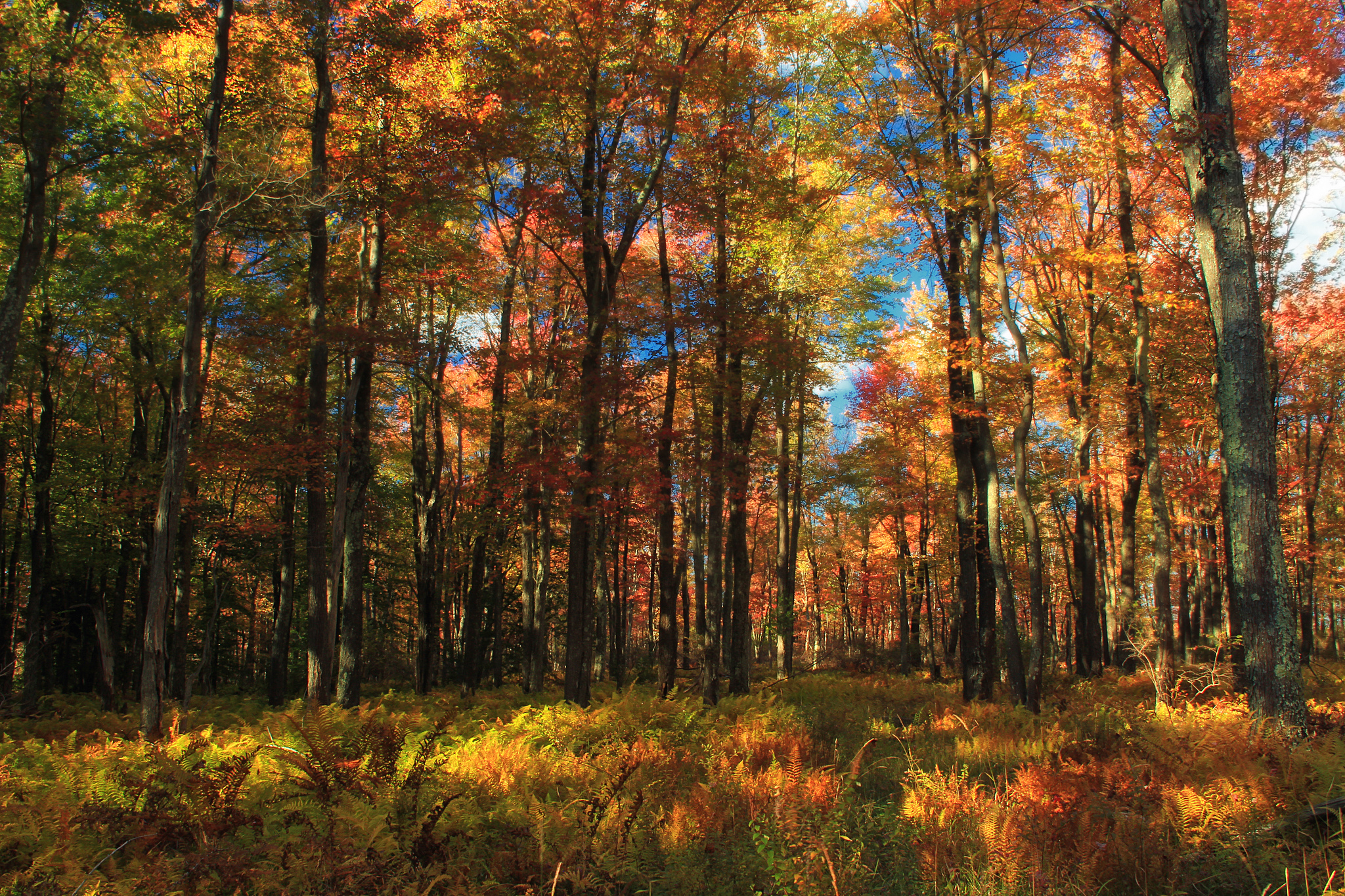 Credit: Nicholas A. Tonelli
In the Poconos Mountains of Pennsylvania, families and friends will enjoy partaking in a variety of fall activities. This area remains ideal for viewing fall scenery, while also having lots of fun. Here, you can join up with locals and experience the many events that occur during autumn. Children will love going pumpkin picking at The Great Pocono Pumpkin Festival, which occurs for almost an entire month. Once you visit this destination, you'll want to return here every year for the fall season.
Other events occurring during fall in the Poconos include the Jim Thorpe Fall Foliage Festival and the Autumn Timber Festival. At the Jim Thorpe Festival, you can take a train ride and appreciate the gorgeous fall scenery. Or, you could test your outdoorsy skills by signing up for a lumberjack competition at the Autumn Timber festival. Either way, you'll be sure to catch a glimpse of the amazing fall scenery while accomplishing any activity.
4. Aspen, Colorado
Known for its tall mountains, Colorado plays host to many ideal places for seeing fall scenery. If you come to Aspen, you'll see the landscape after it has transformed into a stunning display of colors. While in Aspen, visitors may pick from various spots for viewing fall scenery. Places like the Sunnyside Trail and Independence Pass remain popular locations, appearing gorgeous with their vibrant fall foliage.
Make sure to bring along some hiking equipment if you decide to visit Aspen during autumn. The best ways to view fall scenery involve hiking through the area's varying landscapes. Head to Cathedral Lake or American Lake, and see the clear water surrounded by bright leaves. If you're not a fan of hiking, you could drive down Castle Creek Road. You'll witness gorgeous fall scenery at each turn.
5. Harper's Ferry, West Virginia
Credit: Jesse Lee Tucker
Almost anywhere in West Virginia, travelers will discover amazing sites of fall scenery. Filled with mountains and valleys and other natural landscapes, the state becomes breathtaking during autumn as the leaves change. With so many sites to choose from, it's difficult to pick just one. However, Harper's Ferry remains an ideal spot for appreciating fall scenery in West Virginia. At Harper's Ferry National Historical Park, travelers will get to see fall foliage and visit famous landmarks.
When you come to Harper's Ferry, be sure to prepare for lots of outdoors activities. The park contains over twenty miles of hiking trails, so you'll get to step through woods and see bright foliage. Fishing remains a popular activity, as well as tubing down the river if the weather hasn't cooled down. Travelers interested in American history may also appreciate the historic spots here, like the site of John Brown's raid.
6. Taos, New Mexico
While travelers might consider the southwest a place filled with desert, this state has a lot more to offer. Though some may prefer to stay on the East Coast to view fall scenery, considering heading west. Taos, New Mexico transforms into a stunning location when autumn arrives, as the weather cools and the leaves become colorful. You'll love breathing in the crisp mountain air while traveling through this region of the U.S.
One of the best ways to view fall scenery in Taos involves driving down the Enchanted Circle Scenic Byway. This road lets you sweep through various parts of Taos, including the mountains, mesa, and the national forest. Travelers will want to take countless photos of the fall foliage as they drive along this route. Another avenue for seeing fall scenery includes going to the Taos Mountain Balloon Rally. Occurring during the end of October, this event involves launching hot air balloons into the sky. Alongside the colorful fall foliage, you'll get to watch the vibrant balloons rise through the air.
7. Lake Ann, Washington
Credit: brewbooks
If you want to sit by the water and enjoy cool fall breezes, head to Lake Ann in Washington. This location remains ideal for any travelers who want to appreciate breathtaking fall scenery. When autumn comes around, the lake becomes surrounded by stunning golden foliage. The views provided by the landscape remain unparalleled, ensuring you'll never want to leave.
Travelers can get to Lake Ann by walking along a trail, which provides a great perspective as you climb. The Heather-Maple Pass loop circles around a glaciated valley, an impressive view for those who haven't seen it before. Wildflowers dot the ridgelines around Lake Ann during the fall, providing another source of color to admire. Most visitors will bring a meal for a picnic to enjoy on the meadows that remain next to the lake. The fall scenery here doesn't disappoint, as Lake Ann represents one of the top spots to see during autumn.
8. Blue Ridge Parkway, Virginia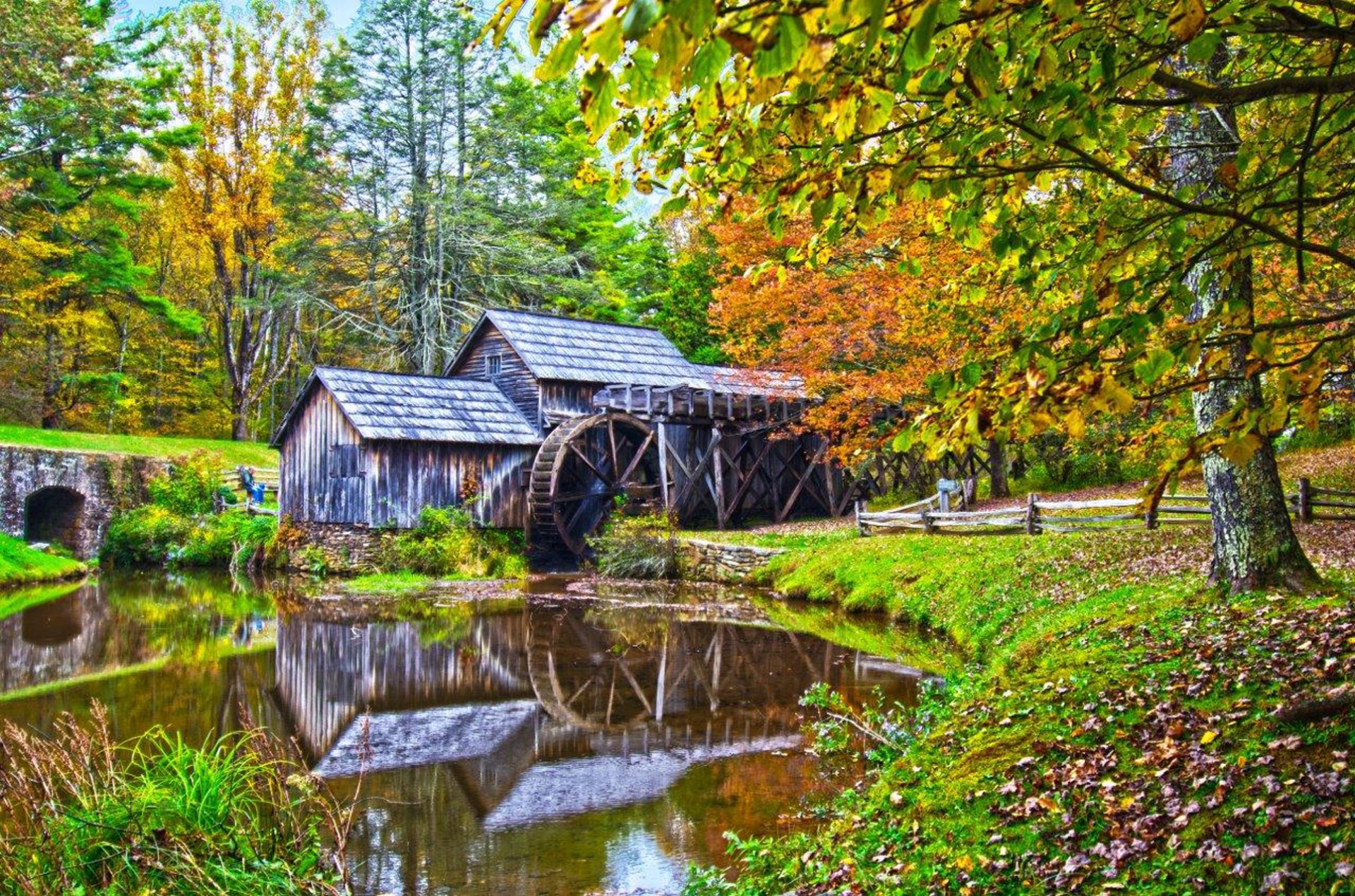 The Blue Ridge Parkway represents one of the top destinations to see during the fall. This Virginia location heralds gorgeous fall foliage thanks to the tree-covered landscape that exists here. When you drive along this road, you'll get vantage points of stunning countryside and mountainous environments. The relaxing route will let travelers appreciate the regional foliage and wildlife as they pass by various locations. Of course, the fall scenery, with the colorful landscape, will make you want to capture the moments forever.
Leaves remain at their peak color during the middle of October, so make sure to head here at that time. Along the Parkway, you'll find a huge stretch of the Appalachian Mountains. However, the Virginia section will be a must-see part of the parkway. Many overlooks can be found along this part, such as the well-known Mabry Mill. This spot brings countless visitors each year, thanks to its rustic appearance.
9. Columbia River Gorge, Oregon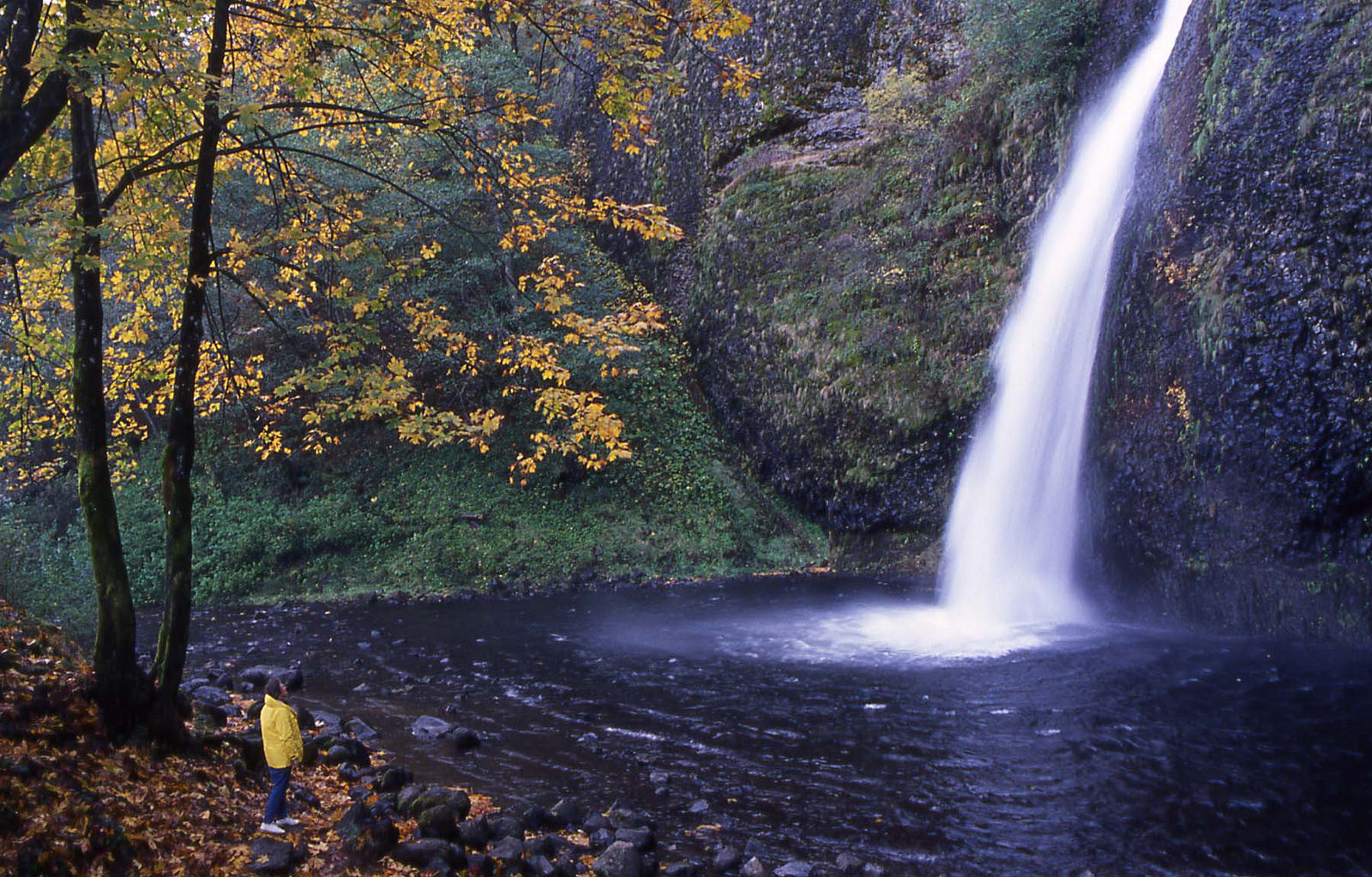 Credit: U.S. Forest Service- Pacific Northwest Region
If you're interested in traveling to the West Coast, head to Oregon during autumn. The Columbia River Gorge provides the ideal spot for checking out fall scenery. Any travelers who love hiking will definitely appreciate this destination, as you'll find various trails along the gorge. Deciduous trees throughout the area become bright and colorful during this time. Travelers will want to bring a camera and take photos of this stunning space.
Forests filled with gorgeous trees and waterfalls provide enough fall scenery to satisfy any traveler. Consider hiking the Eagle Creek Trail, as spawning salmon may be seen from the route when fall occurs. As you climb higher along this trail, you'll reach Metlako Falls. This watery natural formation will look picture-perfect amid the fall foliage surrounding it.
10. Pigeon Forge, Tennessee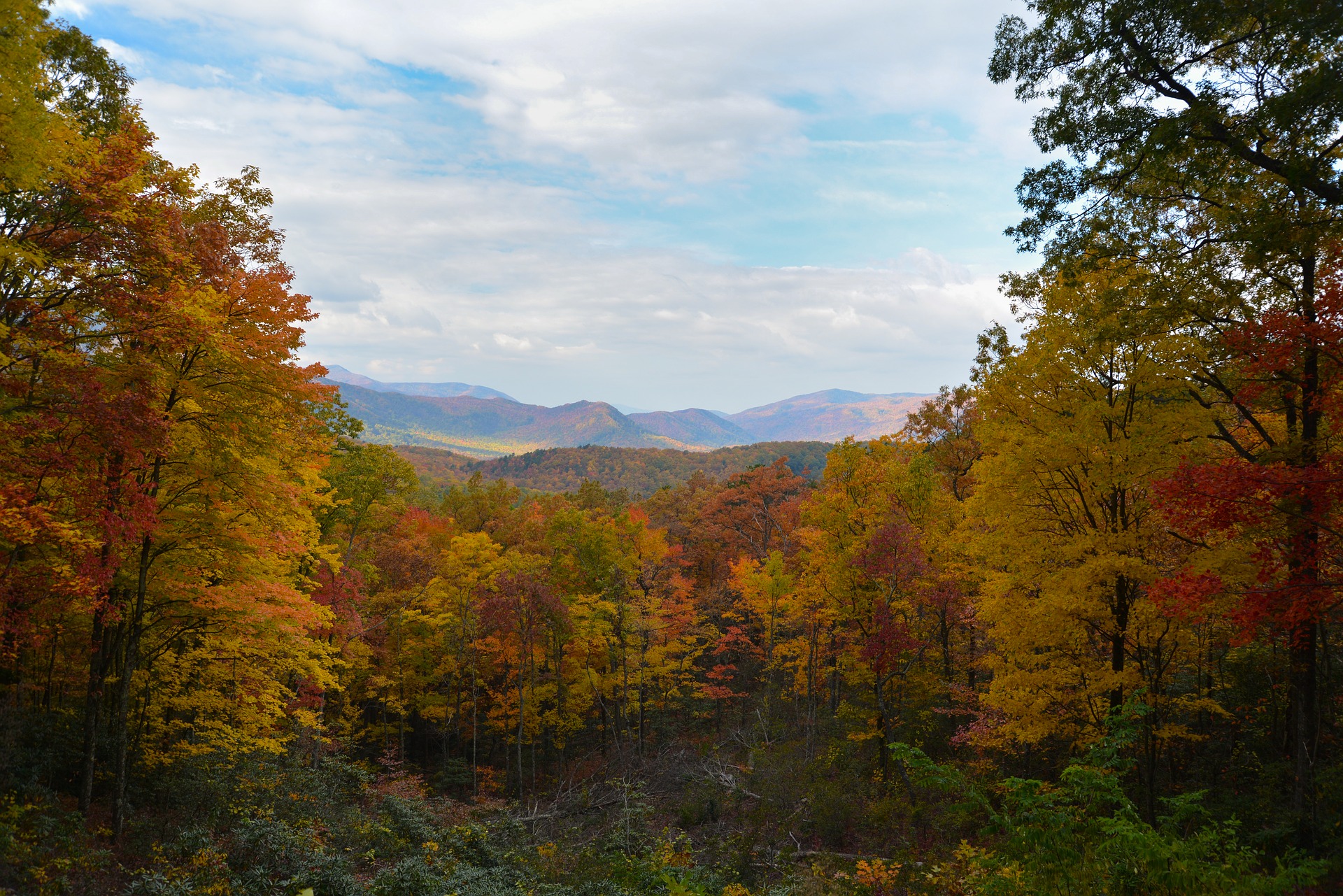 Any mountainous location will probably herald some beautiful fall foliage. In Pigeon Forge, Tennessee, travelers can get the chance to view some stunning fall scenery. Here, you'll find various places to appreciate fall foliage and the cooler weather. In the Smoky Mountains, you can go to the Great Smoky Mountains National Park and hike along numerous trails. Another spot, Clingman's Dome, provides an unparalleled view of the environment.
Other locations in Pigeon Forge enable travelers to see amazing fall scenery. Chimney Tops Trail will provide a more challenging hike for those with an interest in getting some great exercise. Once you make it to the peak, you'll get to view the landscape from a new perspective. At the Dollywood Annual Harvest Festival, travelers may see fall foliage along the hills and valleys, while enjoying fun activities.
Visit the best spots with gorgeous fall scenery in the U.S.
Within the U.S., you can find a huge variety of landscapes and stunning natural environments to explore. During the fall season, these environments become even more beautiful, as the foliage changes and the climate cools. From mountains covered in colorful trees, to lakes surrounded by woods, the U.S. contains numerous locations for viewing fall scenery. No matter where you go, you'll be sure to find a spot that appears picture-perfect. Make sure to plan a road trip across the U.S. before autumn ends and the fall scenery disappears.
Related Article: Travel Inspiration: Dreamy Winter Scenes