When it comes to travel accessories, it doesn't get better than the Anker PowerCore+ Mini.
Smaller power banks are the most used. It's easy to see why. For those frequent fliers and road trippers, keeping your phone battery charged can be a challenge. But it doesn't have to be. Devices like the Anker PowerCore+ Mini give you the freedom to roam with the security of power.
A Little Bit About Anker
Anker is the global leader in charging technology. This includes wireless charging, car charging, and our best-selling portable and wall chargers. Anker is pioneering Power Delivery technology to charge phones, tablets, and laptops at unprecedented speeds. Climbing up the ladder, they are now recognized for powering lives in more than fifty countries across the globe.
The Anker PowerCore+ Mini Features & Benefits
Before taking a look at the features and benefits, it is important to know how much you want to spend on a charger. If you need a starting place, then it will help you to begin by considering a question. When looking for the best portable phone charger here is a question to ask yourself. It will point you in the right direction.
How much do you want to spend? Knowing your budget will be key to finding the best portable phone charger. Whether you are looking for a small, simple gift one or something that packs a punch, knowing your budget will help narrow down your options. We suggest approaching your search with a price limit in mind. That way, you will be able to knock off all the items that are out of your price range much faster and, subsequently, locate the best portable phone charger that much faster as well.
Design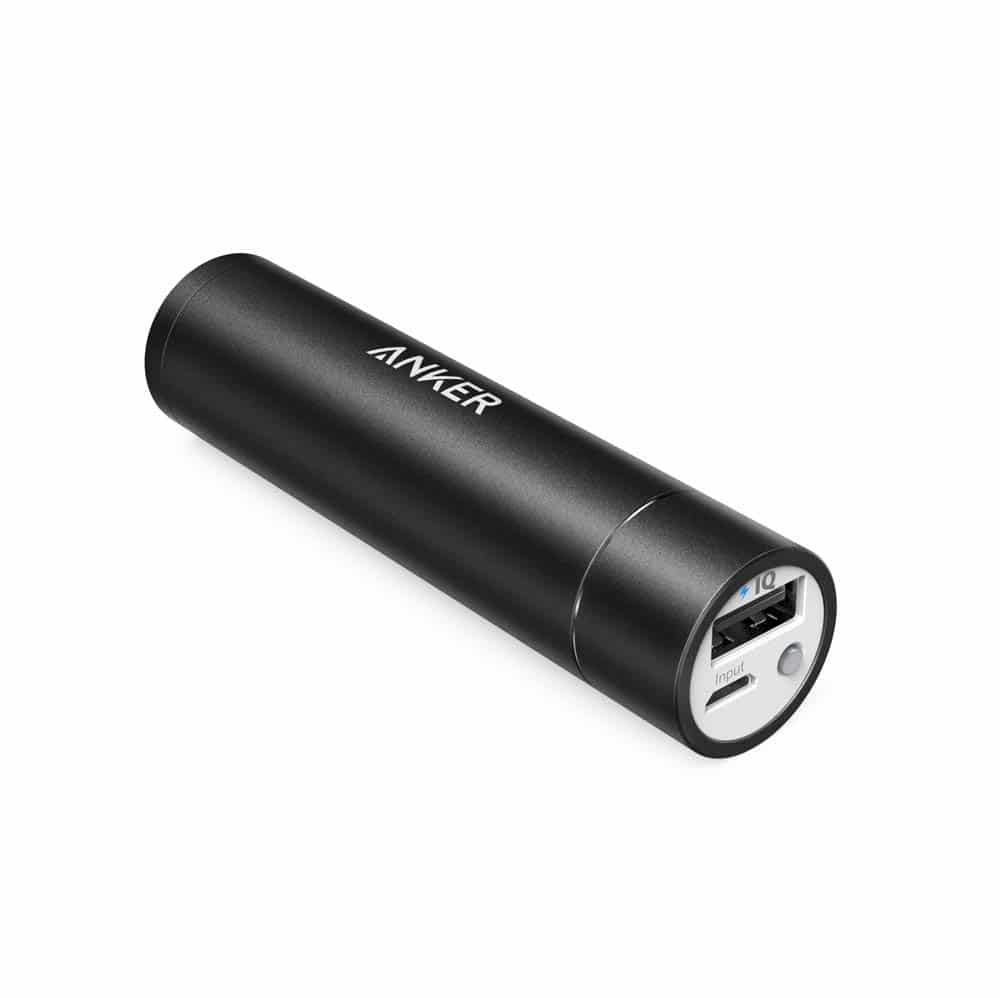 Credit: Amazon
We're just going to put it out there plain and simple. Anker offers some of the best travel devices in terms of portability. The Anker PowerCore+ Mini is no exception. In fact, it's leagues above what you would get from competitor brands in terms of its size and capacity. While it's small enough to slip in your pocket, it's powerful enough to carry a charge of 3350 mAh. You'll find that the power button, USB port, and micro port are all located on the same side.
Thanks to its cylindrical shape and lipstick size, it's so small you can bring it literally anywhere and everywhere. If you're looking for a device that will give your phone a quick boost, this is just the gadget you need. Enjoy charging on the go without all the bulk and weight of a bigger power bank.
Power Capacity and Charging Speed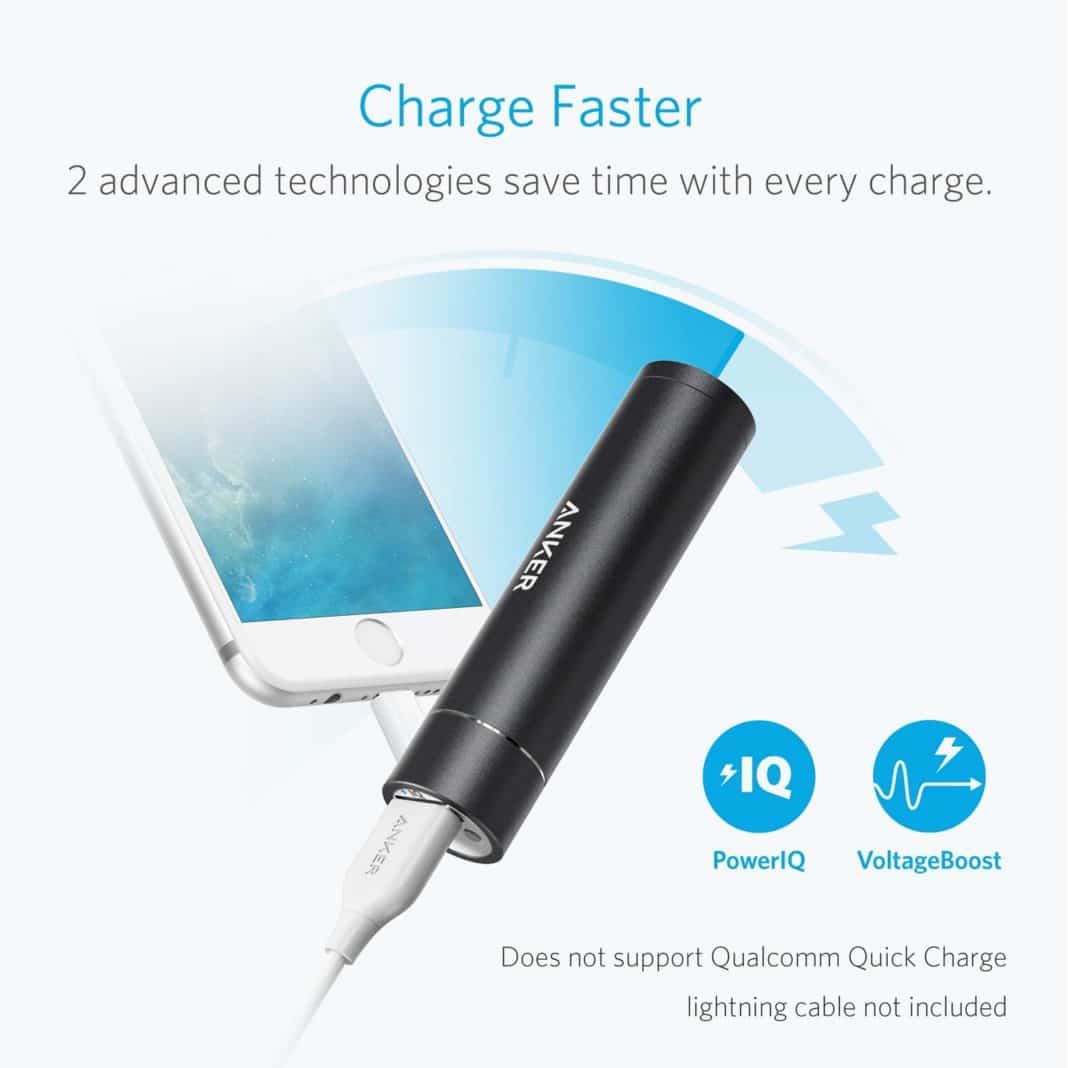 Credit: Amazon
As we previously mentioned, the Anker PowerCore+ Mini has a charging capacity of 3350 mAh. Despite the power capacity, it fits in the palm of your hand with ease. It's so light, you can slip it in your pocket or bag and forget it's there until you need it. This Anker device is 3.7 inches long and 0.9 inches wide.
This little charger is tiny but mighty. It's capable of charging an iPhone 6 by 130% and a Samsung Galaxy S6 by 80%. Unlike your standard portable charger, the Anker PowerCore+ Mini features adaptive high-speed charging technology. So, take it anywhere that you want to. You don't have to be slowed down.
It certainly looks like the Anker PowerCore+ checks all of the boxes. With the fast recharge time, you can skip sitting for hours at a cafe to recharge. You'll be able to power up while you're on the go. Never miss out on exploring while you're waiting to charge up again. With the addition of a dual USB port, you can charge two devices simultaneously. It's always helpful to have tips on how to charge your phone faster.
With the kind of quality that Anker demonstrates, you can expect to get a lot of use out of this power bank. As a traveler, dependability in your products goes a long way. Having the right gear on a trip not only reduces stress but makes the trip more enjoyable overall. You can rest easy knowing you can charge up whenever you would like.
Look, Feel, and More
Credit: Amazon
Other companies can try to mimic it but Anker is killing the portable charger game. This original lipstick-sized portable charger is better now than ever before. Enjoy a much needed boost for your phone whenever you'd like. With high-speed charging powerIQ technology and a multiprotect safety system, you can enjoy up to 1x an extra battery. Choose from black, pink, silver, or golden.
Durability
Credit: Amazon
This little charger goes a long way. Constructed with a durable aluminum outer shell, the Anker PowerCore+ Mini is made to withstand the ups and downs of travel. The result is that you can enjoy some drop and dust protection. All in all, the power bank is well designed and sturdy. So, you can enjoy quality assurance and rest easy knowing it's not too fragile. Just make sure to keep it away from water.
Equipped with surge protection and high performance charging IC, you reap the benefits of fast battery replenishment with safe use. In addition, it comes with a fan favorite 18 month warranty. The lightning cable is sold separately.
Tech Specs:
3350 mAh capacity

Small enough to fit in your palm and pocket

Size: 3.7 × 0.9 × 0.9 inches

check

3 ounces

check

Adds a 130% charge to an iPhone 8 and an 80% charge to a Samsung Galaxy S8

check

Comes with a micro USB cable, travel pouch, and user guide

check

18-month warranty

check

4 different color options
What Travelers Are Saying About the Anker PowerCore+ Mini
Travelers who purchased the Anker PowerCore 13000 Portable Charger raved about the product's charging capabilities. The quality and functionality of the PowerCore plus mini are only exceeded by its bargain price. While we are not new to Anker products, they always seem to live up to or surpass our expectations. This device is no different. You can get at least 2 full charges on your iPhone 5s from the charger from 5% or so to 100%.
Take it in your bag or in the car and plug it in to get to a full charge on the go. We love that it intelligently charges your device as fast as your device allows which is great because overcharging or rapid charging batteries can seriously shorten their lifespan.
The size of the charger is a cylindrical tube 3.75 inches long by 0.8 inches in diameter. It has an aluminum body that feels robust and well-made. Looking at the exterior, it is coated with a matte black powder coat finish. The unit comes with a black mesh bag and a micro-USB 24 inch long (23.5 inches of usable length) charging cable.
The mini charger has a micro USB input port and a regular USB output port. Just push the LED status button to see Green (50-100%) indicator light, Yellow (25-49%), or Red (below 24%) to see the level of charge of the unit or to activate the unit to send power to the device you want to charge. The indicator light stays on and shows its capacity of charge remaining while charging. All in all, the Anker PowerCore+ Mini is very easy to understand and use.
Alternative Portable Phone Chargers You May Like
Do you want to take a look at some additional portable chargers? Check out these top picks.
Uni-Yeap 11000 mAh External Battery Charger Power Bank
Are you looking for a lightweight charger with a higher capacity? Consider the Uni-Yeap 11000 mAh External Battery Charger Power Bank. With an easy to use design, this device is a top contender for the best portable phone charger. Uni-Yeap knows what you want and have got what you need. With excellent construction and a solid quality hifi battery, your phone will stay charged all the time.
One of the best features is that it automatically identifies the type of device you are using and delivers the type of electronic current suitable for it. With two USB ports, you and a friend can juice up simultaneously when you need to. Thanks to a MultiProtect Safety System, short circuiting won't happen. Last but certainly not least, it is outfitted with an LED indicator screen. This means that you can see the remaining power and status of your device while it's being charged.
Tech Specs:
High-capacity charging; it's powerful; enough to charge your iPhone 7 about five times

Built-in LCD screen display

Universal compatibility

check

Extremely light and thin

check

Comes with a Micro USB cable and instruction manual

check

12 months warranty
Mogix External Battery Phone Charger 10400 mAh
For a family owned business in LA, Mogix produces revolutionary travel tech. This device is another great lightweight mid-capacity charger. Weighing in at just 6.5 ounces, this charger has the lightest external battery you will find with this kind of a power rating. Smart Battery technology ensures that your devices are safe with temperature control and cutting edge circuitry. You have the option to charge two devices at once if you'd like.
Use any phone you would like to charge. Universal compatibility has got that covered for you. In fact, it can also charge other devices like a Kindle, ereader, and tablet if you want to. The thin design comes in two different battery sizes.
Tech Specs:
 10400 mAh charges phones three to five times depending on the battery size

4 LEDS so that you can monitor the power supply

Thin and lightweight design (6.5 ounces)

check

Dual high-speed charging ports

check

Smart Battery technology with surge protection, temperature control, and more

check

Drop safety protection due to double coated case
Invest in the Anker PowerCore+ Mini for Your Next Trip
We hope you enjoyed reading our review of the Anker PowerCore+ Mini. As you can see, this is one of the best portable phone chargers on the market. Our alternative choices for power banks offer a larger style and larger charge capacity. Whether you're looking for a quick phone boost or a longer pick me up, these styles have got you covered.
Related Article: Best Portable Phone Charger: A Travel Accessory For Your On The Go Lifestyle