Plan your trip with these awesome things to do in Washington state.
Maybe it is the Twilight novel series. Or perhaps, it was Grey's Anatomy. Whatever it was that hooked you on the beautiful state of Washington cannot be blamed. This lovely state has so much to offer. It is no wonder why it is one of the most explored states in the United States. From some of the best national parks in the nation to some of the coolest museums, Washington has got it all. If you are lucky enough to find yourself in this beautiful state, then we have got a treat for you. We have rounded up some of the coolest things to do in Washington state that you absolutely cannot miss out on.
1. Visit the Space Needle
Credit: Flickr
One of the most iconic things to do in Washington state is visiting the Seattle Space Needle. This absolutely stunning landmark rises over 520 feet into the air. There is no wonder why it is called the space needle. The tippy top point stabs into the sky like it is getting ready to touch the heavens. If you plan your visit sometime soon, then you will be in luck. The Seatle Space Needle has just undergone a multi-million dollar renovation. When you are here, you will get the opportunity to experience the world's first and only rotating glass floor. Get glimpses of the city like never before and prepare to be astounded and amazed. If you are really looking for a thrill, then you can lean into the tilting glass walls on the open-air deck.
Everything about the space needle is digitally enhanced. There are interactive activities such as the Digital Globe. Log on and you will get the chance to scroll through the years and memories of the Skypad and all who have visited it. Not only that, but you can experience Stratos VR. This virtual reality experience will give you the opportunity to dip over the edge with a heart-stopping virtual reality bungee jump experience. If you are looking for an incredibly memorable experience high above the clouds, then the Seatle Space needle is an experience that you cannot miss out on. Without a doubt, visiting the Seattle Space Needle is one of the top things to do in Washington state.
2. The Seattle Underground Tour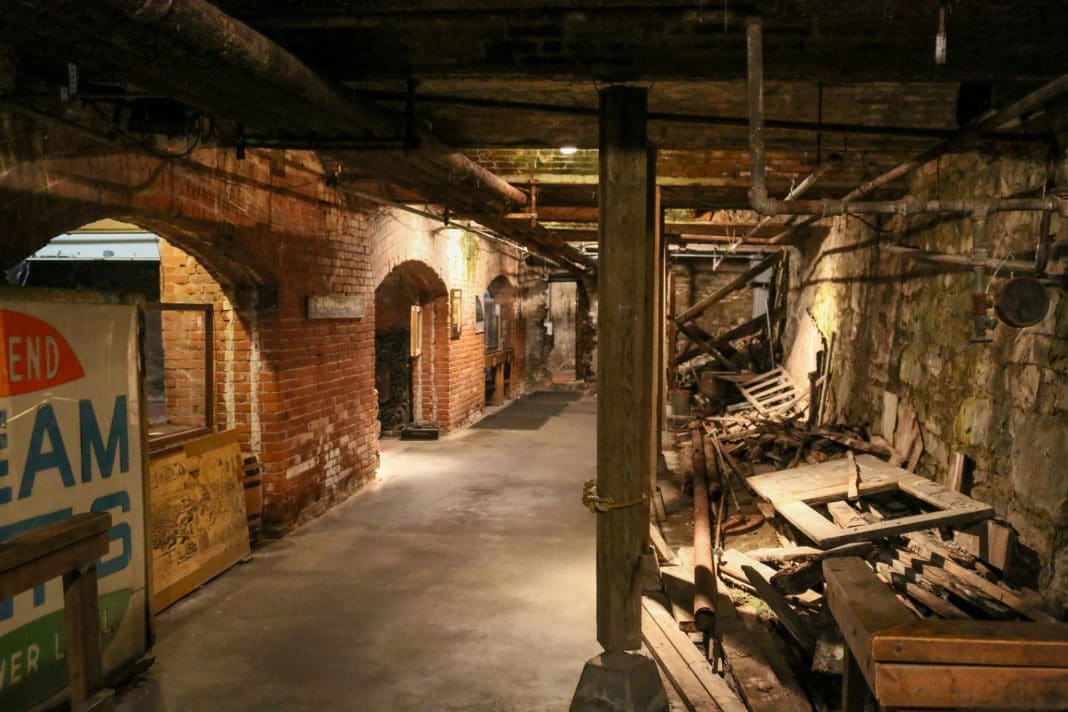 Credit: Flickr
This next experience is one of the best things to do in Washington state because it is incredibly unusual. During the Great Fire of 1889, the city of Seattle had to rebuild on top of itself. The old city was primarily made out of wood. When a cabinet maker accidentally ignited a glue pot, it started a fire that raged throughout the whole city and essentially burned it up. Instead of deciding to patch up the city, town members decided that building a new City would be the smarter way to go. Because of this decision, the birth of the underground world of Seattle came to light. Experience the history and almost eerie nostalgia that exists in this unique underground city.
There are many different tour groups and guides can take you on a tour of this underground city. One of the most popular tour groups to go with is the Bill Speidel Underground Tour Company. Local legend Bill Speidel founded this tour company. Mr. Speidel is dubbed One of the last genuine old-time Seattle characters who was very well known in his time. After the construction of the new city, Mr. Speidel spearheaded The Underground Tour Company in order to preserve the history and overall charm of the underground city. If you find yourself in Seattle, then carve out some time to take the Underground Tour. You won't regret it as it is one of the coolest things to do in Washington state.
3. Hall of Mosses in Forks, Washington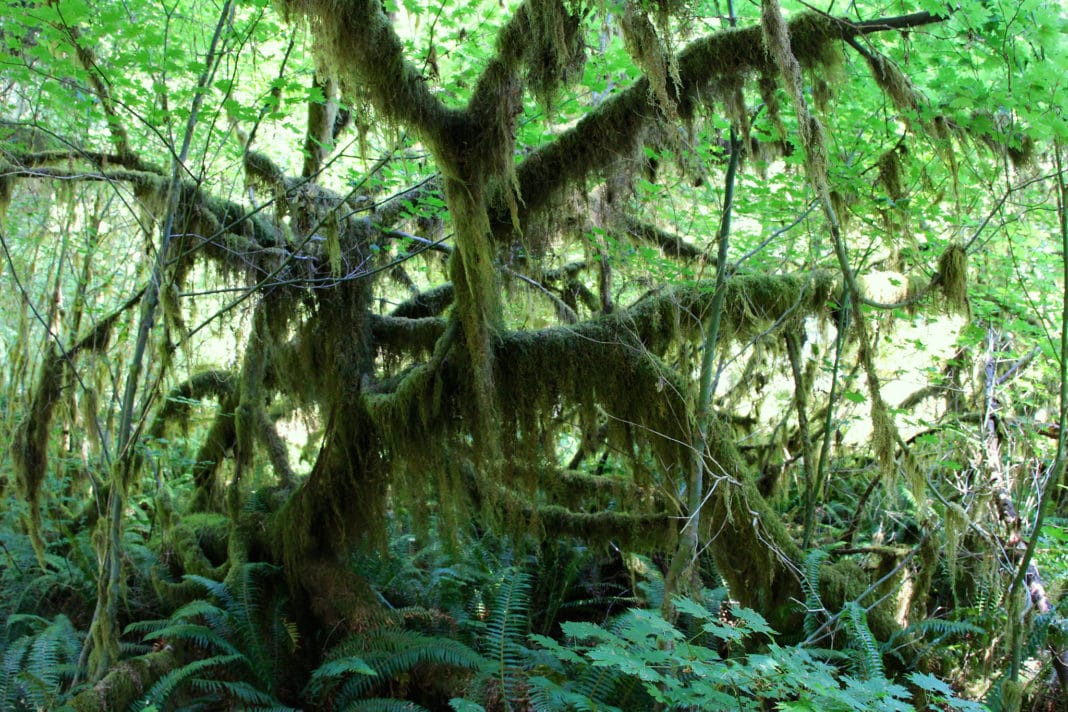 Credit: Flickr
This next destination on our list of things to do in Washington state is a must for any fairytale enthusiast. Step into a mystical and magical world by taking a hike in the Hall of Mosses Trail. This hiking trail is part of Olympic National Park. Not only that but it is neatly located in the Hoh Rainforest. Because of the environment, the trees along with hiking trail are entirely saturated with neat looking moss. It does not take much imagination for hikers here to think that they have been transported into some storybook. Finally, we love that the Hall of Mosses hiking trail is a little under a mile long. With the highest elevation being just over a hundred feet high.
On the trail, you can expect to find temperate trees covered in green and brown mosses. Some of the most popular trees you can expect to see here include Bigleaf maple trees and Sitka Spruces. Because the moss on the trees can become heavy at times, the trees are susceptible to falling due to high winds and raging storms. However, the moss is not destructive or damaging to the trees otherwise. As you go through the trail, you will find a side trail of about 200 ft that leads to the grove of maple trees. What starts out as a steep incline quickly turns into a leveled out trail that is easy to climb. Overall, this Trail should take you no more than an hour to complete. Hiking lovers, this is a trail that you do not want to miss out on if you are looking for something unique out of this world. This hiking trail is undoubtedly something that the whole family can tag along on and easily one of the coolest things to do in Washington state. Not only that, but we are sure that you will agree this is one of the best hiking trails in all of America.
4. Museum of Pop Culture in Seattle, Washington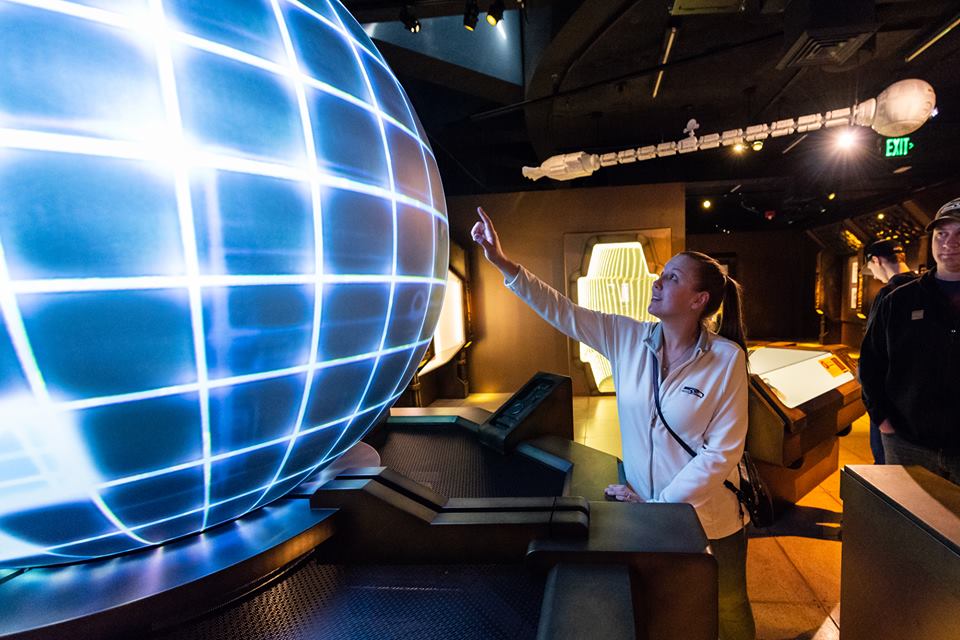 Credit: Musem of Pop Culture / Facebook
The Museum of Pop Culture is one of the coolest museums to experience. Not only that, but it is one of the neatest things to do in Washington state. This Museum was founded in 2000 by one of the co-founders of Microsoft, Paul Allen. It initially started as a uniqe experience music project. This vision did not last long because it soon turned into a museum. Today, it is now where the latest pop culture trends and themes have found a place to call home. Not only this, but the relics of famous popular culture icons can be found here.
This 140,000 square foot building is home to several galleries. there are incredible exhibits that range from pop culture to video games to science fiction literature, and much, much more. There are also interactive activities that guests can take part in. For example, visitors can get hands-on experience in The Sound Lab by rocking out on instruments that real rock and rollers use.
Visitors can also try out the Sky Church, a 5,384 square foot, screen that is the hub of activity at MoPOP. It is also a central location to access the Museum's wide variety of gallery spaces. Some of these include exhibits such as Science Fiction, Fantasy, or Horror gallary spaces. Finally, one of the neatest exhibits in this museum is the giant guitar sculpture that is made out of over 500 musical instruments. Whether you are traveling with friends, family, or children, this incredible museum has so much to offer. Invoke all your senses here by visiting one of the coolest things to do in Washington state.
5. Beacon Rock in Stevenson, Washington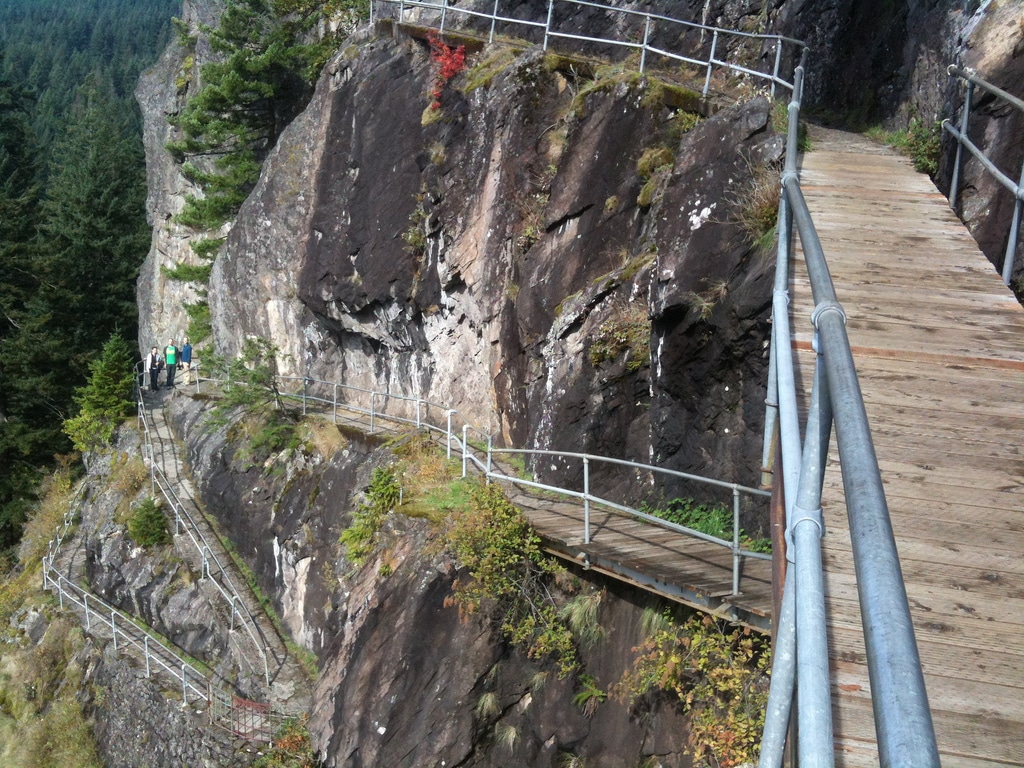 Credit: Flickr
Head over to Beacon Rock State Park to catch a glimpse of the beautiful Beacon Rock. This natural rock is a monolith that is located on the North Bank of the Columbia River. Its original name was Beaten Rock because of its worn-out shape, but then over time, the name changed to Beacon Rock.
This 848 monolith is comprised entirely of basalt. In 1915 it was first purchased for a little over one million dollars. Not too long after its purchase, construction began on it. This construction introduced a trail that included 51 switchbacks, a series of handrails, and several bridges. If you go out to experience this beautiful rock, you will find a three quarter mile trail that is just waiting to be explored. Along with this trail, you will see breathtaking views of the river below you. These beautiful views are what makes Beacon Rock a popular hiking destination for travelers coming from all directions.
If you are a hiker or rock climber who loves the challenging nature of rock climbing, then this is a park that you want to visit. Beacon Rock boasts challenging yet exciting rock climbing for anyone who is willing to try their hand at it. In regards to the park overall, there are more than 20 miles of hiking, mountain biking, and equestrian trails for you to explore. Some favorite trails to go on include the Beacon Rock Trail and the Little Beacon Rock Trail. There is also Hardy Falls and Rodney Falls that offer some of the most scenic highlights that the state has to offer. Head on over to Hamilton Mountain and you will find yourself in front of a beautiful view of the Bonneville Dam.
If you are looking to spend some time on the water, then you will be pleased to find a dock and a boat launch. Not only that but there are also several individual site campgrounds if you are looking to stay a night or two. To all outdoor enthusiast, taking a trip over to Beacon Rock is definitely one of the most fun things to do in Washington state.
6. Maryhill Museum and Stonehenge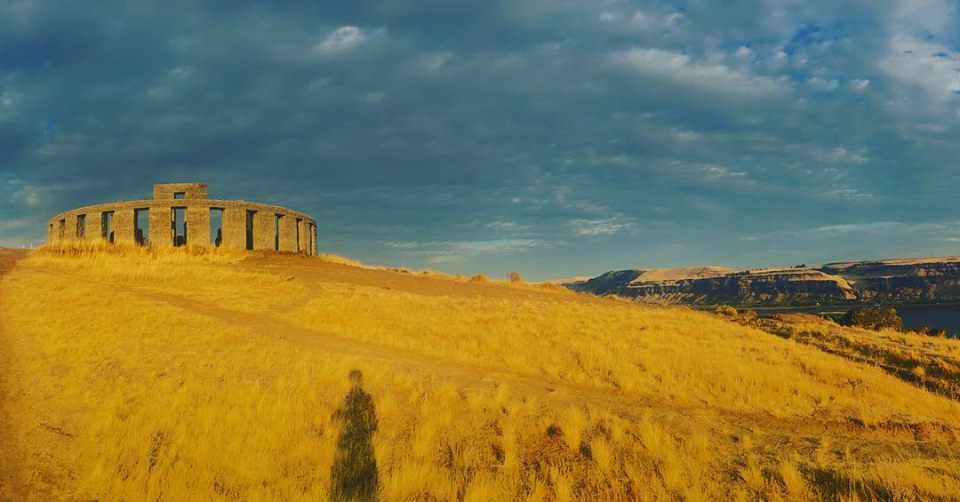 Credit: Facebook
You do not have to travel halfway across the globe to Salisbury Plain in England to witness the beautiful Stonehenge. Washington is home to an equally interesting structure called the Stonehenge Memorial. Three miles east of the Maryhill Museum of Art you will find a full scale replica of the original Stonehenge. The Maryhill Stonehenge was erected as the country's first World War One memorial that was dedicated to the servicemen of Washington. This memorial is a reminder to the bravery and courage that the soldiers in the war displayed. When this monument was erected, it was done so by the aid of authorities of archaeology, engineering, and astronomy. The consensus was to build the memorial with the exact dimensions of the original Stonehenge in mind. The whole concept behind erecting this memorial was pretty simple. Because the original Stonehenge was constructed as a place of human sacrifice, there was a parallel to that theme with the men who sacrificed their lives during the war. Every year there is a small memorial service that takes place commemorating the 14 men who are honored here. This year happens to be the hundredth anniversary of that commemoration. There will be 14 days in the year that are set out to commemorate each life lost.
7. TreeHouse Point in Issaquah, Washington
Credit: Flickr
Who says that tree houses are just for children? This next location will have you thinking twice. Take a look at one of the neatest things to do in Washington state. If you are looking to relive your childhood adventures, then consider making a visit over to TreeHouse Point in Fall City Washington. TreeHouse Point is easily one of the coolest venues that you absolutely have to have on your list of neat things to do in Washington state.
Treehouse Point is a really cool location that is home to some really cool tree houses. Not only that, but you can also call one of these tree houses home for a night or two. If you are looking to escape the hustle and bustle of the city then consider booking your stay here.
One of the most popular things about TreeHouse Point is the fact that they specialize in everything weddings. Whether you are hosting an anniversary get-together or a full-blown wedding ceremony, TreeHouse Point can accommodate. They offer a range of tree houses including tree houses right on the river. However, some of the best tree houses are the ones that are nestled up high into the trees. If you find yourself in Seattle, then it will be worth your while to drive about 30 minutes southeast to the beautiful TreeHouse Point. Without a doubt, this is easily one of the most beautiful things to do in Washington state.
8. Rialto Beach in Olympia Park, Washington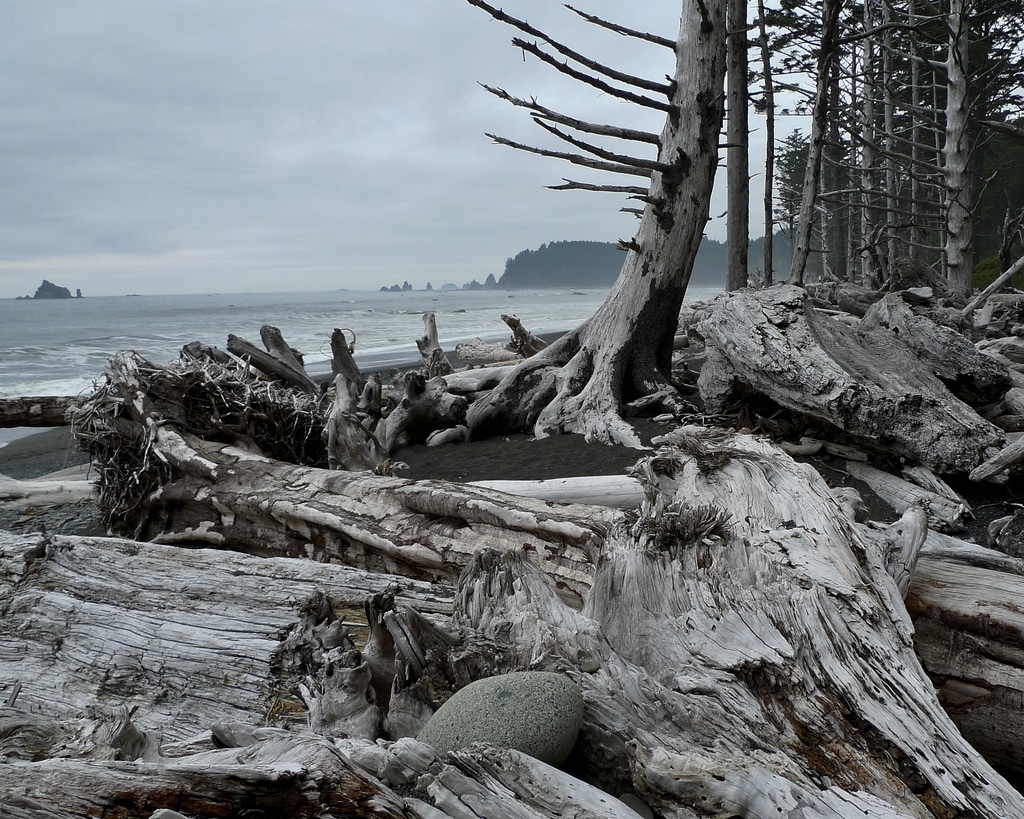 Credit: Flickr
You will not be doing much swimming when you visit Rialto Beach. Nonetheless, this is definitely a landmark that you want to put on your list of things to do in Washington state. Rialto Beach is a public beach that is located right on the Pacific Ocean. When you come here, you will immediately be taken aback by all the dead trees that are strewn about on the shore. In fact, Rialto beach has been commonly referred to by locals and tourists as the graveyard of trees. This is because of the remanence of the many scattered decaying tree trunks here. Whether you want to explore the ocean or channel in your inner Twilight fandom, this place is place to take sight of it all. It certainly is an experience that is like no other. Do not leave this beach off of your list of things to do in Washington state.
Final Thoughts
With so many things to do in Washington, we won't be surprised if you decide to extend your stay. Be sure to check out some of these awesome things to do in Washington the next time you plan on visiting the state on the edge of the United States.
Related Article: 11 Free Things To Do In Seattle This Fall