Winter might be well underway in many parts of the United States. However, when it comes to the beautiful state of California, many locals and travelers are still enjoying the beautiful sunshine and plenty of warm weather. If you are planning a trip to San Diego, one of the most beautiful cities in the United States, sometime soon, then don't leave home until you check out our top list of some of the best restaurants in San Diego.
The beautiful, metropolitan hub of San Diego is known for so many things. For starter, the culture found in San Diego is truly phenomenal. With a fantastic array of different cultures and an impressive amount of diversity, it is only a matter of time before the food scene matched the diverse cultural scene here. Today, we have listed some of the best eats that this popular hub has to offer. From the refreshing taste of seafood to the best burgers in the state, we have rounded up some of the most popular locations for you to check out. Read on to find some of the best restaurants this fabulous city has to offer.
1. Juniper and Ivy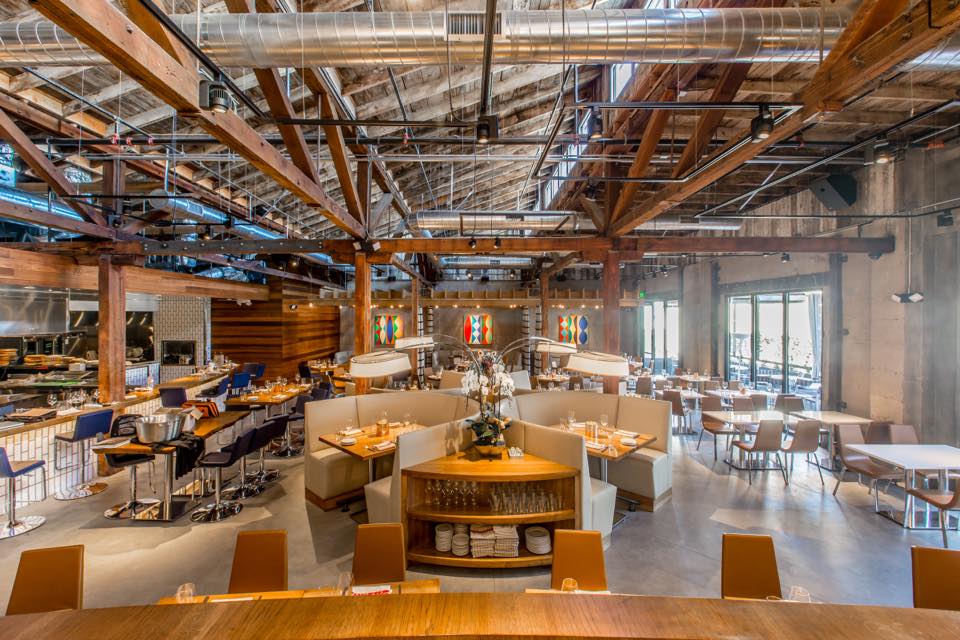 Credit: Juniper and Ivy / Facebook
When it comes to food with a purpose, there is no better place to dine in at than Juniper and Ivy. If you ask any local, they will tell you that Juniper and Ivy is easily one of the best restaurants in San Diego. For starters, their mission goes beyond just food. The main mission behind Juniper and Ivy is to bring together people to share and experience the magic of food. Another main focus circulates around how food has the ability to move an entire culture forward. For any foodie, why wouldn't you want to dine in at an establishment with this vision in mind?
What makes this one of the best restaurants in San Diego is the fact that Juniper and Ivy follows a farm to table approach. They use only select seasonal ingredients to create a menu that is simply delectable. Because of their seasonal ingredients used, you can expect to be met with a rotating driven menu that is as eclectic as it is delicious. If you find yourself in San Diego during different seasons, then you can expect to get a unique experience each time you dine at this wonderful establishment.
Their top chef, Richard Blais, alongside their executive chef, Anthony Wells, have put together a menu that is simply delicious. You can expect to be met with creative dishes that are as pleasing to your eyes as they are appealing to your taste buds. Finally, do not forget to pair your meal with a drink from their award winning wine list. The knowledgeable servers here will help you pair the perfect drink with every meal you order. If you're going out for a special evening, be sure to book your table in advance. Unsurprisingly, Juniper and Ivy is a hotspot that fills up rather quickly. When you are looking for one of the best restaurants in San Diego, you can not go wrong with choosing Juniper and Ivy.
2. Trust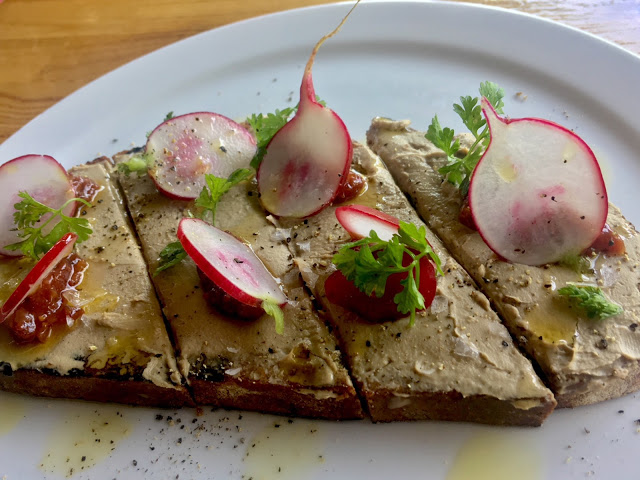 Credit: Trust
If you find yourself in the Hillcrest area of San Diego, then it is a must that you stop by one of the best restaurants in San Diego. This restaurant is the fabulous Trust. Trust is known for serving up urban rustic dishes alongside woodfire cookery. If you are looking for a hearty meal with flavor in every bite, then Trust is where you want to go.
The main mission statement behind trust is to provide diners with great food, exceptional service, and delectable drinks that enhance your dining experience. Coupled with the fantastic atmosphere, you are sure to have a pleasant experience while dining at Trust.
One of the main reasons that Trust tops our list of the best restaurants in San Diego is the fact that the ingredients used here are locally sourced. Because the ingredients are locally sourced, you can expect to see a menu that does change based on the season. Chef and owner Brad Wise is the mastermind behind the delectable menu here. His rich culinary history is what has enabled him to create a restaurant that caters to the needs of diners who have a passion for food.
Some of the delectable dishes you can expect to find here are their popular Octopus Fritters. This delectable dish is served with okonomi sauce, pickled ginger, bonito flakes, scallions, and dressed with mayo. With just the right amount of flavor, the food here will have you falling in love with their unique spin on seafood. For something a little more heartier, the Wood Grilled Lamb Meatballs are a great specialty as well. This dish is cooked up just right and is served with lentils, tzatziki sauce, pickled shallots, and Fresno chiles. If you are looking to try something new exotic, then this is a dish that you can not pass up on. Whether it is a celebratory evening out, or a high priority business meeting, Trust is easily one of the best restaurants in San Diego to pop into you.
3. Searsucker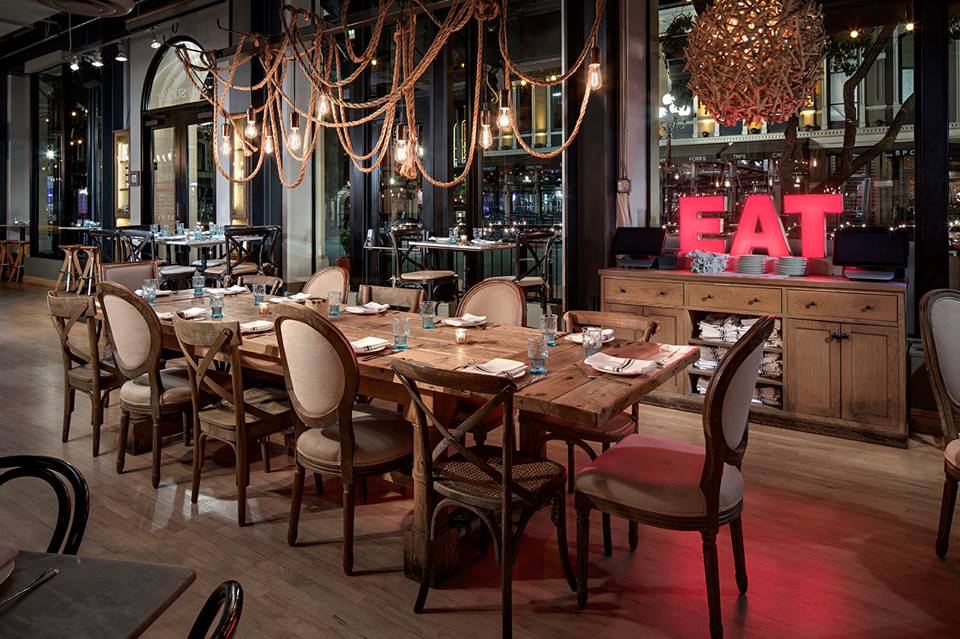 Credit: Searsucker
It comes to the best restaurants in San Diego, you do not have to look too deeply to stumble upon Searsucker. Searsucker is easily one of the best restaurants in San Diego for so many reasons. For starters, Searsuckers has everything you could want in a laid back atmosphere type of restaurant. Their open floor plan features an open and glass enclosed kitchen, a super comfortable lounge space with equally comfortable seating, and a fabulous bar area that is beautiful if you are looking to wind down in after a long day. Not only, that, but Searsuckers is the perfect place to offers plenty of room to make friends with new faces. After all, being a social hub is what Searsucker is well known for.
When you come to Searsucker, you will quickly get the sense that it is not a place you come to for an escape. What makes this one of the best restaurants in San Diego is the fact that you come here to get together with friends and family. By far, every diner simply loves the laid back and comfortable atmosphere that is found in this restaurant.
Lastly, when it comes to the food served up here, you will find a range of twist on traditional New American Classics. Skip the appetizers and start with a Small Plate instead. Some of the popular Small Plates include the Short Rib that is served with horseradish potatoes and delectably crispy onions. And of course, you can expect to be served up with their popular homemade biscuits that are made with whipped butter and a sweet honey. Some other popular dinner entrees range from seafood, farm food, and of course finger food. Because when it comes to food at Searsucker, sharing plates with each other is not only expected but encouraged. Finally, don't forget to indulge in a yummy plate of dessert before you leave! Their desserts are easily some of the best around.
Unlike many restaurants, Searsucker encourages you to stay. After all, good food with good people is their main motto here. If you are looking for one of the best restaurants in San Diego, then Searsucker is certainly the place to go to.
4. Boathouse Restaurant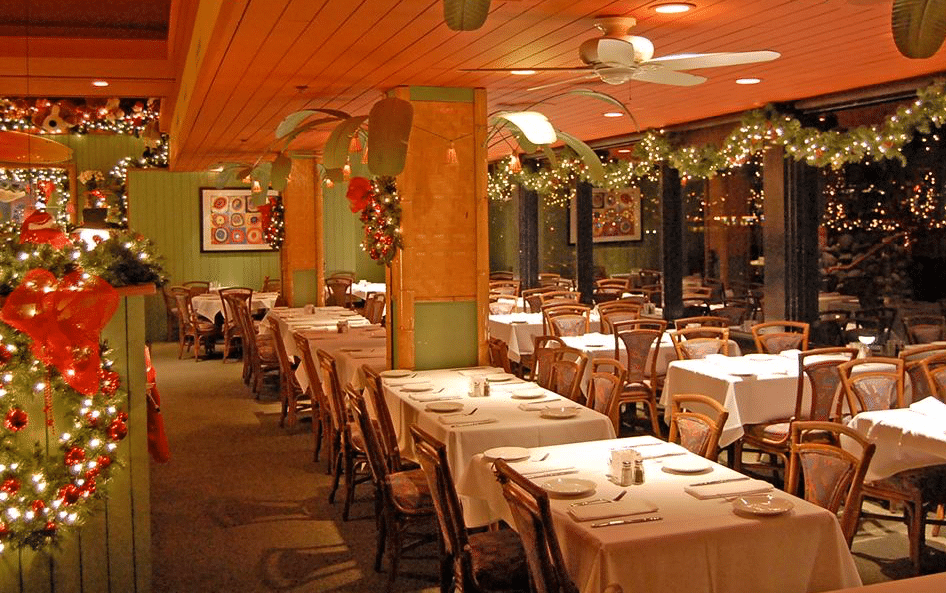 Credit: Boathouse Restaurant / Facebook
When you enjoy the tasty food at the Boathouse Restaurant you will quickly see why it is labeled as one of the best restaurants in San Diego. For starters, seafood lovers continually labeled the Boathouse Restaurant as the best seafood restaurant in all of San Diego. The main reason it has earned this label is because of the delectable food that is served up here. However, if you ask any frequent flier why this restaurant is so great, they will tell you that the atmosphere and laid back setting here is just too good to miss out on.
The Boathouse Restaurant offers diners a fantastic view of not only the San Diego Bay, but the Harbor Island West Marina, and Mission Hills as well. Wherever you are seated, you will get a fabulous view of the scenery around you thanks to the fantastic floor to ceiling windows.
When it comes to the food, you will be swept away in its deliciousness just as well. Although their menu features American seafood, there are plenty of contemporary island twists to the dishes that will surely have you craving another yummy helping.
Part of the fact that the dishes served here are so tasty is because whenever the chance is available, the fish, meats, and produce are sourced locally. The Boathouse Restaurant has longstanding partnerships with local farmers and vendors so that they can offer only the best to their diners. Along with that, the Boathouse Restaurant does a fantastic job accommodating diners who have any food restrictions that they may bring with them.
One of the popular times to come to one of the best restaurants in San Diego is during their brunch hour. When it comes to brunch, the brunch menu blows its competitors out of the water. Some of the popular brunch favorites include the Shrimp and Crab Omelet. This omelet is a three-egg omelet that is filled with goodness. It is stuffed with shrimp, mixed cheeses, rock crab, and hollandaise sauce. Along with that, it is served alongside home fried potatoes that have a pleasant way of wrapping the meal up.
Another brunch menu favorite is the Veggie Benedict. Skip the meat altogether and indulge in a toasted English muffin that is served with fresh sauteed spinach, tomatoes, delectably poached eggs, and hollandaise sauce. Lastly, the French toast is not a bad choice either. This tasty toast features a thick Texas toast that is served with seasonal fruit, and chocolate whipped butter and syrup. It makes for the perfect meal for anyone who is looking for a tasty way to start their day.
You do not need a special occasion to dine in at one of the best restaurants in San Diego. The Boathouse Restaurant accommodates all type of parties who are celebrating any event. If you are simply looking for a nice evening out, then this is just as suitable as a restaurant. You certainly can not forget to leave it off your list when you are visiting the beautiful city of San Diego.
5. Hodad's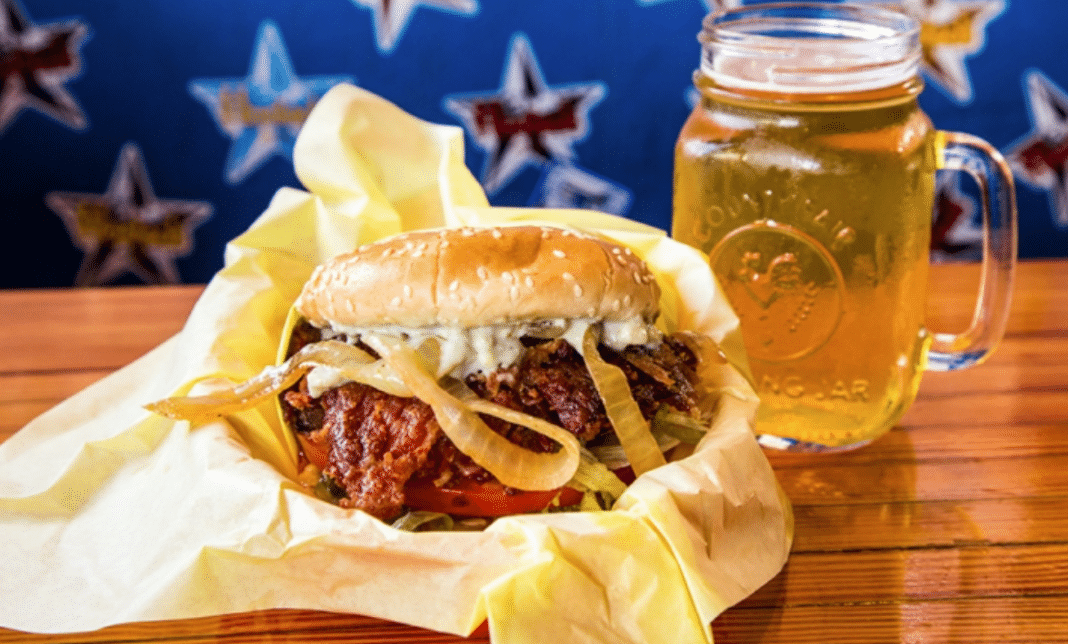 Credit: Hodad's
If you love great burgers, then one of the best restaurants in San Diego is easily Hodad's. In fact, This iconic restaurant boasts a powerful slogan that they are the world's best burgers. When it comes to that slogan, there is some truth to it. In fact, there are three current locations of Hodad's. It just so happens that their downtown San Diego location is also one of the best restaurants in San Diego too.
What makes the burgers here some of the best is the fact that they are super juicy and come jam packed with deliciousness. Along with that, Hodad's has been in business for over forty-four years. For over four decades, they have been serving up the same tasty burgers that have kept travelers and locals coming back for more.
When you stop by this iconic location, be sure to pay tribute to Mike "Bossman" Hardin. Mike "Bossman" Hardin was the original Burgermeister here at Hodad's. Along with his wife, Virginia Hardin, the two began selling what are now nationwide famous burgers since 1969. Since then, Hodad's burgers have made a name for themselves as being some of the best burgers on the west coast. In fact, these burgers are so well loved that the Hodad's burger joint has been featured in Guy Fieri's Popular TV show Diners Drive-Ins and Dives. With a seal of approval from Guy Fieri, it's no wonder why Hodad's is easily one of the best restaurants in San Diego. Nationally recognized local TV chef Sam Zane has also given his seal of approval for this fabulous Burger Shop.
Last but not least, what we love about Hodad's burgers is alongside their juicy burgers, they do so much to give back to their community. They are deeply rooted and invested in the communities that they serve. One of the fabulous community organizations that they support includes the fantastic TKF Organization. This is an organization that works to help stop youth violence through proper education, much-needed mentorship, and various community service programs. To get in on the action, you can learn more about their awesome community service endeavors when you visit one of the best restaurants in San Diego.
6. The Mission
Credit: The Mission / Facebook
You simply cannot visit San Diego without visiting one of the best Latin American restaurants that San Diego has to offer. If you ask any local, they will quickly tell you that The Mission is one of the best restaurants in San Diego. When it comes to Latin American Cuisine, there are little restaurants that can compare to the dishes here.
The menu at The Mission does a great job of blending Asian and Latin American cuisine and flavors that have health inspired origins. In fact, when it comes to the mission and vision behind this fabulous restaurant, it is rather easy and straightforward. The Mission aims to create a delectably magical dish that focuses on health, vibrant flavors, and affordable prices. One of the reasons The Mission is one of the best restaurants in San Diego is the fact that they have continuously delivered on this promise.
When you enter, you will immediately be greeted by a welcoming environment that features large and bright windows. These windows give your surroundings an open and airy feel. Along with that, you can catch a glimpse of some of the local talent. Soak in sights by the beautiful local artists that display their art on the walls.
When it comes to the menu, it is just as refined as the environment. The menu at the mission features Chino Latino cuisines as well as traditional American comfort foods like pancakes and sandwiches. If you are traveling with a large group, then this is one of the best restaurants in San Diego because there is virtually something here for every type of traveler here. Finally, with the emphasis on health in every dish, you are sure to be able to dine here without too much regret of indulgence.
If you ask any local, they will be quick to tell you that there are a range of popular dishes to try here. One of the popular lunch favorites is the House Quesadilla. The House Quesadilla comes with grilled chicken, cheese, tomatoes, cilantro, salsa cruda, green onions, and sour cream. It's also served with The Missions famous black beans. This delectable house quesadilla is simply a dish that you cannot go wrong with.
If you are more in the mood for something a little more filling, then the Grande Burrito is another popular dish that you can not go wrong with. Black beans, tomato, rice, sour cream, scallions, and cilantro. It is also served with a side of corn chips and salsa that pair well with any meal.
Finally, what we love about The Mission is that they cater to those travelers who have dietary restrictions. On their gluten free menu, you will find plenty of other dishes that are as delectably tasty as they are healthy. No matter how you slice it, there is something for everyone at The mission that you are sure to love. This range of options and health Consciousness is what makes the mission one of the best restaurants in San Diego that you must experience at least once.
Final Thoughts
There is more to the beautiful city of San Diego than the warm weather and smiling faces. In terms of the food scene, San Diego, California has so much to offer. Before you book your stay in a fabulous hotel in San Deigo, do your research first. The next time you find yourself here in this iconic city, be sure to check out our list of some of the best restaurants in San Diego. Not only will you leave with a happy stomach, but you will leave with a memory that is sure to be one of the best from your travels here. After all what good is a fabulous adventure if it is not laced with equally fabulous food?
Related Article: Little Italy Restaurants: The Best of San Diego