How to Travel to Egypt
Ancient Pyramids, the Nile River, The Library of Alexandria… If you are planning to travel to Egypt, you may be completely lost on what to do once you get there. It can be tricky creating an itinerary for a place you have never been to and only learned about in history books. But if Egypt has been on your bucket list, don't pass up an opportunity to go out of intimidation! We will walk through some of the must-see historical attractions in Egypt. You will also learn about their brief histories in this article. Keep reading below! You will be an expert in great Egyptian marvels by the end.
1.
The Great Pyramid of Giza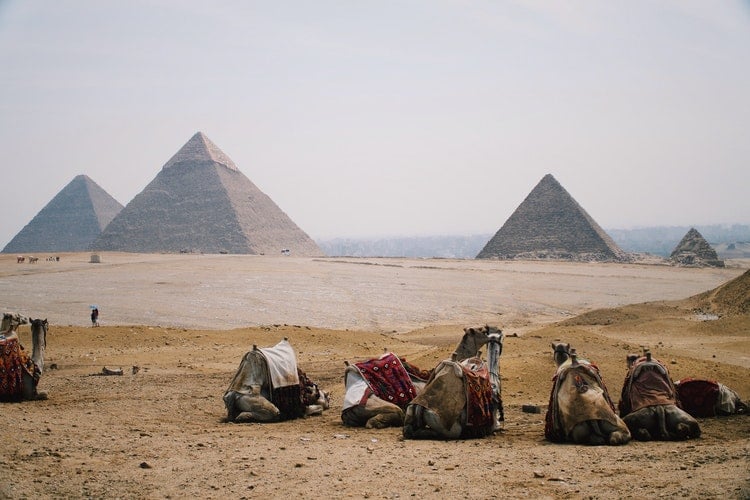 Giza, Egypt
The Great Pyramid of Giza is the oldest and biggest of all the Giza Pyramid Complex. It is also one of the most important and notable places to visit in Egypt. This is understandable since it is one of the seven wonders of the world. A must see historical attraction and must do when planning any trip to Egypt. There is a rich history here as well as so much to explore. There are vendors here selling all types of things (watch out for high prices). But one of the best parts of these vendors' possessions are the animals they have around the pyramid.
So many tours can be taken here. Some include a camel ride, some including lunch, and some will take you to see the Sound and Light Show at The Pyramids of Giza. But what they all have in common is the history the tour guides will relay to you about this mystical and incredible place. You even have the option of going into the pyramids to explore deeper. But this experience is not for the faint of heart, or claustrophobic.
From a historical standpoint, these are incredible to take in. Many questions will go through your mind like "how in the world did they have the technology to build these?". Or "how much did they dedicate and sacrifice, and how much passion did they have to contain?". Or "how did they create structures that are still standing today?". The pyramids truly show the best of humanity when we collectively put our minds together. Be sure to read up on your history before visiting. This will cause you to have the best experience possible when you travel to Egypt.
2. Mount Sinai
Sinai means Mountain of God. So you can imagine the implications this location has for those who believe in or study the Old Testament. Mount Sinai is an important area for Jewish and Christian history. The Monastery of St. Catherine was constructed on the foot on this mountain over what is believed to be the location of the burning bush God spoke to Moses out of. It is still inhabited by monks today. Biblical characters such as Elijah, Moses, and much of the history of Judaism took place in this spot.
This is an important mountain for many Jewish and Christian pilgrims to trek to. For many tourists exploring Mount Sinai, Sunrise hikes are often taken. On this trek, you will climb the Steps of Repentance, which there are tales a monk created (all 3750 of them). The rest of the trek you can take by walking or by riding on a camel. You will pass Elisha's cave and the Chapel of the Holy Trinity. This is talked about as the place where the tablets of stone were written on. When you reach the top, the views are incomparable and the journey will be proven well worth it. Make sure to do this when you travel to Egypt!
3.
Abu Simbel Temples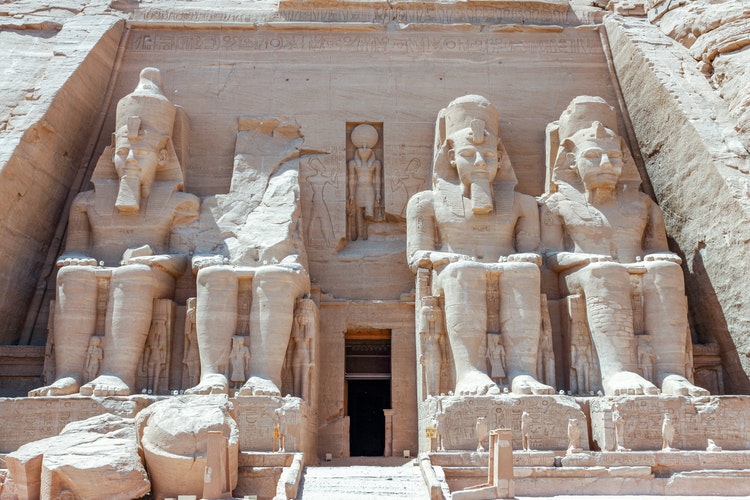 Abu Simbel Temples, Egypt
Called the temples that moved, the Abu Simbel Temples relocated by the UNESCO in 1968 for fear of destruction by the flooding of Lake Nassar. When this took place, it became clear that the worth of history was of high importance and needed to be preserved. You can read all about how this was done in the visitor center. This was the temple of Ramses II, who you may have heard about in history books. Many visitors claim to call this a personal favorite in Egypt. Located on the banks of Lake Nasser, this temple was originally named the temple of Ramesses Meryamun. It was constructed in 13th century BC by the Pharao it was named after.
These temples are guarded by ginormous statues when you are entering, and there are plenty of hieroglyphics that reveal the story to go along with it. The temple is explained on the outside through pictures. Though it is a dive and requires an early wake-up call, once you visit you will see it was all worth it and worth the preservation that took place a few years ago. This temple complex is yet another historical attraction that will shock you. It will make you ask so many questions about the mystery of how it was built. Another great part of this temple is the smaller temple of Ramssess II queen, Queen Nefertari. This is a must-do for when you travel to Egypt.
4. The Bibliotheca Alexandrina
The Bibliotheca Alexandrina is a research institute in the beloved Alexandria, Egypt. It is inspired by the Library of Alexandria, the most famous classic library. There is so much more to explore here than just a library. There is a focus on four things: Learning and understanding for the world. An untraditional institution in the age of technology. Egypt's window into the world and vise-versa. There are 11 stories to explore here and over 8 million books. It has museums and reading rooms and lots of books and history. It is not a bad idea to take a free guided tour through here. This will help you get the best understand of all this place offers.
For all book lovers, history lovers, learners, and beauty seekers, this is a must see place. The architecture is stunning from the outside in. In order to see all of it, it may take a full two days. This only makes sense considering it is the second largest library in the world! Because of the significance of The Great Library of Alexandria, the artifacts and manuscripts here are a thing you cannot leave Egypt without exploring. Since this library was recently constructed, this is a modern and updated institution. This is a reimagination of the ancient library that was burnt down in the third century. This library held the largest manuscript collection found anywhere in the world. You cannot miss this historical attraction as you travel to Europe. This is a bucket list experience, so be sure to take it in when you travel to Egypt.
5. The Nile River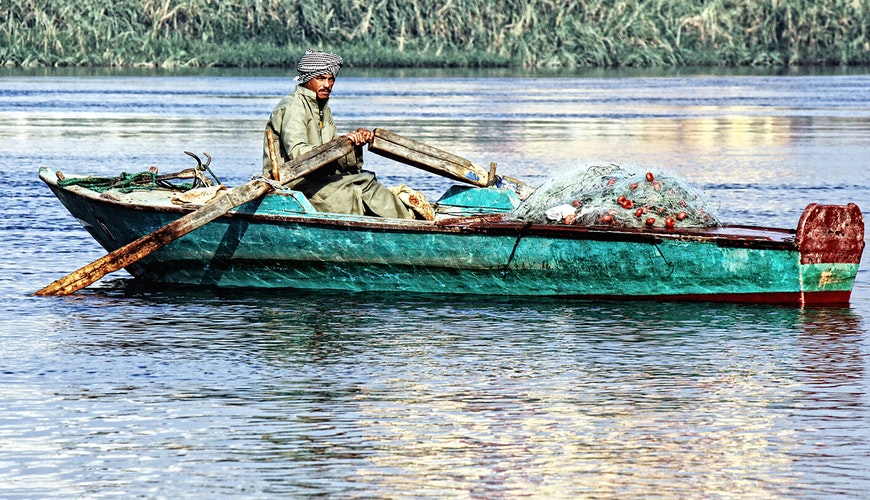 Nile River, Egypt
The Nile River is the longest river in the world, and it is an absolute must see when you travel to Egypt. This river was important for the ancient Egyptians. Many of the must-see attractions on this list can be found near this river, so that is your proof of how centralized a location it was. For the ancient Egyptians, the overflow and flooding of the Nile created a mud that was the perfect soil for planting seeds and growing crops.
The ancient Egyptians would fish and catch birds near the water as well, so the river was a great life source for food. Another purpose of the river was to give them a trade route in order to transport and buy goods. This river was such a life source and blessing to the ancient Egyptians that they believed it had it's own god.
These are some of the ways you can see the Nile- both of which are on our list, so keep an eye out below! Through the City of Aswan, you can see the Nile River since this city is on the Eastern bank of the Nile. Our second place to see the Nile River is by visiting The Valley of the Kings which is located on the Western bank of the Nile and contains underground tombs, the largest complex of them to be exact. There is so much to see and do along the Nile, so make sure not to pass up the River that gave so much life and hope to the ancient Egyptians.
6. Red Sea Riviera
While we are talking about famous bodies of water in Egypt, let's talk about the Red Sea Riviera. Here, right along the coastline of the famous Red Sea, there are plenty of places for a tourist to stay and explore. The beach resorts are one of a kind, and the shopping is more amazing than you can dream of at places like the Senzo Mall.
There are so many uniquely Egyptians things to enjoy when shopping, like picking up exotic spices to take home with you or getting hieroglyphics written on papyrus to remind you of your trip to Egypt. One of the things you will be close to if you stay at the Red Sea Riviera is the Luxor and The Valley if the Kings and Queens, which contain archeological gems to explore. It is amazing how many tourists come here on holidays to stay at a resort and enjoy this exotic and ancient place in a modern way.
There are so many other great things to see and do when you are here. One of them is visiting the Monastery of St Anthony, which you can explore on a tour. There is also the Marsa Alam which is an incredible place to enjoy water activities or the quiet town. Another amazing excursion is taking a horse or camel ride in Makadi Bay through sand dunes. If you are traveling with kids, take a day and experience ​​Makadi Water World, which is the biggest water park in Egypt. There an equal amount of water slides for both the kids and the adults to enjoy! If you are looking to have a touristy trip and enjoy the sea activities and resorts, this is the place for you to go when you travel to Egypt.
7. Aswan, Egypt
Aswan Egypt
While we are talking about tourist places, let's cover Aswan. There is so much to do in the ancient and historic town of Aswan. You can take cruises from here to Luxor, tour the Abu Simbel from Aswan. You can also visit monasteries, museums, and temples. There are so many ​​places to stay​ in Aswan like the Baba Dool Bed and Breakfast, or the Mövenpick Resort Aswan. There are incredible restaurants here like the Panorama Restaurant & Bar which is situated in a tower with a full view of Aswan. Another great one is the Nubian café-restaurant which lives in a garden on a bank of the Nile river. Can you imagine a more beautiful place to eat a simple meal?
Aswan is one of the must-see tourist places in Egypt. It may be the smallest tourist city along the Nile, but it is still a marvel to take in and a fun place to take a family vacation. Some other great places are the Nubian Museum, the Ferial garden where you can relax and unwind. Saint Michael Cathedral which is a free and breathtaking attraction, and the Aswan Botanical Gardens, which has all the birds and plants you can ever dream of. On the West Bank, you can check out the Tombs of the Nobles and a large list of other tombs. Aswan is amazing for the history/adventure seekers and vacation lovers alike who travel to Egypt.
8. Valley of the Kings
Valley of the Kings, also known as Valley of the Tombs of the Kings, is a tale 4,000 years old. Many visitors would call this the best attraction in Luxor. You will find the tales laid out for you of the lives of those Egyptian pharaohs whose tombs are here through hieroglyphics. There are so many tombs that have been uncovered over time, but these are not your average tomb. There are so many things to see in each and every tomb. You will learn the history of mummification that keeps these ancient bodies preserved so well. You will learn all about the beliefs of the afterlife and the burial process as well.
The beauty and detail will stun you when it comes to the entire process after death. You will be able to take a tour to find out all about the iconic King Tutankhamen, The Boy King. There are more than 60 tombs you can explore, but there are only a few open at a time. If you are interested in history, ancient civilization, or the Egypt of old, this is a must see. It is truly a bucket list item. Pro tip: You will have to pay for a ticket in order to take your camera and take photos, but remember that the camera ticket policy is monitored and if you abuse it by not purchasing a ticket, they will confiscate your camera. If you are able, pay the extra fee, though. This is once in a lifetime experience to take when you travel to Egypt!
9. Karnak Temple, Egypt
Karnak Egypt
In Luxo, the Karnak Temple is "the largest religious building ever constructed". During the time period, it was built it (over about 1,000 years during the reign of many pharaohs), it was one of the wonders of the world. This was the center of Egypt in this day as far as faith as concerned, and their faith was central to their lives. Be sure to set aside a good amount of time to explore this huge area that has been preserved so well to this day.
You will not want to miss the Karnak Temple Sound and Light Show on your travel to Egypt. It gives a long background history of what was going on in this time period and how the Karnak Temple fit into it. Going to this show is good prep to take in all the temple has to offer, or a great clarifier to explain all you are taking in. You will not want to miss this attraction and we can guarantee you will not leave disappointed or expecting more!
Your Guide as You Travel to Egypt
We have walked through some of the most incredible historical attractions that you must visit as you travel to Egypt. We have covered the Great Pyramid of Giza, the Biblical location of Mount Sinai, the touristy Red Sea Riviera, The Valley of the Kings, and so much more. How can you actually use this? As a guide while you travel to Egypt, of course! There are so many incredible ancient places to visit here that will blow you away. With architecture so amazing it has been credited to aliens, and seas so beautiful poetry has been written about them. Don't pass up a trip to Egypt, this is an incredible​travel destination!
Related Article: Egypt is a Top 2019 Travel Destination