Figure out the best places to visit in Arizona during your trip.
Traveler looking for places the visit in the U.S. should consider traveling to Arizona. This southwestern state remains popular amongst those who love the sun and warm weather. In Arizona, travelers will find an abundance of things to see and do. Thanks to the area's gorgeous outdoors landscapes and unique cultural attractions, every traveler will find something to love there. If you've never been to Arizona before, you might not know where to start when creating a travel itinerary. Thankfully, we've created a list of the ten best places to visit in Arizona. With our article, you'll figure out exactly what you want to accomplish when vacationing.
Things to Consider Before You Go
Time of Year
Any travel destination will maintain differing environments depending on the time of year. As such, travelers may want to consider when they'll be traveling before making any set plans. This way, you'll know exactly what you're getting yourself into prior to arriving. When you visit a new location, you should think about the weather conditions while you're there. Certain activities may be limited based on the type of climate. For instance, those who want to climb mountains may find it too cold to do so in winter. At the same time, walks along the beach may be preferable when they temperatures remain warmer. Things like extreme weather patterns could also put a damper on your journey as well. Thus, travelers will need to consider the kinds of weather they may encounter while traveling.
If you're hoping to visit Arizona, consider the time you decide to go there. The best places to visit in Arizona include outdoors destinations. Accordingly, you'll want to visit when you know the climate will be most agreeable. Arizona tends to remain fairly sunny throughout the year, so you won't have to worry too much about rain. However, the early spring and summer months bring extremely high temperatures. Those who can't handle above 100-degree heat may want to avoid visiting at these times. Despite the heat at certain times, you'll still find Arizona a wonderful place to visit throughout the year.
Location
Travelers should always consider where they'll be staying when they make travel itineraries to new destinations. Most areas of the world offer differing environments and atmospheres depending on the location. Those who enjoy spending a lot of time outside may want to book stays nearer to outdoors attractions. On the other hand, travelers interested in exploring urban sites and cultural attractions may prefer staying near cities. Every traveler has different preferences when it comes to the kinds of places they like to visit. You'll also find that not every activity remains within reach, depending on where you book rooms. This means you'll want to account for these differing tastes before booking your trip.
Trips to Arizona remain exciting, especially for those who love the outdoors. The southwestern destination contains stunning landscapes that will appeal to almost every kind of traveler. If you have an idea about a specific destination to visit, you should book rooms nearby that spot. On the other hand, you may want to stay near a location that remains closer to more urban sites. Those who want to spend their time exploring historical or cultural locations may prefer being near cities. The best places to visit in Arizona include both outdoors attractions and cultural sites. You can consider your preferences before finding a place to stay in Arizona.
Type of Activity
Many travelers may disagree on the type of activity they most enjoy doing while on a trip somewhere. With so many different tastes, finding the ideal locations to visit can be challenging. This may especially be the case if you're traveling in large groups. In these instances, travelers may have to account for a variety of preferences and travel goals. Yet, whenever you go to a new destination, you'll find various kinds of activities to accomplish. Most people can find something they love to do when traveling, if they research accordingly. Instead of missing out on doing an activity you enjoy, everyone can find something to do while traveling.
Arizona contains a variety of things to do when you visit. The state maintains various opportunities for cultural explorations, as well as visiting historical sites. You could also head to the state's major cities and see the shops and restaurants found there. If you're a traveler who loves the outdoors, you'll find Arizona an especially wonderful location. Within Arizona, you can visit an array of gorgeous natural attractions. Since the state tends to remain dry and sunny, you may additionally have no trouble remaining outside throughout your trip. Overall, the best places to visit in Arizona will appeal to your specific tastes.
Cost
Those on a budget know the difficulties of managing travel costs when visiting interesting destinations. Accommodations and transportation can quickly add up, leaving little room for other activities. This means that some travelers may have to carefully consider exactly what they want to accomplish before booking trips. If you plan ahead of time, you can save money while still have an enjoyable trip. Every destination you visit will have some attractions that cost money to visit and others that remain free to explore. Be sure to research prior to leaving for your destination, and you'll stay within your allotted budget.
The best places to visit in Arizona won't cost you a fortune to explore. As the state contains numerous outdoors attractions, you'll often find them free to visit. However, you'll inevitable run into situations in which you'll have to pay to explore new sites. Cultural attractions, like museums, may cost some money in the form of tickets. Other things, such as shopping and exploring restaurants, will obviously mean forking over some cash. However, you can find a balance between accomplishing expensive and inexpensive activities. In general, Arizona represents one of the top locations to visit for those on a budget. You won't have to waste all your hard-earned money simply to have a great trip while there.
Here are the 10 best places to visit in Arizona.
1. Grand Canyon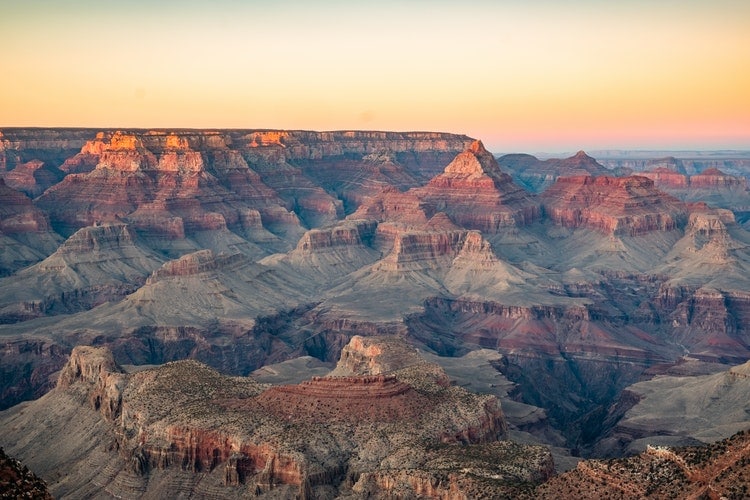 When most travelers think of Arizona, they probably also think of the Grand Canyon. This impressive natural site attracts countless visitors from around the world each year. The Grand Canyon remains of the best places to visit in Arizona. If you decide to come to Arizona, you'll definitely want to come here. The natural wonder remains stunning at almost any time of year that you visit. You could hike along the North Rim and enjoy the views from high above. Or, relax by taking a raft down the Colorado River. Travelers will not regret doing either activity when they come to the Grand Canyon. At sunrise, you'll find the canyon lit up by the bright golden sun. Any travelers with a penchant for photography may also consider this an ideal location for taking pictures. Be sure to visit this amazing destination when you head to Arizona.
2. Hoover Dam
This man-made attraction remains one of the best places to visit in Arizona. The concrete dam was constructed during the Great Depression in an effort to provide hydroelectric power. At the time of its construction, the site was the largest dam in the U.S. The dam currently also controls the Colorado River between Arizona and Nevada. Once water collected in the dam, Lake Mead, the largest reservoir in the U.S, was developed. If you're interested in both history and U.S. architectural achievements, you'll want to visit this spot. Travelers may take tours of the facilities and the dam. You can see how the dam provides power and learn about its fascinating history. When you visit, you'll be impressed by how the dam was created and its massive structure. Many people find the dam a top attraction after they've explored Arizona.​​This man-made attraction ​
3. Tucson
Credit: SD Dirk
This exciting city represents one of the best places to visit in Arizona. If you visit the southwestern state, you'll want to make time for a trip to Tucson. The area contains numerous venues for fun and adventurous activities. Travelers who consider themselves foodies will especially enjoy visiting this city. Since Tucson remains close to Mexico, the location offers many opportunities to try some authentic Mexican dishes. Those with a taste for spicy food may find Tucson a favorite location in Arizona. Additionally, the city contains countless historical attractions. With a Hispanic heritage, you'll find numerous places to see that reveal the area's local history. The Arizona-Sonora Desert Museum also remains an ideal location to spot regional animals, such as coyotes and prairie dogs. Instead of exploring your typical museum, you can visit this location and see countless fascinating creatures.
4. Cathedral Rock
​Flagstaff​​​Arizona contains an array of stunning natural landmarks, such as the Grand Canyon. However, one of the best places to visit in Arizona includes Cathedral Rock. Many travelers visit this unique attraction every year, drawn to its immense size and formation. Standing almost five thousand feet tall, Cathedral Rock appears stunning amid the Arizona desert landscape. Located in Sedona, a great city for outdoors enthusiasts, the rock appeals to many who enjoy hiking. Travelers who trek to the summit of Cathedral Rock will feel extremely accomplished. Of course, the view from the top remains an obvious attraction as well. Those without much experience hiking may find the trail a bit difficult to follow. However, the challenge of climbing may appeal to adventurous travelers interested in testing their stamina. Make sure to stop by this gorgeous rock formation during your trip to Arizona.
5. Jerome Ghost Town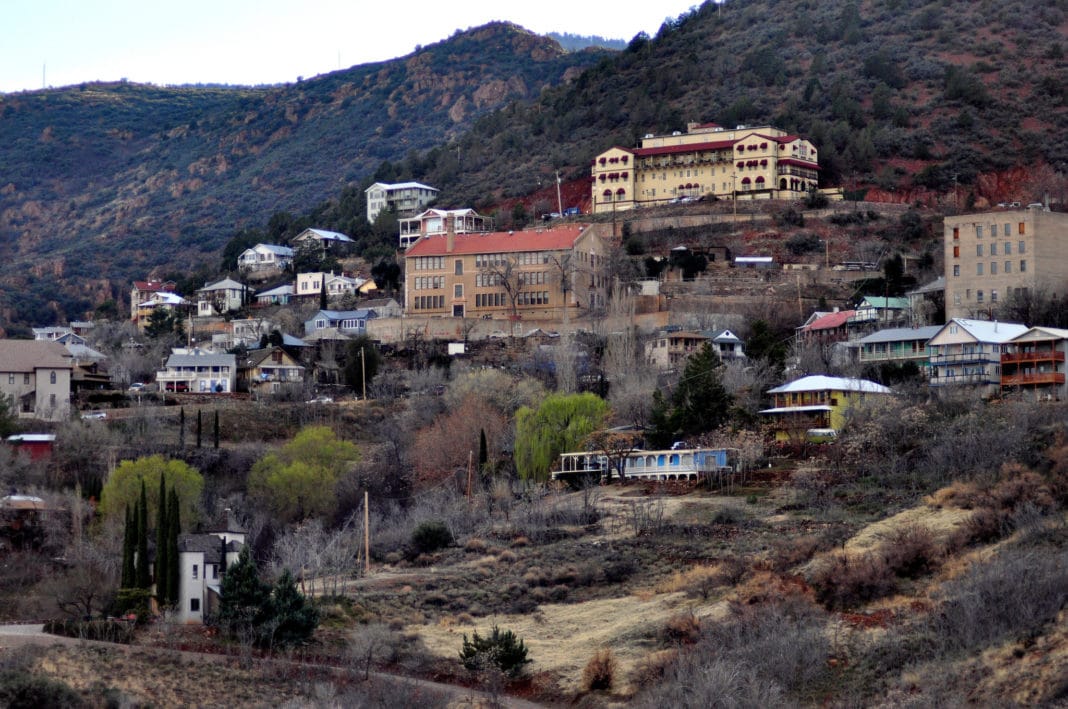 Credit: Dan
Jerome remains a top location to explore for travelers who've haven't previously visited Arizona. Once a copper mining mecca, Jerome now maintains a reputation for being the largest ghost town in the U.S. When initially established in the late 1800's, Jerome provided a home for thousands of settlers hoping to make a living. Millions of pounds of copper used to be produced here every month, before the mining business there collapsed. Today, the area draws numerous visitors interested in seeing what remains after it became a ghost town. Travelers who visit will discover that Jerome plays host to many artists, writers, and other creative professionals. You could step through the area and see the various historic buildings while enjoying the sunny weather. After a day of exploring, travelers can step inside a gift shop and purchase a unique souvenir.
6. Montezuma Castle
The U.S. doesn't contain many castles or structures similar to them. That's why Montezuma Castle remains one of the best places to visit in the U.S. This fascinating attraction, probably a remnant of the indigenous Sinagua people, was built between 1000 and 1450 AD. Though settlers initially thought the structure an Aztec monument, the castle remains an impressive architectural feat. Cut into the cliffs of Beaver Creek Canyon, Montezuma Castle contains over twenty rooms constructed with mud and mortar. The five-story construction appears breath-taking amid the natural desert landscape nearby Flagstaff. If you visit Montezuma, you'll feel in awe of the kinds of work that went into building the attraction. Those interested in seeing Montezuma Castle should note that you may not explore the interior of the castle. However, you can still gain amazing views of the structure from afar.
7. Lake Mead
If you're traveling to Arizona during the summer, you're going to need somewhere to cool off. That's why travelers will find Lake Mead one of the best places to visit in Arizona. While you'll find a number of cool lakes in Arizona, Lake Mead remains a top spot. As mentioned previously, the construction of the Hoover Dam resulted in the development of Lake Mead. Technically a reservoir, the site contains over 9 trillion gallons of water. Those who love water sports will find this spot an ideal location to visit. Here, you can partake in wakeboarding, skiing, boating, or tubing adventures. You could spend all day exploring the water at Lake Mead. Any hoping to relax during their visit to Arizona can also sunbathe along the shores. The sandy destination remains ideal if you're looking to enjoy the Arizona sun. Just make sure to apply plenty of sunscreen before you do so.
8. Havasu Falls
Havasu Falls represents one of the best places to visit in Arizona. Those interested in viewing breathtaking natural attractions will definitely want to head over to this spot. Situated near the capital of the Havasupai Indian Reservation, Havasu Falls remains in proximity to the Grand Canyon. The stunning blue waters that fall from the rocks will give the impression of both tranquility and power. The falls drop over 100 feet down into a gorgeous blue pool of water. You could hike the area and then go for a dip after working up a sweat. Visitors should note that arriving at the falls takes a few days of hiking. This means that those unable to manage that much exercise may want to visit another natural attraction. However, if you can handle the hike, the sites seen upon arrival will make the journey worth the struggle.
9. Phoenix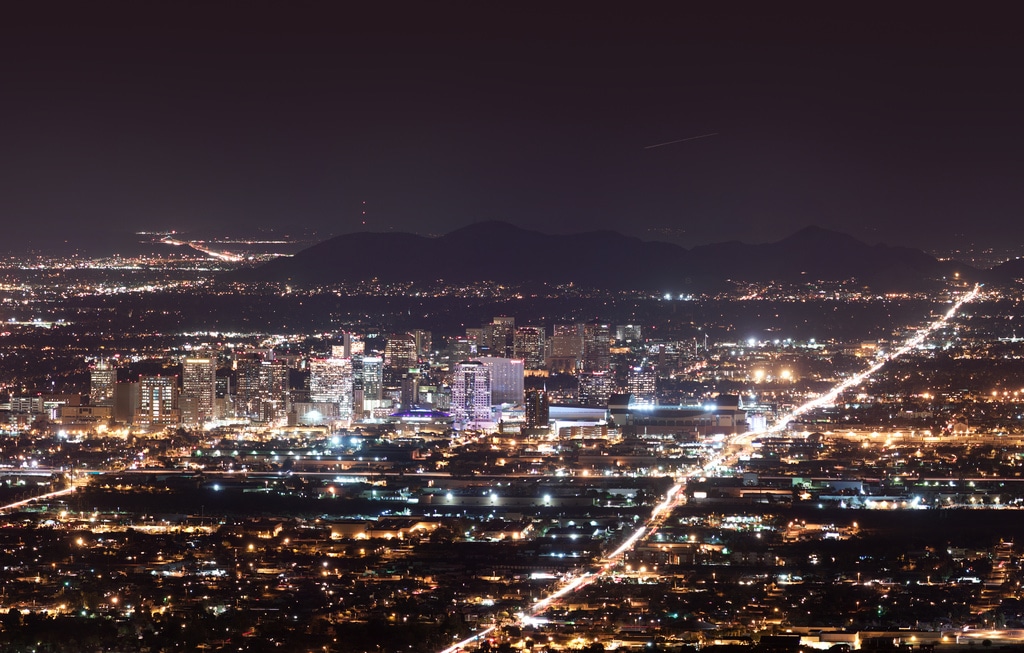 Credit: Alan Stark
The capital of Arizona remains a top location to explore if you love vibrant, bustling cities. In Phoenix, travelers will find themselves drawn to the exciting nightlife and various shops and restaurants. Those who prefer to explore cultural attractions will thus want to head to this Arizona destination. If you're tired of trekking through the desert, consider staying in Phoenix for a day. The city, the fifth largest in the U.S., contains of array of unique restaurants and stores to explore. You could wind your way through the area, tasting the local foods and drinks on your journey. Those who enjoy golfing will appreciate the vast number of golf courses found in the area as well. Travelers could practice their swing while enjoying the sunny Arizona weather. Places like the Musical Instrument Museum also provide unique attractions for those who enjoy learning about local culture.
10. Saguaro National Park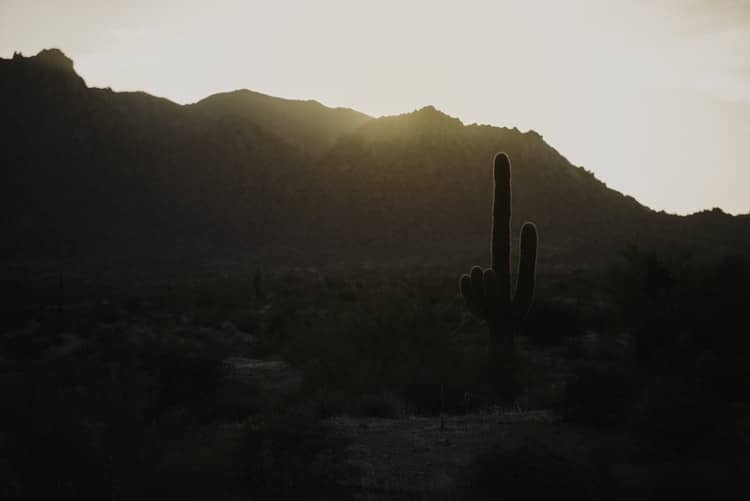 Named after the cacti that reside there, Saguaro National Park represents one of the best places to visit in Arizona. This national park was built in order to preserve the massive cacti that make Arizona their home. Found in the middle of the Sonoran Desert, Saguaro National Park appears stunning to those who appreciate nature. If you can, be sure to visit this spot during the early spring. When February and March roll around, these cacti will bloom, revealing gorgeous colorful flowers. This time of year will also mean cooler temperatures, making it more appealing to go hiking. Since the desert grows extremely hot during the summer, you may want to book a trip in winter or spring. When you visit the park, you can enjoy a carefree, relaxing hike through the area. Those hoping to have an adventure may also go camping and explore the wilderness.
Discover the best places to visit in Arizona while vacationing there.
Arizona represents one of the most popular places to visit in the U.S. Since the state contains such unique landscapes and other attractions, many travelers love stopping by the Southwestern location. Those without any idea where to go when they travel to Arizona will appreciate our list. Our article discussing the best places to visit in Arizona should help you when planning your next travel adventure. Be sure to follow our suggestions before you decide to book your trip to Arizona.
Related Article: Your Guide to the Havasupai Waterfalls of Arizona