Want to know every climber's dream? It's the Mammut Multipitch Chalk Bag.
On a moderate length route, bringing items like your jacket, snacks, phone, and keys are somewhat of a necessity. A lot of the time climbing with a pack (even if it is small and lightweight) can be pretty annoying. Luckily, we've found a solution in the Mammut Multipitch Chalk Bag. Sporting an increased size, you can easily fit all of your necessary items into the bag. There is even an adjustable bungee cord on the bottom if you want to bring a small jacket or puffer. This little travel accessory checks all of the boxes.
A Little Bit About Mammut
If you haven't heard of Mammut before, it's one of our favorite companies. An outdoor Swiss mountaineering brand, their headquarters are based in Seon, Switzerland. The company was founded back in 1862 by Kaspar Tanner. A trusted company, their gear is made to keep up, no matter where your travels may take you. Needless to say, the Mammut Multipitch Chalk Bag does not disappoint.
Mammut Multipitch Chalk Bag Features & Benefits
There are so many things we love about the Mammut Multipitch Chalk Bag. From the larger size to the storage compartments and wider webbing strap, there are so many handy features.
Design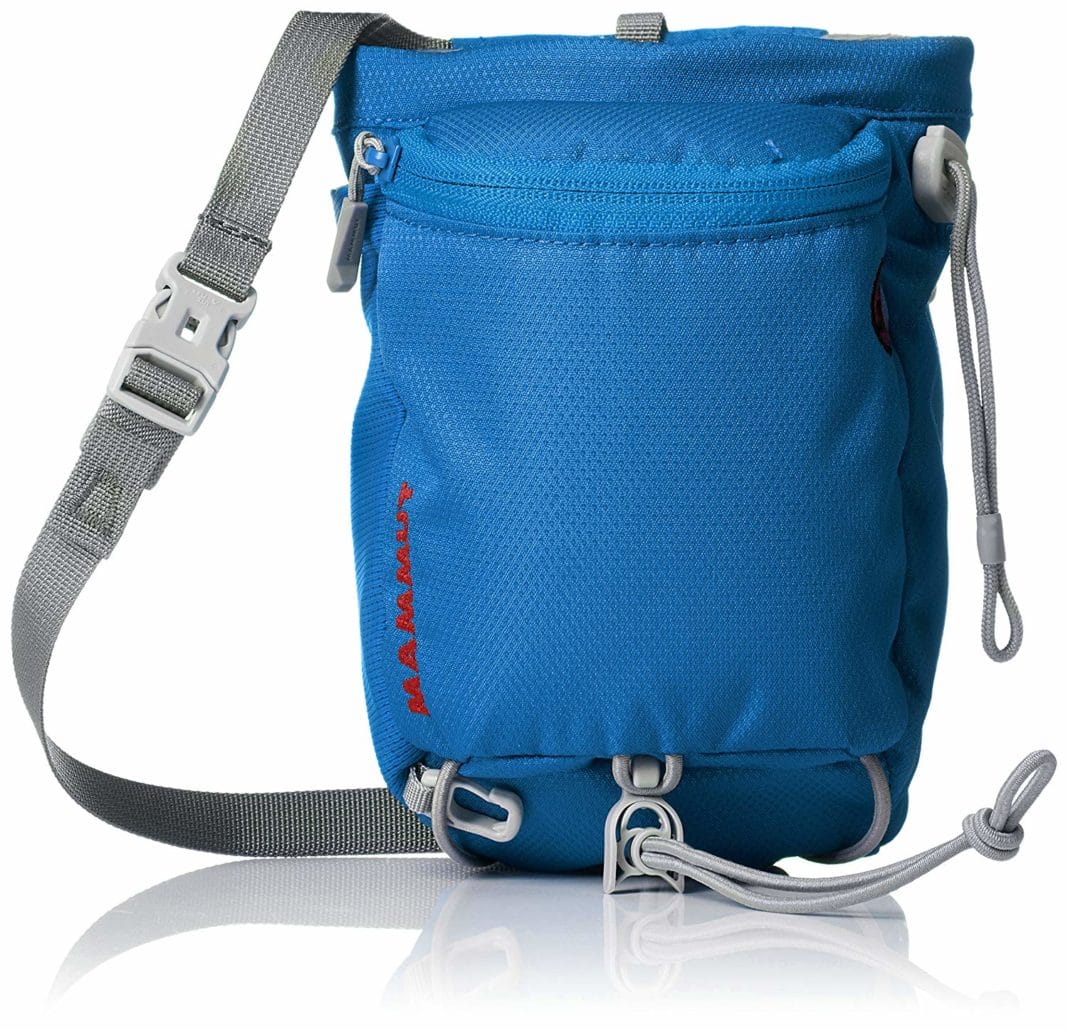 Credit: Amazon
Sure, the Mammut Multipitch Chalk Bag looks alot like the other styles on the market. And at the core, it operates the same way. But there are a few key differences that set it apart from the pack. For example, many bags have a zippered pocket for holding your important items. However, this bag offers two storage compartments, as well as a stretch pocket, and bungee cords on the bottom. All of these features are designed to hold small kit items for mid to long multi-pitch climbs.
Pockets
Let's take a look at the pockets. What do you notice first? Right off the bat, the large external pocket sticks out. There is plenty of room inside. You could easily store a day's worth of snacks, small first aid kit, and a headlamp inside. Inside of the pocket, you will also find a small elastic pouch. This is handy for organization. It's a good place to keep your phone or a small map of your route description.
The Mammut Multipitch Chalk Bag also has a vertical zippered pocket as well as an external stretch pocket on the sides. The second zippered pocket is slim – it's a great place to store your keys but otherwise is a limited space. The zipper slides downwards and is equipped with a small, mesh, triangle-shaped piece of fabric at the bottom to keep items from falling out. On the other side, there is a stretch pocket large enough to hold small items like a pair of gloves or sunglasses. Between all three of the pockets, there is enough room to fit in food, a small emergency kit, your phone, wallet, keys, and a map of your route. The bungee cords offer the place to clip on your water bottle and extra outer layers.
Bungee Cords
At the bottom of the chalk bag, you will find a doubled bungee cord, plastic hook, and a tightening system to secure the items to your bag. When the cords are fully extended, you can fit them around a 1 liter plastic water bottle and hook it. While we wouldn't recommend trying this with a larger bottle, this one worked just fine.
Durability
While the Mammut Multipitch Chalk Bag is well constructed, we did notice some wear and tear on the rim after a few months of use. This is irrelevant to how the bag functions but we were surprised at the amount of wear it took. Overall though, it still functions well.
Performance in the Field
If you're skeptical of the Mammut Multipitch Chalk Bag, don't be. While we admit that it's not normally fun to climb with a pack on, this piece of gear changes all of that. Besides, when you are climbing on mid to long routes, it's necessary. Stuffing a few granola bars into your pant pockets isn't going to cut it. After months of testing, we have found it's a great bag to bring on multi-pitch routes. When it comes to storage, it is particularly useful. Think of it as a tiny backpack.
In our opinion, this bag is best used for longer routes with good weather. Routes between four to twelve pitches are ideal. So grab your Mammut Multipitch Chalk Bag, stuff it with snacks and the gear you need. Use the bungee cords to attach a puffer jacket and a small bottle of water too. This bag is not a gimmick. While the bag could admittedly be more durable, we are happy with its overall performance and well-designed features.
What Travelers Are Saying About the Mammut Multipitch Chalk Bag
The Mammut Multipitch Chalk Bag is a highly functional piece of travel equipment. Overall, it helps to cut back harness clutter and gives you the storage you need for supplies on a multi-pitch climb. We all know that some routes are too long to go on without having the proper food and water. While the design is simple (a chalk bag with zippered pockets and bungee cords), it was well thought out and the design exhibits great attention to detail. We appreciate that it gets rid of the need for a day pack. It's a must have item for mid to long climbing routes.
All in all, this bag gets the job done. Since this bag is a little on the larger side, you can dip your hands in for chalk with ease. All in all, this bag not only looks great but works well too. Reviewers highly recommend it.
Alternative Chalk Bags That May Be a Better Fit for You
Metolius Climbing Galaxy Competition Chalk Bag
Check out this fun bag from Metolius. Since it is made from from nylon, so we know it is good quality. Thanks to the stiff rim, the classic cylinder shape holds well and is made for easy access.What is this bag made for? It is ideal for bouldering, rock climbing, and indoor climbing. It comes with a chalk bag belt with a side release buckle. We can see that this one falls into the standard size category. The dimensions measure 7 x 7 x 4 inches and it weighs in at 4 ounces. Standard bags are the most popular option.
Bigger bags work well for those times when you need to coat your hands and forearms in chalk (typically for routes with wide cracks). The cylindrical shape of the Metolius Climbing Galaxy Competition Chalk Bag is ideal for longer climbs, since it is capable of holding a high reservoir of chalk.
The Metolius Climbing Galaxy Competition Chalk Bag really gets the job done. You will get compliments on the fun graphic design whether you're in the gym or outdoors. In person, the print is a little more washed out than it appears in the photo. However, this is to be expected and the bag looks great nonetheless. In terms of size, this is slightly larger than your average chalk bag.
Tech Specs:
Durable nylon fabric

Fun print style

Wide mouth for easy chalk access

check

Sturdy structure and rim

check

Comes with belt and side release buckle

check

Full length soft interior lining

check

Classic cylinder style shape
Arc'teryx C80 Chalk Bag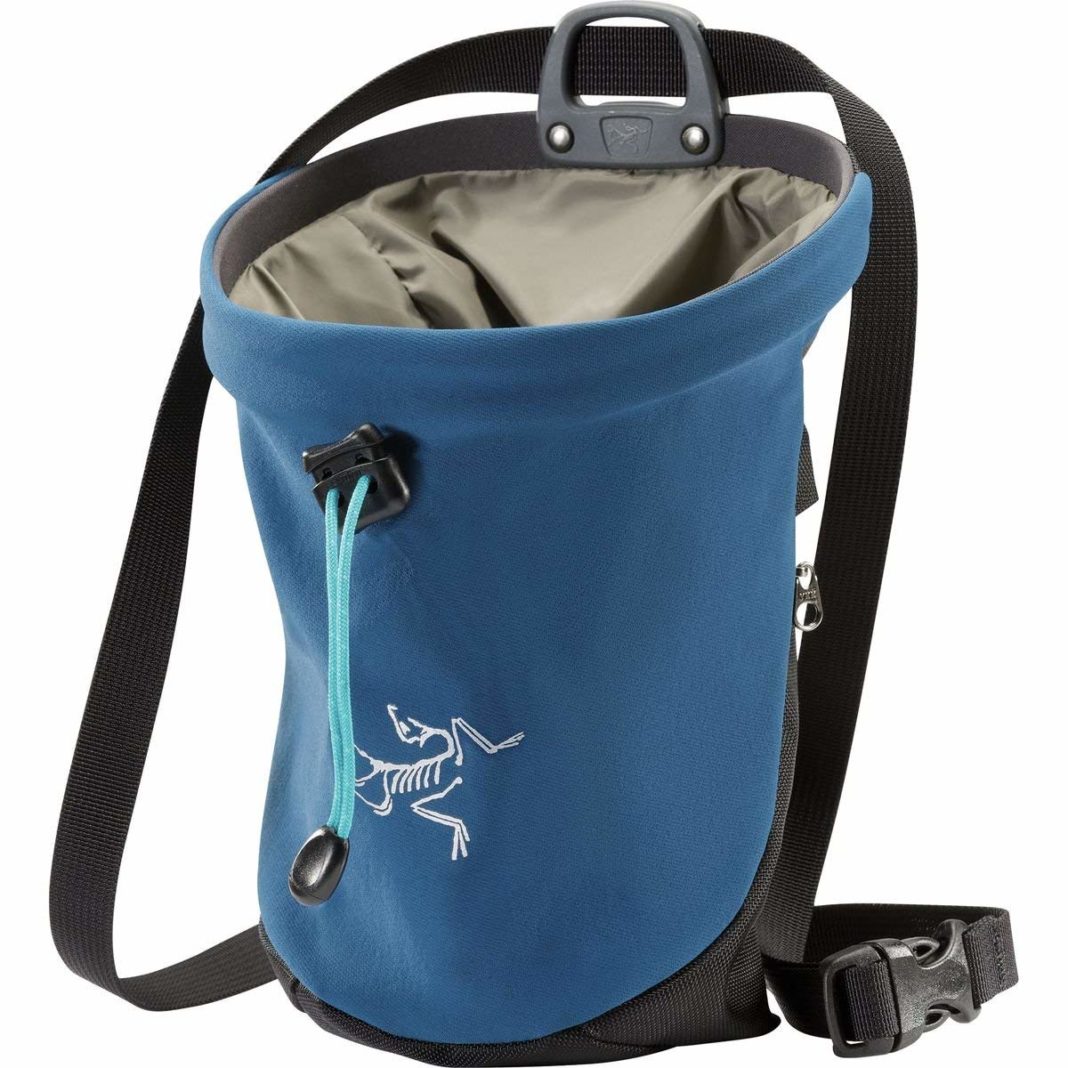 This chalk bag is both supple and durable. Travelers use it the most for alpinism and climbing. You can enjoy both efficient movement and protection out in the elements. This bag was the only one in our book to earn a perfect score for closure. While it is unusual, the twist closure method is highly effective. The opening is wide and the rigid brim allows for you to get your hands in without the bag losing its shape. Arc'tertyx is a brand we know and love.
The storage space means that you can bring the small items you need. Store your keys, phone, wallet, and snacks in there. When you are on mid to long routes, you need to have snacks on the go. Stop worrying about where to put your items or cramming them into your pockets.
Tech Specs:
4-weave stretch fabric

Supple and durable

Used for alpinism and climbing

check

Twist closure

check

Wide opening

check

Rigid brim

check

Synthetic fibre construction
Invest in the Mammut Multipitch Chalk Bag for Your Climbing Adventures
Are you an avid climber? If so, you know the importance of investing in quality products from the best climbing chalk brands like Mammut. The Mammut Multipitch Chalk Bag offers top-notch quality you can count on when you're working on your athletic performance. From the durable material to the drawstring closure, belt, and zipper pocket, there are so many useful features. Say goodbye to sweaty palms and hello to good grips.
Related Article: The 5 Best Chalk Bags Of 2018: Your Shopping Guide