Looking for fun things to do in Miami with kids? You've come to the right place.
While you may not think of the Magic City as family friendly, there are actually plenty of fun things to do in Miami with kids. White sand beaches and mellow turquoise waters are the perfect place to start. When in doubt, head to the beach. After all, who doesn't want a day of fun under the sun? From the zoo to museums, the beach, and outdoor adventures, we've gathered up the top picks. Read on.
In this article, we have taken some pointers from the locals to see Miami through their lens. This city is full of a fantastic art scene, has plenty of culture, and offers a slew of fun activities in the great outdoors. Here's another thing. The weather in Miami means that while most of the country is hunkered down for winter, you can throw on a tank top and shorts and call it good. The weather here is warm all year around, so plan a beach day basically whenever you would like to. And should the weather get too hot, don't sweat it (all pun intended). There are plenty of fun indoor activities families will love too.
Here Are Our Picks for the Best Things to Do in Miami with Kids
1. Take an Airboat Through the Everglades at Sawgrass Recreation Park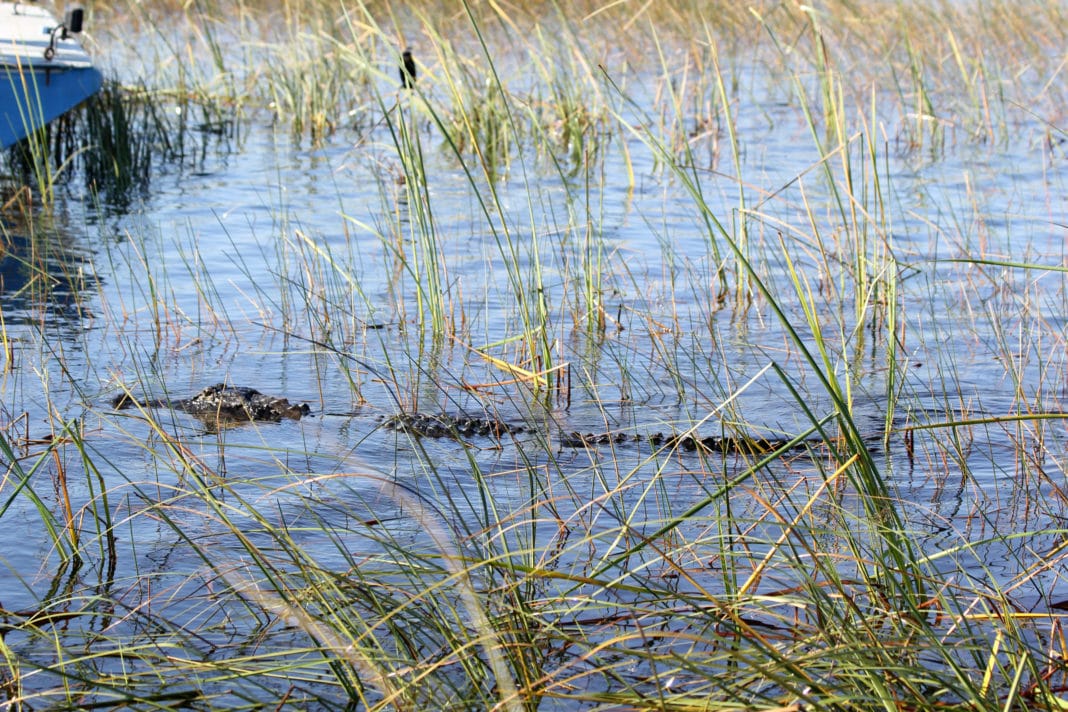 Credit: Wikimedia Commons
Have you ever had the Everglades on your bucket list? If so, you have to add Sawgrass Recreation Park to your list of must-do activities for vacation. General admission will get you a 30-minute airboat tour through the world-famous Florida Everglades. But wait, that's not all. You will also get access to three exhibits where the kids can ooh and ah over iguanas, sea turtles, and a 1,000-pound alligator.
Last but certainly not least, your kids can also hold a baby alligator. If you would like, you can book separate night tours out on the airboats. While Sawgrass Recreation Park is technically 40 minutes northwest of the Magic City, it is well worth adding to our list of fun things to do in Miami with the kids. It's an easy drive and so worthwhile. We recommend it for children ages ten and over. There are plenty of things to do in Miami with kids. This is one of the best of them.
2. Visit the Spectacular Oleta River State Park
Credit: Wikimedia Commons
Want to find the best things to do in Miami with kids? One of them is right here. Check out the Oleta River State Park. As Florida's largest urban park, this wonder spans well over 1,000 acres. It's a welcome break from the hustle and bustle of the city. As much as we love Miami, it's nice to get back in touch with nature once and a while. Just thirty minutes from downtown, this gorgeous park is divided by a waterway, breathing life into the cattails and mangroves.
Rent bikes at the Blue Moon Outdoor Center and explore over 15 miles of trails. At the same outdoor center, you can also rent out canoes and kayaks, perfect for exploring the calm waters and nearly one mile of sandy beaches. Just be aware that there are alligators and snakes in the water. So stay safe and do not disturb the wildlife. Finally, there are beautiful rustic, air conditioned cabins along with summer youth campgrounds. If you would like to rent a cabin, this is a beautiful spot to explore the great outdoors.
3. Get in on Some Culture and Institute of Contemporary Art
Credit: Institute of Contemporary Art
Newly opened, the Institute of Contemporary Art offers a family friendly day on the third Sunday of every month. Come and enjoy activities and performances that children of all ages will enjoy. This artistic attraction offers free year-round and open access to the most creative exhibits you will find around the city. Visiting the Design District is one of the most fun things to do in Miami with kids. Why not try to instill a sense of appreciation for culture and expression from a young age?
4. Take Photos at the Wynwood Walls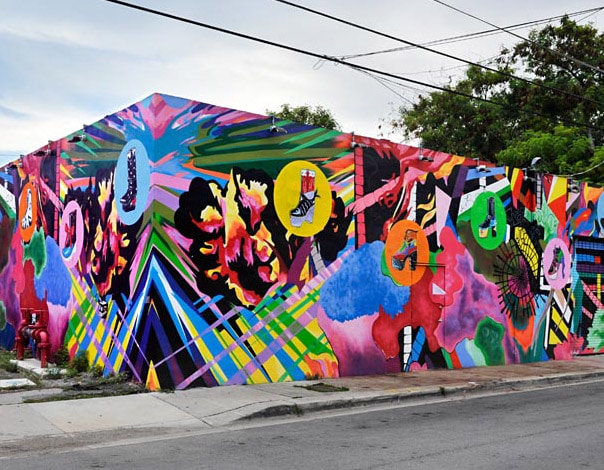 Credit: The Wynwood Walls
When in Miami, take plenty of photos. Besides the beautiful swaying palm trees, beach scenes, and art deco architecture, there are plenty of fun artistic murals to take photos around. Don't miss out on the Wynwood Walls. This quirky attraction is the perfect photo opp. Bring the kids and make some memories. Kids and aspiring artists alike will love this collection of bright murals inside the city's former Warehouse District. If you want our advice, visit during the day to avoid the loud crowds and make sure to give your kiddo a point and shoot so they can document their favorite pieces of art. It's all around good, clean fun that the entire family can enjoy. This is one of the best things to do in Miami with kids.
5. Play Around at FunDimension
Credit: FunDimension
In Wynwood, you will also find a 15,000 square foot playland. This is every child's dream. So what exactly is FunDimension? Visiting here is one of the best things to do in Miami with kids, that's for sure. Let's just say that it is packed to the hilt with bumper cars, laser tag, classic arcade games, a bungee dome, and much, much more. This haven opened in December of 2017 and has been making locals and travelers happy ever since. Besides the daily activities, there are also kid's classes and day camps.
6.  Enjoy a Big Breakfast or Lunch at Michael's Genuine Food & Drink
Credit: Michael's Genuine Food & Drink
This new American eatery offers an outdoor courtyard, locally sourced comfort food, and inventive desserts. Locals know this vibrant neighborhood bistro for its seasonal ingredients and warm hospitality. Here's something you probably don't know. Michael's Genuine Food & Drink is the ultimate showcase for the James Beard award-winning house chef Michael Schwartz's approach to clean, fresh food.
From the moment you take your first step through the doors, you're greeted with a smile. Oysters are piled up high on the raw bar and the energy of the dining room is tangible. Take a sneak peak at the open kitchen where chefs are chopping up and putting together all the good stuff. It's magic, really. The food bar is stacked high with fresh ingredients, cooks bustle about, and the wood oven's flames disperse mouth-watering scents of grilled whole fish, chicken, vegetables, and pizzas.
Opt for a table or cozy booth inside or head out under the warm glow of the red lanterns in a sun-speckled courtyard. The welcoming bar is always a fun choice. Whether you're coming for lunch, dinner, or just a midday pick-me-up, enjoy an afternoon menu served from 3 pm to 5:30 pm Monday through Saturday. If you're looking to get the most bang for your buck, try coming by for Happy Hour. On weekdays from 4:30-7:30 pm, you'll enjoy 1/2 off oysters, snacks, cocktails, wine and beer.
On Sundays, brunch is where the small plates shine. A weekly-changing menu offers everything from savory to sweet. Breakfast pizza topped with a local farm egg and house smoked bacon and decadent treats like sticky toffee buns and lemon ricotta pancakes  are just a few of your options. It's the perfect, memorable way to spend the last day of the weekend.
You'll find the restaurant located in the heart of the Miami Design District. We love that it's easily accessible. Whether you're just stopping by for  a quick layover meal from the airport or coming from the causeway from Miami Beach. Keep your eyes open for the blue Design District valet stands from $5 on both 40th and 39th Streets, as well as affordable and convenient street or garage parking. You're going to love this little joint; it's one of the best restaurants in Miami. It is a place that the whole family can enjoy.
7. Spend the Day at Matheson Hammock Beach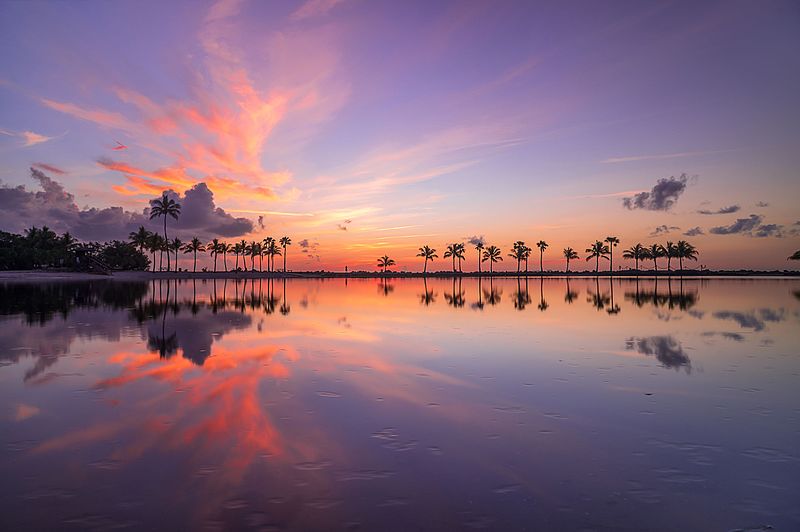 Credit: Wikimedia Commons
Skip the ritzy atmosphere and big time glamor of South Beach. There's a reason Matheson Hammock made it on our list as one of the best beaches in Miami. Surrounding the northwest of Fairchild Tropical Botanical Garden, this sprawling park covers 630 acres of metropolitan Miami. Its roots date back to the 1930s when the Civilian Conservation Corps (CCC) designated it a public park. Today, its jewel is a man-made pool continually filled by the rushing tides of Biscayne Bay.
This is the perfect place for those with young children or simply those who want to get their share of sand and salt while avoiding the beach surf. The characteristically warm and calm waters are also a great place to kiteboard if you do end up feeling a little more adventurous. After you work up an appetite, walk the nature trails over to the Red Fish Grill, offering up some of the best crab cakes, fried calamari, and picturesque sunsets you can find.
8. Make a Splash at Flamingo Park
Hot weather got you down? Make a splash and cool off at Flamingo Park. The city has invested a lot in this 34-acre park and it really does show. Check out the aquatic center. There is an eight-lane lap pool and a zero-depth entry water play spot. Furthermore, there is shaded playground spots for children of all ages, a dog park for your pups, basketball courts, tennis, courts, and even a rock climbing wall. Talk about options! This is the perfect spot to play outdoors. It's no wonder we had to include it on our list of fun things to do in Miami with kids.
9. Take Them to Little Havana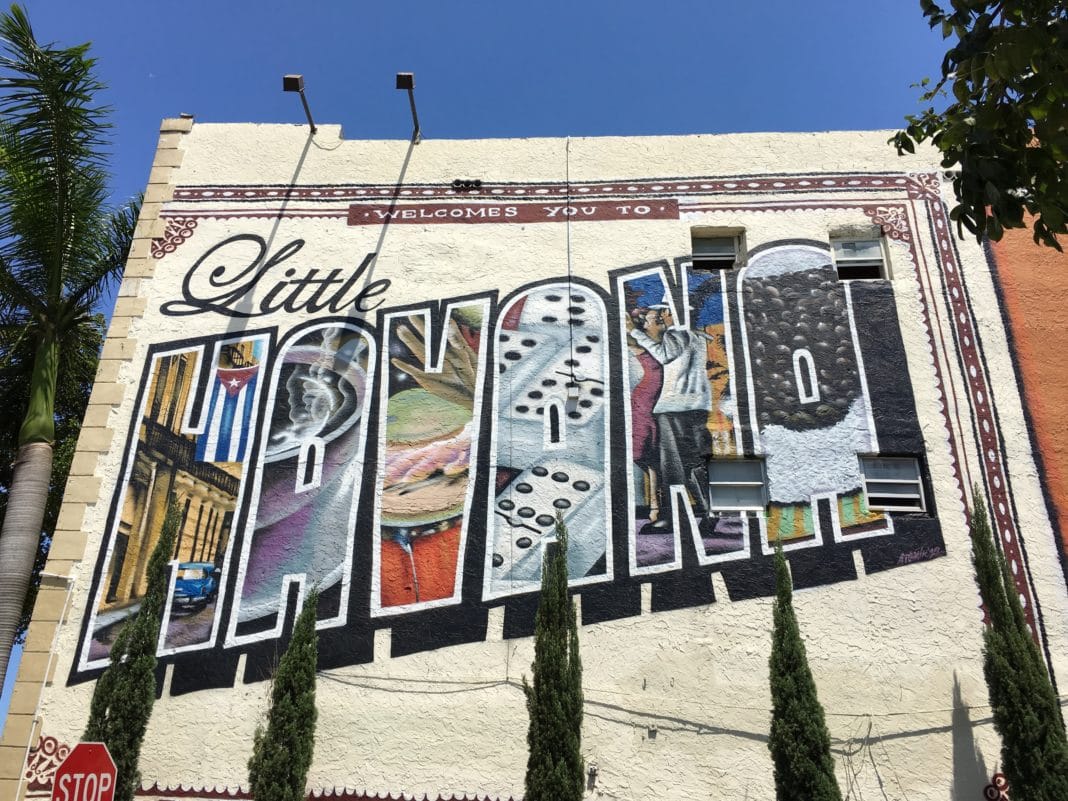 Credit: Flickr
One of the best things about Miami is the mix of cultures. Little Havana is such a fun place to experience a little slice of Cuba. Make your way over to Calle Ocho (8th street) between 17th and 12th avenues for a myriad of art galleries, fun restaurants, and offbeat attractions. Every March, the Calle Ocho Festival is held and the Carnival Miami runs from February through March. Here's a pro tip. Those who appreciate art will love looking at the vibrant murals painted outside the cafes. After lunch, everyone can enjoy some ice cream from the Azucar Ice Cream Company.
Book Your Vacation and Enjoy These Fun Things to Do in Miami with Kids
You don't have to be bored taking in kids activities. And they don't have to be bored at yours. There are activities out there that the whole family can truly enjoy.  Things like bike riding in the park, checking out the best restaurants, and hitting up local museums are just a few examples of fun for everyone. Luckily for you, there are plenty of things to do in Dallas with kids and nearby. There are also some fun weekend getaways and national parks not too far away.
Have you been to the Magic City and have some recommendations for us on the best things to do in Miami with kids? While this city has so much to see, we realize we can't include it all. Let us know your thoughts in the comment section below.
Related Article: 9 Best Restaurants in Miami for Mouthwatering Eats