The annual agricultural celebration just got a little cooler.
Drink Company's highly anticipated Cherry Blossom pop-up bar is back and better than ever this year. This hip hotspot offers guests delicious drinks and an eclectic atmosphere. The bar began around this time last year, opening during the National Cherry Blossom Festival. This year they are partnering with the festival for the ultimate tribute to both Japanese culture and D.C.'s vibrant pink blossoms.
Don't miss your chance to experience the Cherry Blossom Bar.
The Cherry Blossom Bar truly gives visitors the full Japanese experience. You'll feel like you transported to Tokyo as the 10 foot Godzilla robot overlooks guests and thousands of paper cranes hang from the ceiling. Of course, it wouldn't be a proper tribute to the festival without 90,000 individual fake cherry blossoms adorning the bar's interior. Sip a quirky Japanese themed cocktail drink like "There Goes Tokyo" or "Love Crazed Monster Crushes World" fresh from the bar. From sake to Japanese whisky, the full drink menu has no shortage of fine beverages.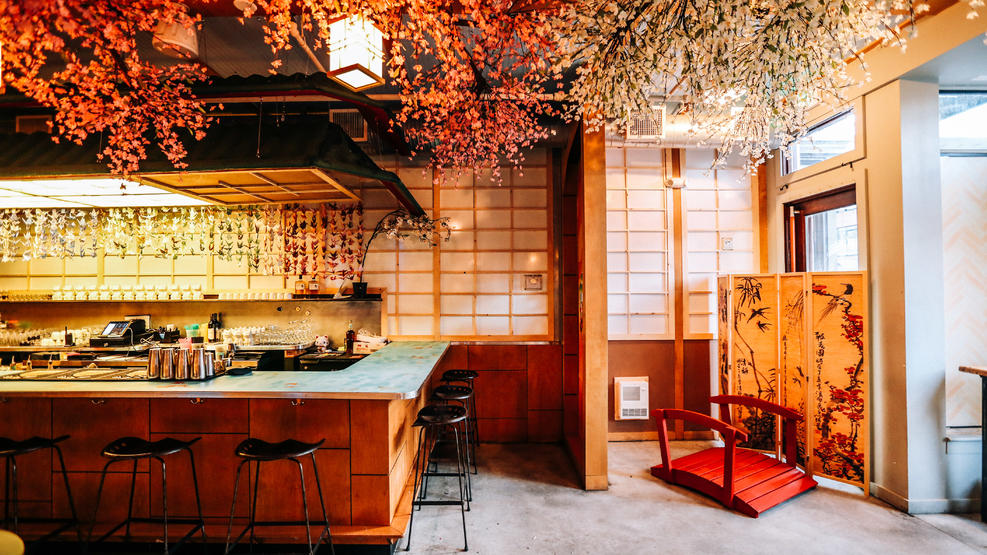 Experience the full Cherry Blossom celebration at the bar's festival night on March 20. Here visitors can buy a guest pass for entry into the pop up bar and benefit a non-profit at the same time. Proceeds go towards the National Cherry Blossom Festival organization.
The Cherry Blossom Pop-Up Bar opened this past Thursday, March 1 and operates through April 29. You can find them at 1843 7th Street NW. The bar is open 5 p.m. – 12:30 a.m. from Sunday through Thursday and 5 p.m. – 1:30 a.m. on Friday and Saturday.
Don't forget to hashtag your PUB (Pop-up bar) experience for the gram at #cherryblossompub. Make a visit to this bar a top priority during your National Cherry Blossom Festival experience this year.
Related Article: Here's When D.C.'s Cherry Blossom's Peak This Year