You're looking for information about camping for beginners.
But you are clueless about where to begin.
So many questions.
Will bear spray stop Bigfoot?
Should you pack the stilettos? You know, just in case?
Camping for beginners can be a great experience, or it can create the need for extensive therapy.
Hopefully, this guide to camping for beginners will help make that first experience the good kind.
With that in mind:
Camping can take many forms; from rustic roughing it to full-on glamour camping (known as Glamping).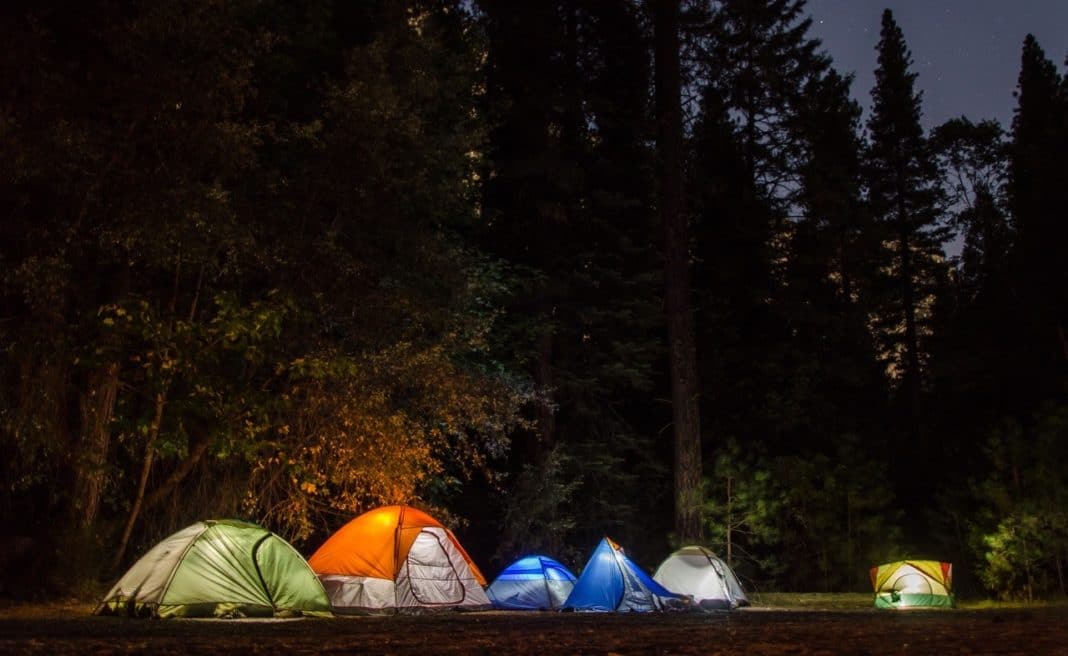 Image CC0 via Pexels
So our first task is to find out what YOUR idea of camping is.
Meanwhile:
We'll just go ahead and cover everything.
No pressure. Don't worry. You can make a decision later.
Camping, Glamping, Cabin Rentals, and Mosquitoes
People camp in many different ways.
They camp in a cabin:
Image via: CC BY 2.0 from Virginia State Parks via Flickr
No doubt about it:
If being attacked by Jumanji-sized mosquitoes all night might bother you; rent a cabin. It is a viable solution.
Travel trailers and recreational vehicles (RVs) are also an option.
Image via: CC BY-SA 2.0 from Chumlee10 via Flickr
And then, for those who have a real sense of adventure — tent camping.
For tent campers, there are a few (no, really, a lot) more details to worry about.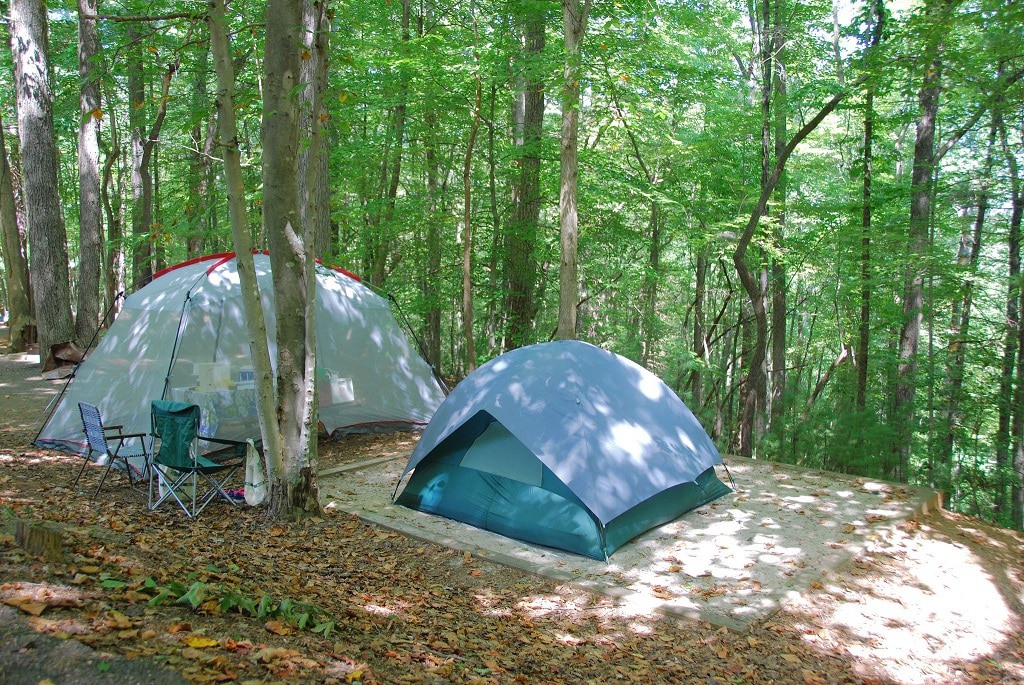 Image: CC BY 2.0 from Virginia State Parks via Flickr
Tent campers don't really camp — they relocate.
Don't forget the kitchen sink.
You'll see.
Renting a Cabin
If you like being outside, but you're not ready to leave the lap of luxury, then a cabin might be perfect for you.
This is why:
Most rental cabins are located in remote areas or campgrounds.
Advantages of Cabin Rental
Pre-stocked with kitchen amenities, pots, pans, and stove
Often include electrical service
May (or may not) have a refrigerator
Regular beds
More space than trailer or tent
Most have PLUMBING
Some have Wi-Fi or satellite
Cost-effective (mostly)
Disadvantages of Cabin Rental
Using someone else's "stuff"
Limited selection of location
Some are remote, requiring a hike to access
When opting for a cabin, make the reservation today and be camping by the weekend.
The ease of packing clothing and food and fleeing civilization is tempting.
For busy people, it is undoubtedly easier than tent camping.
Cabins are also an excellent option for parents with younger children.
Renting/Buying a Trailer or Recreational Vehicle (RV)
Most people who buy travel trailers and RVs are seasoned campers.
A Travel Trailer (or trailer for short) is towed behind another vehicle. Although used for recreation, it is NOT an "RV." A Recreational Vehicle (RV) has a motor and is driven — which is why it is called a "vehicle" and not a "trailer." Thank you for joining my TED Talk.
There are plenty of trailers and RVs on the rental market.
Trailer rentals offer similar perks to a cabin and usually include camping gear.
Have a look:
Advantages of Renting Trailer or RV
Pre-stocked with kitchen amenities, pots, pans, and stove
Often include electrical hook-ups
May (or may not) have a refrigerator
Camp chairs and other equipment sometimes included
Some have air conditioning and heat
More space than a tent
Some have PLUMBING
Some have Wi-Fi or satellite
A generator is often included
Some are pre-equipped for solar power
Offer trip insurance and roadside assistance coverage
Disadvantages of Renting Trailer or RV
Can be cost prohibitive — shop wisely
Using someone else's "stuff"
Sometimes difficult to park
There is a learning curve for setting it up
Trip insurance/roadside assistance costs extra
The Ins and Outs of Trailer/RV Rental
A person who owns a trailer or RV can post it on a site such as Outdoorsy.
Renters search the site, find just the right vacation home for their trip and rent it.
Outdoorsy is recommended by campgrounds:
Outdoorsy offers a comprehensive platform for listing and renting RVs, with rental options ranging from vintage airstreams, camper vans and toy haulers to fifth wheelers, class A, B, and C, trailers and motorhomes.
Outdoorsy offers a complete listing of trailers and RVs that people have offered on a consignment-like rental basis.
Many of the rental owners offer a limited drop-off, set up, and pick up service for a nominal fee.
But you have another option too:
You can also opt to try your hand at setting up a tent.
Tent Camping for Beginners
Let's be honest.
Tent camping really means building a vacation retreat from nylon and nothing.
After two days in the woods, it is taken apart again.
It is not for weenies and whiners.
Tenting does offer several options:
You can borrow, rent, or buy a tent.
Military members can usually rent equipment from the Morale, Welfare, and Recreation (MWR) department.
Word of Caution
When using any tent for the first time: ALWAYS set it up and check it BEFORE you head out to the woods. Make sure all the poles, stakes, and pieces are there. Make sure it doesn't leak.
If you opt to buy a tent, please shop around.
There is a vast array of sizes, styles, and reliability.
Things to look for when buying a tent
Ease of set up

Size/how many people can sleep comfortably

Headroom/center height

Warranty

Adequate ventilation

Price
The Design of a Tent Matters
A square, boxy tent will be more susceptible to wind.
A small dome-style tent, while easy to set up, may be limited in headroom space except for right in the center.
Two-person tents don't sleep two people comfortably.
Our word of caution still applies: set up your new tent BEFORE you head out to the woods. Make sure you understand the directions and that all the bits and pieces are intact.
It's also a good time to spray on a waterproofing agent.
Advantages of Tent Camping
Size varies
Can pitch almost anywhere
Most can be set up by one or two people
Cost-effective
Disadvantages of Tent Camping
Susceptible to inclement weather
Much more equipment to haul in and out
No indoor plumbing
Zippers break, and screens rip
That said:
Tent camping, for beginners, can be an enriching experience.
Minimalist Tent Camping is a Thing
Not all tent camping requires you to bring the kitchen sink.
It's true!
Take a look:
You can camp in a tent with very minimal equipment.
The bare minimum you need
Tent or tarp and paracord

Sleeping bag/blankets

One pot to cook in

A spoon and fork (or you can whittle one)

Can opener (optional)

Hatchet and/or knife
For a quick peek at what a professional brings on a minimalist camping trip:
Minimalist tent camping for beginners is sometimes easier.
Location, Location, Location
There are campgrounds all around the United States with varying degrees of amenities.
Here are a few websites that offer listings:
Offers links to every state website, many private facilities, and contains highlights for each state
Offers a search engine that allows you to search for your perfect destination in the U.S. or Canada
Offers a search feature and blog posts to help you find exactly what you are looking for
Includes a state-by-state search feature and campground reviews for many sites
Has a search feature and lists several camping locations abroad for those who really like to travel
Caters to Minnesota RV campgrounds, but they do list a couple of out-of-state locations
Caters to everyone and everything — tents, RVs, cabin rentals, large group camping, and extended stays
But wait, there's more:
There are different types of campgrounds and camping areas.
Full-service campgrounds have almost everything.
Festival sites, depending on the organizers, may have many of the same amenities as a full-service campground, in a temporary environment.
Rustic campgrounds are just that — rustic. It is usually not much more than a bare patch in the woods. Some have outhouse-style facilities.
Some have nothing.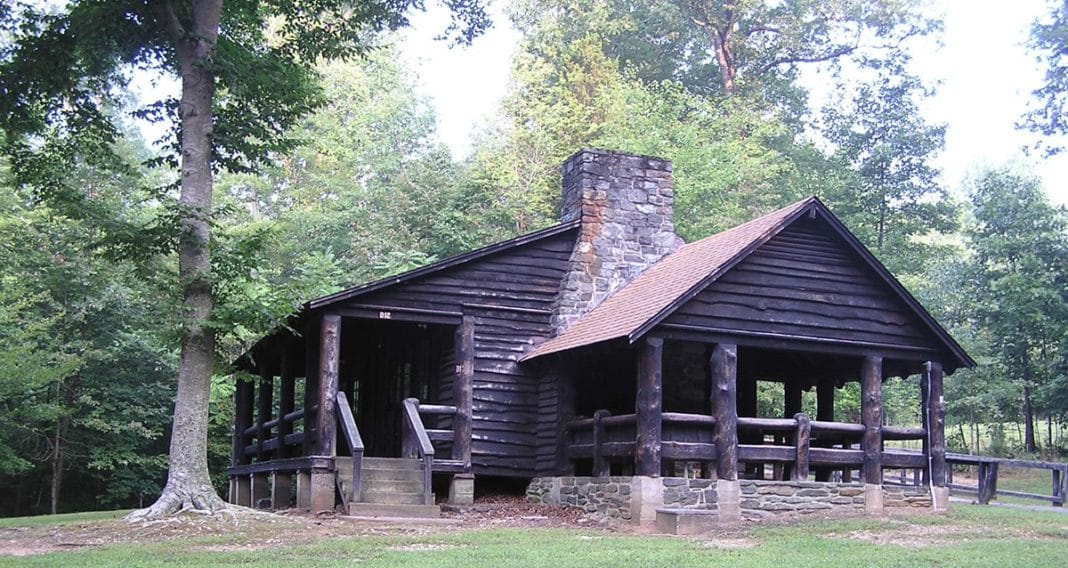 Image via National Parks Service
Free Camping in the U.S. and Canada
Free camping is, surprisingly, available all over the United States and Canada. But it does require some advance research.
It's true! Look:
Several articles and sites cater to free camping experiences:
Offers advice and tips on free camping
Includes links to locators for free camping in the U.S. and Canada and tips on responsible camping
(Hey, that's us!) Offers excellent tips on finding locations that are off the grid in the U.S. and Canada
Offers several great campgrounds that are free, including many RV-friendly sites which are not always an option for free sites
If "FREE" is your favorite four-letter word, you have plenty of options.
Image via: Freepik
Advantages of a Full-Service Campground
As we said earlier, a full-service campground has everything, much like a little city.
In fact:
Many people live year-round in full-service campgrounds.
Advantages of full-service campgrounds
Geared toward families

Plenty of onsite activities

Pools, lakes, kayak rentals, and mini golf

Arcades and game rooms

Many have Wi-Fi, at least in central locations

Some offer time-share-like camping clubs with great savings
A full-service campground offers many benefits.
fun Fact
"Kampgrounds of America (KOA) is the world's largest system of privately held campgrounds with almost 500 locations across U.S. and Canada."
No matter what type of camping (cabin, trailer, RV, or tent) you select, a full-service campground can be a fun experience.
Festival Camping
While many festival sites only offer rustic camping, we include them under full-service.
Here's why:
They often include many amenities not found in true rustic settings:
Porta-potties

Portable showering facilities

Food vendors

Convenience items vendors
Some festivals include organized activities, child care or play areas (if the festival is family-friendly), learning workshops, meet and greet centers, and much more.
Festival sites are temporary little villages that pop up for a weekend or longer with a specific purpose.
Sometimes an outside music concert (think Woodstock or Coachella). Sometimes a retreat for spiritual learning and embracing your religion.
So, while the camping may be rustic, the atmosphere is full-service.
Festivals are a perfect place for newbies to "get their feet wet."
Rustic Camping
The beauty of the stars and the totality of the darkness.
No electric, no cell phones, no flush toilets, no shower (don't forget to pack the wet wipes).
While most people think rustic means "tent" they would be wrong. It merely means zero amenities.
If you have an RV or trailer equipped with solar panels, you could be quite comfortable in a rustic setting.
The secret to rustic camping for beginners is this:
If you want it, you pack it in.
With rustic camping, there is also no trash disposal service. Rustic campers live with a code:
Pack it in — pack it out.
We all learned this concept in (or before) grade school.
Clean up after yourself.
Skip the Stilettos, But Be Sure to Pack This
If you have rented or own a camper or RV, it probably has a lot of standard amenities. That makes it infinitely easier, as you can pack your clothing and your food and go.
If you are a cabin camper, they also come stocked with amenities.
Tent camping requires the most gear.
Here's why:
You have to bring everything, including the kitchen sink.
Or at least a dishpan to clean your dishes after meals.
Onward!
Image via Pexels
Campsite Gear You Must Have
Tent

Hammer, mallet, or other poundy thinger

(optional) Ground cover or tarp

Sleeping bags

(optional) Air mattress, sleeping pad, or cot

Matches (or a lighter)

Camp chairs

Flashlights or headlamps

Broom

First aid kit
Camp Kitchen Stuff You Need if You Plan on Eating
Propane camp stove

Propane canisters

Pots, pans, and stirry thingers

KNIVES – the sharp kind

Cooking utensils (spoons, spatulas, tongs, etc.)

Cutting board

Can opener (with a bottle opener thinger)

Water bottles, reusable (one for each person in your camp)

Aluminum foil

Dishcloth, dishtowel, and dish soap

Dishpan (remember the kitchen sink?)

Plates, cups, bowls (these can be paper — they burn)

Eating utensils (plastic or washable, make a responsible choice)

Paper towels

Zippered storage baggies

Trash bags for refuse and recycles

POT HOLDERS (thank me later)
Foodstuff
If you are camping in a full-service campground or festival site, they may have a restaurant on site, food vendors, or food trucks that visit regularly.
But you're still going to want these:
Cooler with ice

Water (one gallon per day for each person with you, don't forget your pets)

(optional) Other drinks (yes, these can be alcoholic unless regulations prohibit it)

(optional) Screen covers for your prepared food dishes

Food to provide meals for everyone (unless there are other options)

Grab and go snacks
Every family is different.
But quick and easy are the magic words.
When you plan your menu, make sure that you plan meals that can be prepared in a camp setting.
Image via Pexels
Meal and Snack Suggestions
Many meals can be prepared at home, frozen, then reheated while camping.
Here are a few quick meal ideas:
Prepare taco beef at home and freeze it. Bring shells and fresh condiments for a quick meal.
Prepare and season the meat, then freeze. Reheat, add veggies and serve with rice.
Prepare and freeze the sauce. Boil water and prepare noodles while the sauce is heating.
Prepare and freeze. Thaw and heat over a grill or in foil packs over coals in your fire pit.
Make and freeze. It can be served as chili or heat it with elbow macaroni for chili-mac.
Pre-cooking and freezing food allows it to have a longer "cooler life." Most raw foods will last about three days in a cooler.
Any meal that can be frozen can be prepared early.
Pre-cooked, frozen meals can last as long as 7 to 10 days.
Helpful Tip
In a cooler that is opened frequently, the ice will melt faster. If you can, use one cooler for drinks and quick grab snacks and a second cooler for meats and meals.
Good snacks to bring are things that can be grabbed on the go, stuffed in daypacks, or eaten quickly.
These include items like granola bars, fresh fruits, fruit snacks in individual packages, dehydrated fruits, and trail mix.
Cereal in individual boxes is a great choice if you have children. These can be eaten right out of the box. They are (somewhat) nutritious. And you can use the boxes to help start the campfire later.
There are other resources and tons of camping hacks online, including some great meals.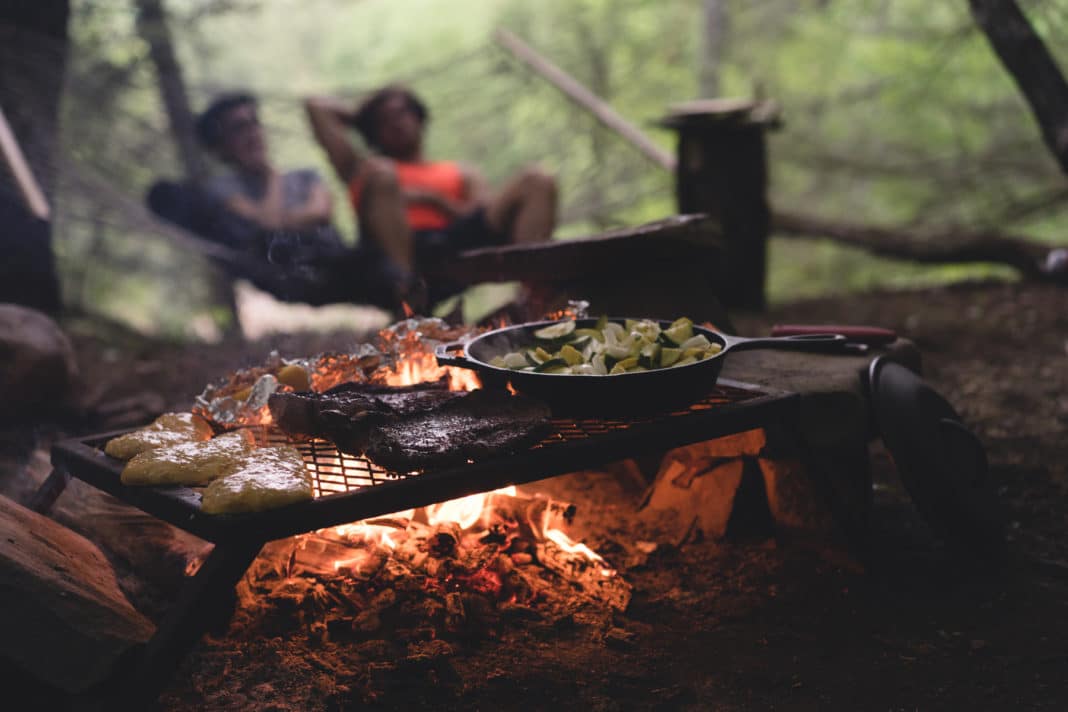 Image via pxhere
What Clothing to Bring
We can't exactly give you a packing list for clothes because we don't know where you'll be camping, but we can offer some tips.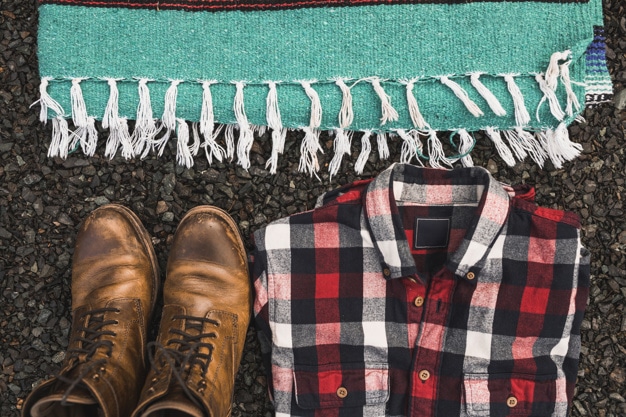 Image via: Freepik
Check the extended forecast for the area you have selected

Pack a variety of clothing that can be layered

Mix-and-match outfits are a great choice

ALWAYS pack that warm sweater or a coat of some kind (even in the south, in August)

Ponchos for everyone

Shower shoes/flip flops

Two extra pair of undergarments and socks
Don't forget your hygiene items. Toothbrush, toothpaste, hairbrush.
And your towel. Always take your towel.
Camping with Small Children Presents Additional Challenges
As we stated earlier, cabins are an excellent option for young children.
But don't be afraid to take your children tent camping.
There are just some extra planning steps you should take.
Pack extra clothing — at least two extra days' worth

Pack an extra pair of shoes for each kid

Bring lots and lots of sunscreen

If your child is in diapers — bring a lot of extras

If your child eats baby food — bring zippered baggies or other waterproof containers to store partial meals (because the ones they're in don't seal)

Pack enough toys or games to occupy the kids if you have a rainy day

Portable crib or sleeping basket

Don't forget the baby jail (aka playpen)

Consider a child safety leash if you have a runner

Bring a permanent marker — you can use it to put a cell phone number or campsite number on small kids in case they wander off (don't be judgy — it works)
Resources are endless.
Here are just a few:
If you use Cozi, they provide an excellent checklist for family camping.
Love the Outdoors has a handy checklist that you can check off online and print.
REI Co-Op also has tips on camping for beginners with families.
Hike It Baby has specific information for camping with babies.
And finally, the folks at Parents also have some great tips on camping for beginners.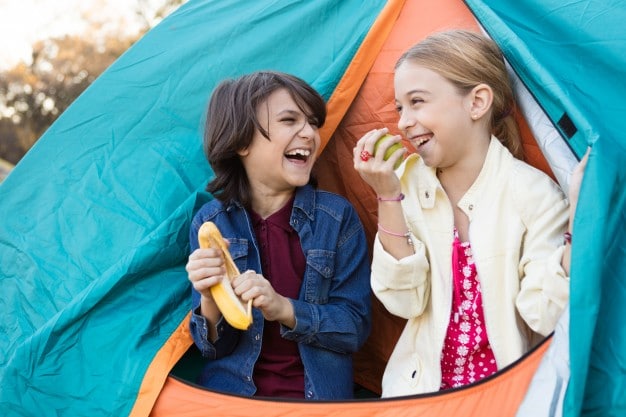 Image via: Freepik
What to do When You Get There
When you arrive at your campsite, check the area where you intend to set up your tent.
Remove rocks, small sticks, debris, and other items.
Make sure the area is relatively flat.
Lay out your tent, making sure the door is facing in the correct direction.
If you have never set up a tent before, make sure you read the directions.
But wait, you DID pay attention to our word of caution earlier, didn't you?
Live and learn.
If you have no directions, we found a couple of videos that will help.
If you have a small tent:
If your tent is a bit larger:
Most tents are similar in how they are set up.
Hiking, Fishing, Campfires, and S'Mores
Once you arrive and set up your campsite, it's time for the fun to begin.
Many campgrounds have hiking trails, canoe or kayak rentals, fishing, and many other family activities to keep your family busy.
But that's not all:
You can also do a little geocaching.
Always have some rainy day activities stashed for the kids.
Also, check online before your trip to find local attractions you can visit on rainy days.
You packed the S'more supplies, right?
Campfires are always a camping favorite. But remember your fire safety and supervise children around the campfire at all times.
Image via: Freepik
Cleaning Up and Clearing Out
The answer to your most pressing question?
Will bear spray stop Bigfoot?
No.
If you see Bigfoot, invite him to your campfire and offer him a S'More.
At the end of your trip, you're going to have trouble squishing your tent back into the bag it came in.
They do that on purpose.
But we have a solution for you:
Please make sure that your campfire is entirely and completely out.
This is especially important if you were in a rustic area.
Ideally, other than discolored grass under your tent, there should be no visible evidence of your camp when you leave.
Leave No Trace is an activist program employing seven principles to keep our planet clean, whether it is your backyard or in the middle of nowhere.
Respect the area where you camp, please.
We hope you enjoyed our guide to camping for beginners.
While we tried to include everything, Murphy's Law says we forgot at least one thing. Be a good camper and let us know in the comments what tips you would pass on.
Featured Image: CC0 via Freepik