Travelers, life just got a whole lot easier. Say hello to convenience on the go with these picks for the best rolling duffle bag. If you're not going to be trekking through the elements, skip out on the backpack. While we are all for packing light, we know that sometimes you need to take a little bit more. Whether you are going on an extended trip or weekend jaunt, we have picks that cover the entire spectrum of travel. Sit back, kick your feet up, and read on.
QUICK NAVIGATION
All About the Best Rolling Duffle Bags
So you're on the go and you still want to look stylish. Stop lugging that old Jansport backpack around. When you're going on the ultimate weekend trip, you're going to need the best rolling duffle bags Lucky for you, we've scoped them all out. As much as we'd love to be jet setting off to Europe for a month trip, not every traveler is that lucky. So, instead of spending big bucks on a matching luggage set, hold off and invest in one of the best rolling duffle bags. Furthermore, even the most chronic over-packers admit you won't need that much for a quick jaunt. Weekends? Those we can do. Enter the prized possession of fashionable road trippers and quick trip lovers: the rolling duffle. The ideal pick is not too big – you don't want to be weighed down in life. It's also not too small – you never know when you'll need to bring an extra pair of shoes. With this said, we've curated a list of the best rolling duffle bags for every type of budget and taste. Intrigued? Read on.
Here Are Our Picks for the Best Rolling Duffle Bags
​
High Sierra Ultimate Access 2.0 Drop-Bottom Wheeled Duffel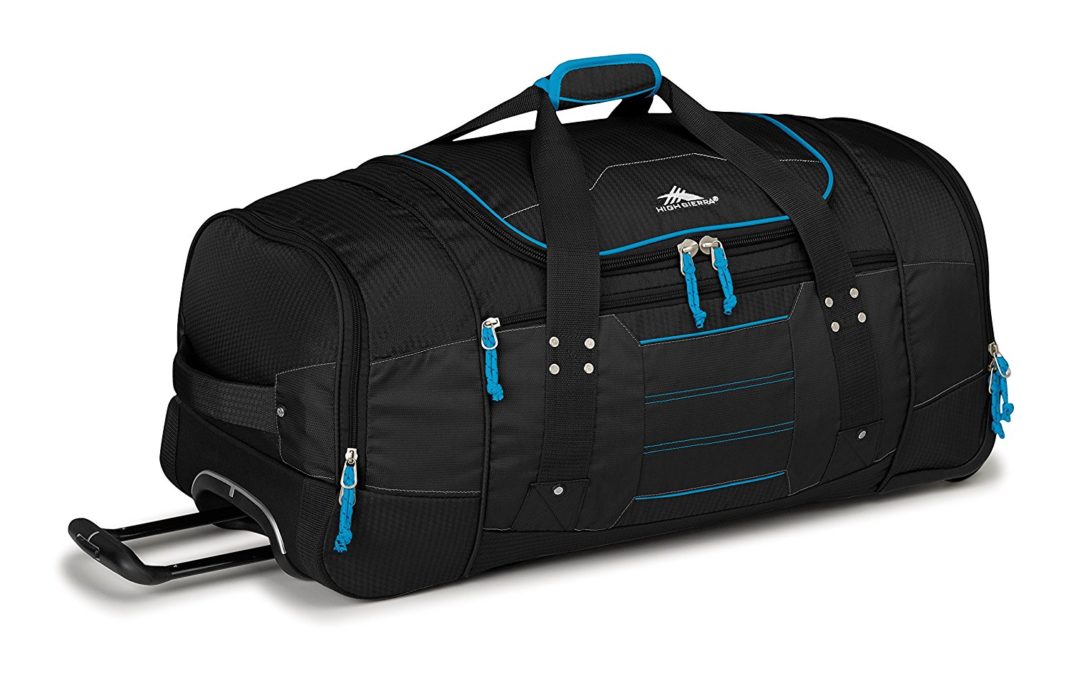 Access to adventure can be found on the road less traveled. Should you choose that road, you will need gear that can handle everything that comes your way. Designed to travel on smooth or rough terrain, makes this collection ideal for the adventurous traveler.
This rolling duffel bag is quite innovative and versatile. You can use it as a wheeled unit or as a backpack. It's also very spacious and can handle lots of items with ease. The wheels slide smoothly without making too much noise even on reasonably rough surfaces.
In addition, it has a durable material that can put up against regular use, the elements, scraping, and rough surfaces. Handling and carrying the bag is easy thanks to the comfortable and ergonomic handle strap. Also, it doesn't get dirty quickly. Furthermore, cleaning is not an issue thanks to the smooth surface.
Tech Specs:
Mini Hexagon Rip Stop

check

It's two bags in one. Use it as a wheeled duffel or wear it like a backpack

check

Hidden padded backpack straps are stored behind the zippered padded bottom panel

check

Main compartment with easy-access U-shaped opening

check

Zippered front accessory pocket and two top-loading end compartments

check

Durable webbing handles with comfortable handle wrap
Pros
plus

Ballistic nylon exterior

plus

Dual caster spinner wheels

plus

Telescopic handle
Cons
Olympia Luggage 22″ 8 Pocket Rolling Duffel Bag
This Olympia Luggage 22″ gives you more interior space and also ensures your items fit in perfectly. The item is made of quality polyester fabric to handle everyday needs. It comes with 8 convenient pockets allows maximum packing and provides efficient organization during travel both day and night. In addition to that, The bag also features a metal ball bearing in-line skate wheels which makes it more comfortable and smooth to travel long distances and enhances stability during use in all types of terrains.
Moreover, a beautifully-designed push-button retractable handle ensures you have a more sturdy grip and natural movement. Furthermore, it comes with a well-built hide-away zipper to hide the handle when not in use. The Olympia bag is made from a moisture-resistant polyester material which helps to keep dust and moisture away hence increases its lifespan. Last but not least, the U-shape top opening system allows you to access the spacious interior with zero fuss quickly and comfortably.
Tech Specs:
Constructed Of Supreme "Protecflon" Polyester With 1200 D. Polyester

Recessed in-line skate metal ball bearing wheel system and hideaway pull handle

U-shape top opening system for easy access to spacious main compartment

check

Self-repairing excel zippers and 8 convenient pockets for maximum packing versatility

check

Made In China
Pros
plus

Polyester

plus

8 storage pockets

plus

Metal ball-bearing wheels

plus

Push button retractable handle
Cons
close

A little wobbly when pulling fast
Samsonite Luggage Andante Drop Bottom Wheeled Duffel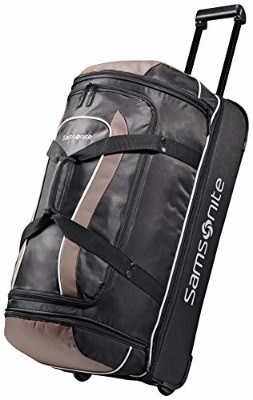 This wheeled duffel bag is what you need to move quickly and conveniently. It comes with small wheels that ride smoothly on the surface to save you from carrying the bag. Moreover, the riding mechanism is straightforward as you only need to pull the handle and when done, push it back.
On top of that, the sturdy wheels together with practical handle should last for a long time. Other than the excellent riding, this bag is also revered for its excellent quality fabric that is resistant to stains, abrasion, ripping, and wear. Also, the multiple pockets and compartments help in organization and easy identification of the stored items. Lastly, it's also easy to clean and doesn't color fade over time.
Tech Specs:
Split bottom compartment for added packing convenience

Large u-shaped opening for easy access to contents

Smooth rolling wheels with locking upright handle for easy mobility

Multiple organization pockets

Comfortable carry handles. Polyester fabric with shock suspension wheel housing
Pros
plus

Easy to pack

plus

Smooth rolling wheels

plus

Plenty of pockets for storage

plus

Comfortable to carry
Cons
Rockland Luggage Rolling 22 Inch Duffle Bag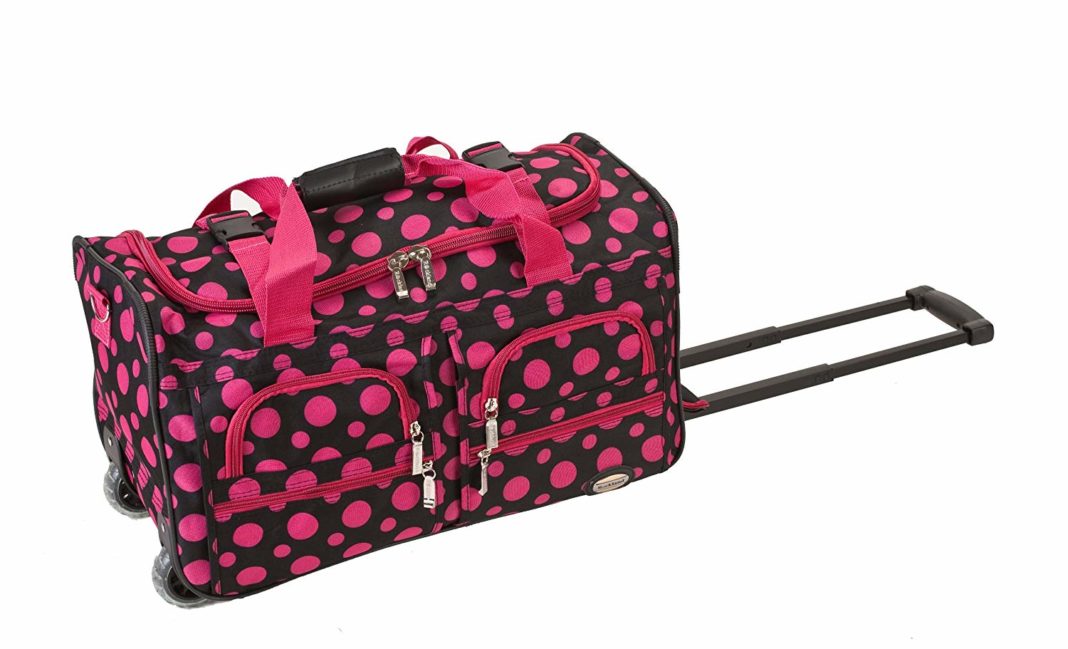 The Rockland is not only a beautiful bag with fun prints but also a practical one. The cool prints make it more appealing, unique and more fashionable for all generations. It is 22-Inch in size which ensures all your pieces of clothes, books, shoes, gadgets etc fit in perfectly without damage. The fantastic extra large wheels provide good mobility and also make moving it on different terrains effortless and convenient.
Additionally, these wheels are durable and take long to wear out. The heavy-duty zipper allows you to cram much stuff and secure them without you worrying it might break or your items getting lost. Moreover, this durable bag has 4 front pockets for additional storage of smaller things like pencils and also enhances the overall appearance of this bag. The top grip and a telescoping handle enable one to grasp the bag firmly hence offer a more natural operation.
Tech Specs:
Extra large wheels

Heavy Duty Zipper

Large u-Shaped top zip opening

22″L x 12″W x 11″H

Four front pockets and Internal Handle
Pros
plus

Large storage space

plus

Great internal pockets

plus

Heavy duty zippers
Cons
Samsonite Luggage Ripstop Wheeled Duffel, 26-Inch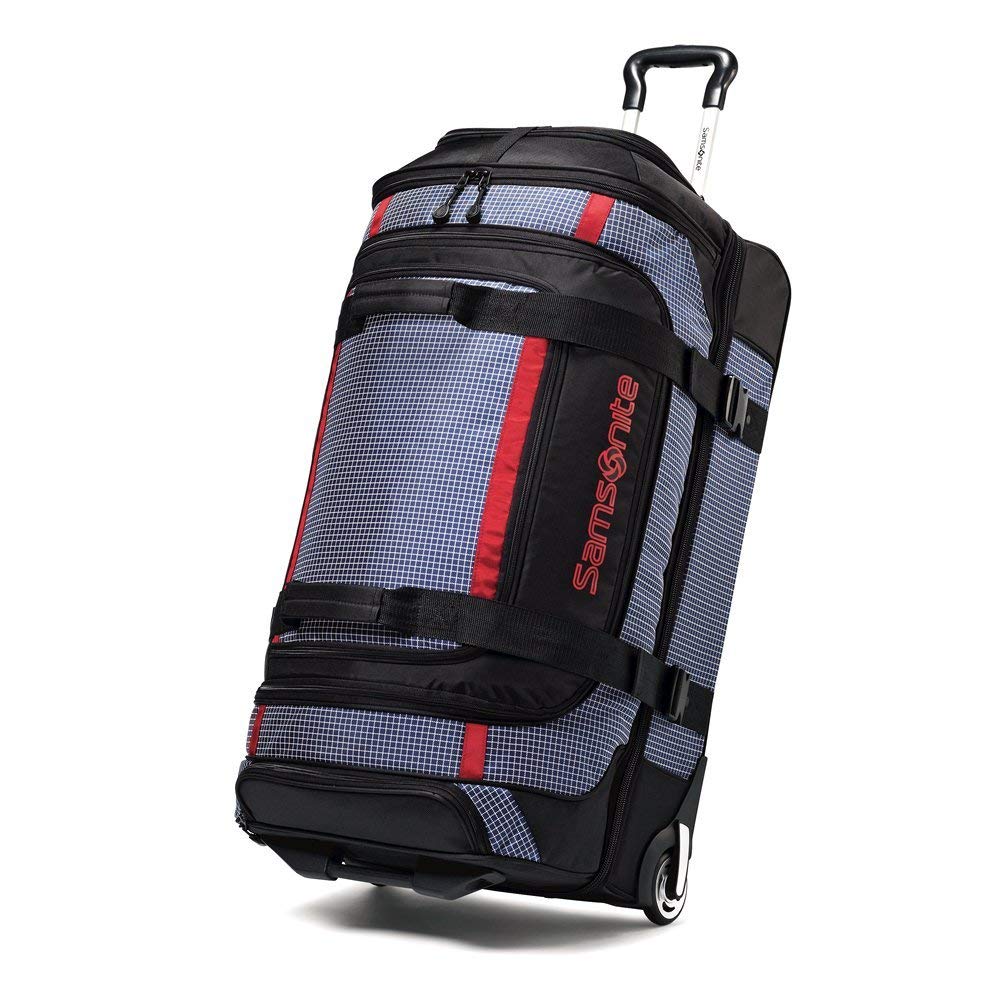 Conveniently moving with your stuff is as comfortable as using a rolling duffle bags. Of the many types out there, this one sticks out in many ways. One, it has an excellent capacity to handle day-to-day needs. Two, the handle pulls out and pushes back very quietly and effortlessly. Three, although small, the wheels are quite durable and can last for a long time.
Four, the handle is ergonomically-designed and keeps your hands and fingers comfortable and safe. Five, the bag is made from tough materials and will last for many years. And last but not least, it can also stand firm against abrasion, lousy weather, dusty and rough terrains, poor handling and much more.
Tech Specs:
Smooth rolling wheels and locking upright handle for transport

Locking zippers on main compartment and rivets on bail handles for support and strength

Convenient multiple organization pockets for last minute items

Multiple carry handles allow the bag to be rolled or hand carried

The name tag is sewn into carrying handle for easy identification

Interior: 26.0 inches x 14.0 inches x 14.0 inches
Pros
plus

Great internal and external storage

plus

Multiple carry handles

plus

Name tag sewn on

plus

Roll or carry
Cons
Common Questions
Check out these other travel products and tips for winter travel:
Related Article: Spinner Wheels Vs. Fixed Wheels: Which is Better for You?