Georgia. Juicy peaches, extensive history, southern charm, majestic mountains, and some wonderful beaches all make this state famous.
The vast diversity of this southern state is enough to draw you to want to vacation here. However, it is also filled with delectable food in one of the nation's best college towns, as well as in Savannah. But, this state is more than that. The southeast coast borders the Atlantic Ocean. This creates a stunning landscape and has allowed us to explore the best beaches in Georgia. From small, picture perfect islands to gorgeous beaches minutes from Savannah, there is so much to explore. But, there are more beaches than just along the Atlantic. Thankfully, there are so many state parks with lakes, that you can find the best beaches in Georgia all around the state. So, if you're ready to pack your towel and flip-flops, read on for what we've concluded to be the absolute best beaches in Georgia this year.
1. Cumberland National Seashore
Nestled just above Florida, the Cumberland National Seashore is one of the more private beaches around. Accessible only by the provided ferry, there are limited spots per day to come explore this secluded island. But, we promise, it will be well worth the trip. Cumberland Island has two main beaches, Sea Camp Beach is one of the best beaches in Georgia, as it has clean, fresh restrooms, plenty of swimming space, and camping. The other beach, Stafford Beach, tends to attract beachcombers. This is due to the large surf from tropical storms which stirs up moon snails, shark teeth, and a variety of unique and local finds.
Cumberland Island National Seashore has hopefully already tempted you. But, the wildlife is truly our favorite part. There are wild horses roaming free, often to be found on the seventeen miles of seashore, dunes, and marshes. On top of that, there are over twenty-three different ecological communities around the island, making it a wonderful incubator for all kinds of different species. So, for one of the best beaches in Georgia to have a more secluded stay with plenty of wildlife, check out Cumberland Island.
2. Tybee Island
Moving to the other end of the state, Tybee Island is right next to the South Carolina border. This made our list of the best beaches in Georgia because of its beautiful history and family-friendly atmosphere. Tybee Island is composed of two main beaches, North Beach and South Beach. Granted, it is often referred to as Savannah Beach as well because of its proximity to the city. North Beach tends to attract the quieter crowd. It has plenty of space to look for shells, try and spot an endangered Loggerhead turtle, or simply take a nap in the sand.
South Beach tends to be more popular, as it has the famous Tybee Island Lighthouse and a Civil War Fort. It has gained a reputation over the decades for having spectacular seafood and plenty to do being right next to town. If you get tired of the surf and sun, you can easily rent a bike to explore the local hot spots. Water sports are also popular here, so if you want to get out in the water on a kayak or paddleboard, that can easily happen as well. So, for the best beaches in Georgia near Savannah for the whole family, make sure to head to the two options on Tybee Island.
3. Jekyll Island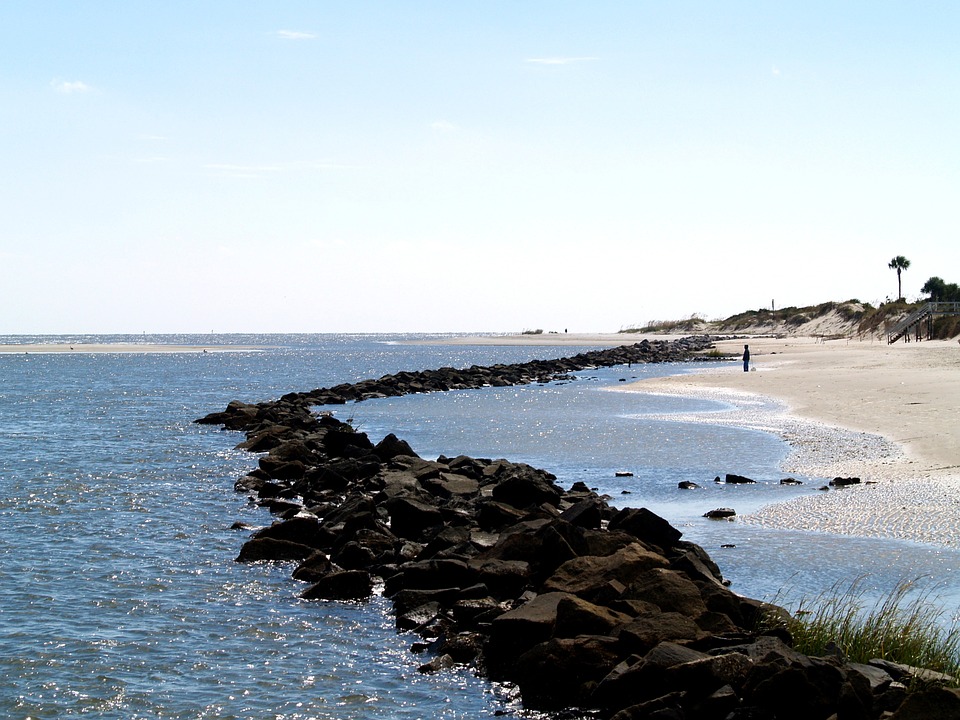 More stellar family beaches can be found on Jekyll Island. This island has the best beaches in Georgia for just about anyone in your party. If you have a photographer or some great adventurers, start at Driftwood Beach. Time and natural forces have molded this beach to create some beautiful yet eerie sights of tangled stumps, branches, and other driftwood. For another fun site, head to the southernmost point of the island, Glory Beach. Made famous by the award-winning movie, Glory, you will quickly see why. The wide beach leaves plenty of room to roam and is a natural sanctuary for birds and dolphin sightings. Also, an old shipwreck is buried in the sand. The mast can be seen sticking up, which is pretty fun. Overall, these two spots are for more exploration than swimming and surf.
But, Jekyll Island has more than enough space for the family! Quite a few beach resorts and lounging spots are scattered about for you to enjoy, including the water park Summer Waves when you get tired of the beach. You can go looking for sea-turtle nests or try your hand at snorkeling while you're here. On St. Andrews Beach, you will have your best shot at spotting the dolphins that love to glide and play just offshore. On top of that, the picnic area houses the Wanderers Memorial. It commemorates the spot in which four hundred African slaves were brought illegally into the country before it was finally shut down. There are various walking trails, grills, and restrooms here to make it easy to show your family the history and beauty of this place.
4. Robin Lake Beach & Callaway Gardens
We promised that you wouldn't have to be on the coast to experience all the best beaches in Georgia. That's where Robin Lake Beach steps in. Located south of Atlanta in Pine Mountain, this lakeside beach is a great destination for one and all. This beach was made in 1952 to help the native azalea species thrive, and the lovely Callaway Gardens has grown around it. Callaway Gardens has a huge list of things to do as well. From the Masters Water Ski and Skateboard Tournament to The Discovery Bike Trail, there is something at each time of here to do here.
For those who can't get enough of the natural world, explore the massive butterfly habitat and the Cason J. Callaway Memorial Forest. Of course, all of this is simply in addition to the gorgeous lake beach on Robin Lake. So, if you don't want to make it all the way east for the best beaches in Georgia, head west to Robin Lake.
5. St. Simons Island & Little St. Simons Island
Are you looking for one of the best beaches in Georgia to set up shop for a while? Well, St. Simons Island is quite popular with snowbirds and the longer term vacationer. What draws people here so well, you ask? Well, between the natural beauty, small-town vibes, abundance of water activities, and great shopping and food options, it is the perfect vacation destination. In between Savannah and Jacksonville, it is accessible enough without being overcrowded. This island is, no surprise, also a wildlife paradise. From the alligators and terrapins to the White-tailed deer and marsh rabbits, there is plenty to see. Of course, bird watchers will be in love with the myriad of native and migratory birds that pass through.
You can imagine that golfing is quite popular with the crowd here, as well as hiking, biking, and boating with the whales and dolphins. If this hasn't made you want to start visiting all the best beaches in Georgia, maybe the next part will.
When you have a day, head over to the private Little St. Simmons Island. Accessible only by boat, there are only thirty-two people allowed at a time here. But, this pristine seven-miles of coastline island is home to over 330 different species of birds such as Red Knots, Wood Storks, and Bald Eagles. In addition, you can do some world class fishing in the tidal zones for redfish, flounders, and speckled trout. On top of this, there is just about any other outdoor activity to rent or do while you're here. So, for the most wonderful mix of nature, community, and beautiful scenes put St. Simmons Island as a must-visit on your list of the best beaches in Georgia.
6. John Tanner State Park
Credit: John Tanner Park
This is one of the best beaches in Georgia to park your RV and spend time with all your buddies enjoying the lakeside beach life. Named after a local businessman, John Tanner State Park has the largest sand beach in Georgia, which is pretty exciting. This spot is home to all the best things you could imagine for a lakeside summer. Miniature golf, hiking trails encircling the two lakes, pedal boats, ample fishing, horseshoes, and volleyball. It's quite popular with the camping crowd, so it's not the best scene if you want to be the only one on the shore for miles. But, if you want a family friendly, self-contained spot to take the kids without making it all the way to the ocean, this is it. So, get the kiddos ready for their week at the lake this summer or fall!
Overall, the best beaches in Georgia are scattered between inland lakes, barrier islands, and the gorgeous coast.
We've fallen in love with the sunrise scenes here, as well as the vast amount of wildlife that surrounds all of the best beaches in Georgia. From the wild horses at the Cumberland National Seashore to the dolphins just about anywhere, we hope your Georgia beach excursion is filled with the perfect mixture of wildlife and amenities. You can choose between having shopping and resorts right next door or camping away from it all. Whatever you do end up with, we are sure you will understand why each of these options made the list of the best beaches in Georgia.
Related Article: 11 Beautiful Beaches in Alabama You Never Knew Existed