There may not be any world-famous landmarks awaiting you in Osaka, but that doesn't mean there isn't a myriad of spectacular things to do in Osaka.
Nestled in between Kyoto, Nara, and Kobe, Osaka is quite the travel hub. However, don't simply use this second largest city in Japan as somewhere to pass through. It has its own vast amount of character and highlights that you won't want to miss. These things to do in Osaka mix the quirky with the historical, without leaving out spectacular sushi, seafood, and other essential Japanese things. So, if you're heading across the pond soon, make sure to put a few of these things to do in Osaka on your list to make the most out of your experience. We promise you, you won't be disappointed.
1. Tour the City in a MariCAR
First, you'll want to get oriented to this city that you're about to spend some time in for a few days. What better way to do that then take a tour of the city? Well, if you're up for some fast paced action and being slightly ridiculous, here you go. MariCAR lets you dress up as your favorite superhero and tour the streets by yourself or with a group. They'll put you in a one-seater, street legal go-cart for you to zip around Osaka's streets. You will need a valid driver's license, but after that, you're all set. Make reservations in advance to secure your spot. In addition, you can stream your favorite playlist using their Bluetooth system, as well as record your best action moments on their 4K camera. So, if you're ready to cruise the streets of Osaka to orient yourself to the city, check out MariCAR.
2. Bathe at an Onsen
Dipping yourself into the steaming waters of an onsen is one of the most essential things to do in Osaka. Imagine the picturesque natural spa surrounding you as you lose yourself in the steam and freeness. Yes, when we say freeness, it is the norm to bathe in this usually public bathes sans clothing. So, you might have to get a little extra comfortable with yourself and others. That being said, the moment you let yourself sink into these natural fed hot springs, you won't even remember you're not wearing any clothes.
Our top two Onsen destinations in Osaka are the Nobeha No Yu Tsuruhashi Onsen and the Kamigata Ikkyu Onsen. The first is located in Koreatown, giving you a great opportunity to explore a unique part of the city before your relaxing dip. It also has dining and relaxing spots inside the Onsen if you want to make a whole day of it. The latter has the largest outdoor bath, also known as a rotenboru, in the Kansai area. The hot spring water will ease your muscles when you take your dip. Choose between the Wood Bath or Stone bath, each with their own design, baths, and saunas. This onsen is next to Universal Studios Japan. So, it's a great option if you're needing things to do in Osaka after a long day on your feet at the amusement park.
3. Go to the Chouette Owl Cafe
Credit: Chouette Owl Cafe
If you've ever dreamed of having your own owl messenger like Harry Potter, make sure an Owl Cafe is on your list of things to do in Osaka. While there are a few around the city, the largest and best is the Chouette Happy Owl Cafe. With twenty-two kinds of owls waiting to meet you, this is quite the spectacular business. You have to buy the one-hour entrance pass, but that will get you access to the owls and a free drink.
As the owls are nocturnal, they are quite quiet and sleepy during the day. You're allowed to pet them on their beaks, but more than that and they are likely to peck at you. You can also pay for a framed picture with an owl perched on your arm, which is pretty exciting. This experience is truly a rare one, and we'd highly recommend it as far as unique things to do in Osaka go.
4. Tour the Osaka Castle
Since 1583, the Osaka Castle has been a symbol of the city and a unique piece of the skyline. While it has been destroyed and rebuilt a few times since then, it remains an essential part of the Osaka culture. The interior pairs its magnificent and ornate past with the modern amenities of a gorgeous museum. This is a great spot to spend a morning learning about the various dynasties and wars that influenced Osaka. The museum does have English translations of everything so you won't be lost while you're here. With the latest rebuild of the main tower in 1931 came the adjoining park. There are over six hundred cherry blossom trees on the grounds, among many other flowering native species. In addition, you can have a seat on the impressively tall stone wall which surrounds the castle for an unparalleled view of the city.
5. Eat & Shop the Finest Seafood at the Kuromon Market
If you're heading to Japan, eating some of the world's best sushi better be on your radar. Of all the things to do in Osaka, shopping and eating at the Kuromon Market are mandatory. It is where all the best chefs go to pick out their seafood. But, if you're not a cook yourself, don't worry. There are plenty of food stalls which will have your mouth watering at every corner. While it is mainly food here, there is free public WiFi, restrooms, and tables for you to relax as you peruse everything this market has to offer. Remember as you're touring around looking for a bite to eat that the best spots usually have the longest lines. But, of all the things to do in Osaka, getting the best seafood at the Kuromon Market is well worth the wait.
6. Experience an Authentic Japanese Tea Ceremony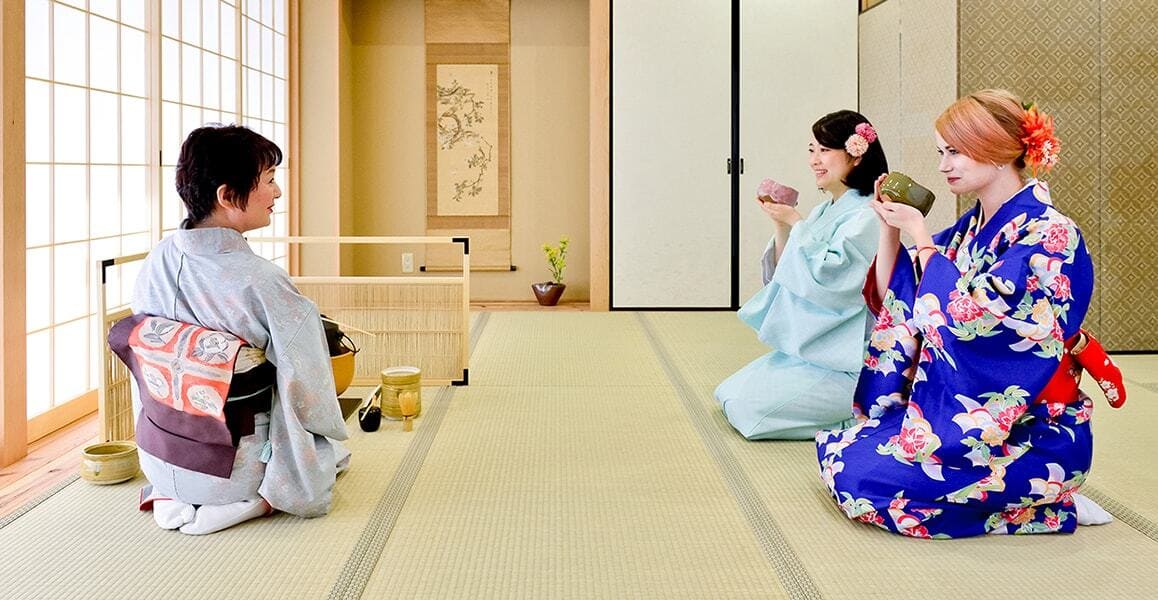 Credit: MAIKOYA
Taking in all the best parts of Japanese culture is incredibly fun and informative. One of these essential things is experiencing an authentic Japanese Tea Ceremony. In this famous tea ceremony, you will don a traditional kimono as you taste the splendid matcha green tea made as it has been for centuries. This will all be paired with freshly made, unique sweet treats that compliment the flavors and profile of the tea. The elements of the Tea Ceremony will all be explained in English by your professional guides. The experience lasts around ninety minutes. If tea is not quite your style, that's alright. The Kimono Tea Ceremony Maikoya has samurai museum, cooking classes, armor trials, and a Japanese sword cutting experience. Each of these on its own is enough to make any list of the best things to do in Osaka.
7. Tour the First Buddhist Temple in Japan: Shitenno-ji
Although it has been rebuilt multiple times over the years, Shitennō-ji is the first established Buddhist temple in Japan. It was first constructed in 593 by Prince Shotoku and three Korean Baekje carpenters. Most of the current structures were rebuilt or renovated in 1963. When you visit this oasis in the middle of Osaka, you will be swept away. It is a serene and calming spot amidst the bustling cityscape. The Shitennō that this temple reverers are four heavenly kings that helped the Japanese attain higher levels of civilization. Today, you can tour the multiple gates, a northern and southern belfry, a great stone torii, and the peaceful courtyard. This little temple in the midst of Osaka is a great quiet afternoon getaway as far as things to do in Osaka go.
8. Take a Stroll in Dotonbori
The best nightlife in Osaka can be found in Dotonbori. A great place to stay, eat, and experience all that Osaka has to offer, Dotonbori awaits you. The neon lights, bright advertisement screens, and music will fill the streets at just about every hour. But, it is worth a stroll even if you're not into the late night party scene. Phenomenal restaurants line this spot in Downtown Osaka. This is also a great spot to get your shopping in while you're here. From large department stores to unique quirky spots, you can find just about anything in Dotonbori. Make sure to walk along the water in the evening to experience the lights reflecting and grab a selfie on the bridge. Any traveler can tell you that visiting Dotonbori is one of the most thrilling things to do in Osaka in the evening.
These are the best things to do in Osaka if you're truly hoping to see the best that the city has to offer.
With an abundance of Michelin starred restaurants in Dotonbori, you can eat incredibly well in Osaka. That being said, you can't go wrong with the marvelous street food or random ramen shops that line the streets. So, make sure to eat well, but don't let that distract you from everything else here. Whether its the Owl Cafe or an authentic Japanese tea ceremony, we can't wait to hear about your adventures in Osaka. So, start packing because there is so much to explore.
Related Article: 12 Things to Do in Kyoto for the Curious Traveler