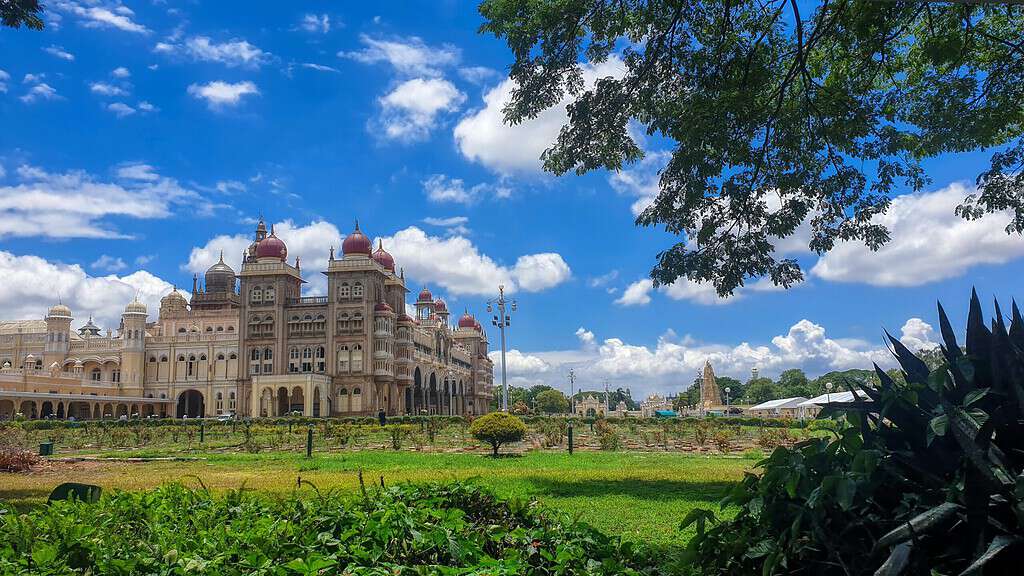 Mysore – is an ideal location for everyone, whether on a family vacation or a romantic weekend getaway. There are a plethora of activities in and around the city. From viewing the majesty of the Mysore Palace to having a good time at the 3D Selfie Gallery, the city provides experiences that would make anyone's holiday unforgettable! You can discover several Treebo Mysore Hotels eager to offer excellent service and the best time to visit India.
Admire the magnificence of Mysore Palace
Visiting this royal house, also known as the Amba Vilas Palace, is one of the best things to do in Mysore for a memorable vacation. Everything here, from its Indo-Saracenic architecture to its regal interiors, exemplifies why Mysore is known as the City of Palaces. This is one of the most awe-inspiring tourist destinations in Mysore.
Pay a visit to the Chamundeshwari Temple
Sri Chamundeshwari Temple, located atop Chamundi Hills, is another jewel in Mysore's crown. Even if you're not religious in heart, you should visit this location if you're in the city. The temple's construction and its depiction of the fearsome form of Goddess Durga are awe-inspiring.
Take a stroll through the lovely Brindavan Gardens
Evening activities in Mysore should be something other than your primary worry since the magnificent Brindavan Garden is the ideal spot to be. This attractive garden is a well-known city attraction ideal for families with children, couples, and even groups of friends. You may wander around the beautiful vegetation, relax, observe the fountain presentations, and even take a boat trip nearby.
Visit the 3D Selfie Gallery to capture memories
The three-dimensional display in the Mysore Sand Sculpture Museum is a popular attraction. Once you are photographed in front of the artwork, you will be able to see how your dreams appear. This one-of-a-kind location is a welcome respite from the other touristic spots, allowing you to have fun on your own.
Explore the Jaganmohan Palace
Among the must-do activities in Mysore, a visit to the Jaganmohan Palace is also essential. This palace is a magnificent example of old-world architecture and interiors that adds to the city's splendour, where you can observe everything from the royal family's furnishings to the artwork on their walls.
Explore the KRS Dam
The Krishna Raja Sagara Dam, commonly known as KRS Dam, is located near Krishnarajasagara in Karnataka and is surrounded by vibrant, beautiful, and lit gardens, musical fountains, and water bodies. The KRS Dam is one of India's civil engineering marvels since it is among the first in the world to employ automated sluice gates and is built of'surkhi'. It featured 152 sluice gates and was constructed 130 feet above the riverbed. Brindavan Gardens, a beautiful garden, is also linked to the dam.
Visit the Bandipur National Park
The Bandipur National Park was originally the Maharajas of Mysore's hunting grounds. Later, in 1974, it was designated as a reserve, and this wildlife- and plant-rich deciduous forests have since become a famous tourist destination. It was included in the Nilgiri Biosphere Reserve. Due to its abundant elephant and substantial tiger population, it was subsequently included in Project Elephant and Project Tiger.
Enjoy nature at Chamundi Hills
The highly spectacular Chamundi Hills, named after the famed goddess Chamundi and at an elevation of around 1,000 metres, is named after her. Because of their majesty, the Chamundi Hills are visible from every point in Mysore. Tourists will encounter the Bull Nandi, Vehicle, and Lord Shiva statues on their way to the Chamundi Hills. Enjoy a wonderful and relaxing view of Mysore City, Mysore Palace, Karanji Lake, and several temples.
Purchase silk saris from the government silk weaving factory
In addition to sandalwood and sweets, the one item a Shopaholic must bring back from Mysore is the best silk sarees. The Government Silk Weaving Factory is the most fabulous place to get any silk saree at extremely inexpensive pricing, even though there are numerous other places to choose from. It is one of the most eccentric activities in Mysore.
Enjoy a gourmet dining experience at Mysore
Mysore cuisine is one of the must-do activities when visiting. From its classic dessert, Mysore Pak, to its original and local foods, such as Idli, Dosa, and Vangi Baath (rice with brinjals curry), everything here is a gourmet delight. When organising a date in Mysore, it is recommended to dine at one of the city's several romantic restaurants.
Mysore makes you wish for a more extended visit to experience everything the city offers. Other stunning Mysore tourism attractions, like Karanji Lake, Railway Museum, and St. Philomena's Cathedral, are as deserving of inclusion on your itinerary. The royal city invites all tourists to view its splendour and has hotels in Mysore that are both luxurious and economical for any traveller.
Best Accommodations in Mysore
When searching for hotels in Mysore, it is essential to consider the reason for your trip. The best locations to stay in Mysore are near prominent tourist attractions, motorways, and restaurants. Choose hotels on Sayyaji Rao Road if you want to be in the city's centre. There are also a handful of hotels near Mysore Railway Station right here. Hotels in Jayalakshmipuram are another choice for staying connected to the city.
This neighbourhood is close to the Sri Chamundeshwari Temple, Railway Museum, and GRS Fantasy Park, all within a 5-kilometre radius. Look for hotels near Mysore Railway Station in Yadavagiri, around 2 km away. Hotels in Yadavagiri make sense because they are close to many restaurants and retail centres.
Treebo Mysore Hotels
Treebo Mysore Hotels offers best-in-class hospitality. Treebo offers 2-star and 3-star hotels in Mysore. Budget-friendly hotels are perfect for budget-conscious travellers and students, while 2- and 3-star hotels attract families and corporate travellers. Tourists, especially couples, can stay in couple-friendly hotels in Mysore without moral guilt. Some of the best budget hotels in Mysore are:
Treebo Trend Komfort Suites
Treebo Trend Akshaya Mahal Inn
Itsy by Treebo – Greenwood Suites and Inn
Treebo Trend Spektrum Suites
Treebo Trend MSR International
Treebo Trend Karanji Residency
Treebo Trend RJ Residency
Why should you choose Treebo Hotels in Mysore?
Treebo offers affordable hotels in Mysore. Treebo Hotels in Mysore aim to make your stay unforgettable. Treebo Mysore Hotels feature parking, pools, rooftop cafés, in-house restaurants, and event space. All Treebo Hotels in Mysore provide air-conditioned rooms, cable/DTH TVs, free Internet, and breakfast. They also offer on-site amenities such as room service, free parking, banquet halls, in-house restaurants, and round-the-clock security.
Treebo has locations in Mysore's top neighbourhoods and near its top tourist attractions. You can now search and book your stay at any of the hotels in Mysore using online booking through the website or the easy-to-use Treebo app. Booking hotels in Mysore has never been easier.