Like the lens that you choose for your camera, the best camera straps also play an important role. Choosing the right one will help you make the most of your gear.
As you grow as a photographer, you will want more features and styles that meet your needs. That's where the best camera straps come in. Believe it or not, they're not all the same. After talking to industry experts and researching the highest quality camera straps on the net, we're ready to show you how to move beyond your standard kit. Whether you're looking for comfort, style, accessibility, or more, we have picks to fit so a wide variety of needs and budgets. Let's go.
Why You Need a Solid Camera Strap
With all the technical information you're overloaded with when choosing a camera, it's easy to forget about the camera strap. Sometimes you get one with your camera and it feels like an afterthought. If a camera strap were a fashion statement, they would be a plain black pair of cotton socks.
However, you can easily remedy this situation by doing a little research – or in this case, just reading. You don't have to break the bank. We've selected the best camera straps to fit a wide variety of budgets, from affordable straps for new photographers to more heavy duty ones for the pros. Outfit yourself with leather like that new car smell or opt for a decorative strap that fancies fashion and photography. Whatever kind of camera strap you choose, it will improve your overall photography experience.
Different Types of Camera Straps
Kit neck strap

Decorative neck strap

Sling strap

check

Hand strap

check

Wrist wrap

check

Double camera strap

check

Holster
Kit Neck Strap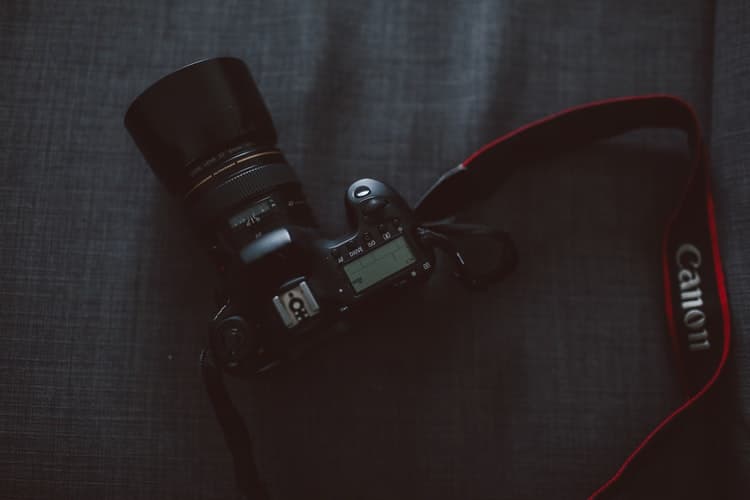 [amazon fields="B004DEKH84″ value="thumb" image_size="large" image_align="center"]
[amazon fields="B004DEKH84″ value="button"]
This is the type of camera strap that typically comes along with your kit. It typically features the brand name of the camera and is made from a durable synthetic material. While there's certainly nothing wrong with this type of strap, it's far from perfect. It's not one of the best camera straps. We can tell you from experience that a DSLR camera will weigh heavy on your neck and shoulders after an hour or so from wear.
Decorative Neck Strap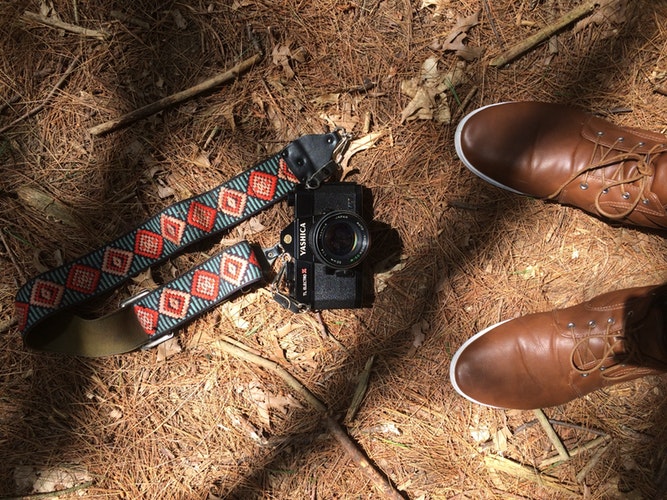 [amazon fields="B06XK7CQNB" value="thumb" image_size="large" image_align="center"]
[amazon fields="B06XK7CQNB" value="button"]
These camera straps offer a little more variety than those of the kit neck. We admit that decorative neck straps look great when it comes to fashion. But what about the quality? Well, it depends a lot on the make and brand. As we previously mentioned, there are straps to fit any and every budget. If you're a hobbyist or photographer who only shoots once in a while, these are definitely worth a look. For more hard-core photographers who are out in the field all day, we definitely recommend testing straps before you buy. Make sure you check out the company's return policy too.
Sling Strap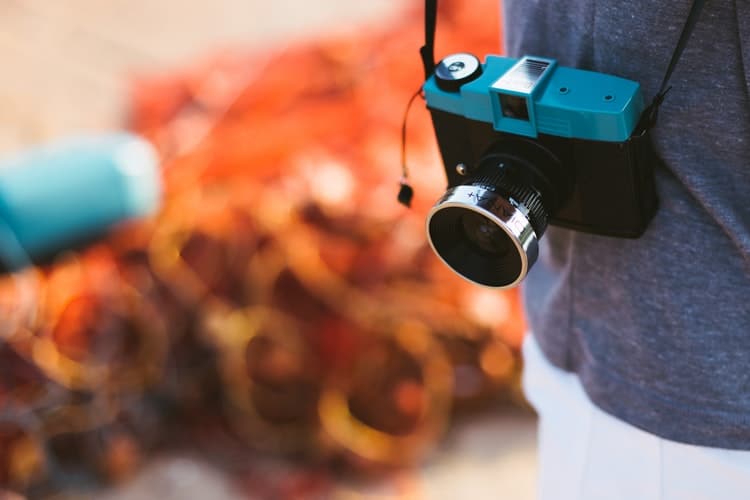 [amazon fields="B074KHWQH5″ value="thumb" image_size="large" image_align="center"]
[amazon fields="B074KHWQH5″ value="button"]
Chiropractor recommended, Trekbible approved. The sling strap minimizes the amount of weight put on your shoulders. There are also some specifically designed for women. The only thing we don't like about the sling strap is the camera tends to swing around your hips a bit when you walk.
Hand Strap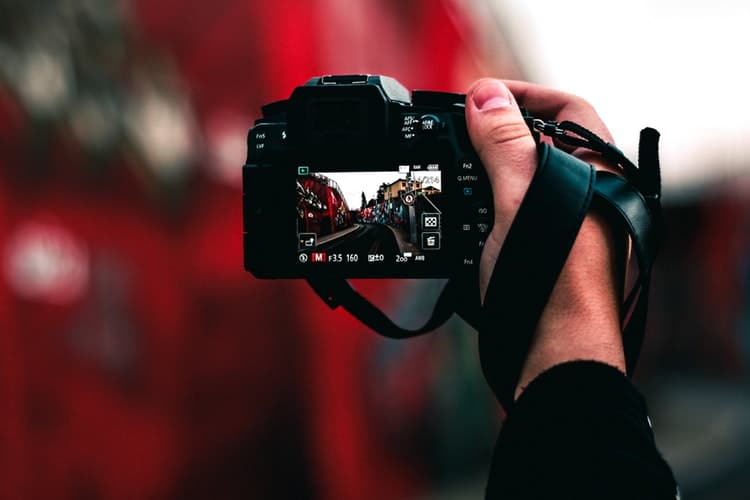 [amazon fields="B074KGF4D1″ value="thumb" image_size="large" image_align="center"]
[amazon fields="B074KGF4D1″ value="button"]
If you're looking for more stability in your shots, this could be the camera strap for you. Avoid shakiness in your photos and videos. Hand straps are an easy way to gain more control over your camera. However, some users complained that they missed having their hands free for directing models or moving equipment around.
If you have an assistant for studio lighting fixtures and posing or if you're doing street photography, a hand strap could be a good fit. There are various brands available to choose from at a wide selection of price points.
Wrist Wrap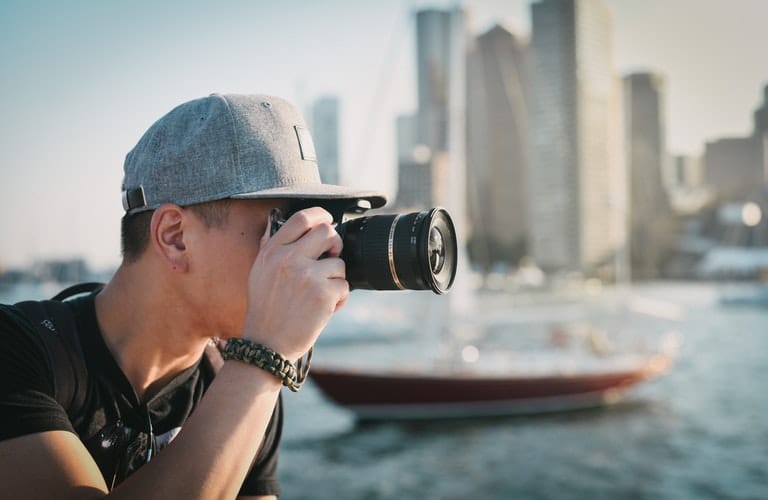 [amazon fields="B017L3689K" value="thumb" image_size="large" image_align="center"]
[amazon fields="B017L3689K" value="button"]
These type of camera straps are good for point and shoot or lightweight cameras. You can technically use them with your DSLR too. We would recommend using a wrist strap for only shorter shooting sessions. We like a thicker strap that's easily adjustable and secure on the wrist. The nice thing about wrist straps is they are an affordable option for keeping your camera secure. There are also options available for keeping your waterproof point and shoot cameras afloat. Make sure to check out all of your options!
Double Camera Strap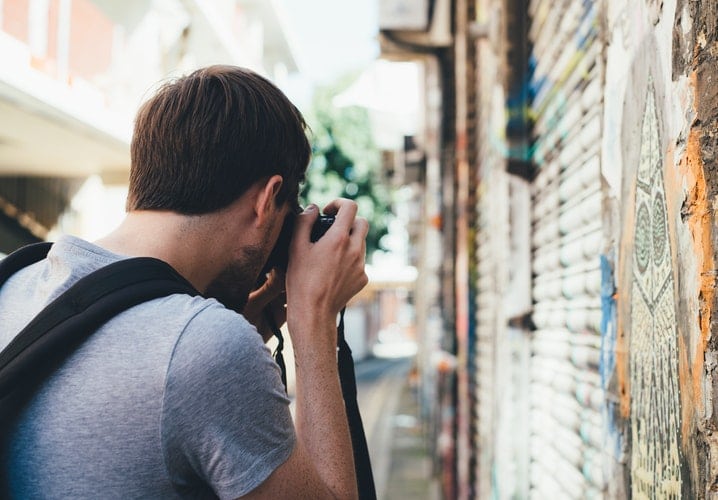 [amazon fields="B01LFREKUM" value="thumb" image_size="large" image_align="center"]
[amazon fields="B01LFREKUM" value="button"]
Alright. Hardcore wedding and street photographers, listen up. A double camera strap is a solid option for you. We know several photographers who swear by them. Luckily for you, various brands manufacture them and you can easily find one at a decent price point.
Holster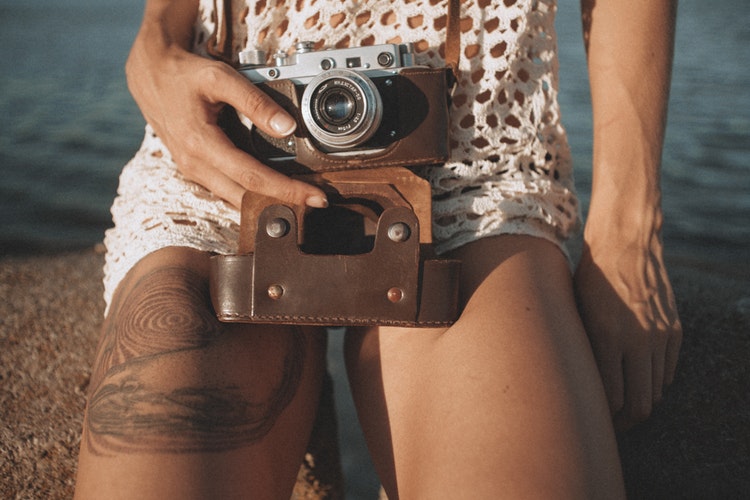 [amazon fields="B00GR8KEMS" value="thumb" image_size="large" image_align="center"]
[amazon fields="B00GR8KEMS" value="button"]
Okay, so we know this looks like something out of a western movie. If you can get yourself past the cheesy aesthetic, you'll find these camera strap styles are actually quite useful. Use a holster style if you need to keep your hands free and your camera close to your side for easy access. You can use one or even two on each hip if needed.
How to Choose the Best Camera Straps for You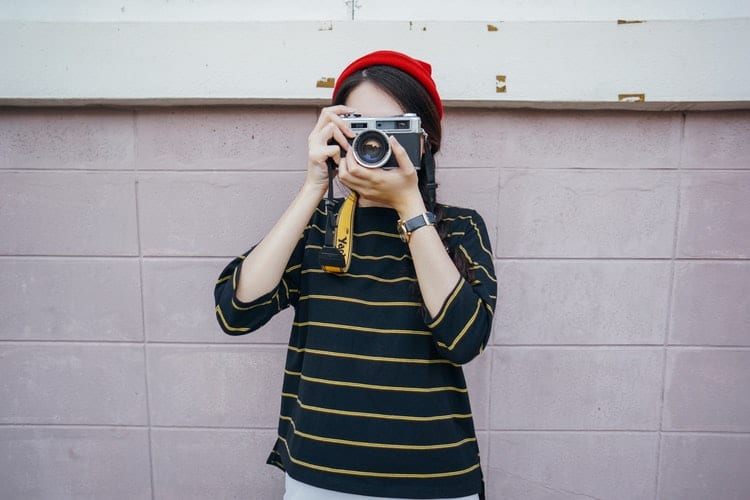 If you've carried your camera around with the original strap, you know there's something to be said for upgrading. Most factory camera straps aren't intended to be anything special. This is why many people mistakenly think one camera strap is as good as the rest. Don't be fooled. The best camera straps are leagues apart from mass-produced factory ones.
So how do you choose the best camera straps? First, find out what it's made of. The best camera straps will address a variety of concerns – comfort, aesthetics, and of course, durability. We think there's no better camera strap than a sturdy leather or polyurethane. Not only do these fabrics conform to the shape of your shoulder over time but they are also incredibly durable. These straps will last you for years as you upgrade your camera equipment.
Questions to Ask Yourself Before Beginning Your Search
How Is the Padding?
When you're searching for the best camera straps, you obviously want something that's durable. But you want something comfortable as well. When you're searching for potential camera straps, ask yourself 'how is the padding?' As we previously noted, leather and polyurethane eventually conform to the shape of your body. If it's not made of leather, check of the padding and make sure there is ample support. You don't want the straps cutting into your shoulder.
How Do the Straps Connect to Your Camera?
Durability and comfortability are out the window if the straps won't connect to your camera. That's why it's so important to choose the best camera straps out there. Some straps give you two adjustment choices – a reinforced band or a metal spring ring attachment. However the straps connect to your camera, make sure your connection is solid and stable. You want the utmost peace of mind when carrying around a heavy, expensive piece of equipment.
What Is the Length?
Photo shoots necessitate you keep the camera close to you. You don't want a camera strap that's too short or too long. If it's too short, you'll be uncomfortable. In the event that it's too long, the camera will be swaying around and at risk of being damaged. The best camera straps for you will be the perfect length and adjustable according to your needs.
Things to Consider Before Buying
Price

Length

Durability

check

Padding

check

Quality

check

Compatibility
How to Attach a Camera Strap
You finally bought the camera of your dreams and you can't wait to see what it can do. Toss on the camera strap and get going, right? Wrong. Incorrectly attaching your camera strap can end in a fatal destruction of your newfound possession. Make sure you know the right way to attach your best camera straps. Here's instructions on the correct way to attach a camera strap.
A) Make sure the plastic fastener is right side up. It has two plastic straps with the fabric in the middle.

B)

Feed the strap from the outside in through the tether points of the camera.

C)

Create a little slack by pulling the strap upwards in the middle of the plastic fastener. This should create a large loop.

checkD)

Feed the end of the strap through the retainer piece and up through the back of the plastic fastener.

checkE)

Pull down both ends tightly to fix the strap in the fastener.

checkF)

Voila! Now your strap is secure and will help keep your camera safe.
Here Are Our Picks for the Best Camera Straps for the Traveling Photographer
Alright folks, It's the moment you've been waiting for. We've asked around and searched the net for you. Here are our picks for the best camera straps for traveling photographers.
1. Custom SLR Glide One Strap Camera Strap System with Black C-Loop
Pros
plus

Well-designed

plus

Good material

plus

Comfortable
Cons
close

A little frustrating to set up
Feel the difference. Split strap technology and a glide feature offer a more comfortable way to carry your camera. Never miss a moment with the glide strap. This unique strap allows the glide strap to be positioned low on the side of your body. When used in conjunction with the C-Loop Camera Strap Mount, the camera glides up for fast and easy deployment. With this strap system, your camera will feel lighter than ever. This allows you to walk a city for hours for a shoot without pain in your back, neck, or shoulders.
Let's check out the construction and technology. Cushy neoprene padding with binding provides lasting comfort and a silicone print reduces slippage. Enhanced with the C-Loop mount, the glide one strap relocates the strap to the swiveling point on the bottom of your camera. There's no more strap tangles or interference!
Last but certainly not least, patent-pending split strap technology distributes the camera's weight evenly on your shoulder for unparalleled comfort. The strap length is fully adjustable up to 70" and fits most users.
Tech Specs:
Unique Gliding Mechanism: Camera sits at your side and glides up the strap, allowing you to take pictures quickly

Split Strap Technology™: Distributes weight evenly to reduce pain/fatigue and provides superior ventilation

Ergonomic Design: Conforms to shoulder for unparalleled comfort

check

Swiveling Quick-Release Buckles: Rotates for maximum flexibility and detaches for increased mobility

check

High Quality Material and Construction: Cushy neoprene padding with binding around the split for added durability
2. ONA – The Presidio – Camera Strap – Antique Cognac Leather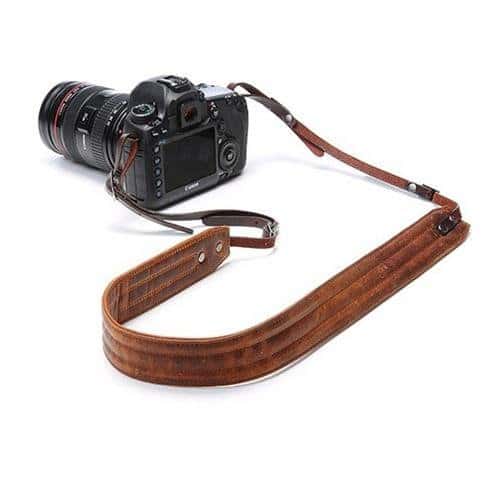 Pros
plus

Nice craftsmanship

plus

Very comfortable

plus

Stylish
Cons
Check out the ONA. This is one of the best camera straps on the market. This Leather Presidio is handmade with an Italian-tanned leather neckline and padded with soft neoprene. Thanks to two sets of chrome buckles, it is easy to allow for adjusting the length. Custom rivets provide an extra style point. The Leather Presidio is most comfortably worn as a crossbody and is designed for use with camera kits weighing up to six pounds.
Tech Specs:
Handcrafted with premium waxed canvas and leather

Designed for camera kits weighing up to 6 pounds

Neoprene-padded neckline

check

Drop length: Adjust from 19.5″ to 23.5″

check

Chrome hardware accents
3. HoldFast Gear Sightseer Sling Camera Strap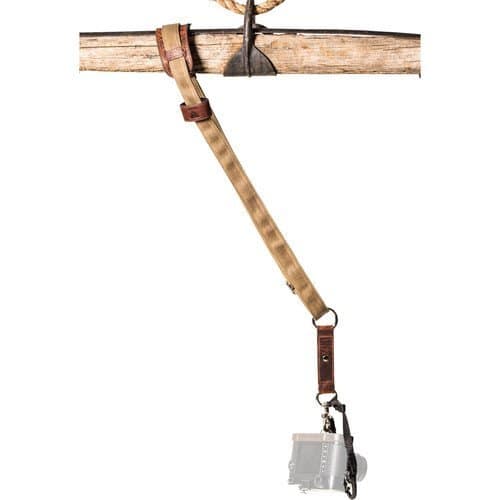 Pros
plus

Stylish

plus

Comfortable

plus

Adjustable
Cons
This HoldFast strap is designed to cover photo jobs both big and small. This offers the basic functionality of a standard, adjustable cross-body strap. However, it is expandable with the brand's entire line of Sightseer lens and accessory pouches. At the front of the strap, smaller pouches offer a space for compact lenses, cell phones, and personal items attach to. Longer for big lenses hang from the back. Pouches can connect to the strap's loop or attach directly to the strap itself via their own belt loops.
Tech Specs:
Holds DSLR with Lens

Comfortable 1.0″ Width

Adjustable 42.5 – 58.5″ Cross-Body Strap

check

Waxed Canvas with Bison Leather Accents

check

Camera HoldFast & Safety Catch Included
4. BlackRapid Breathe Curve Camera Strap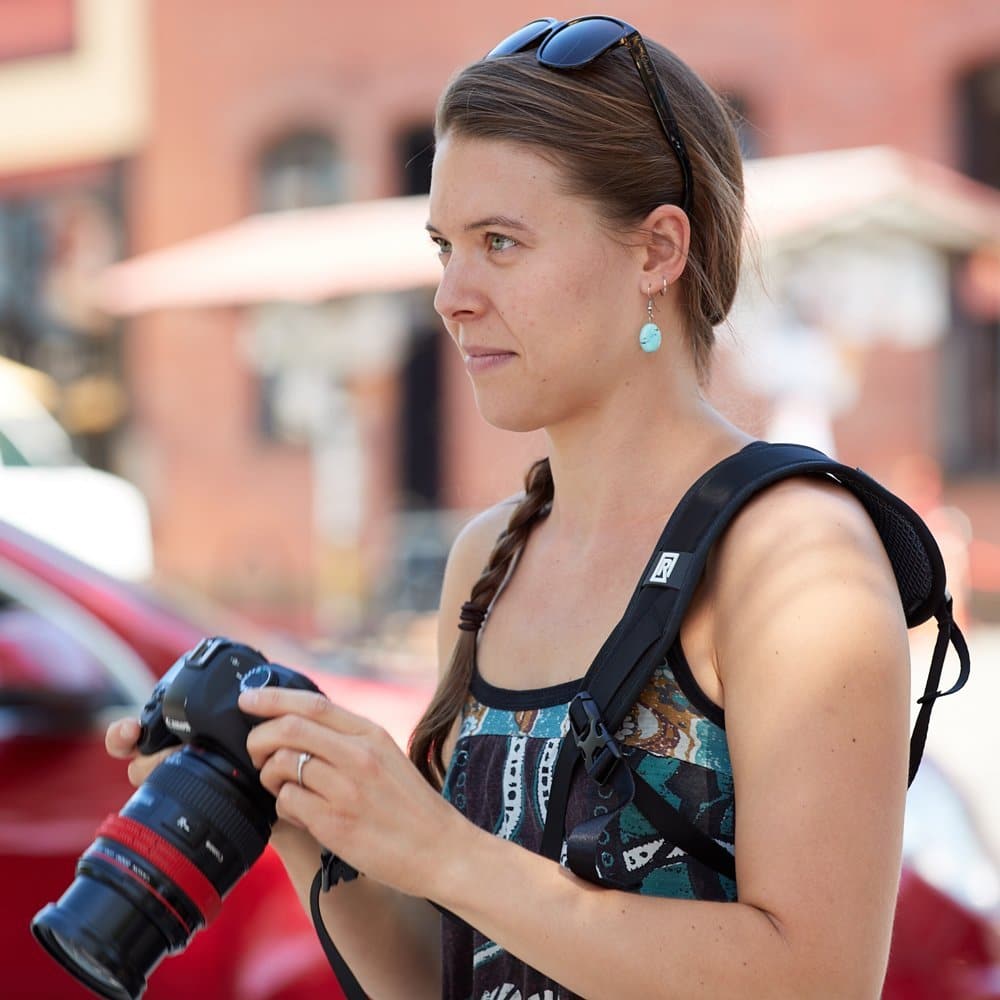 Pros
plus

Affordable

plus

Comfortable

plus

Great Quality
Cons
Are you a rightie or a leftie? This breathable curve camera strap by BlackRapid is designed for right-handed users. It is draped from the left shoulder to the right hip. Featuring a moisture-wicking shoulder pad, this strap is built to provide most photographers with a comfortable and versatile carrying solution for one camera. In addition, it is an effective option for smaller-framed users who need to move quickly to get the shot.
This strap stabilizes the attached camera when used with its included BlackRapid Brad Breathe Stabilizing Strap. The Brad Breathe secures this strap under the user's left shoulder and prevents the attached camera from twisting as it rests along one's right side. When camera movement along the side is less of a concern, the Brad Breathe is easy to remove.
To attach to a camera or a lens, the BlackRapid Curve Breathe Camera Strap features a durable, brass and zinc-alloy CR-3 ConnectR locking carabiner. An included BlackRapid FR-5 FastenR Breathe creates a connection point using a camera or lens's 1/4″-20 tripod mount. The FR-5 FastenR Breathe has a large, integrated D-ring for easy use with BlackRapid straps that utilize a CR-3 ConnectR. The length of this strap is adjustable from 36.0 to 65.8″ and its nylon webbing measures up to 1.0″ wide.
When multiple cameras or lenses need to be carried, a separately-available BlackRapid CoupleR Strap allows a BlackRapid Curve camera strap to be joined with a second camera strap, that is also compatible with a CoupleR, to create a functional double-camera harness. By folding over a CR-3 ConnectR, the Lockstar Breathe prevents unintentional user contact with a CR-3 ConnectR that could cause it to accidentally unlock.
Tech Specs:
Nylon

Cross-Body Strap for Right-Handed Users; FR-5 FastenR Breathe, Soft Pouch

Places Camera Upside-Down Against Waist; Allows Easy and Fast Access to Camera

check

Nylon Webbing, 65.8″ Adjustable Length; Moisture-Wicking, 3.3″ Wide Shoulder Pad

check

Spring-Loaded Bumper Locks for Camera; Dual Harness with Second Strap, CoupleR

check

Durable, CR-3 ConnectR Locking Carabiner; Brad Breathe Stabilizing Strap
5. Peak Design Cuff Camera Wrist Strap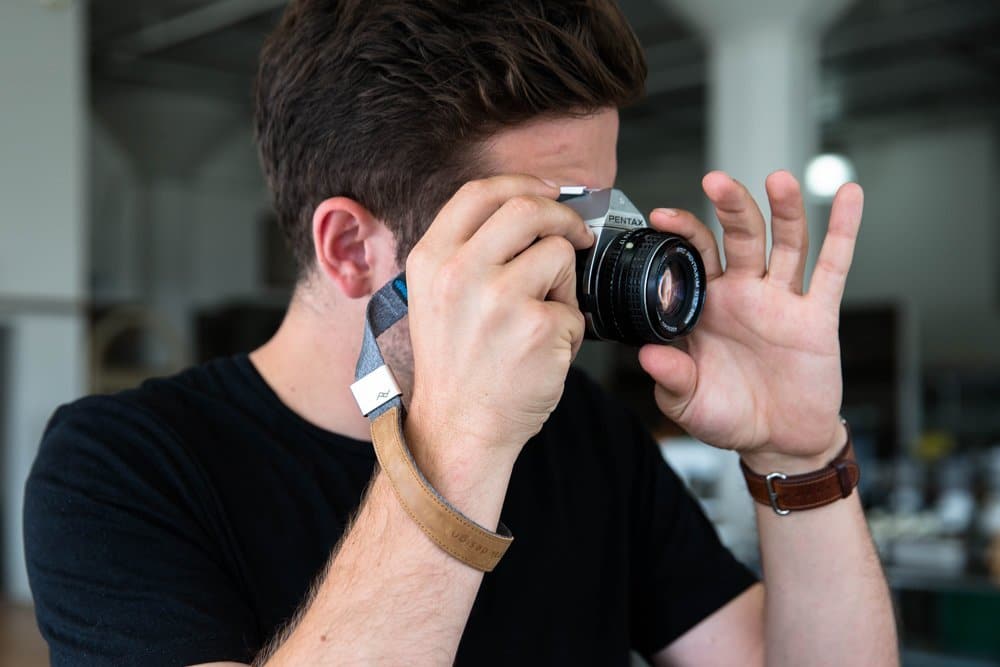 Pros
plus

Works well

plus

Secure fit
Cons
close

Wrist strap too tight
This ultralight quick-connecting strap provides on-demand security to protect your camera from accidental drops. It's one of the best camera straps on the market. Experience total peace of mind in a low-profile package. It quickly and securely connects to any camera, binoculars, or other device using a unique Anchor Link system. The wrist strap magnetically locks in the open position or comfortably cinches around your waist for added security,
Use it with cameras, your GoPro Hero6, and more. It is compact with small cameras all the way up to full-frame DSLRs and even medium format cameras. It's strong enough to hold any pro camera, lens, accessory combo. Newly-upgraded Dyneema anchor cords fit through more camera straps, loops, and eyelets than ever before. Each can hold well over 200 lbs. and feature best-in-class abrasion resistance.
Tech Specs:
Ultralight quick-connecting wrist strap for on-demand security

Works with DSLR, compact and point-and-shoot cameras

Dyneema Anchors alert you to wear and tear

check

Limited Lifetime Manufacturer's Warranty
6. Spider Holster SpiderPro Single Camera System (SCS)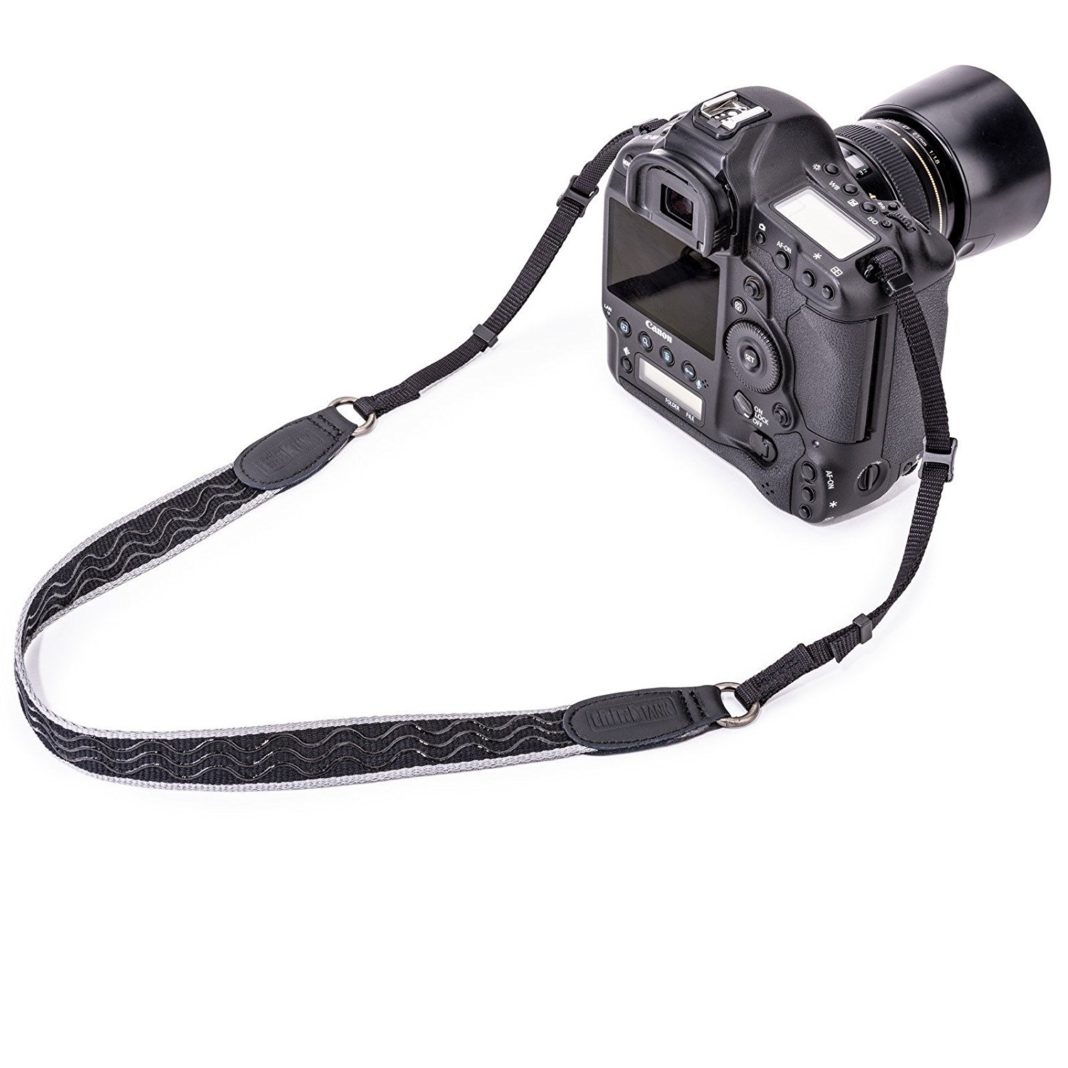 Pros
plus

No slip

plus

Comfortable

plus

Classic look
Cons
Have you heard of the SpiderPro Single Camera System? We told you holsters weren't just for cowboys. This camera system is ergonomically designed to carry a regular DSLR with lenses attached. An all-metal construction provides strong support for your camera.
For the sport, action, and wedding photographer who needs a quick draw (all pun intended), this is one of the best camera straps out there. A two-position metal lock ensures both security and freedom of movement. The SpiderPro base comes locked to a sturdy and lightweight belt that will support any camera and lens combo with ease.
Tech Specs:
Attach any small to mid-size QR tripod plate to it and move from Tripod use to Spider use fast (no need to remove the QR plate)

The SpiderPro plate allows for the user to shoot comfortably with a pro flash attached (camera is upside down, lens pointing back and flash hangs down) so your camera/flash is by your side ready in a moment's notice. This position also protects the flash as you move about (the flash is not pointing sideways hanging out of the body, but "under" the camera)

Allows for Quick attachment of any third party neck/shoulder straps to be used–either as a strap or tether. Many use their R-strap as BOTH tether/strap when they want to

check

The SpiderPro plate, when installed correctly will situate the camera body so that the camera will NOT slide/come off the holster easily when bumped from under even when the Spider lock is on the "open" position

check

Allows for a D-ring attachment for wrist straps (as most will no longer use traditional straps)

check

For pro cameras 5 lb and up and fits waists 28 – 50″ (71.1 – 127cm)

check

Four-piece system holds camera on waist while quick-release belt holds holster

check

Plate attaches to camera's tripod socket while spider pin attaches to the plate

check

Pin slide and lock into holster while two-position lock secures camera

check

Durable stainless steel and aluminum construction for active shooting situations
7. HoldFast Gear MoneyMaker Two-Camera Harness on Shoulders, Bridle Leather, Medium, Tan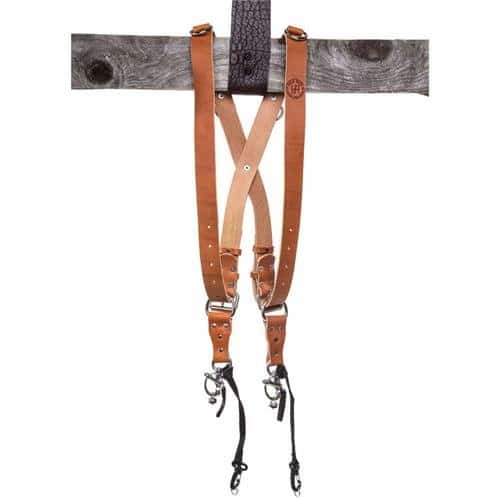 Pros
plus

Holds Two Cameras or Lenses at Your Side

plus

Comfortable

plus

Allows camera to move freely

plus

Comes in 3 sizes and can fit shooters as tall as 7 feet
Cons
This two-camera harness by HoldFast Gear is composed of tan English Bridle leather. The straps of the harness are positioned in an X pattern, crossing your back for additional support. Thanks to the speed clutch mechanism, the camera can slide along the harness to eye level with ease.
Tech Specs:
Holds Two Cameras or Lenses at Your Side

Comfortable 'X' Pattern Harness

Speed Clutch for Fast Access

check

Two 1/4″-20 Holdfast Accessory Clips

check

Four D-Ring Attachments
8. TrueSHOT Digital Camera Shoulder Holster Strap with Accessory Storage Pockets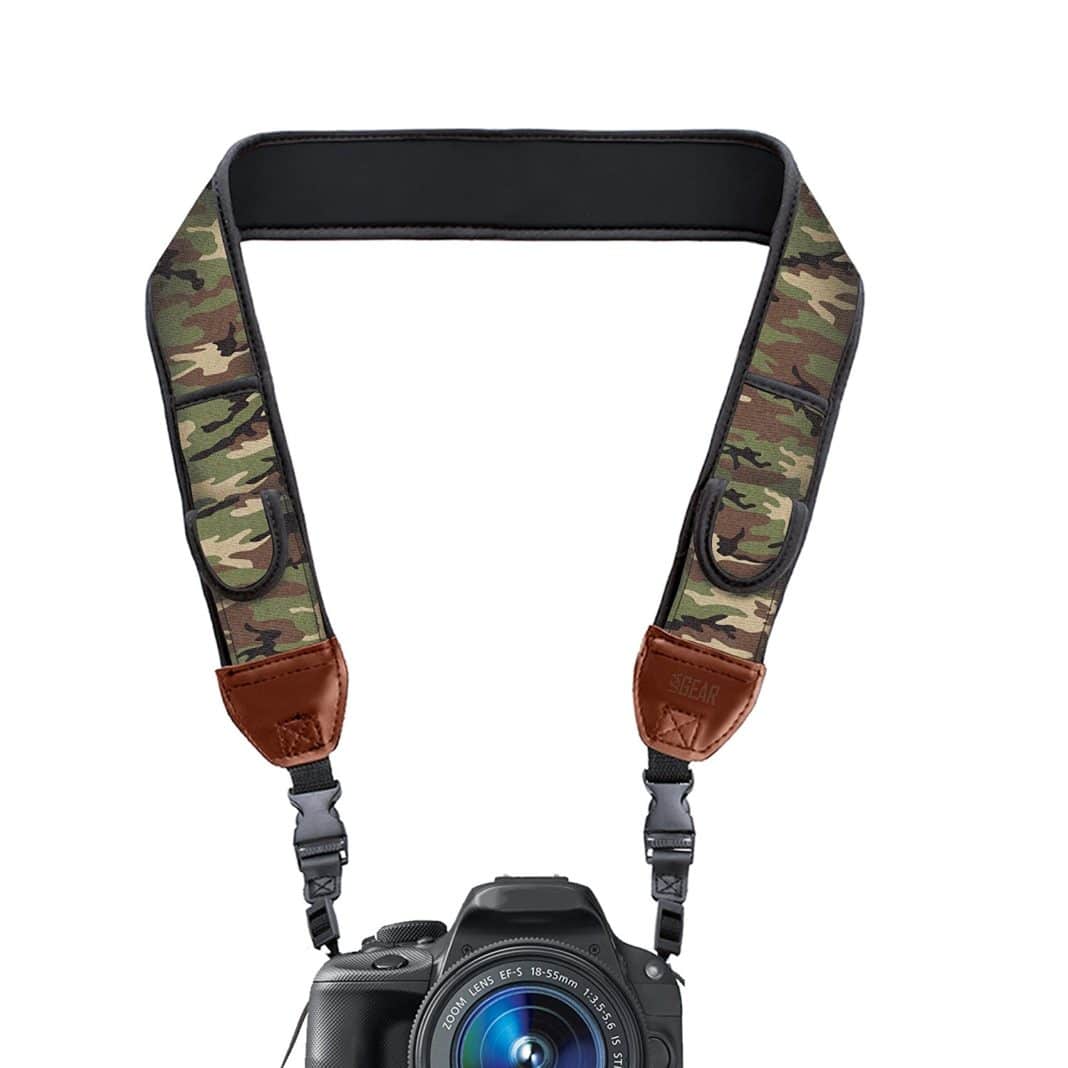 Pros
plus

Stylish Fabric Design

plus

Comfortable padding

plus

Well-made
Cons
close

Pockets aren't useful
Experience comfort redefined. This premium padded neoprene camera strap is the ultimate accessory for carrying your favorite DSLR camera. In fact, you can carry even the heaviest digital cameras without experiencing discomfort. It's never been easier to carry around your favorite camera on your next adventure or photoshoot. In addition, it offers convenient support. Thanks to a patented internal stretch control system, this strap adds the support you need while effectively distributing weight across both of your shoulders.
Tech Specs:
Comfort stretch neoprene padded system distributes the weight evenly across your shoulder for your Canon XC10 , EOS 5DS , Rebel T6s , T6i , T5 / PowerShot G5 X , G3 X , SX410 IS , SX530 HS and more

Has 3/8″ adjustable reinforced loop straps and dual quick disconnects for easy shooting

Convenient accessory pockets allow you to store memory cards, spare batteries, pens and more!

check

Non-skid surface keeps your camera from sliding on your shoulder.

check

Backed by Manufacturer's 3-Year Warranty
9. Nordic Flash Waterproof Camera Float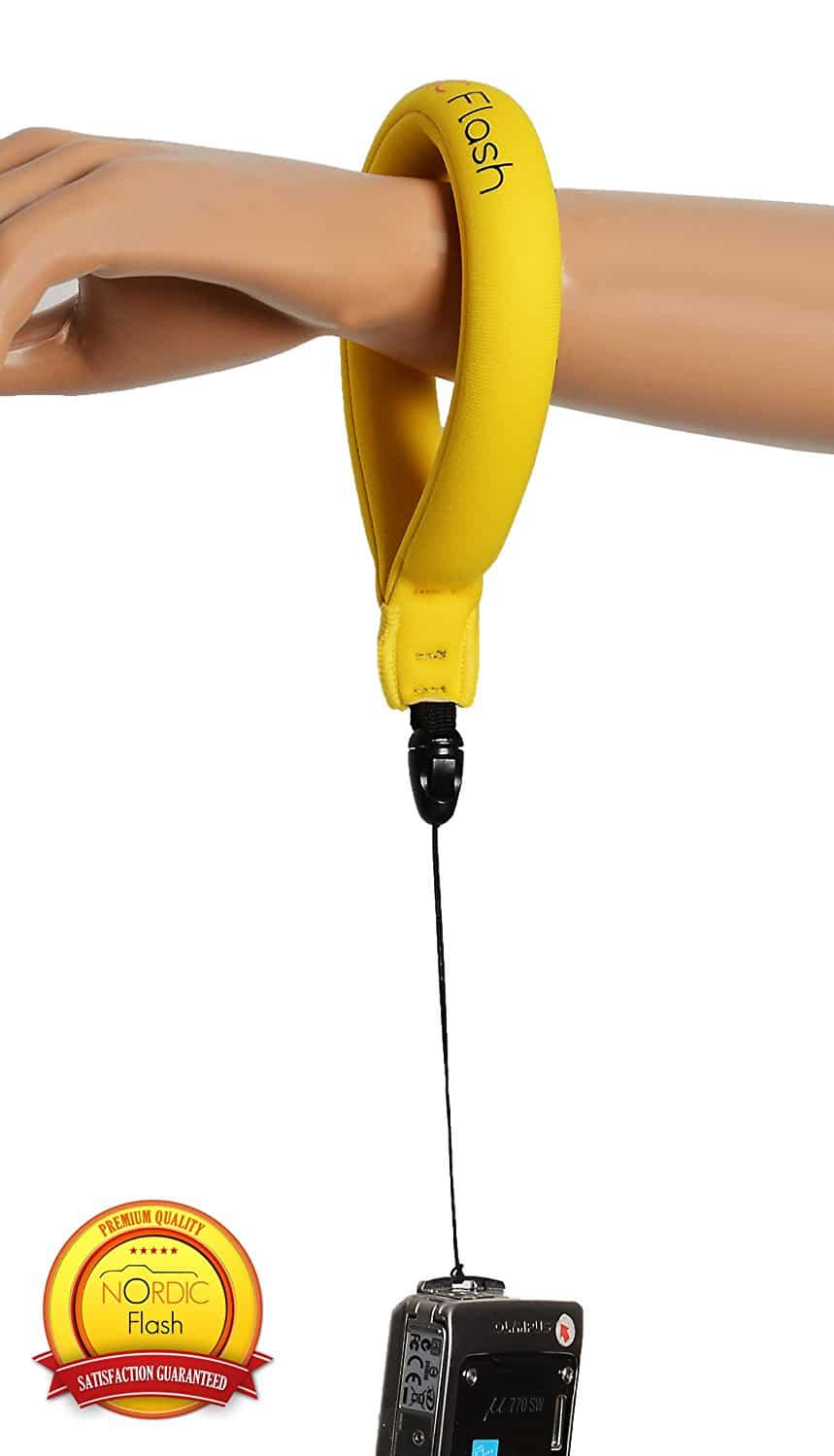 Pros
plus

Very effective

plus

Good quality

plus

Affordable
Cons
Don't lose your waterproof camera when you're swimming. This waterproof camera float is cheap insurance. Save yourself the headache. The Nordic Flash fits most cameras and phone cases, slides easily onto your wrist, and is easy to spot in the water. Each strap is designed to float small waterproof cameras up to 7 ounces.
Two is better than one. Like we said, these floating camera straps are made for small cameras. But this pack comes with two waterproof camera floats. To keep your digital memories safe, make sure you've connected the camera properly to the floating strap. For added protection, connect both of the straps to your camera.
Tech Specs:
Don't lose your camera when swimming or snorkeling, this is a cheap insurance!

Easy to spot bright marine-yellow fabric, made of soft foam-filled neoprene

Comfortable floating strap that easily slips onto your wrist

check

This listing is for 2 (two) floating straps that fit most waterproof digital cameras and binoculars (camera/binoculars not included in the listing)

check

Each strap is made to float waterproof cameras up to 7 ounces/200grams
Common Questions
Purchasing cameras and accessories for your upcoming trips can be tedious. Let us help with these product reviews.
Photo-Taking Has Never Been Easier with the Best Camera Straps
Do you want to take good photos? If you're going to spend hours roaming a new city, you're going to want to bring your camera. Investing in the best camera straps will not only help you improve your photo game but also provide relief for your back and shoulders.
We hope you enjoyed reading our article. If you have any questions or comments for us, please feel free to message us below. We look forward to hearing from you.
Related Article: Best Travel Cameras For The Adventurous Photographer