Thanks to its prime Atlantic location and rich cultural history, there's no shortage of things to do in Bermuda.
It's time to visit Bermuda. From outdoorsy adventures to educational pursuits, this island has something to offer every type of traveler. We mean, come on. Have you seen its stunning pink sand beaches? These rosy hues are created by tiny organisms that grow on the ocean floor. Over time, they mix with corals and shells to create the rich looking sand. If you plan on bringing the kids, a can't miss site is the Royal Navy Shipyard. History buffs will fall in love with St. Georges, a UNESCO World Heritage Site. Like we said, there are plenty of things to do in Bermuda.
Here's one of the best parts. You can hit the beaches year-round. Activities like parasailing, water skiing, and working on your dream tan don't have to be reserved for summer. Snorkelers and divers will be thrilled to know that there are plenty of shipwrecks and diverse marine populations to explore.
In fact, Cristobal Colon is home to Bermuda's biggest shipwreck. Once a Spanish cruise liner, the ship sunk when it struck a coral reef back in 1936. Not far away, you will find crystallized cave ceilings and an underground lake in Hamilton Parish. Whatever you want to do here, you can. The choices are entirely yours.
Here Are Our Picks for the Top Things to Do in Bermuda
1. Check Seeing Pink Sand Beaches off Your Bucket List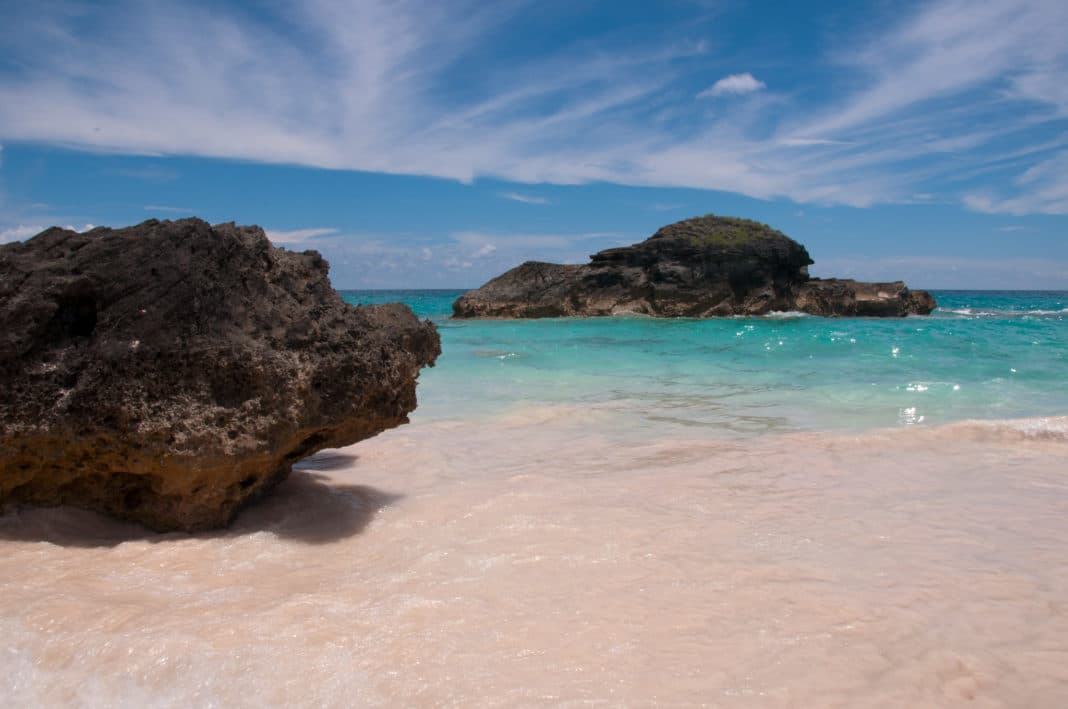 Credit: John Tabor
Have you always daydreamed about lying on a pink sand beach? Well, now's your chance. Checking out these spots are one of the best things to do in Bermuda. Two of our favorite spots are Horseshoe Bay Beach and West Whale Bay Beach.
What do you think about when you picture Bermuda beaches? You might think of crowded resorts and beaches lined with striped umbrellas and lounge chairs. Well, we're happy to say these aren't your average touristy beaches. Sure, Horseshoe Bay Beach is not a secret. But there seems to be plenty of space for everyone. It's no doubt one of the island's most stunning beaches.
Here, you'll find lovely pink sands and stunning views of the ocean. Whether you plan on soaking up the sun or taking a dip, there's plenty of room and time for both. Also nearby, you'll find the Horseshoe Bay Beach cafe where you can pick up some great food. Satisfy your cravings and indulge yourself in an ice cream.
West Whale Beach is the best in the spring. Chances are, you will see some whales passing through the area along their travels. The shallow waters also make it a good place to take the kids in the summer and splash around in the gentle surf. If you're up for a little adventure, there are plenty of coves and coral reefs to explore offshore. This region is prized for its fishing. So rent a rod and come on out.
When it comes to Bermuda travel, this is probably one of the best kept secrets. You can also go whale watching (of course). Come winter and early spring, parades of humpback whales swim in the waters on their way to their feeding grounds in the north. West Whale Bay Beach offers one of the best places to watch these creatures – right from the comfort of the sand.
Do you want the best seat in the house? Spread out your blanket and snag a spot on the grassy cliffs overlooking the sea. You'll get a fantastic view of the Humpbacks leaping out of the sea. We can't think of anything more captivating than watching these magnificent fifty-foot-long 40-ton creatures enjoy the wonders of Mother Nature.
After you relax on the sand or whale watching, make your way over to the remains of Whale Bay Fort & Battery. This historic landmark overlooking the beach was constructed in the mid 1700s. In times of old, the fortress was once a British bulwark of defense. Twelve powerful cannons defended the island from potential invaders. While the cannons are gone, you can still explore the fortress and battery. The original stone walls, barracks, and underground storage rooms are still intact.
2. Explore the Vibrant City of Hamilton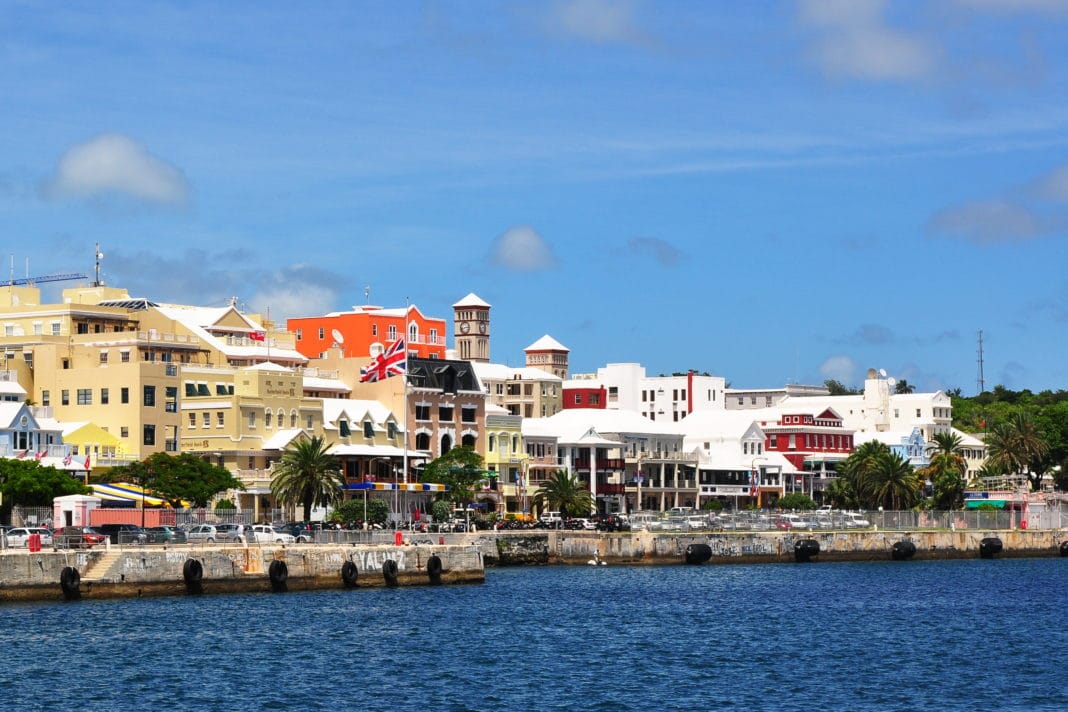 Credit: Flickr
You'll find this fun city smack dab in the middle of Main Island. Needless to say, it's the hub of all things relating to cultural life. You will also find some of the most fascinating historical relics here. Tall Gothic-style towers and ornate Cathedrals rise above the skyline.
The Bermuda National Gallery gathers both travelers and locals alike with its fascinating collection of works. When you're ready to wind down with a pint, treat yourself to some hearty ales and British cuisine over at Monty's and the Robin Hood Pub. While Bermuda has a degree of self governing autonomy, it is still technically a British Overseas Territory. The influence of colonialism is evident throughout its culture and institutions.
3. Spend a Few Nights at the Elbow Beach Bermuda Resort
Credit: Elbow Beach Bermuda
Lose yourself in paradise at Elbow Beach Bermuda. Leave your worries at the door and spend some time being pampered. You'll experience a luxury you've never known at the shores of Elbow Beach Bermuda. The resort truly is another world but the simple pleasures give you all the comfort of a home away from home. So go ahead and treat yourself to all that the resort has to offer. Begin planning your trip to this island paradise.
Bermuda's premier beachfront resort offers an ocean enclave that seems like a world of its own. As the only beachfront hotel on the island, Elbow Beach Bermuda offers a truly unique experience. Mark Twain once said, "You go to heaven if you want to, I'd rather stay right here in Bermuda." It's easy to see why. Explore your own private coves on pink sand. This hotel offers the perfect setting for an ideal Bermuda vacation. You've arrived.
Choose from spacious Guest Rooms, Guest Suites, and Cottages at the Elbow Beach Bermuda. Here, a cozy beach style meets luxury. Natural light pours in from wall to wall windows and bright sunny colors contrast exposed wooden rafters. Enjoy a spa-inspired bath and stunning ocean views as you dream, explore, and discover.
There are plenty of things to do at Elbow Beach Bermuda. Ask for the resort's Activities Guide. You will have plenty of options to explore the island and choose from many exciting things to do. Plus, the hotel is just minutes away from some of the island's main attractions including snorkeling, shopping, bike riding, scooter rentals, parasailing, glass-bottom boats, horseback riding, and so much more. After spending a day of thrill-seeking and adventure, wind down at the resort's spa.
Light ocean breezes wash over you, bringing with them fragrances of soothing herbs and subtle spices. Our staff will lead you to a private spa to relax before your relaxation treatments. The Spa at Elbow Beach Bermuda is an intimate, oceanfront retreat. Here, the sea offers a miraculous and cleansing power and individual spa suites act as a private haven. Choose from customized facials, detoxifying body scrubs, holistic hot stone treatments, personalized massages, therapeutic body wraps, and more. Isn't it time to treat yourself?
4. Hike the Railway Trail
Credit: Wikimedia Commons
While you're in Hamilton, make sure you grab an official guide to hike the Railway Trail. This is one of the most fun things to do in Bermuda, hands down. These winding hiking and biking paths offer breathtaking views of the ocean and coastline, occupying the route of an old trail rail. It runs all the way from St. George's in the west to Somerset in the east. As a matter of fact, this back country route offers one of the easiest ways to get a good look around the island.
5. Go Underground in the Crystalline Caves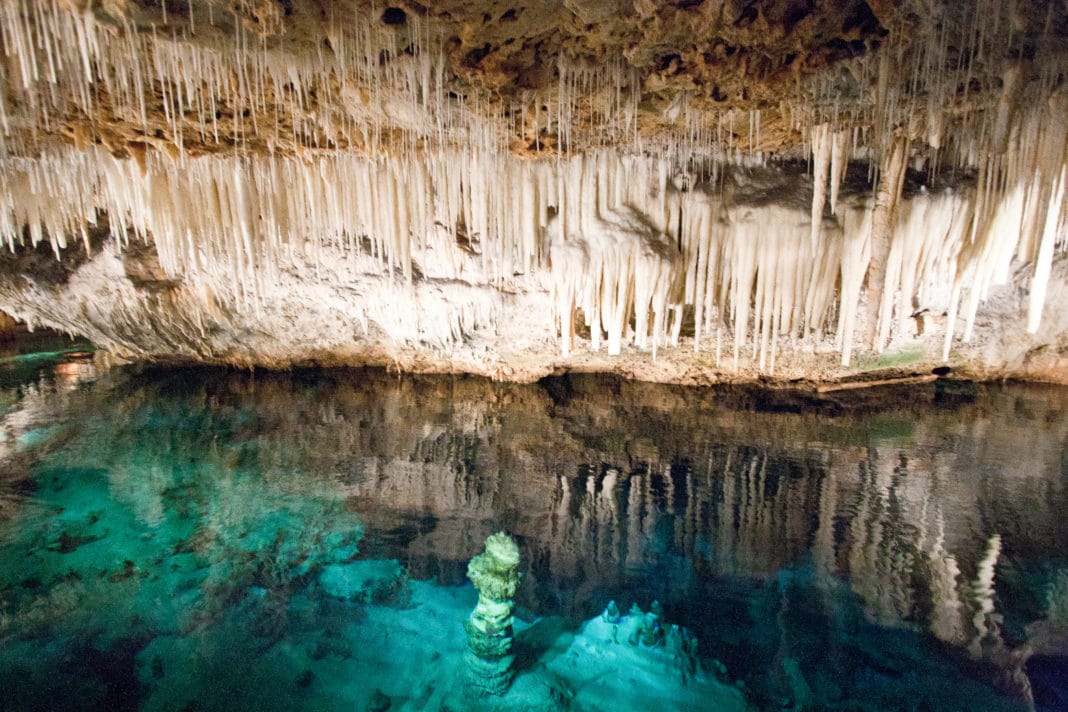 Credit: Flickr: Andrew Malone
Remember we said we were going to show you the crystal caves and underground lake? Well, we haven't forgotten. You'll find these spectacular geological wonders between St. David's Island and the Main Island. The Crystal and Fantasy Cave tunnels offer some of the most spectacular attractions.
Did you know that these sites have been carved by time over 30 million years? Try to wrap your head around that. Heading on over to the Crystal section, jaw dropping stalactites, quartz formations, and boulders transform the scene. Make sure to bring a good travel camera and take plenty of photos while you're here. How else are you going to fill the scrapbook?
6. Check Out the Oldest Anglican Church Outside of Great Britain
Credit: Flickr
Culture lovers, it's time to head to St. Peter's. Simple as its appearance may be, this small gray and white church holds a rich history. This 400-year-old house of worship is the oldest Anglican church outside of Great Britain. Locals still come here on Sundays for their house of worship. Inside, exposed wood beams and plaques commemorate the works of the parishioners.
7. Get Your History Fix in the Historic Town of St. George's
Credit: Flickr
Back in the 17th century, Bermuda's first European settlers landed on the island. Who were they? Originally, they were on their way to Jamestown. After a shipwreck, they came to this island. Later on, they established the oldest occupied English colonial town in the Americas. What was once the town of St. George's is now a UNESCO World Heritage Site, famous for its rich history. Come and explore the streets of the former city center, the State House, and King's Square where reenactments bring the past to life.
Create Your Perfect Trip: Check the Best Things to Do in Bermuda off Your Bucket List
No matter what type of adventure you're seeking, Bermuda has something for you. Travelers with an interest in exploring art and architecture will find this island an ideal destination. There's no denying its rich cultural history, traditions, and charm. Which one of the things on our list would you like to do the most? Now, it's time to start planning your beach vacation.
Related Article: The Top 10 Things To Do In Turks and Caicos This Summer