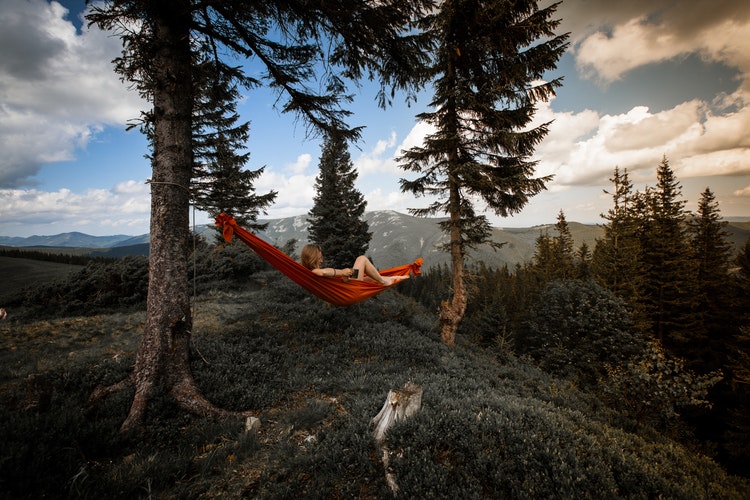 The best hammock underquilt will fit both your budget and outdoor lifestyle. If you're an avid backpacker and camper, you know you want to enjoy the beauty of nature year-round. This means a little cold, sleet, and snow isn't going to stop you. But you still want to stay warm in the elements. Just last week, my boyfriend and I went camping in 18-degree (Fahrenheit) at Lake Powell. We brought plenty of gear and let me tell you – it made a world of difference. We've gathered up a list of options for the best hammock underquilt to help you narrow down your search. There's a lot of items on the market and you need someone to take the guesswork out of it for you. Luckily, that's what I'm here for. Let's get started and find your perfect fit.
| Image | Product | Rating | Prices |
| --- | --- | --- | --- |
| | ENO Ember 2 Underquilt | 4 out of 5 | |
| | | 4.5 out of 5 | |
| | | 4 out of 5 | |
| | | 4.5 out of 5 | |
| | | 4 out of 5 | |
| | | 4.5 out of 5 | |
QUICK NAVIGATION
Why You Need a Hammock Underquilt
Have you ever heard of a hammock underquilt before? If not, you might be wondering why you even need one. Sure, hammocking is easier and more convenient than simply setting up a tent. But there is a downside. You often feel the cold breeze underneath you through the fabric of your hammock. Condensation can make your backside feel cold and wet. Using a regular sleeping bag for extra insulation won't cut it.
The best hammock underquilt creates an extra layer of warmth, an effective barrier between your body and the cold ground temperatures. While this might sound simple, it really makes all the difference when it comes to getting a good night's sleep before a full day of hiking. The fabric won't twist or bunch when you move around in your sleep and the quilt will fit around your body without significant compression. This makes for better loft and warmth.
The styles on my list are designed for four-season camping. Outdoor enthusiasts will be happy to know that many of these items allow you to sleep comfortably in temperatures as low as 20 degrees Fahrenheit. They will fit snugly around your hammock while still providing easy access. Make sure the one you are investing in is waterproof or at the very least, purchase an additional rain tarp. You can thank me later.
Common Features of a Hammock Underquilt
Fits without significant compression

Designed for four-season camping and rated to 20 degrees Fahrenheit

Fits snugly around the hammock while still providing easy access

check

Timberland

check

Coated to be water repellent or waterproof

check

Comes with a rain tarp

check

Made from durable ripstop nylon

check

Fill: polyester, down, downtek, Primaloft, and eraloft
A Question to Ask Yourself Before Beginning Your Search:
If you need a starting place, then it will help you to begin by considering a couple of questions. When looking for the best hammock underquilt, there are some questions to ask yourself. They will point you in the right direction.
How much do you want to spend?
Knowing your budget will be key to finding the perfect hammock underquilt. Whether you are looking for a small style or one that can accommodate more people, knowing your budget will help narrow down your options. There are options on this list just a little over $70 and others well over a hundred dollars. I suggest approaching this guide with a price limit in mind. That way, you will be able to knock off all the items that are out of your price range much faster and subsequently, locate the best hammock underquilt that much faster.
Here Are My Top Hammock Underquilt Picks
There are so many travel items and accessories on the market today. I understand how easy it is for indecision to strike when trying to choose the right travel accessory. That's why I'm here to help ease the process.
On this list, I have included a wide variety of picks for the best hammock underquilt. The selection ranges from inexpensive choices designed to meet your budget and ones that cost a little more but will last for years to come in the longer run. For those new to camping, there are versatile options easy to use. Look for an underquilt with good loft and stitching, a low-temperature rating, and water repellent features. Here are the top hammock underquilt picks.
ENO Ember 2 Underquilt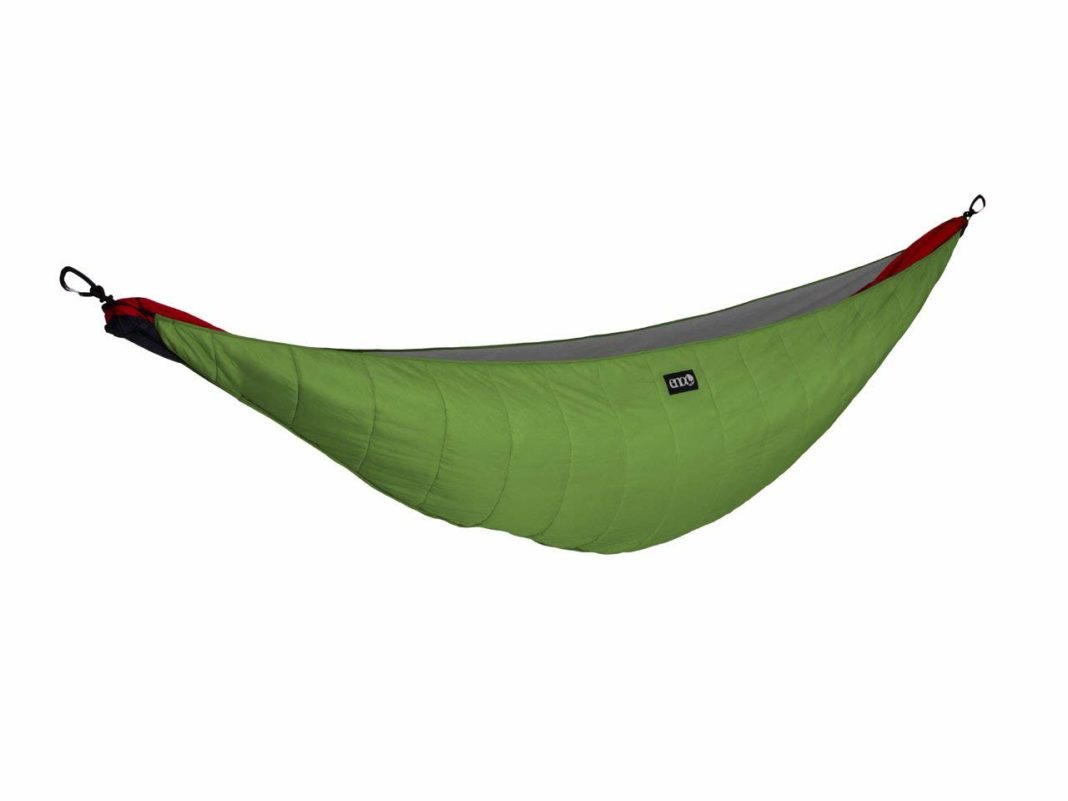 Travelers will be happy to find that this is one of the most affordable hammock underquilt styles on the market. Not only does it offer a sturdy construction but it compresses well too. A four-season style, the ENO Ember 2 makes it easy to stay warm while camping in brisk temperatures. Since it's rated to 50 degrees Fahrenheit, it is not suited for extreme cold and snow. But in chilly weather, it will do just fine.
With an adjustable shock cord at each end, the set up is simple. When your fingers are cold and all you want to do is get cozy, you will appreciate this convenient feature. It pairs well with Hennessy Hammocks and Double and SingleNest. Whether you are looking to hang it up outdoors, at a festival, or just on campus, this is a good buy. All in all, this is a good entry-level quilt. You really can't beat the sticker price. Eagles Nest Outfitters is a top-notch brand.
Tech Specs:
Affordable

check

Rated to 50 degrees Fahrenheit

check

Adjustable shock cords at both ends

check

Sturdy construction

check

Wear-resistant

check

Compresses well

check

Easily packable
Pros
plus

Affordable

plus

Easy to pack
Cons
close

Water resistant but not waterproof
Outdoor Vitals Aerie 20F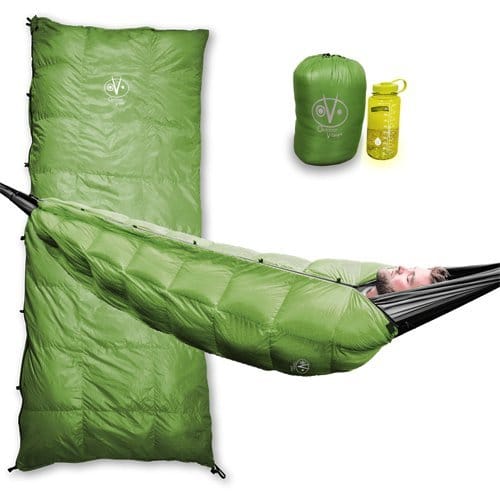 A step up from the ENO Ember 2 in price and performance, the Aerie from Outdoor Vitals is made to withstand the cold. Why do we love it? The main reason is that it's so versatile. Besides a hammock underquilt, you can also use this product as a sleeping bag, pod system, or a blanket. Weighing only 34 ounces, it's a great pick for backpackers. With the 800 count power down fill, you get all of the warmth without the bulk. It packs down in size to just a little bit bigger than a football.
A grid baffle design locks the fill into place so you won't have any cold spots. You can make this purchase with confidence, knowing that Outdoor Vitals provides a lifetime warranty on their products. Another feature that we love is the VitalDry DWR (durable water repellancy) coating on the external fabric. After all, keeping your hammock and sleeping bag dry is important. This coating keeps the water from penetrating the outer shell; your insulation will stay warm and dry.
Tech Specs:
5 uses in 1

Lightweight materials

800 count power fill down

check

Weight: 34 ounces

check

Lightweight and compressible

check

Warm insulation

Rated to 20 degrees Fahrenheit

VitalDry DWR (durable water repellancy)
Pros
plus

Keeps you warm in 20-degree weather

plus

Lightweight and easy to pack

plus

Multipurpose
Cons
close

Mummy configuration style is a little tight when zipped all the way up
ENO Vulcan Underquilt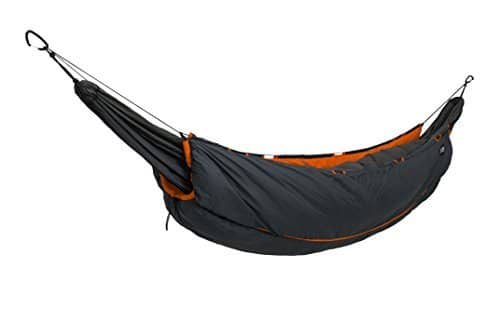 This nice and durable option functions as both a quilt and a hammock underquilt. Since it is rated to 30-40 degrees Fahrenheit, it will keep you warm in chilly weather. With the Eno Vulcan, you get both the quilt and underquilt you need to stay cozy, making it a good four-season option. We appreciate that it naturally contours to the body and repels water thanks to the finish on its full-length body.
This product is designed for more extreme conditions than the ENO Ember 2 Underquilt. To achieve its temperature rating, a continuous PrimaLoft fill is used. It weighs in at only 30 ounces and packs down to the size of a football. This is a great pick for backpackers seeking warmth and a product with excellent portability. The quilt and underquilt work well with the Hennessey Hammock and the Warbonnet Blackbird.
Tech Specs:
PrimaLoft Synergy Insulation

Temperature rating of 30-40 degrees Fahrenheit when paired with the top quilt

Differentially cut construction to adapt to your body's shape

check

Packs down to the size of a football (if you pack it well)

check

Weight: 30 ounces

check

Comes with the top quilt and hammock underquilt
Pros
plus

Durable

plus

Two-for-one style (hammock top quilt and underquilt)

plus

Lightweight
Cons
close

Down can be lumpy when you pack it
Outdoor Vitals Roost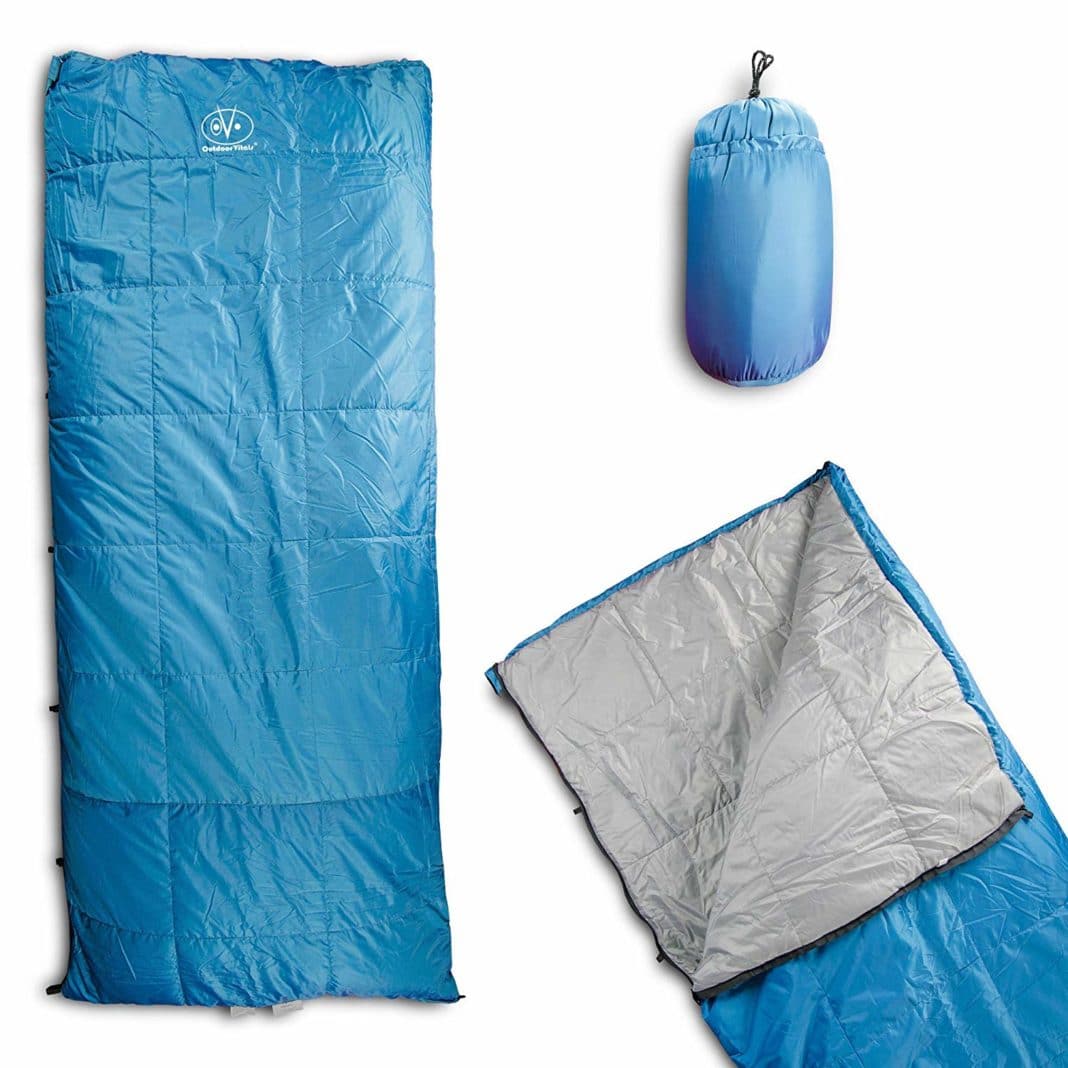 Inexpensive and versatile, the Outdoor Vitals Roost is a good pick for a hammock underquilt. It can not only double as a single sleeping bag but also a sleeping bag for two, sleeping pod system, and a technical blanket. Talk about a multipurpose item! Tall backpackers will appreciate how comfortably it will fit them; it should comfortably fit users under 6'6".
It weighs in a bit heavier than the other hammock underquilts, at 39.5 ounces. While this isn't a significant amount of weight, it is still worth noting. In addition to the extra weight, it's also a little bit larger to pack. When it is fully compressed, it measures 8 x 8 x 8 inches. The other hammock underquilts we mentioned are filled with down or PrimaLoft. This one is filled with hallow filament synthetic materials. Coupled with a 300T ripstop shell and zipper guards and you have a very high-quality product.
Tech Specs:
3-in-1 hammock underquilt

Weight: 2 lbs, 7.5 ounces

Compresses down to 8 x 8 x 8 inches

check

300T ripstop shell

Zipper guards

Rated to 40 degrees Fahrenheit

Fill: hallow filament synthetic materials
Pros
plus

Fits tall campers under 6'6"

plus

Multi-purpose

plus

Inexpensive
Cons
close

Underquilt may require additional padding for you to keep warm
OneTigris Underquilt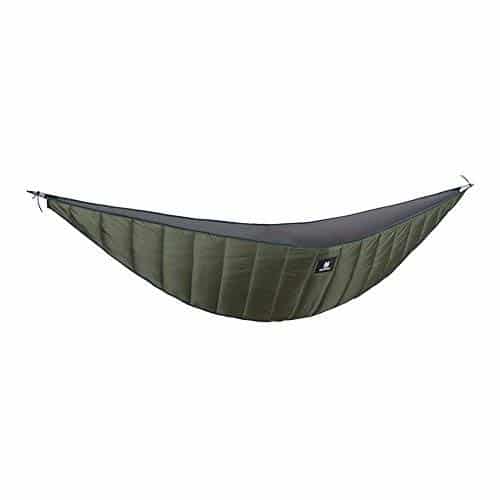 An affordable three-season option, the OneTigris Underquilt offers lightweight and water-resistant features. It's a good choice for new backpackers who want to stay warm and comfy during their travels. Inexpensive and multifunctional, this hammock underquilt is designed for standard size hammocks and comes with a nylon stuff sack for storage and a lifetime warranty. This product can be used with other brands such as the ENO double nest; the underquilt covers the entire hammock and works well for taller individuals. OneTigris is a brand we know and love.
Tech Specs:
Polyester filling

20D ripstop nylon shell with DWR coating and 300T polyester pongee lining

Rated to 40 degrees Fahrenheit

check

Easy set up (short bungee cord loops)

check

Nylon stuff sack for easy storage

check

Weight: 30 ounces

check

Water resistant and lightweight

Lifetime warranty
Pros
plus

Affordable

plus

Three-season

plusRugg

Water resistant

ed cold weather boots; rated to -40 degrees Fahrenheit
Cons
close

Could compress better (slightly bulky)
Therm-a-Rest Slacker Snuggler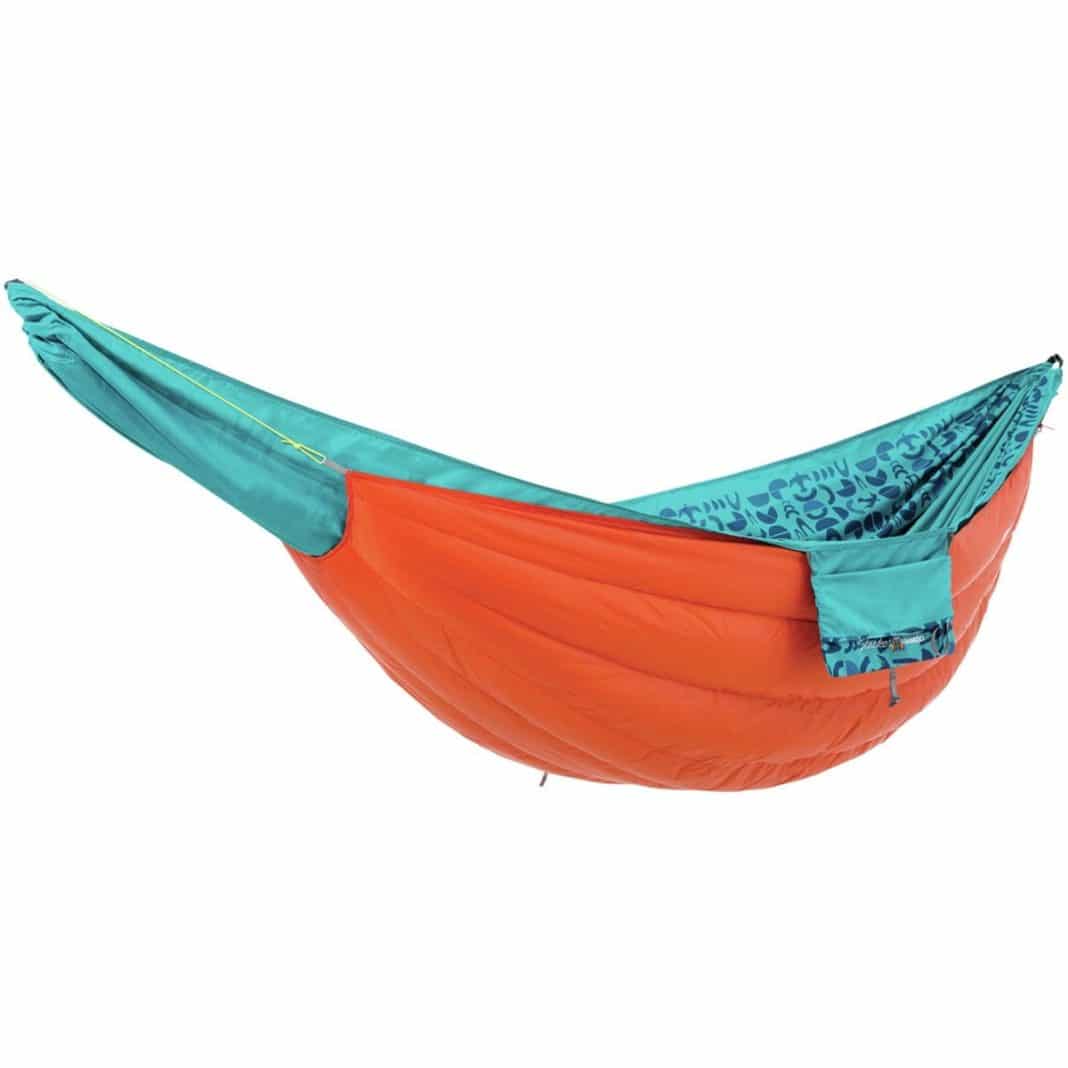 Can you believe that this hammock underquilt is only 15 ounces? As one of the lightest options, the Therm-a-Rest Slacker Smuggler is a great buy. We love that the Slacker Smuggler from Therm-a-Rest is designed to fit all types of hammocks. So you won't have to worry whether or not it will work with the equipment you already own. Nikiwax hydroponic treatment makes the exterior water repellent. We recommend testing the hammock underquilt out in the rain before you go to see how well it holds up. With this said, it never hurts to purchase an extra tarp and rain fly for adverse weather conditions. Just saying.
Tech Specs:
Rated to 32 degrees Fahrenheit

Lightweight and packable

Rated to -40 degrees F

check

Designed to fit all types of hammocks

check

Can be used on its own or as a blanket

check

Weight: 18 ounces

Packs down to 10 x 12 inches
Pros
plus

Weighs only 15 ounces

plus

Rated to 32 degrees Fahrenheit

plus

Easily packable

plusGood

Multi-purpose

insulation
Cons
close

Backup might be needed for windy nights
Common Questions
Check out these other travel products and tips for winter travel:
Invest in the Best Hammock Underquilt for Your Needs
When it comes to finding the best hammock underquilt, it all depends on your needs. Do you need lumbar support or a special kind of support? Are you looking for something portable and cheap or are you willing to spend a little more on luxury? Choosing the right hammock underquilt is just as important as the right hammock or sleeping bag.
Don't skimp out on quality in the name of price. Having all of the right gear makes a difference when you are traveling. When you get a good night's sleep and wake up feeling refreshed, it makes your camping trip that much more enjoyable. The choices for best hammock underquilt on my list not only provide healthy back and neck support but are affordable, portable, and easy to use.
Do you have any favorite travel accessories that you like to use when you go camping? Perhaps your favorite style isn't on my list for the best hammock underquilt. If so, feel free to let me know in the comment section below. I always enjoy hearing about new ways to stay comfortable on the road and in the great outdoors. Happy travels!
Related Article: 5 Best Tree Tents And Hammocks For Your Next Outdoor Adventure